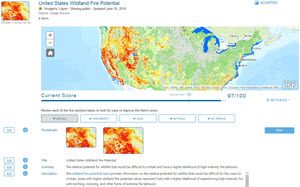 The Living Atlas Contributor App has recently been updated with enhancements! The app now supports vector tile layers and rule packages. On the Details page, two thumbnails are required for nomination (a standard size, 200 x 133 thumbnail, and a high resolution, 286 x 190 thumbnail). Some apps that access Living Atlas items display the standard size thumbnail, while others show the high-resolution thumbnail. This is in an effort to make Living Atlas items visually pleasing, regardless of the application used to access the item. Please see this blog post for more information on creating thumbnails for your items. The Tags page has been updated to use the same tags used by ArcGIS Online and the Living Atlas Web App. Also, the tags are not case-sensitive. Typing "oceans" or "Oceans" will both place a check mark in the box beside "Oceans" in the tag tree on the left. The name of the "Performance" page has been changed to "Settings", to better reflect the criteria that is being scored in this section. This page now checks for the sharing capabilities, number of layers, and security settings of an item, along with displaying the item's extent (if applicable). Draw time, pop-up, and delete protection scoring have all been removed. Delete protection was previously scored under Sharing. Even though scoring has been removed for draw time and pop-ups, curators will still be reviewing these criteria when an item is nominated for Living Atlas inclusion. Finally, the scoring has been revised to reflect the updates to the app.
For more detailed information on using the app to nominate items for the Living Atlas, please visit the Nominate topic on the Living Atlas website.
Commenting is not enabled for this article.