What's New Scene Viewer (Sept 2017)
The ArcGIS Online September 2017 release is another exciting update to Scene Viewer. We have added smart mapping support to point cloud layer, also a new OGC layer type and support for Vertical Coordinate Systems.
Smart Mapping with Point Cloud Layers
You can now style your point cloud scene layers with Scene Viewer with an intuitive UI and interactive drawing options like point color and point size. The available drawing styles allow you to visualize and analyze your point cloud data as True Color, Classes, Elevation or Intensity directly on the web. These styles leverage the data and attributes included in the LAS dataset and allow you to create compelling point cloud visualizations. Make sure to try the intensity modulation option for increasing the depth perception and contrast of points and checkout the different color ramps for a more appealing look. To learn more about these point cloud styles check out the doc page here. The image below shows a Point Cloud scene layer using data provided by Merrick using elevation and intensity modulation to style the layer.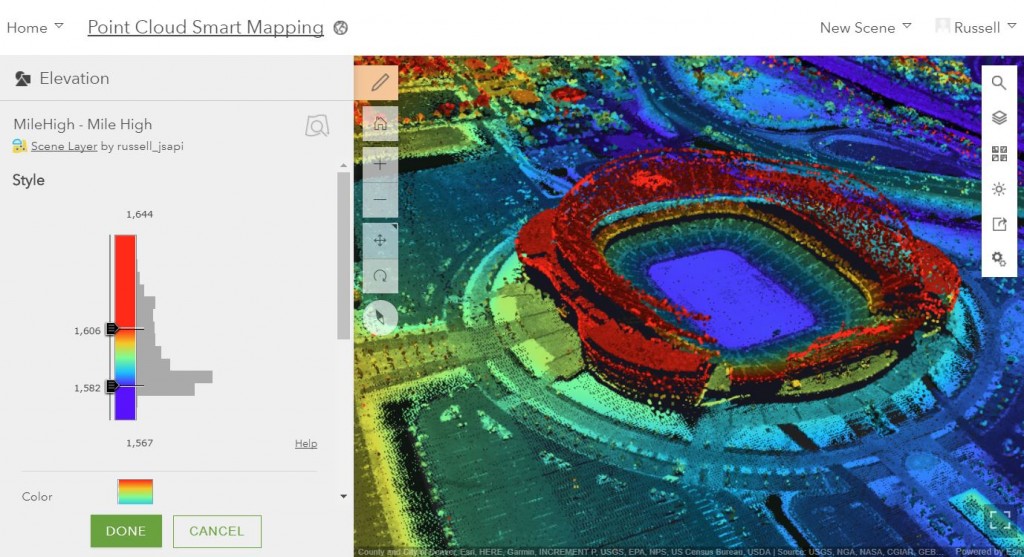 Offset Elevation on 3D Object and Integrated Mesh Scene Layers
Adjust the vertical placement of your building (3D object), integrated mesh, and point cloud scene layers above the ground using the new elevation offset option. Before this release you could only apply an offset to feature layers and point scene layers. Now with these layers you can enter a positive or negative value in the configuration panel to apply an offset. This can be helpful if your layer does not perfectly align to the terrain.
Support for Vertical Coordinate Systems
Use Scene Viewer to create accurate 3D data mashups. When you have elevation or scene layers with vertical coordinate systems (VCS) it can be challenging to create a scene with precise vertical measurements. Scene Viewer now prevents mixing incompatible VCS much like we currently do when we restrict  mixing horizontal coordinate systems from cached layers. This is supported in web scenes created from Scene Viewer and ArcGIS Pro.
WMS Layer Support
Continuing our support for OGC layers, we have added support for Web Map Service (WMS) Layers. Add WMS layers to Scene Viewer from the Gallery or My Content of your organization in ArcGIS Online. Scene Viewer supports both popups and legends configured for this new layer type.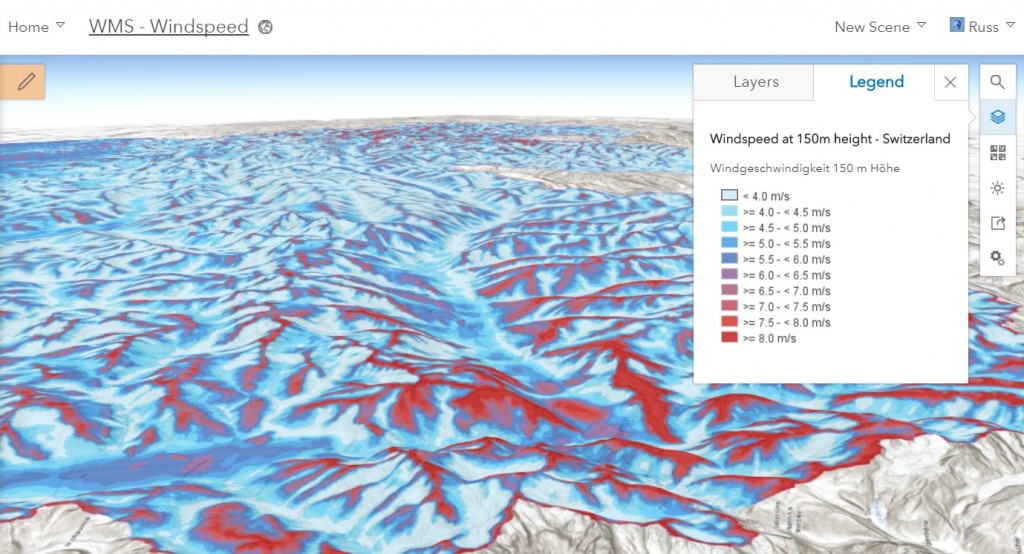 Access Recent Web Scenes
You can also now easily access web scenes you have been working on just like in Map Viewer. Under the New Scene button you will see the options to create New Global or Local scenes along with some of your most recently saved web scenes for you to start working on once again.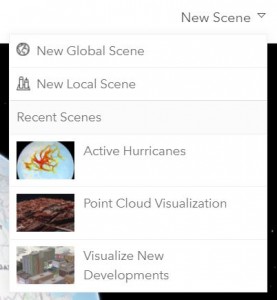 Layer Item Configuration Enhancements
There are some additional enhancements and support for AGOL features that you can check out in Scene Viewer this release.
Popup media refresh interval: popups that have been configured to refresh media are supported in Scene Viewer. You can configure this in Map Viewer or on the item details for these layers. Check out how to configure this here
Arcade in Popups and Renderers.
Arcade in Label expressions: in the June release we added support for labeling with attributes for point features. Now you can use label arcade expressions for point feature layers. You create these labels using Arcade in Map Viewer or on in the item detail page for the feature layer and save your changes to the layer. When you then add the layer to Scene Viewer you will see the option to use the expression or use a single attribute.
Improved feature generalization. Lines and polygons with a high level of detail such as curves in power lines or contours will now be smoother.
Support for custom parameters on WMTS items.
Please feel free to post any questions or comments below.