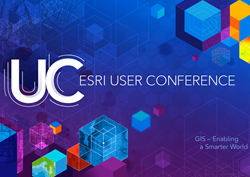 A whole month has passed since the 2016 User Conference. I had the pleasure of meeting so many users, having really great conversations, and answering your questions about ArcGIS Pro. Every user that I met is doing something amazing with ArcGIS Desktop software, so I sincerely thank you for your inspiring work. In addition to sharing stories and attempting to answer your most complex questions, a lot of you had the same questions and concerns about getting started with ArcGIS Pro.
Those of you who weren't able to attend the conference probably share some of these concerns. So, here are some of the top questions that I was asked at the ArcGIS Desktop pavilion.
1. What is ArcGIS Pro? Is it a new version of ArcMap or Desktop?
ArcGIS Pro is not a new version of ArcMap, it is a different application entirely. Both ArcMap and ArcGIS Pro are applications that are included in ArcGIS Desktop. ArcGIS Pro is a 64-bit, multi-threaded desktop application, with the newest tools for creating and working with spatial data in 2D and 3D.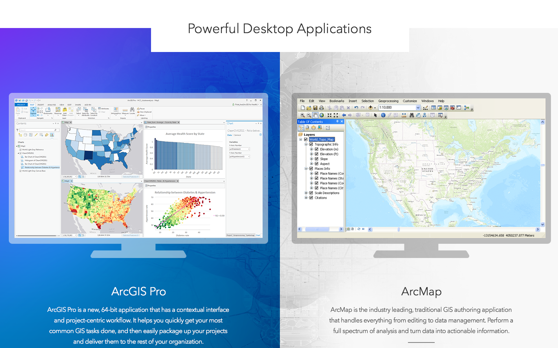 2. Will ArcGIS Pro work on my machine?
If you meet the 1.3 system requirements, yes! Here are some of the basic necessities:
Operating system: Windows (64 bit) 7 SP1, 8, 8.1, 10, or Windows Server 2012 RS Standard and Datacenter (64 bit)
Microsoft .NET Framework: 4.6.1
CPU speed: Quad core (recommended), 2x Hyper-threaded hexa core (optimal)
Memory/RAM: 8 GB (recommended), 16 GB (optimal)
Disk space: 6 GB or higher
Screen resolution: 1024×768 or higher at normal size (96 dpi)
Video/Graphics adapter: DirectX 11 (OpenGL 3.2) compatible card with 2 GB RAM (recommended); DirectX 11 (OpenGL 4.4) compatible card with 4 GB RAM (optimal). Be sure to install the latest driver.
Microsoft Internet Explorer 10 or 11
3. Where do I download ArcGIS Pro?
The answer is, it depends on who you are!
Existing ArcGIS Pro users—If you already have a previous version of ArcGIS Pro installed, you can upgrade to 1.3 through the software itself (Project tab > About) or download it through My Esri.
First-time ArcGIS Pro users who are current on ArcGIS Desktop Maintenance—Download 1.3 through My Esri.
Others—Sign up for an ArcGIS trial.
4. Will my licensed extensions work with ArcGIS Pro?
Yes! If you're current on maintenance for ArcGIS Desktop, your licensed Desktop extensions will work with ArcGIS Pro as well. The following extensions are available for ArcGIS Pro: ArcGIS 3D Analyst, ArcGIS Spatial Analyst, ArcGIS Geostatistical Analyst, ArcGIS Network Analyst, ArcGIS Workflow Manager, ArcGIS Data Interoperability, and ArcGIS Data Reviewer.
5. Can I use my ArcMap documents (.mxd files) in ArcGIS Pro?
You can import your .mxd's, which converts them to files compatible with ArcGIS Pro. Here's a gif to show you how!

Just click the Insert tab, click Import Map, and browse to your .mxd. All of your data, tables, and symbology will be imported. If your data source can't be found, learn how to repair broken data links in ArcGIS Pro.
6. How do I use 3D? Do I have to have the 3D Analyst extension?
ArcGIS Pro is built on a powerful graphics engine and designed to transition easily between 2D and 3D. On the Insert tab, click the New Map drop-down menu and click New Scene. Or click Convert on the View tab to change your 2D map view to a 3D scene.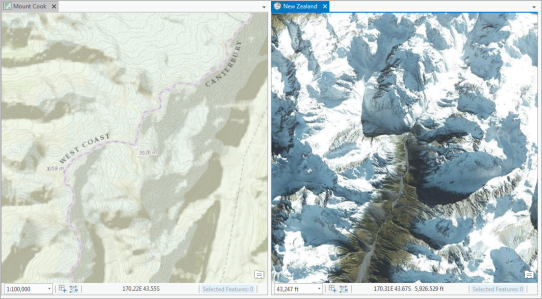 You don't need 3D Analyst for authoring, navigating, editing, and sharing 3D scenes. However, the 3D Analyst extension is required for performing advanced 3D analysis.
7. How do I share to ArcGIS Online?
Sharing is just as easy as going 3D! ArcGIS Pro is designed with cloud GIS in mind, so the Share tab is filled with different ways to share your work.

With ArcGIS Pro 1.3, you can share web tile layers and web elevation layers with vector tile packages and scene layer packages. Of course, you can also share your maps, scenes, geoprocessing tools and workflows, and entire projects within your organization or with everyone on ArcGIS Online.
8. Will my geoprocessing models and Python scripts work in ArcGIS Pro?
Usually, yes.
The majority of geoprocessing tools that are available in ArcMap are also in ArcGIS Pro. However, if a tool in your model is not available in ArcGIS Pro, then the model will not work. You may need to wait until that tool is available in a future release of ArcGIS Pro, or you can remove the tool and find a workaround. If a tool in the model has changed in ArcGIS Pro, then the model will not work until you update the model – to do this, open the model in ArcGIS Pro, validate, and save.
The same type of answer applies to your Python scripts. ArcGIS Pro uses Python 3.4, while other apps in ArcGIS Desktop use Python 2.x. Despite some significant differences between these versions of Python, many scripts can be used as-is in both ArcMap and ArcGIS Pro. Read about Python migration for more details.
You can use the Analyze Tools For Pro geoprocessing tool to analyze your scripts or models for necessary updates to get them working in ArcGIS Pro. A tool's help page also provides information that you may need to get your models and scripts running.
9. How do I share the work I do in ArcGIS Pro with someone using ArcMap?
ArcMap and ArcGIS Pro can be run side by side, on the same machine, so it is possible to use both applications for accessing and working with local data and online services. Data can be shared between applications through geodatabases, shapefiles, and other supported formats.
Maps can be published as services from ArcGIS Pro and shared with someone using ArcMap, ArcGIS Online, or Portal for ArcGIS, however, you cannot export a map from ArcGIS Pro as an ArcMap document (.mxd).
10. Why should I get ArcGIS Pro?
For me, the most exciting part of user conference is learning about all of the innovations in the field of GIS. You and all of the other users of the ArcGIS Desktop platform are helping shape the direction of our software development. ArcGIS Pro is the expression of where the field of GIS is going – human innovation, smart technology, and a collaborative and constantly evolving development model.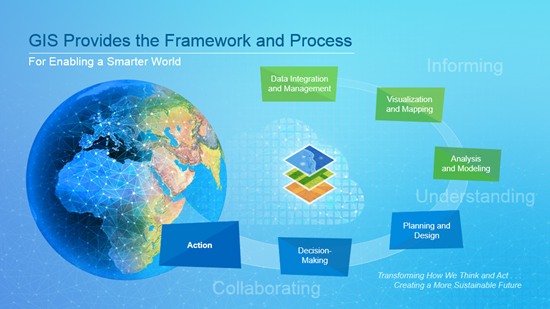 I could say you should get ArcGIS Pro because it is the best, the newest, the shiniest, most exciting software that ArcGIS Desktop is offering, but the real reason lies in your work. The tools that you get with ArcGIS Pro will help you to visualize your spatial data, solve your complex questions, and shape the world around you more intelligently than ever before.