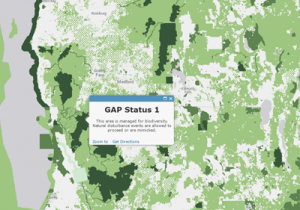 The United States Geological Survey (USGS)'s Protected Areas Database of the United States (PAD-US) has been updated.
Version 1.4 of PAD-US benefited greatly from the efforts of the Federal Lands Workgroup of the Federal Geographic Data Committee (FGDC). This workgroup includes the U.S. Forest Service, the National Park Service, the Bureau of Land Management and the U.S. Fish & Wildlife Service and other agencies. The group was formed in 2011 to place an effort on the creation and yearly publication of a cadastral geodatabase of combined federal lands and waters.
To build the new data set members of the workgroup automated the conversion of authoritative organization data into the PAD-US format.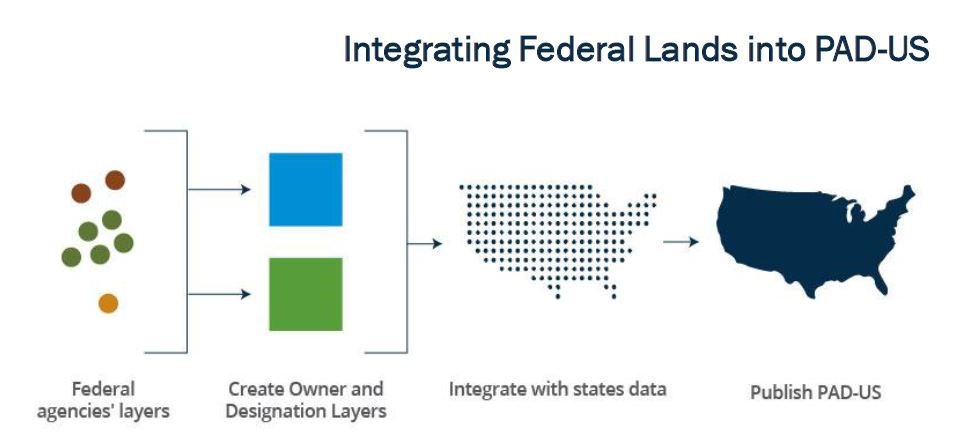 For more information on how federal lands were compiled in PAD-US see the FGDC Federal Lands Workgroup factsheet.
The Esri Content Team uses the PAD-US to create several layers that are included in the Living Atlas. Our next release planned for the first week of February will include 4 new image services and 9 hosted feature services.
Two of the image services will feature multi-view functionality that uses server-side processing to provide multiple views of each data set and the feature services will provide full access to the vector data for use in online maps that can be downloaded directly from ArcGIS.com.
The new PAD-US derived layers take advantage of the work of the Federal Lands Work Group and the level of protection to create the following services for our upcoming release:
Image Services:
The 4 image services will replace 9 older image services with new PAD-US 1.4 data and the ability to use server-side functions to access different views of the data.
-USA Protected Areas – this service will contain 8 server-side functions allowing 8 different views of this single image service including protected areas (GAP status 1 and 2), unprotected areas (GAP 3 and 4), and areas protected from land cover conversion (GAP 1, 2, and 3). Other functions allow all four GAP classes or each individual class to be mapped separately.
-USA Federal Lands – this service will contain 6 server-side functions allowing views of ownership of 5 federal agencies together or individually. Agencies included in this layer are the US Forest Service, National Park Service, US Fish and Wildlife Service, Bureau of Land Management, and the Bureau of Reclamation.
-USA Native Lands
-USA Historic Sites
Feature Services:
The 9 hosted feature services are replacing existing map services and will add significant functionality including the ability to download data directly from ArcGIS.com.
-USA Protected Areas
-USA Federal Lands
-USA Bureau of Land Management Lands
-USA Fish and Wildlife Service Lands
-USA Forest Service Lands
-USA National Park Service Lands
-USA Bureau of Reclamation
-USA Native Lands
-USA Historic Sites
These improved layers are part of the Living Atlas of the World, which means they are available to all ArcGIS users. Used alone or in conjunction with your other layers, they can be added to ArcGIS Online or ArcGIS for Desktop to complete visualization and analysis tasks. The Living Atlas contains a wealth of intelligent layers, for landscape efforts and for other themes as well, such as earth observations and demographics. To learn more about the Living Atlas, please visit our website: livingatlas.arcgis.com.
Commenting is not enabled for this article.