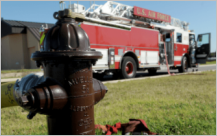 In Manage and Complete Hydrant Inspections, you will assume the role of three San Diego city and fire officials attempting to make the city's hydrant inspection program more efficient.
This new lesson from Learn ArcGIS uses Workforce for ArcGIS, an app which helps supervisors organize tasks ranging from valve inspections to downed trees. Through the use of mobile devices, the app allows supervisors in offices, and workers in the field, to assign and report tasks.
During this 90-minute lesson, you will assume the roles of:
a GIS administrator providing geographic data about fire hydrants
a fire captain assigning inspection tasks
a firefighter fulfilling and reporting those assignments
Optionally, users could use Navigator for ArcGIS to route firefighters to their assigned hydrants.