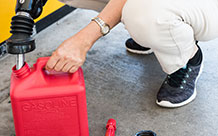 Analyze Credit Card Fraud is a new Learn ArcGIS lesson showing private and public employers how they can investigate employees who take advantage of fuel card programs.
In this one-hour lesson, an investigator with a shipping company based on Washington, D.C., will drill down through fuel-stop data to determine which — and if any — employees may be refilling their own vehicles at company expense.
At the conclusion, the investigator will create a three-slide presentation which can be shared with company officials working at different locations.