ArcGIS Pro represents Esri's strategy for creating modern GIS desktop software that tightly integrates with the entire ArcGIS Platform.  ArcGIS Pro 1.0 was first released in January as a strong tool for visualization, supporting both 2D and 3D; analysis, containing the vast majority of the Geoprocessing tools; support for multiple layouts; and sharing via packages, 2D web maps and 3D web scenes.
We have continued to listen to your feedback and to build upon the strong foundation of ArcGIS Pro. This week, Esri has released ArcGIS Pro 1.1 which has many of the top enhancements that you have asked for:
A new SDK for .NET to customize and extend ArcGIS Pro
A Range Slider that allows you to dissect and visually analyze your numeric data
The ability to publish 3D scenes containing multipatches
Layout enhancements, like guides and snapping and the ability to add extent indicators
Support for working with Excel tables directly
Date line wrapping allowing you to pan, edit, and work across the international date line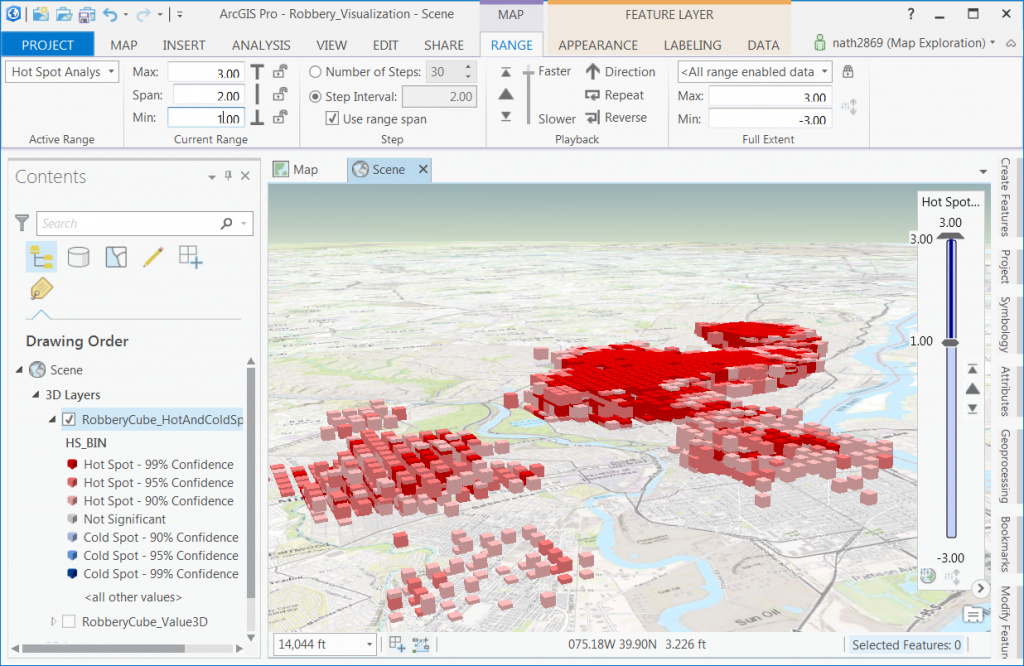 Additionally, there are many more enhancements in ArcGIS Pro 1.1 related to geoprocessing, imagery and raster, 3D Analyst, Network Analyst, and Workflow Manager.  Visit the What's New in ArcGIS Pro section for more details.
What's Coming After Pro 1.1
We envision that at the end of this year, we will release ArcGIS Pro 1.2 with even more capabilities including:
Strong KML support
The ability to publish and use vector tiles
Mobile Map Packages for deployment on all your devices
Additional 3D Web Scene capabilities
Data Driven Pages
Animations, Charts and Graphs
And more Geoprocessing tools
There are also plans to improve integration of analysis with ArcGIS Online, both with tools and information sets, and for a number of new analysis capabilities and tools including:
Improved suitability analysis
Cost distance analysis
Space time anomaly detection
Empirical Bayesian Kriging (EBK) for multi- variant analysis
Enhanced projection support
The ArcGIS Pro releases coming later in 2016 will focus on support for some major solutions including Utility Management, Parcel Management, and Transportation and Pipeline (Linear Referencing).  We will also continue to enhance our cartographic, imagery, and analysis capabilities.
The ArcGIS Pro adventure is just getting started, so look for the notification inside of ArcGIS Pro to update to ArcGIS Pro 1.1. If aren't currently using ArcGIS Pro and you haven't had a chance to try it out yet, visit www.esri.com/pro for a free 60-day trial.