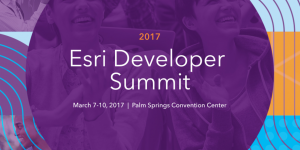 We know how excited you are about the tech sessions being offered at DevSummit in Palm Springs, so we put together an exciting short-list of stuff we want to highlight. We're finalizing the full list now, and hopefully this will hold you over until the detailed agenda is out next week!
ArcGIS Python API: Introduction to Scripting your Web GIS 
Now more than ever, Python is the language of the ArcGIS platform. This new Python API allows you to better control and customize your Web GIS implementation. Don't miss the Advanced session right after it too.
CSS for Geographers
You put a lot of effort into designing your maps well, learning more about CSS is a great way to style the apps in which they're displayed and used.
Customizing Open Data
The open data movement informs and engages the public better and makes government work effectively. Come find out what developers need to know to support open data initiatives.
Exploring Virtual Reality (VR) with ArcGIS
Learn how the data management and spatial analytic capabilities of ArcGIS can be woven into the visually immersive nature of VR applications.
GeoEvent Server: The Internet of Things (IoT)
As the volume of connected devices continues to increase, tying GIS into the mix is the way to act more quickly and usefully on the real-time and streaming data they generate.
Getting Data Science with R and ArcGIS
By building cutting edge statistical models with R, and using ArcGIS for visualization and analysis, you can have the best of both worlds.
Latest Innovations from Esri's Application Prototype Lab 
Year after year, one of the most popular DevSummit sessions. Come see all the things the the good folks in Esri's GeoGeek Lab have been up to, and how you can put them to use.
Using TypeScript with ArcGIS JS API Development
If you're a web developer using TypeScript, come learn and discuss techniques for using the provided definition files for ArcGIS, and getting the most that TypeScript brings to your app development.
UX/UI Workshop: Visualizing Ideas with Wireframing
This is only the first of five hands-on interactive workshops on UX/UI designed for your mapping applications, going from 9:00am thru 3:30pm on Thursday, March 9th. Pick out just the ones you want, or attend all five in a row. Either way, you walk away with amazing skills you can use right away.
Web AppBuilder for ArcGIS: A Deep Dive into Enterprise Deployment
Around the world, thousands of new, productive web apps are being created with Web AppBuilder every week. As a developer learn how to best design, build, and manage these apps within your organization, enterprise-wide.
We hope that satiated some of your developer tech session appetite! More to come soon. In the meantime, check out our agenda at a glance to tentatively schedule your week!
Commenting is not enabled for this article.