We made several enhancements to the Living Atlas of the World website (livingatlas.arcgis.com) that make it easier to browse, filter, and contribute to the Living Atlas. We continuously strive to provide the best experience for our users, and we hope these changes help us meet this goal. This release includes two new languages, Spanish and Brazilian Portuguese. Updates have also been made to the Home tab (or landing page) and the My Contributions tab. We rearranged the Home tab to make discovering Living Atlas content more straightforward, and we made subtle improvements to the My Contributions tab to make contributing easier.
Read on for more details.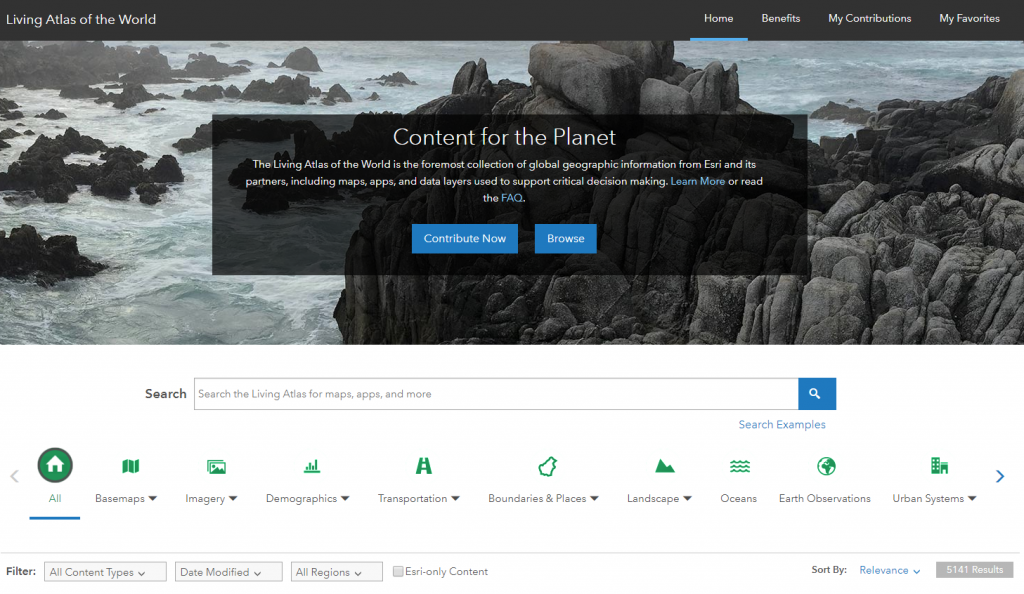 Home tab
Updates to the Home tab:
Filter menus have been moved below the Living Atlas themes and now include a region filter. (This filter was formerly part of the theme list in green above the filters.)
Browse and search results are displayed with "Top Results" listed first.

If a Living Atlas theme is chosen, the results will be presented in their respective sub-themes.
You can only browse one Living Atlas theme at a time.
For example, the user can choose Basemaps OR Demographics from the list of Living Atlas themes but can't choose Basemaps AND Demographics.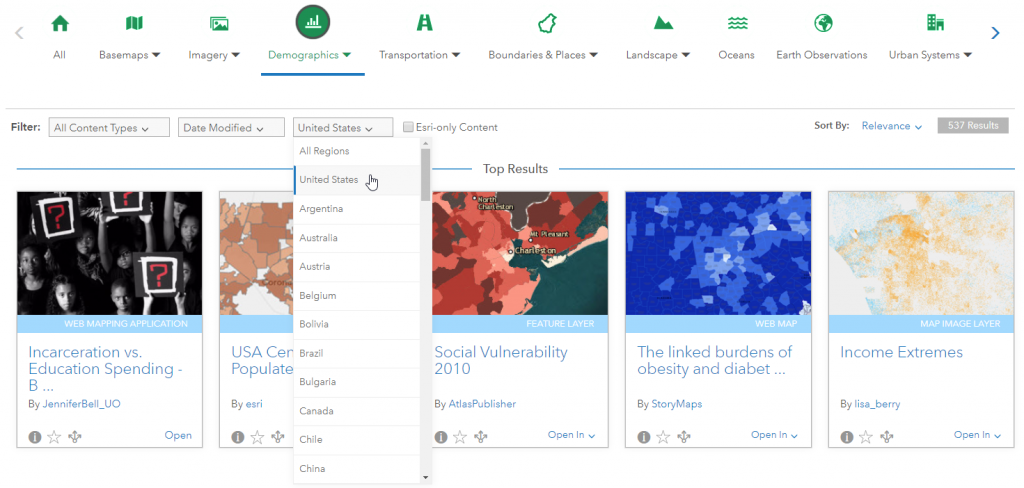 My Contributions tab
Updates to the My Contributions tab:
"Points" is now used when referring to an item's score.

This has been implemented in the item's overall score and in the "Suggested Improvements."

Each suggested improvement is a hyperlink that can be hovered over/clicked on to learn more.
Scene Layers are now supported. This means you can contribute your 2D and 3D Web Scene Layers to the Living Atlas.
You can remove items once they have been accepted into the Living Atlas.
Although these incremental updates are small, we hope they make a positive impact on the browse, filter, and contribute experience. Stay tuned as we continue to improve the site!
Commenting is not enabled for this article.