As we recently announced, the OpenStreetMap vector basemaps on ArcGIS Online will be updated to use OSM Daylight distribution data content. Another blog we posted details the impact to users of OSM basemap styles. Here in this post, we will provide details on the impact to ArcGIS Enterprise users who are using these services via Living Atlas. OSM tile layer styles will need to be updated. The changes to the map styles applies to both the Web Mercator Auxiliary Sphere (WMA) and WGS84/GCS OSM vector basemaps. The change to the underlying source data that requires these new styles is scheduled for release on Wednesday night, June 16, 2021.
ArcGIS Enterprise organizations using these OpenStreetMap layers by referencing them directly from ArcGIS Online are not affected by this update. In this scenario, the styles are referencing the most up to date Online items.
Impact to OpenStreetMap Vector Basemap Users in ArcGIS Enterprise 10.8, 10.8.1 or 10.9
To take advantage of the enhancements for OpenStreetMap vector basemaps in ArcGIS Enterprise and display OpenStreetMap tile layers correctly, your administrator will need to update the OpenStreetMap Living Atlas items installed on your ArcGIS Enterprise portal.
OpenStreetMap tile layer items are included with Living Atlas default content at 10.8, 10.8.1, and 10.9. Use the table below for a complete breakdown of items included at each version.
Step 1
There is an item on ArcGIS Online with the updated root.json styles for all the styles listed below.
Download and unpack the contents of the zipped directory. Unpacked, the folders are organized by map projection/tiling scheme and by ArcGIS Enterprise version.
Folder names for each style are listed by their item ID. Each folder contains a root.json file.
This is the file you'll use to update the different OpenStreetMap Tile Layer styles on your portal.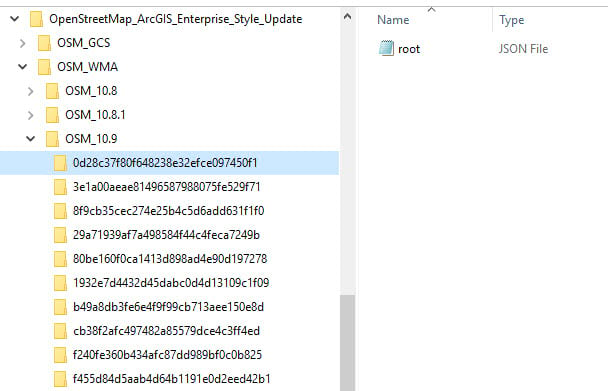 Step 2
Update each OpenStreetMap item in your portal.
Navigate to the item details page for each item.
Select the "Update" button.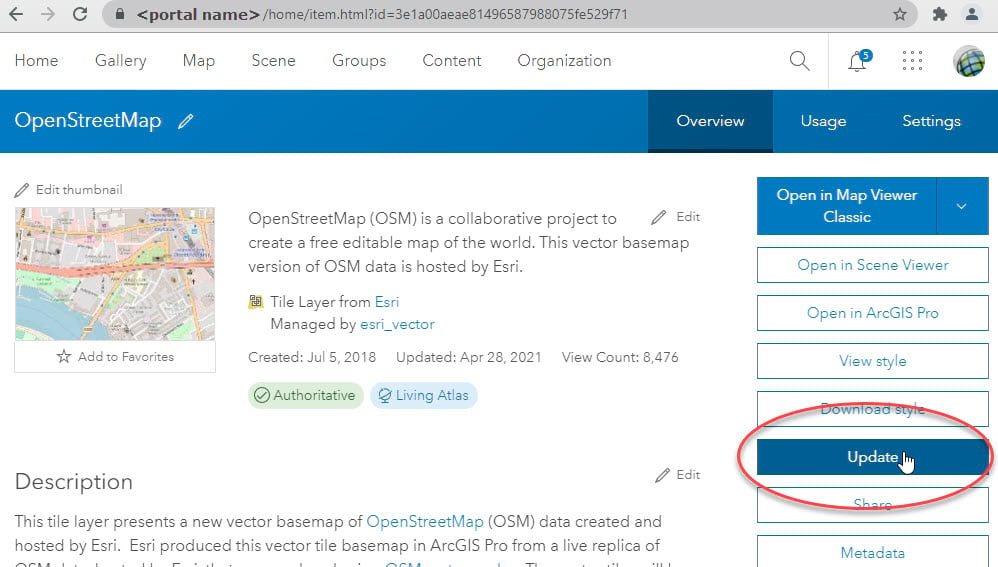 Navigate to the correct folder containing the updated root.json file.
Match the item ID of your portal item with the item ID of the directory.
Update each style.
You may need to clear your browser cache to see the updates.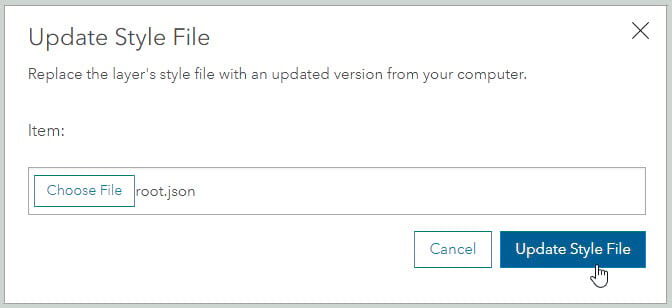 Customers with questions can contact Esri Technical Support for assistance.
---
---
Noticeable changes
After the source tile set is updated with OSM Daylight content on Wednesday night June 16, 2021, if the OSM tile layers on your portal are not updated, some map features will not display. Here are two examples of the OpenStreetMap style that hasn't been updated (left) and a style that has been updated (right).