Attention, all ArcGIS Enterprise fans!  ArcGIS Enterprise 11.1, part of our ArcGIS releases in 2023, is here for Windows and Linux.  This long-term support release is available to all eligible customers worldwide. We know Enterprise is critical to making informed decisions efficiently at your organization. This release is full of enhancements and new functionality to help you and your organizations make high-quality decisions, quickly.  In this blog, we will cover several feature highlights across the ArcGIS Enterprise portal, content and data management, administration, and more that help illustrate this theme. For a comprehensive view into everything included with this release, check out the documentation available in the What's new in ArcGIS Enterprise topic. In addition, keep a look out on the ArcGIS Blog site for additional blogs covering specific features in depth.
ArcGIS Enterprise portal
Map Viewer updates
Map Viewer updates introduced in the ArcGIS Online June 2022 and November 2022 releases can be found in the latest release of ArcGIS Enterprise.  This includes performance enhancements and new visualizations created from your requests and our team's research and curiosity around how fast, clear, and intuitive web cartography can help make those decisions for your organization with ease.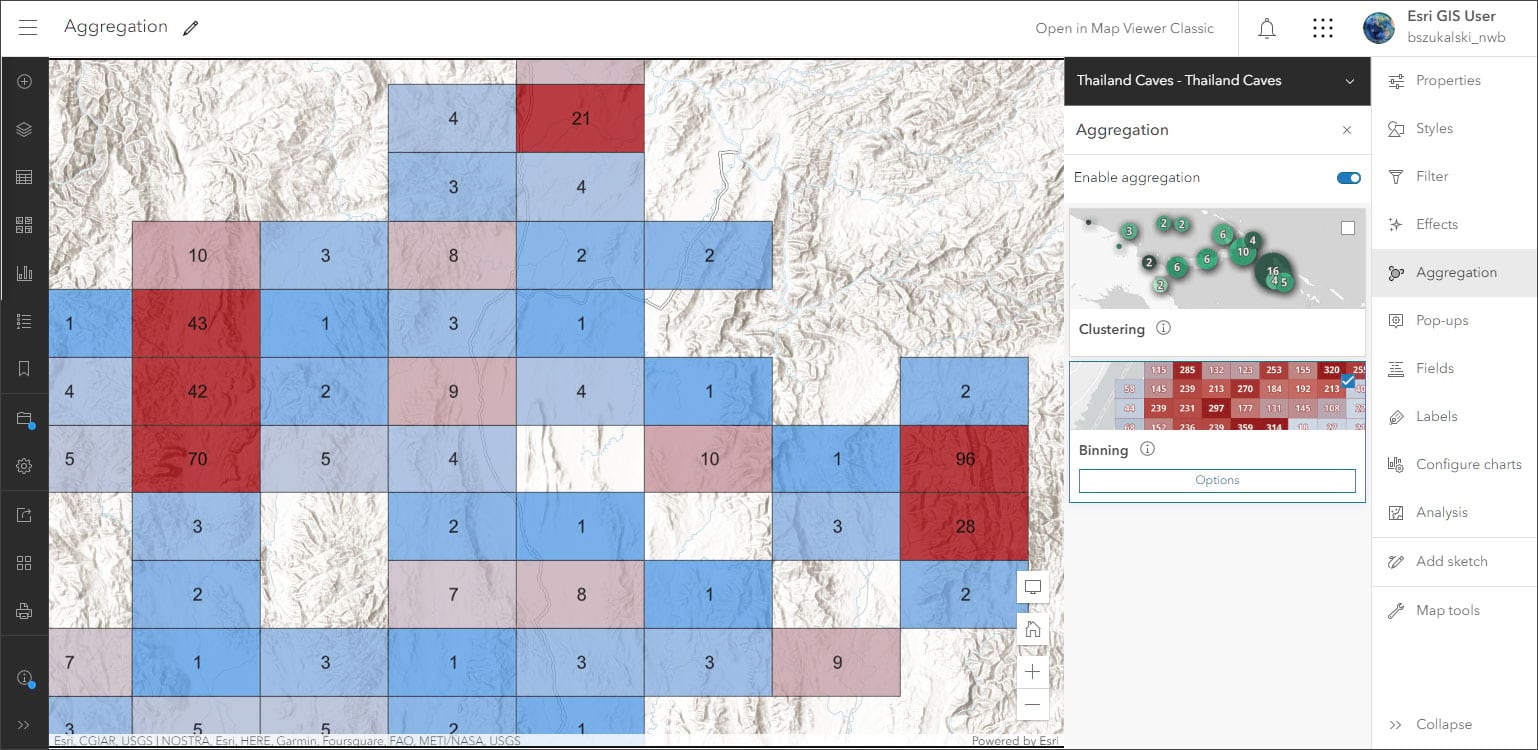 Map Viewer highlights include:
Ability to quickly preview a feature's sublayers and tables and see a list of associated fields when browsing content listings.
Enhanced ArcGIS Arcade expression editor.
Use Pie charts to visualize data in tables and layers.
Ability to configure geohash binning.
New clustering options.
Scene Viewer updates
This release of ArcGIS Enterprise incudes Scene Viewer updates to help show off your 3D data to your organization. Scene Viewer highlights include:
Ability to enhance your scenes using the Daylight and Weather tools.
Ability to add 3D buildings and trees to your scene from OpenStreetMap.
Support for adding GeoJSON and CSV layers directly to your scenes.
Perform line of sight analysis.
Add dimensions to your scene.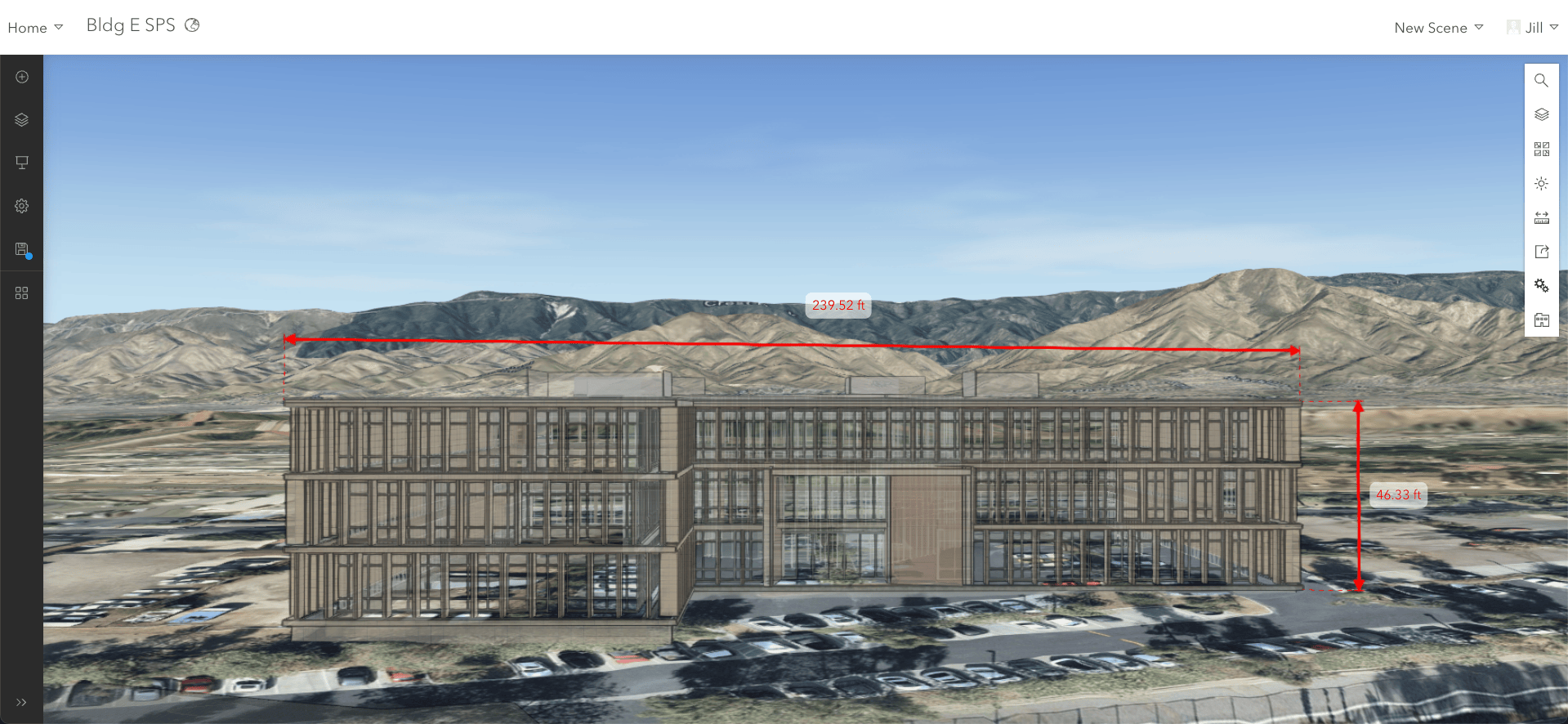 Content and data management
Custom data feeds
Custom data feeds allow users to create feature services from any data source. With custom code users can now create read-only feature services, ready to be used anywhere in the ArcGIS system and beyond. This data can remain in its custom format which does not need to be a native format supported by ArcGIS clients. Custom data feeds allow users to keep their data in their native format and location while serving it via ArcGIS Enterprise. Users can configure a custom data feed provider to create read-only feature services from the data source of their choosing.
For more information on custom data feeds, be sure to read our New in ArcGIS Enterprise 11.1: custom data feeds blog.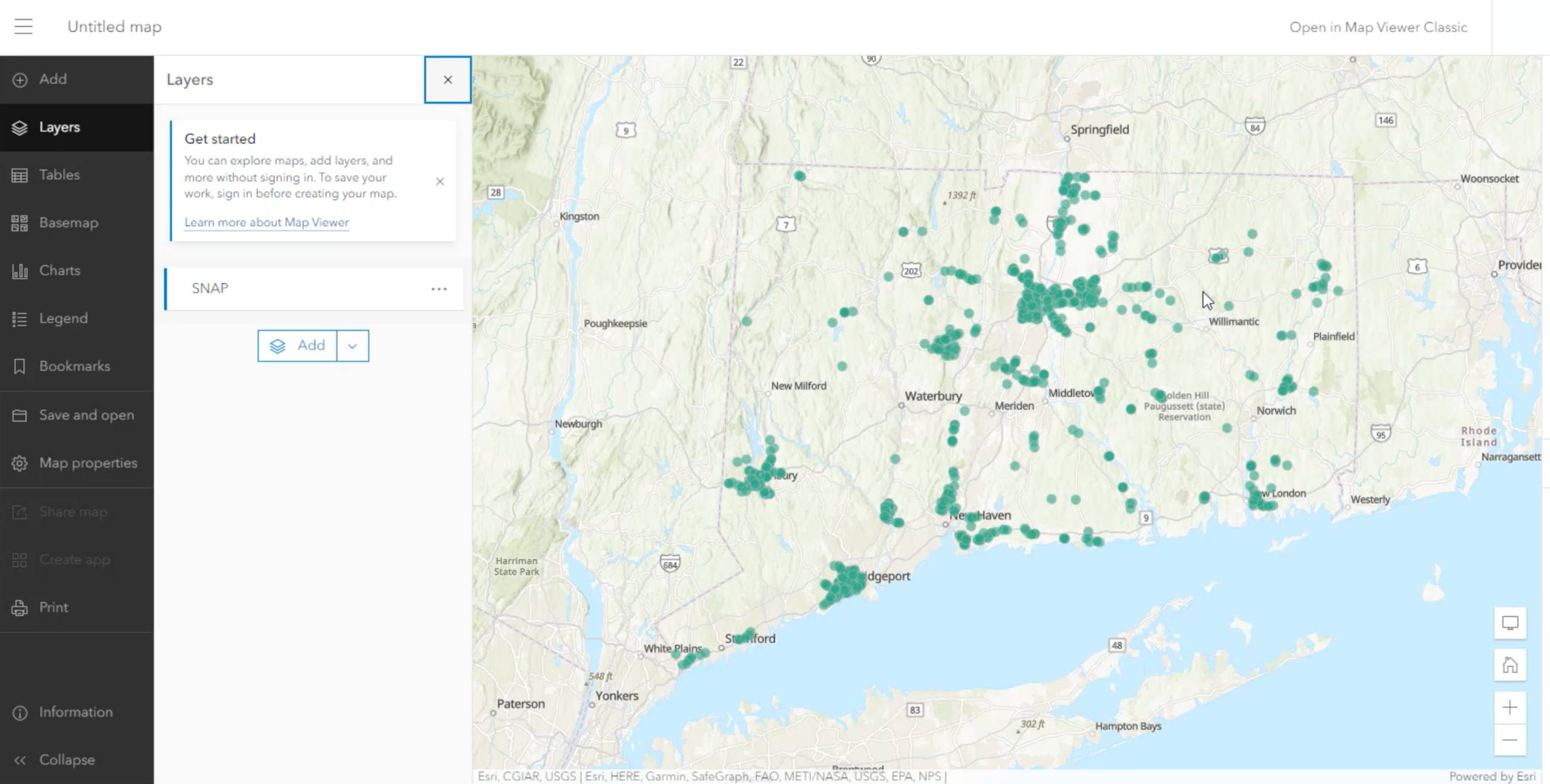 Webhooks
ArcGIS Enterprise originally introduced organizational webhooks several releases ago to track events for many types of portal-level actions such as user, item, and group related operations. New at 11.1, you are now able to configure organizational webhooks through the Enterprise portal using the Create webhook window under Organization > Settings > Webhooks. For additional information on configuring organizational webhooks in the Enterprise portal, refer to product documentation.
In addition to organizational webhooks, at Enterprise 11.1, service webhooks are now available. Webhooks for feature service events for create, read, update, and delete (CRUD) operations for referenced and hosted services are available. Geoprocessing service webhooks are also available for job statuses on asynchronous services. These webhooks are configurable within the Enterprise portal. Please note, services webhooks were previously release in Enterprise 11.0 as a beta feature but now are generally available in 11.1.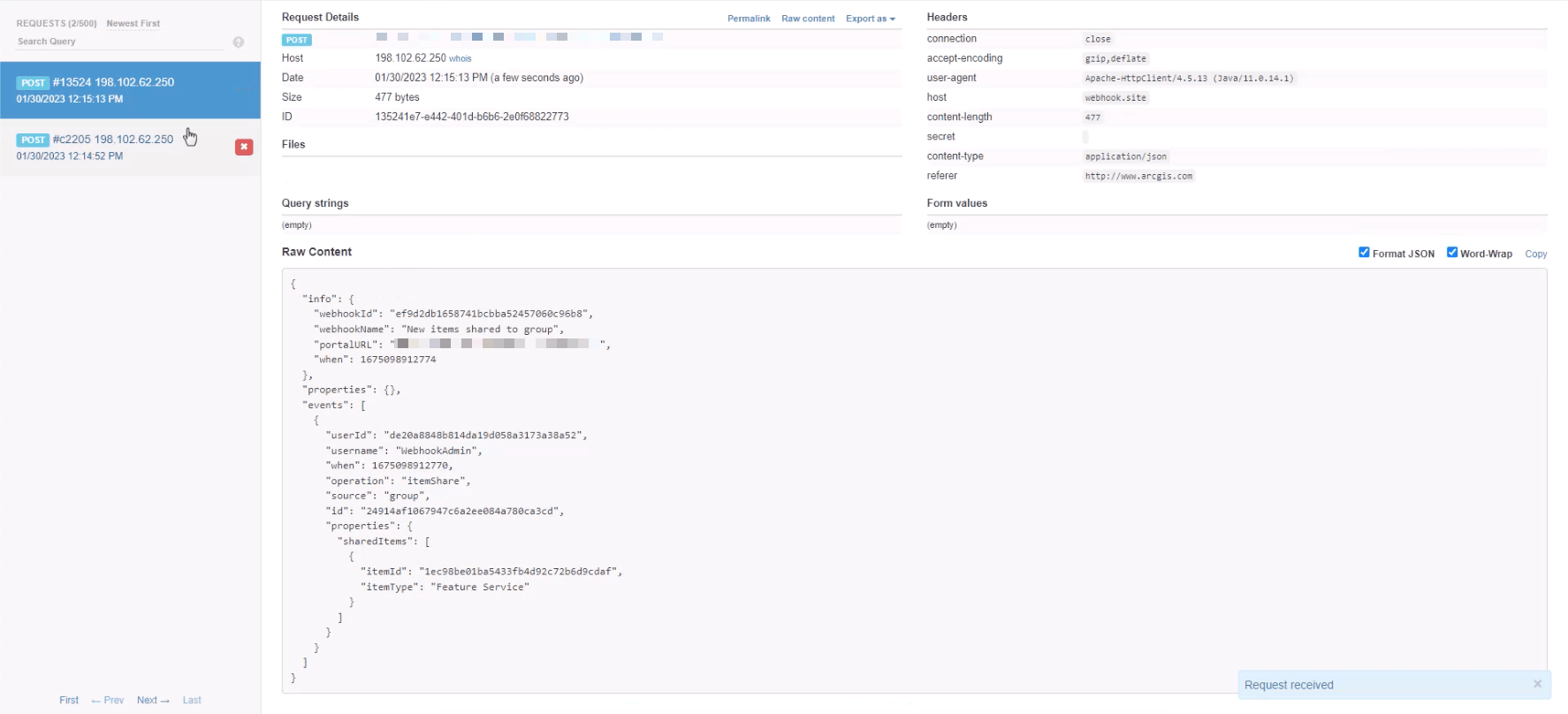 Apps
ArcGIS Instant Apps updates
When creating a new Instant App in your organization, there is a new option to "choose map" when previewing apps.  There is also a suggestion panel that opens by default when creating apps.  This ensures that your app meets your goals quickly.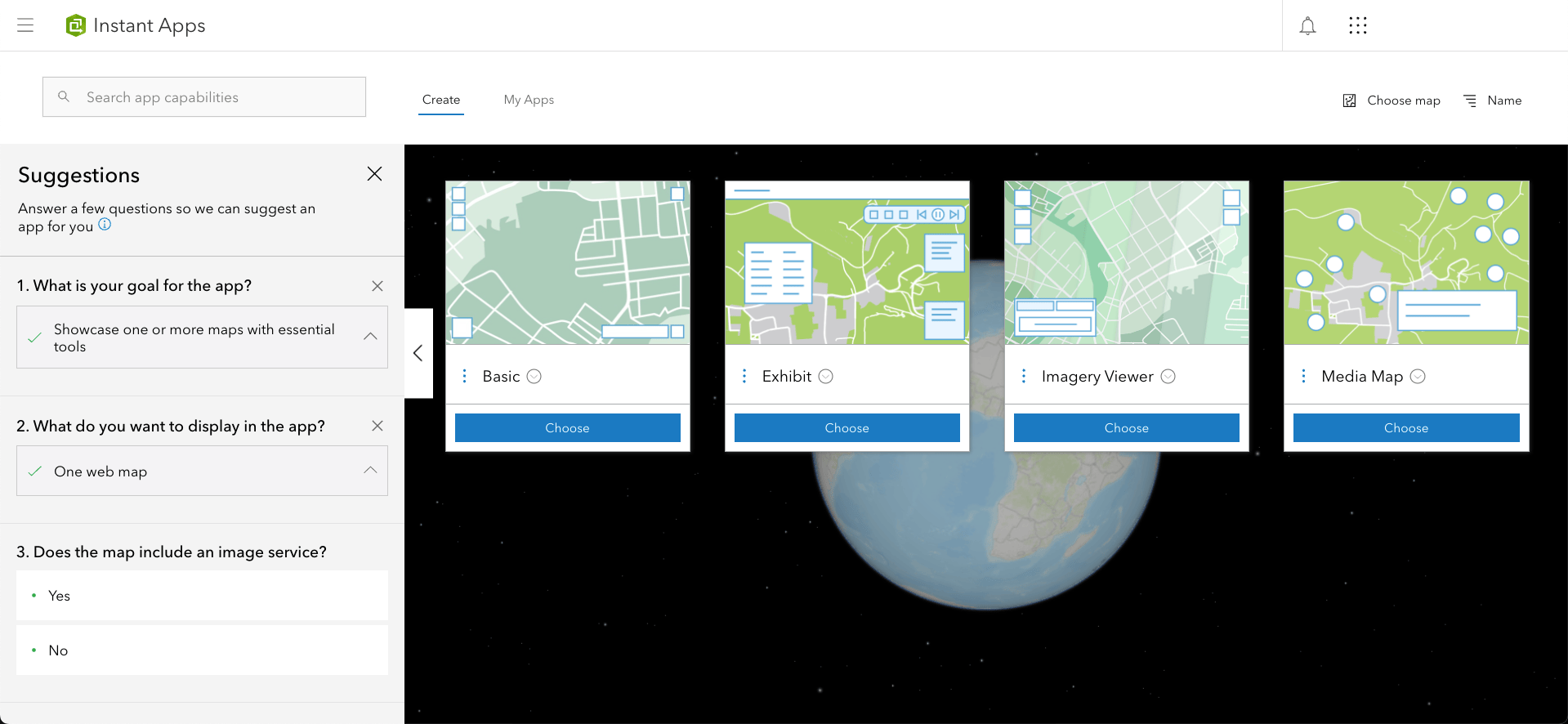 Instant App template highlights include:
Chart Viewer: Chart panels now include Zoom and Full Extent buttons; Pie charts now supported.
Countdown: New play button to allow users to cycle through all countdown and leaderboard lists.
Exhibit: Web scenes are now supported; Time-enabled bookmarks can be imported to create slides; Ability to hide slide notes using a new Toggle button in the control panel; New slide transitions added for panning in a map or flying in a scene to next location.
Media Map: New Magnify tool to enlarge a portion of the map.
Nearby and Zone Lookup: Support for exporting results to a CSV; When you opt to include related records in the results, it's now highlighted and in the map extent.
Portfolio: Improvements to mobile display; for the accordion layout users can choose a larger size for the panel to better display longer descriptions.
Sidebar: New measurement tools to measure distances and areas in the map; New buttons in layer list to support open attribute table, Zoom to, and show Legend.
ArcGIS Dashboards updates
The ArcGIS Dashboards update includes enhancements, bug fixes, and performance improvements.  Highlights found in this release include:
List search: You can now enable search for your listed elements.
Data download: You can now enable data download for data-driven elements.
Dashboard reset: You can now allow users to reset their dashboards after interacting with it.
ArcGIS Experience Builder updates
The ArcGIS Experience Builder update includes new widgets, new templates, and more widget settings. Some of the highlights include:
3D Toolbox widget: Add 3D effects and analysis tools to both global and local web scenes. The widget supports daylight, weather, shadow cast, and line of sight tools.
Print widget: Print web maps with options such as previewing the print extent and choosing the print layout.
Timeline widget: View temporal data from web maps, feature layers, and map service layers to see how data changes over time.
Coordinates widget: Display longitude, latitude, elevation, and camera altitude values when available.
Link enhancements: In addition to a web address, you can now use the URL option to set a link to go to an email address, phone number, and more.
Sharing level updates: When you update the sharing level of an application, you are prompted to also update the sharing levels of any contained data sources or items. Also, members of other organizations who have access to your content via distributed collaboration can view your apps and templates but now cannot make any edits unless you share via other means.
Administration
Enterprise 11.1 introduces a variety of enhancements to administration that enable you to make quality decisions faster. New administration enhancements include:
Member categories: Categorize new members when adding them to your organization or specify a default set of member categories to automatically assign new members to. Assign new members to your organization to different member categories. You can use member categories to automatically assign to new members when they join.
Enhanced search results with new "Search using related terms" item setting: With this new setting, enabled by default, search results will include all items that include the search term in the title or tags any items that contain tags with related terms.
Add members in bult via a CSV file: This enhancement improves the process of identifying and fixing field errors by clearly flagging errors and allowing you to fix them directly in the Enterprise portal without requiring uploading a new or modified file.
Home page enhancements: Set the height of the cover image to two-thirds of the screen when configuring the header of your organization home page.
New administrative privileges:

Share member content with organization — allow organization members with this privilege to share content owned by other members with the organization
Share member content with public — allow organization members with this privilege to share content owned by other members with the public (even when the Members can share content publicly security setting is turned off)

ArcMapServiceCheck tool: The ArcMap runtime is not included in Enterprise 11.1 so consuming and publishing ArcMap based services is not supported. The new ArcMapServiceCheck Tool can be used to list services successfully upgraded to ArcGIS Pro runtime and those that require attention.
Data Store Configuration wizard updates: You can now use the Data Store Configuration wizard to configure a single-machine object store. To create an object store that contains multiple machines (cluster mode), please continue using the configuredatastore utility.
ArcGIS Enterprise server roles
ArcGIS Enterprise offers a variety of additional server roles with advanced capabilities. Many of these server roles introduced new functionality at 11.1.
ArcGIS GeoAnalytics Server
This release of ArcGIS GeoAnalytics Server now supports Azure Data Lake V2. For a comprehensive list of all the new features in the newest release, check out the What's new in ArcGIS GeoAnalytics Server help topic.
ArcGIS GeoEvent Server
ArcGIS GeoEvent Server 11.1 introduces improved performance and load times for GeoEvent Manager and brings the ability to edit the configuration store and gateway directories in GeoEvent manager. There is also a new plug-in manager for installing custom connectors and processors from the ArcGIS Online GeoEvent Server gallery.There are also a variety of analytic updates to ArcGIS GeoEvent Server. For a comprehensive list of all the new features in the release, check out the What's new in ArcGIS GeoEvent Server help topic.
ArcGIS Image Server
The 11.1 release of ArcGIS Image Server introduces new Raster Analysis tools in the Map Viewer and new raster types for the Create Imagery Layer Wizard. This release also enhances the Raster Analysis service tool including updates to the Classify tool and Find Argument Statistics tool. The Deep Learning Studio web app also has a variety of enhancements in Enterprise 11.1 including the ability to add/remove custom work units after a project has been configured and support hierarchy in label schema for collecting/editing/reviewing training samples. The reviewer can now perform batch update/delete actions for selected work units and training samples within a project and optional work units status updates can be provided upon completion of importing training samples. For more on these updates, see the What's new in ArcGIS Image Server help topic.
ArcGIS Knowledge Server
ArcGIS Knowledge Server now supports user-managed graph store (external Neo4j database) and introduces new capabilities available in ArcGIS Pro to analyze and query knowledge graphs in an investigation, a link chart, a map, and in the Search and Filter pane. Learn more about what's new in ArcGIS Knowledge Server at 11.1 by reading the What's new in ArcGIS Knowledge topic.
ArcGIS Notebook Server
ArcGIS Notebook Server includes a new Run web tools privilege that allows users with type Creator or above to run web tools published from notebooks. Users with this privilege do not require notebook privileges to consume notebook web tools. Users with notebook privileges or the Publish web tool privilege are still able to consume web tools published from notebooks. For a comprehensive list of all the new features in the release, check out the What's new in ArcGIS Notebook Server help topic.
ArcGIS Workflow Manager
At 11.1, the ArcGIS Workflow Manager Server Advanced role features new ways to manage work including the ability to view Job History, the option to upgrade your workflow items using the Notification Center, the addition of Web Request as a new template, and more. The step templates have also been updated to support a variety of new features. For a comprehensive list of all the new features in the newest release, check out the What's new in ArcGIS Workflow Manager help topic.
ArcGIS Enterprise on Kubernetes
This release of ArcGIS Enterprise on Kubernetes will include improvements to framework and upgrades.  This means handling cluster disruptions more efficiently and improved logging for issues and in-process recovery. There will also be support for image services in ArcGIS Enterprise on Kubernetes.  While you can still federate ArcGIS Image Server with your organization, hosting and sharing imagery will benefit from the built-in scalability and high availability that comes with ArcGIS Enterprise on Kubernetes. Image Services on Kubernetes will be licensed separately. For other new features in ArcGIS Enterprise on Kubernetes 11.1, be sure to check out our What's new in ArcGIS Enterprise 11.1 on Kubernetes blog.
Learn more
We hope that you're as excited about this release as we are.  Once again, for a full list of everything included with this release, check out the documentation available in the What's new in ArcGIS Enterprise topic. Ready to get started with Enterprise 11.1?  Head over to the My Esri website for your licenses and software.  And, of course, let us know what you think in the comments below!