The ArcGIS Enterprise team has worked hard to bring you new features and enhancements in the portal for 10.6.1, which we released this week! Today, I'll take you on a tour of what's new in the ArcGIS Enterprise portal at 10.6.1. This release includes improvements and new capabilities for user experience, sharing content, mapping and visualization, spatial analytics, 3D GIS, and much more.
I'll highlight some of the biggest new features and enhancements here – and for the comprehensive list of features, see the What's new in the ArcGIS Enterprise portal help topic.
User Experience
Let's start with several new features that make it easier for users to navigate the portal and find content.
App Launcher
Administrators can now make web apps such as Operations Dashboard and Insights for ArcGIS available to organization members by adding apps to the app launcher. The app launcher appears in the upper right next to Search after signing in.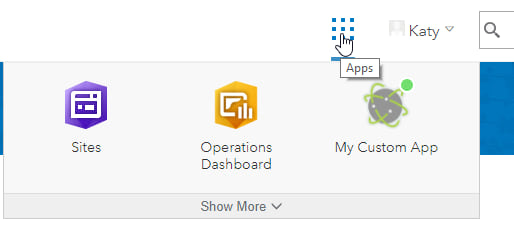 Members can personalize their view of the app launcher by dragging and dropping apps to change the order in which they are displayed.
Item Status
Items can now be marked as Authoritative or Deprecated in the item settings. Items with these indicators are identified by a corresponding label on the item page. Administrators and content curators in your organization—those with privileges to update organization content—can now designate items with these labels. Users who are not administrators can only deprecate items they own. Setting these statuses makes it easier for members of your organization to find reliable, authoritative items, while discouraging the use of items that are not as reliable or are becoming out-of-date.

The Status filter can be used when members search or browse for content. Organization members can also restrict layer searches to authoritative layers when authoring maps using the Map Viewer.

Item Information
A new status bar and interactive checklist on item pages help item owners and administrators improve item information, making it easier for others to find, understand, and use their items.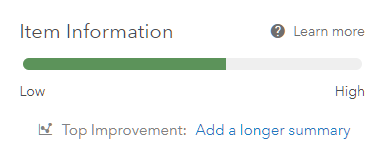 As item details are completed, the status bar shows the current item information completion status, and offers suggestions for improvement.
Content Categories
Content categories are a new way to organize content across your organization. You can establish hierarchical categories for your organization or group content by choosing from standard category templates, such as ArcGIS, ISO, or INSPIRE, or by creating custom categories that make sense within your organization. Creating content categories for individual groups can also help your users more easily find content to support projects and workflows.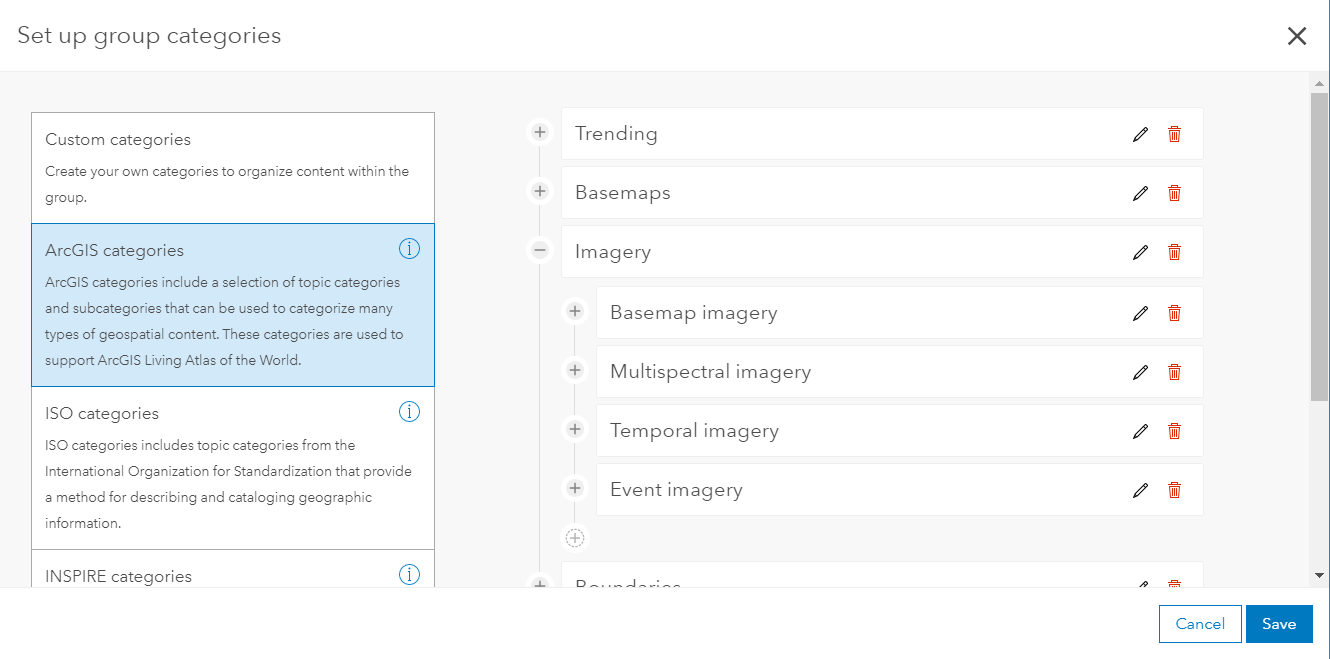 Sharing Content
Distributed collaboration between ArcGIS Enterprise and ArcGIS Online is now available to all users as of last month. The ability to share web apps and synchronize a workspace on demand within your collaborations is new at 10.6.1. For more information, take a look at yesterday's blog, which gives an overview of new distributed collaboration features in this release!
At 10.6.1, ArcGIS Enterprise Sites allows you to create a tailored web page experience for your users to help you share your authoritative GIS data to other departments more easily, even if they are not used to working in your GIS. Web pages created with ArcGIS Enterprise Sites are built to be used by non-GIS users, but are powerful enough to let users interact with, download, and create apps from your data. Its built-in web page designer integrates a drag-and-drop experience with HTML markdown, giving you control over the design of your web pages.
Mapping and Visualization
The number of features that you can visualize when viewing hosted feature layers has increased in many cases. This enhancement improves performance when data is visualized, and allows more data to be displayed on the map in Map Viewer and most configurable apps. For more information, see how to optimize your maps for high demand.
The Map Viewer user experience for adding layers to your map has been enhanced. When searching for layers, you can view your search results in a table view or list view. You can also sort and filter the results to help you find what you need.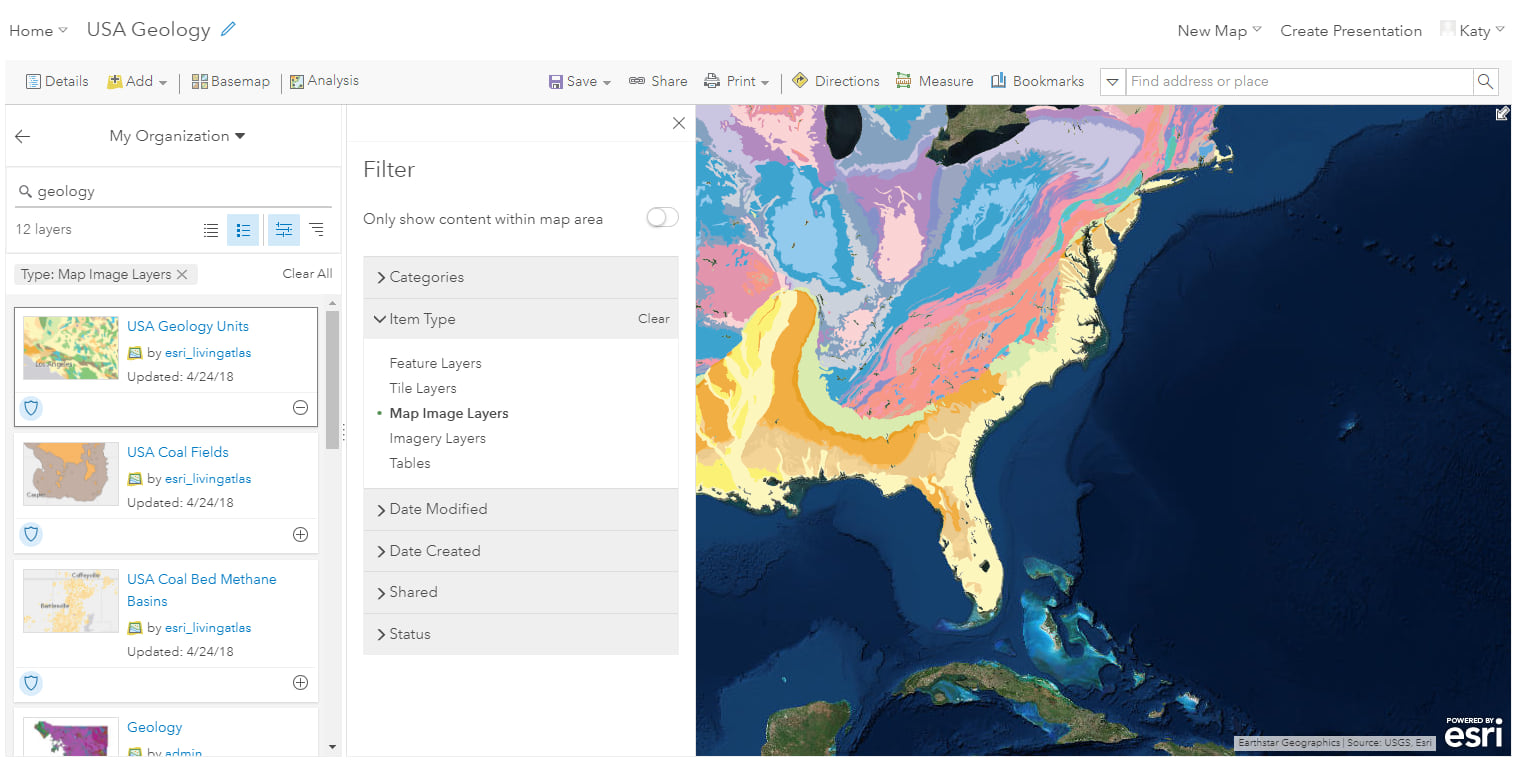 Click an item's title in the search results to learn more, or to add the item to your favorites. In addition, the option to add layers from a GIS server has changed from Search for Layers to Add Layer from Web.
When styling layers in Map Viewer, you can now choose to show or hide color, size, or transparency ramps in the legend using the Show in legend check box. You can also edit the title of your web maps directly in Map Viewer.

Support has been added for geometric operations in Arcade expressions defined for smart mapping styles, labeling, and pop-ups. Use advanced functions to normalize by area, test spatial relationships, compute distances between defined areas, and more.
Light up your map with a new Firefly symbol set. A firefly point symbol is a dot with a colorized glow effect, useful for creating dramatic thematic maps. These symbols are especially effective when used with the World Imagery (Firefly) basemap, and are available out of the box in the ArcGIS Enterprise portal in 10.6.1. Tip: Use a low-contrast, dark basemap to make those firefly points really stand out!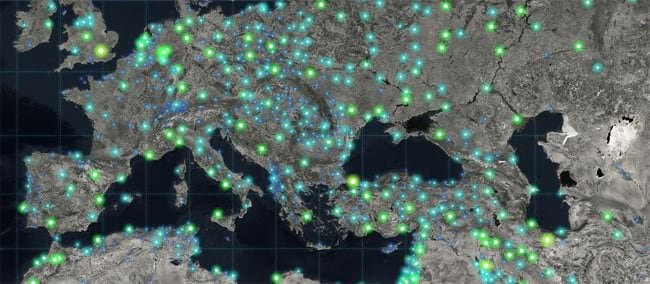 Arrows are now available to indicate direction when styling line features. See Change symbols for more information.
The user experience for displaying imagery has been improved to allow you to create layers with better and enhanced rendering. The new classified and unique value renderers allow you to give meaningful colors to your data. Additionally, the stretch renderer allows you to set custom statistics from Map Viewer.
Spatial Analytics
Standard feature analysis tools include a new Find Centroids tool, allowing you to find the geometric center of multi-point, line, or area features.

The Aggregate Points and Summarize Within tools have a new option to generate custom square or hexagon bins instead of summarizing your data within an input area layer.
There are also several new GeoAnalytics and Raster Analytics tools in the ArcGIS Enterprise portal that allow you to use the power of distributed processing in your Enterprise for analysis of big data. For the comprehensive list of new tools and enhancements, see what's new in analysis tools here.
There are several feature layer enhancements, including two new editing configuration options, which allow you to have more control over how editors can add and update features. You can now also view layer-level metadata for hosted feature layers from the layer's item page. There are also enhancements for spatiotemporal feature layers.
3D GIS
You can now measure distances and areas in 3D in Scene Viewer. This new interactive tool allows you to calculate the direct and vertical distances, choose different units, and leverage laser lines to guide your measurements. Whether you're working at a city, regional, or global scale, you can calculate areas and perimeters for both horizontal and vertical surfaces, such as building walls and roofs; city parks and lakes; and larger geographical features, such as watersheds and wildlife reserves.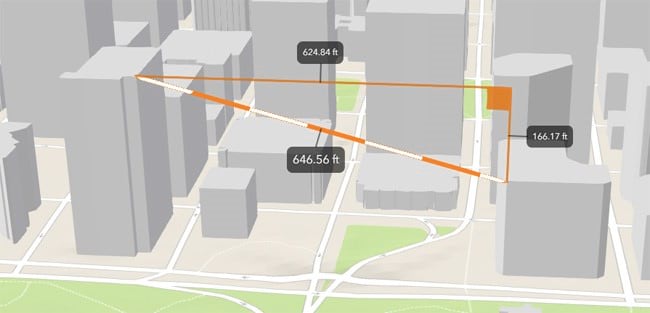 Scene layer performance has significantly improved in this release. Buildings and integrated mesh scene layers now load faster using the correct priority order. Additionally, when zooming to scene layers, data is temporarily cached enabling the layers to redraw much faster.
Scene Viewer is now supported on mobile devices. You can visualize 3D content on your modern phone or tablet directly in your browser without installing an app. See Mobile requirements for more information.
Edge rendering accentuates the outlines of your 3D buildings, including exterior walls, balconies, or roof structures. Enabling the Edges option also increases the contrast and depth perception of your scene.

Administration
The portal now supports enterprise logins to a SAML-based federation between multiple organizations. This allows a user from one organization to access resources hosted by other organizations that are members of the federation using their own SAML-based identity provider.
Organizations requiring more control over offline usage of ArcGIS Pro can now prevent all ArcGIS Pro licenses in the organization from being taken offline.
An ArcGIS Image Server site can be designated an Image Hosting Server role in the portal at 10.6.1. The image hosting server hosts the raster data store, managing its file share storage as well as its cloud storage, and distributes results according to portal member requests.
For more information
We hope you find ArcGIS Enterprise 10.6.1 offers your organization an even better Web GIS experience! As with every release, there are many enhancements and new features for apps and other content within the portal. For information on what's new in apps and content in the portal, see Esri apps and content at 10.6.1.
Commenting is not enabled for this article.