We're excited to announce the release of ArcGIS Enterprise 10.6.1, an exciting update to the product that brings in brand new capabilities for collaboration and sharing, innovative analysis tools, and, of course, faster performance. 10.6.1 will be available to the general public tomorrow, July 17. We'll be diving in to the release all month here on the ArcGIS Blog – today, we'll start with details about six of the most prominent new features!
The ArcGIS Enterprise documentation has now been updated with 10.6.1 information as well. For a full tour of the release, head over to the What's New in ArcGIS Enterprise 10.6.1 help topic for details.
ArcGIS Enterprise Sites
With ArcGIS Enterprise Sites, you can easily design and develop tailored websites to highlight your GIS content. Sites makes it easy for everyone in your organization to access and work with your data, even if they don't know a shapefile from a saw file.
We unveiled Sites at the 2018 Esri User Conference plenary with a demo of what Sites can do for your Web GIS. Consider an organization with multiple departments, all of whom seek information and answers from your data. With Sites, you can create branded webpages for each individual department, incorporating the underlying data and maps from groups in your Enterprise portal. You can create any number of sites and pages, webbing them together to form a cohesive, interactive experience for your users.
Members of your organization can then navigate, download, and create apps from the geospatial content provided in the page. They can even select a feature and view its attributes! Truly interactive for GIS and non-GIS teams alike.
When you launch Sites in your ArcGIS Enterprise portal, you create a Sites Team, to which any Level 2 portal member can be added. These members are able to create and manage your portal's sites and pages. Sites caters to teams with varying levels of web development experience. If drag-and-drop is your jam, you can build beautiful sites and pages without a line of code. However, if you are savvy in HTML and CSS, Sites opens up that gateway for you to really customize the look and feel of your webpages.
Vector tiles
With ArcGIS Enterprise 10.6.1, we're continuing to advance vector tile functionality. What is a vector tile? It's a high-performance layer that delivers large, adaptable sets of vector map data quickly and efficiently. You use vector tiles every time you open your favorite navigation app and zoom around the basemap. If you aren't using vector tiles yet, we encourage you to try them out!
One of the new advancements to hosted vector tiles is the ability to take them offline. When you enable offline use, a vector tile layer can be downloaded and used in offline apps and maps. Now vector tiles can serve a prominent role in your organization's data collection, navigation and offline workflows.
Also new for vector tiles is the ability to replace a hosted vector tile layer with an updated version. When you choose "Replace Layer" under your item details, the item ID and URL of the original layer are preserved, but the content changes. As a result, clients and apps using the layer won't break, and you can run as much testing on the new layer as you'd like before making the switch.
Lastly, we've introduced new vector tile layers in Living Atlas – the Nova, Newspaper, Modern Antique and Mid-Century styles. Check out these neat styles if you're looking for a fresh look for a basemap.
Performance for map and feature services
At ArcGIS Enterprise 10.6, we released faster performance for service management operations (like starting and stopping services). At ArcGIS Enterprise 10.6.1, we are introducing faster performance for map and feature service drawing and rendering.
When you upgrade or deploy 10.6.1, you'll notice that map and feature services draw and render much faster and are much more lightweight. With this new enhancement, developers will appreciate how this results in a significantly smaller amount of data being transferred over the network for many scenarios, while analysts will notice how larger data sets draw much more quickly on a map when panning and zooming. Take advantage of this enhancement in Pro 2.2, the ArcGIS Enterprise portal's Map Viewer, and apps built off of the JavaScript API 4.5 and up.
To see this enhancement in action now, check out this demo.
Distributed collaboration
With the release of ArcGIS Enterprise 10.5, Esri introduced distributed collaboration, which allows multiple portals to share and explore geospatial content in a secure, trusted partnership. At 10.6.1, distributed collaboration is more robust and flexible than ever.
As of June, all ArcGIS Online organizations can now enable collaborations with ArcGIS Enterprise 10.5.1 and later. This feature has previously only been available in our Early Adopter Program; we've seen an enthusiastic response from users. Take a look at this blog to learn how you can set up a collaboration between ArcGIS Online and ArcGIS Enterprise!
At 10.6.1, we're introducing three new features for collaboration. First, you can now share web apps from your ArcGIS Enterprise portal to other ArcGIS Enterprise 10.6.1 participants or to ArcGIS Online. This means you can provide colleagues with a focused, ready-to-use app as soon as they open the link – and by sharing it with ArcGIS Online organizations you're collaborating with, move your finished web apps from internal development to wider or even public consumption.
A second new feature is the ability to synchronize a workspace on demand. This option allows you to synchronize new content and edits outside of your regularly scheduled synchronization interval. Using the Sync Workspace operation will come in handy a lot – if you need to verify that data you've just shared is visible to others, say, or if you make an edit outside of your normal sync schedule that needs to make it into participants' hands ASAP.
Lastly, we've added the ability for portal administrators to set a content threshold for space their collaboration content can take up. The default limit is set at 10 GB, but using the diskThreshold parameter, you can specify a custom absolute value of 1 GB or higher.
Learn the basics of distributed collaboration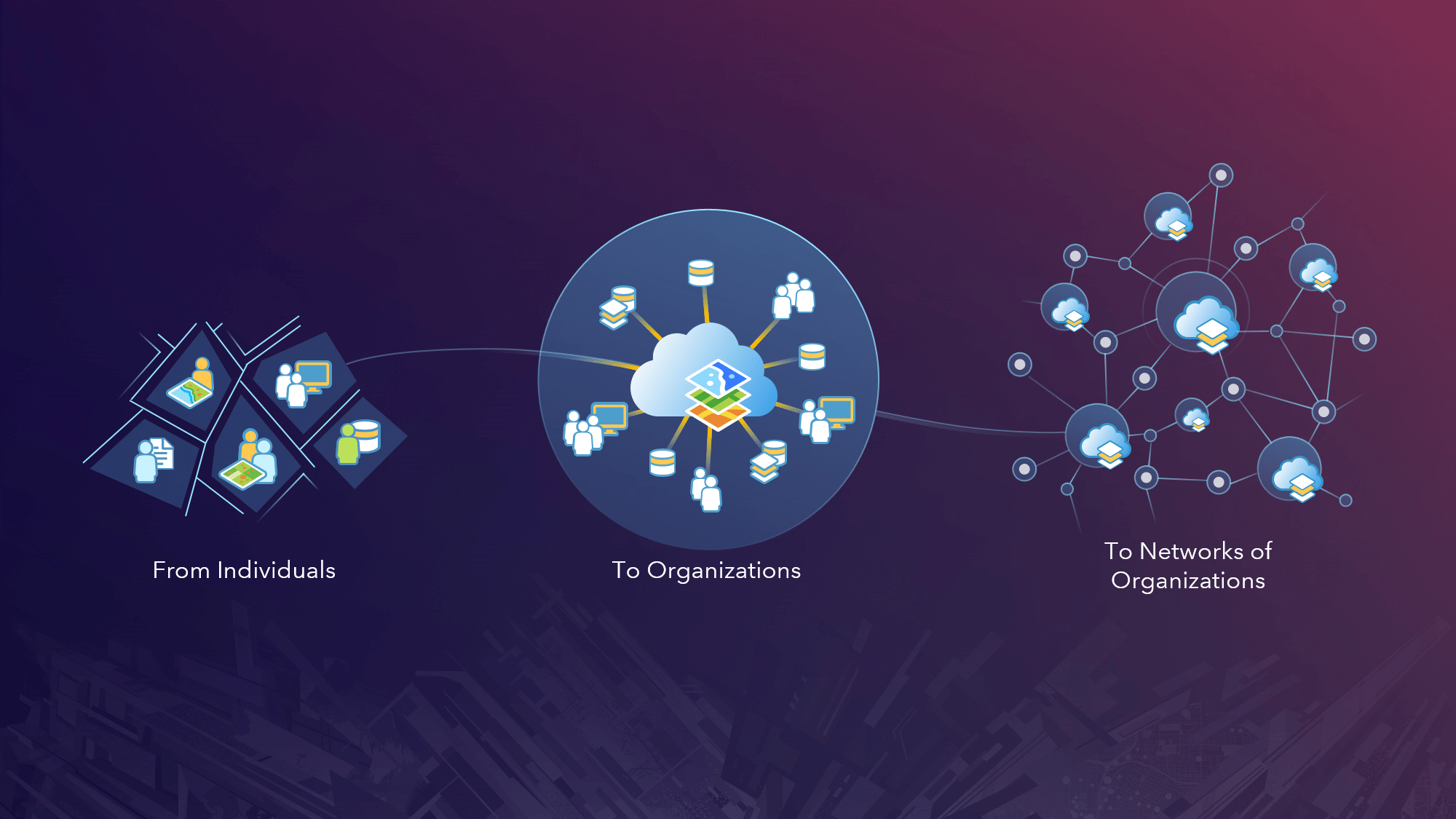 Ortho Maker
Creating orthorectified imagery products from drone images has long been a time-consuming and complicated process. Esri's new drone orthomapping web app, Ortho Maker, innovates and simplifies that process and offers a range of advanced end products for your imagery.
Ortho Maker is a three-step app: You set up and customize your project, perform guided block adjustment for your images, and then generate an image collection and other end products. The app can create orthoimage mosaics, digital surface models (DSMs) and digital terrain models (DTMs), and other analysis maps and layers from your drone imagery. It uses the distributed processing power of ArcGIS Image Server, and is accessed from your ArcGIS Enterprise portal.
Learn how to get started with Ortho Maker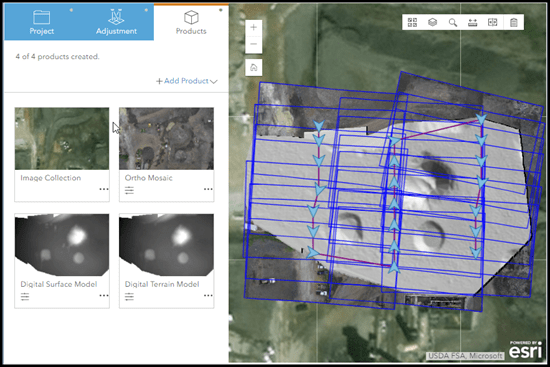 More control over geoprocessing jobs
ArcGIS Server administrators now have greater control and information about the asynchronous jobs being run by their geoprocessing servers. A new suite of operations and resources in the ArcGIS Server Administrator API allow you to view jobs that are currently being run, waiting in the queue, or have recently completed. You can intervene by canceling a job in progress, or by purging the queue of all pending jobs.
See what you can do in the ArcGIS Server Administrator API
We hope you're excited about these new features! For everything ArcGIS Enterprise 10.6.1, visit our documentation resources, watch our what's new videos, and take a look at the newly updated ArcGIS Enterprise Functionality Matrix.