Happy Spring and Summer! Or whatever the season is for you. Here are the latest updates to ArcGIS Hub for April through June of this year. If you have ArcGIS Online, you already have access to Hub. At your fingertips is a powerful tool to stand up a website (no coding required), facilitate communication, share spatial data, and much more.
Just look for the Hub logo in the apps switcher (top right) when logged into ArcGIS Online.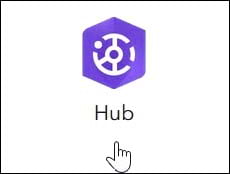 For those new to Hub, this quick start guide to ArcGIS Hub Basic shows you how to design a site, add content, set up teams, and share your site with the right audience.
Below are some fresh additions to the application, some for Hub Basic and Premium licenses, and some Premium-only. Jump to specific sections:
Get a better count of your Hub community
The Hub Overview more accurately reflects the number of community members, and does not count community administrators. Hub Community management (a Premium feature) now allows dual authentication as the community administrator (if all community members are private).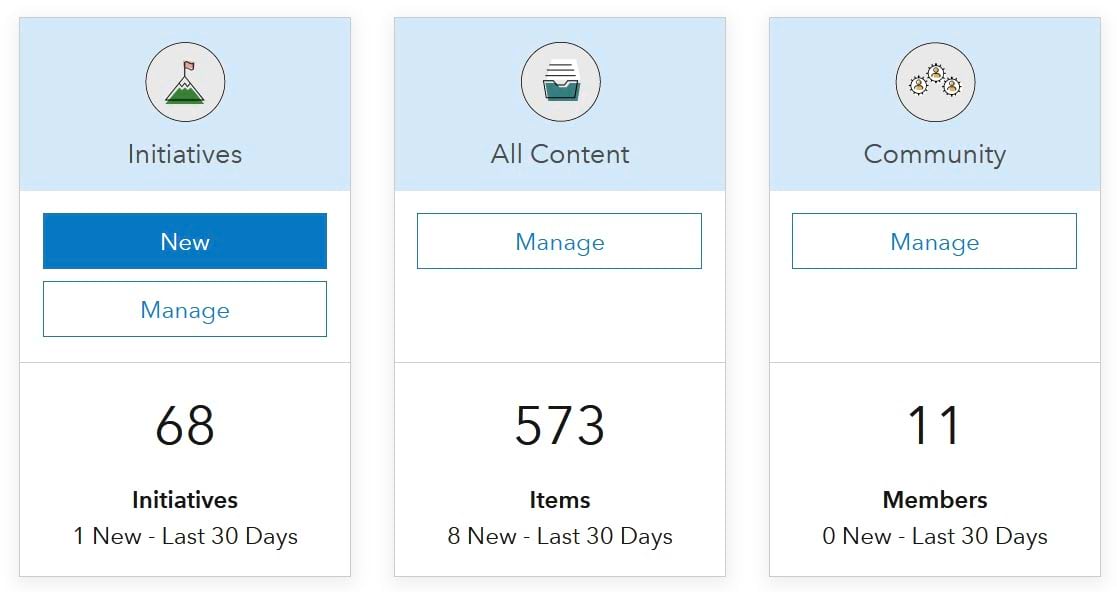 Set up editing by page
Hub now provides the ability for more fine-tuned distribution of page editing across your site. Site managers can grant a user access to edit individual pages without giving them access to edit everything on the site. Read all about how working together is easier now in ArcGIS Hub.
React, locate, moderate
Let's talk about discussions, one of the newest features for Premium customers. This feature gives you the ability in Hub to have group conversations based on items of content. You can even connect your posts to features on a map to clarify and enhance your message.
A discussion now indicates with a highlighted map border when you are actively adding a location to a post. Mapping prompts guide you through drawing, editing, and deleting geographic features. This on-map guidance helps with the ever-confounding task of closing an area (polygon).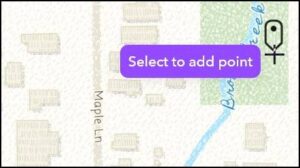 Another recent enhancement to discussions is the ability to react with a quick emoji to a post or reply. Reactions can make your conversations more efficient and a little more fun. Participants can easily share their opinion in a positive and productive way. Read more about what's new in Hub discussions.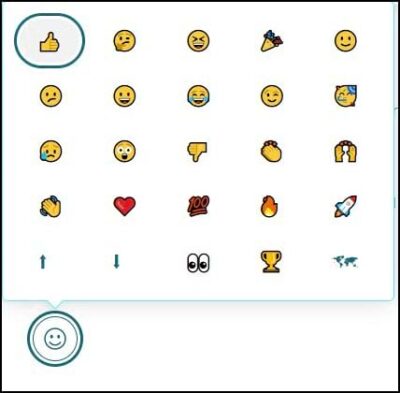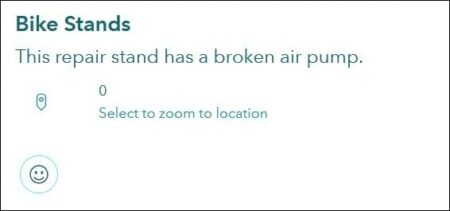 If needed, discussion moderators (organization administrator and group owner) can hide or show individual posts or replies. On the message itself, look for the three dots (more actions) and you can quickly hide and then show a post, as appropriate.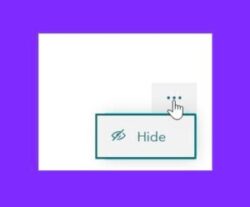 Use the new search view
The new search view is available to all organizations and sites! Site editors will see the option on the /search page to try out the new view, as will authenticated users with site edit privileges. After navigating to the new search view, site editors will see an option on the /explore to enable as a site-level beta feature for all users.
Site visitors will see two notices summarizing the changes. Find details about accessing the new view in what's new on ArcGIS Hub search.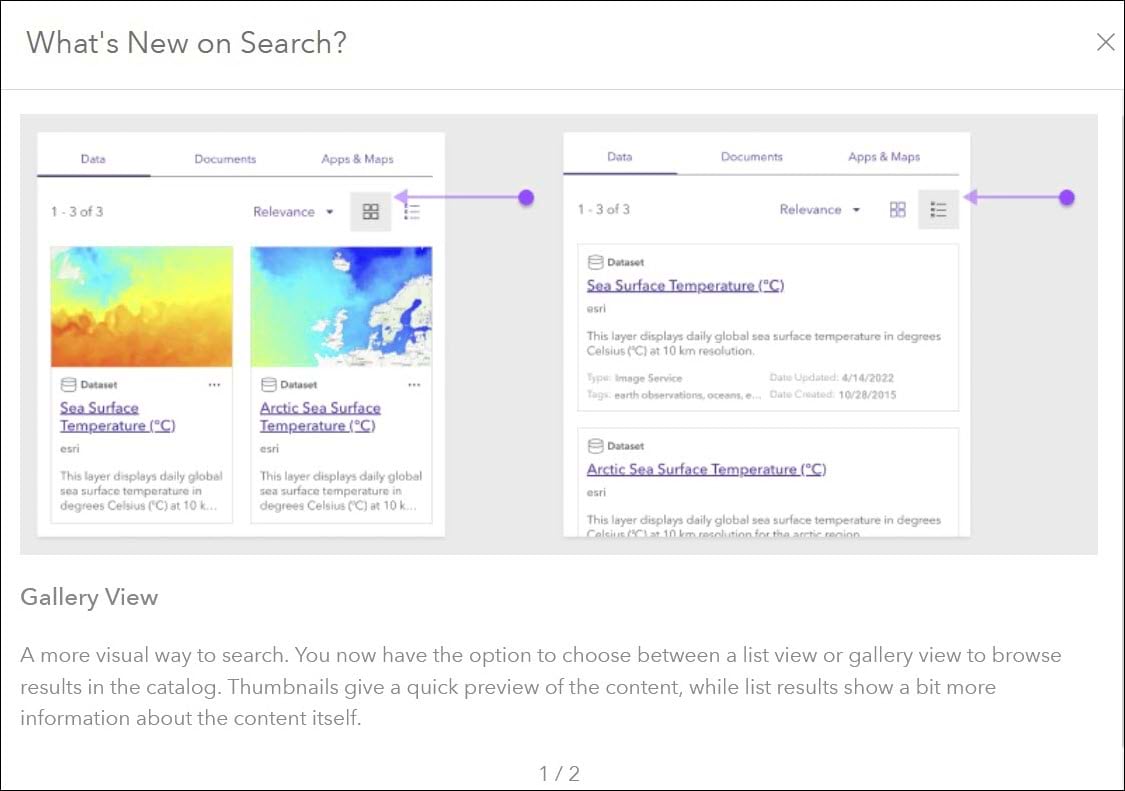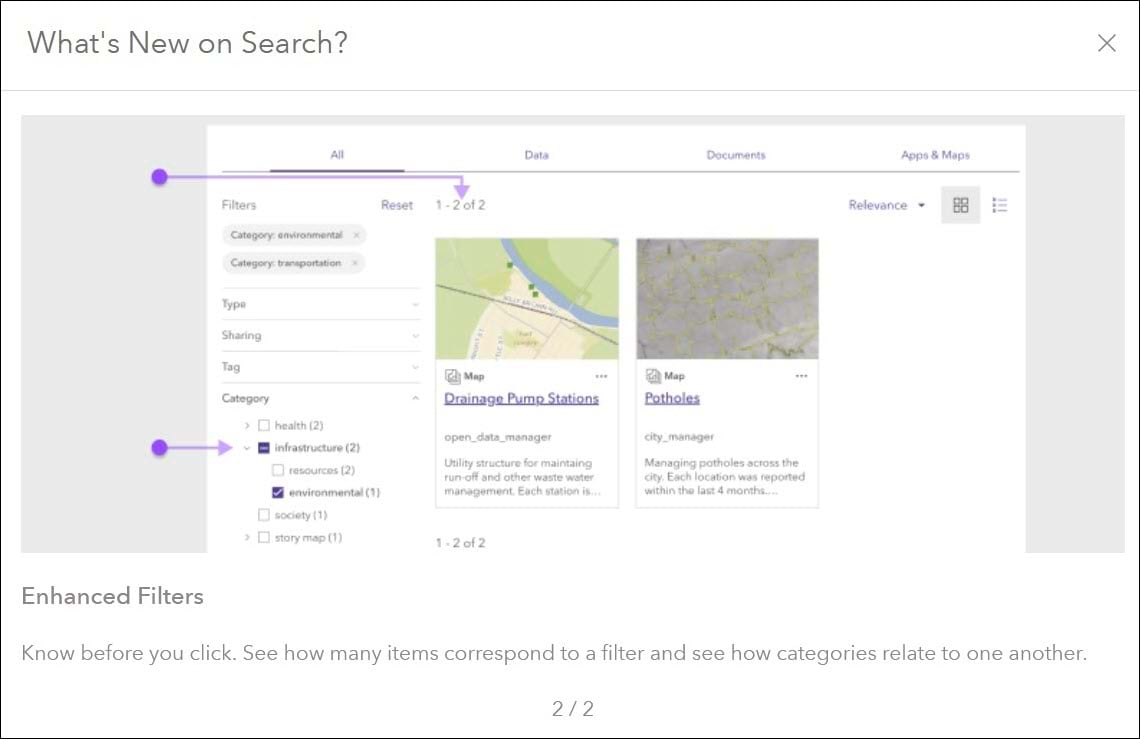 You may notice that layers are no longer search results, only items. So, for some sites, it will seem as if search results are significantly reduced.
Other updates include viewing content items as a grid (gallery) or list. Your thumbnails will appear in the grid view, while the list view provides more item details.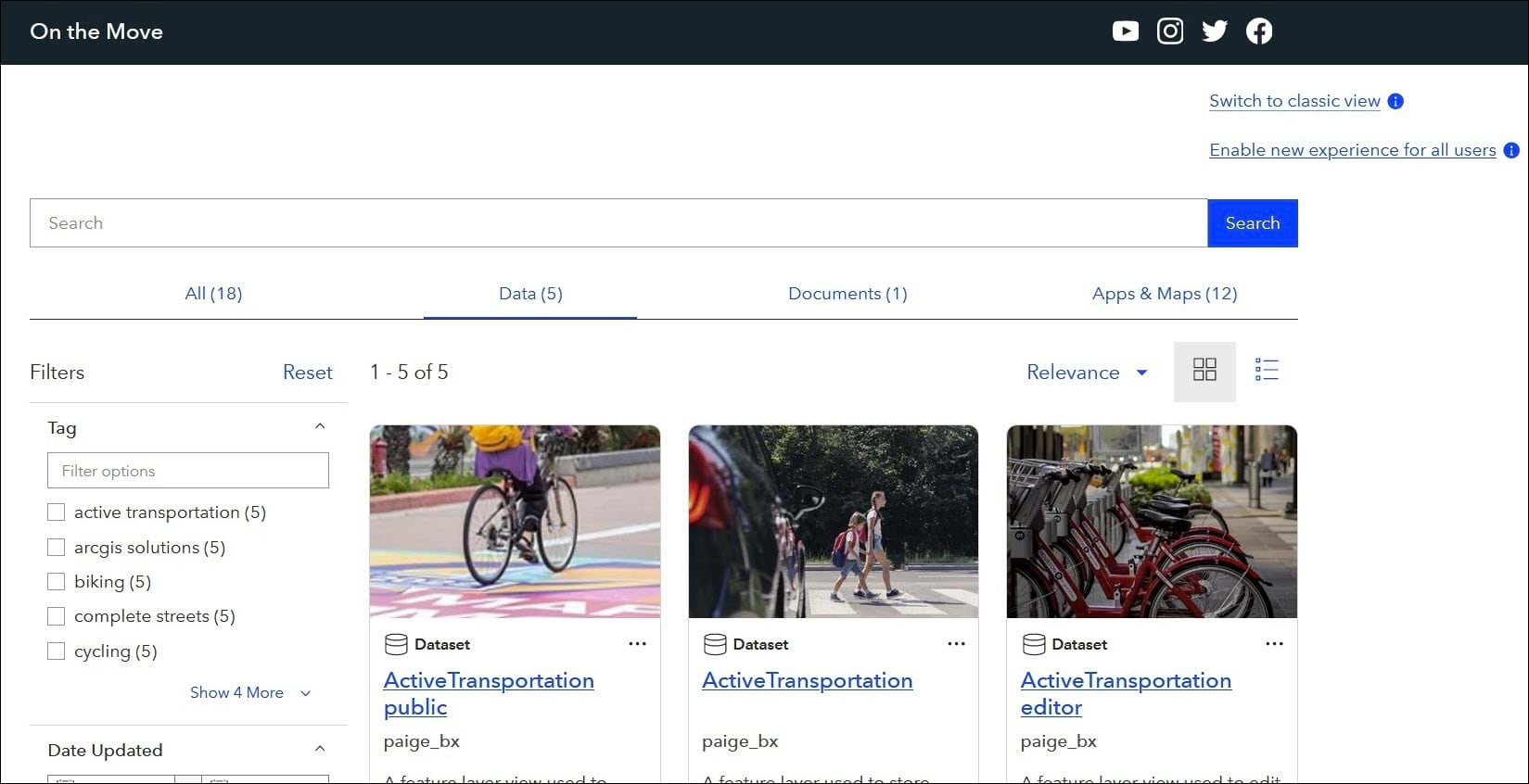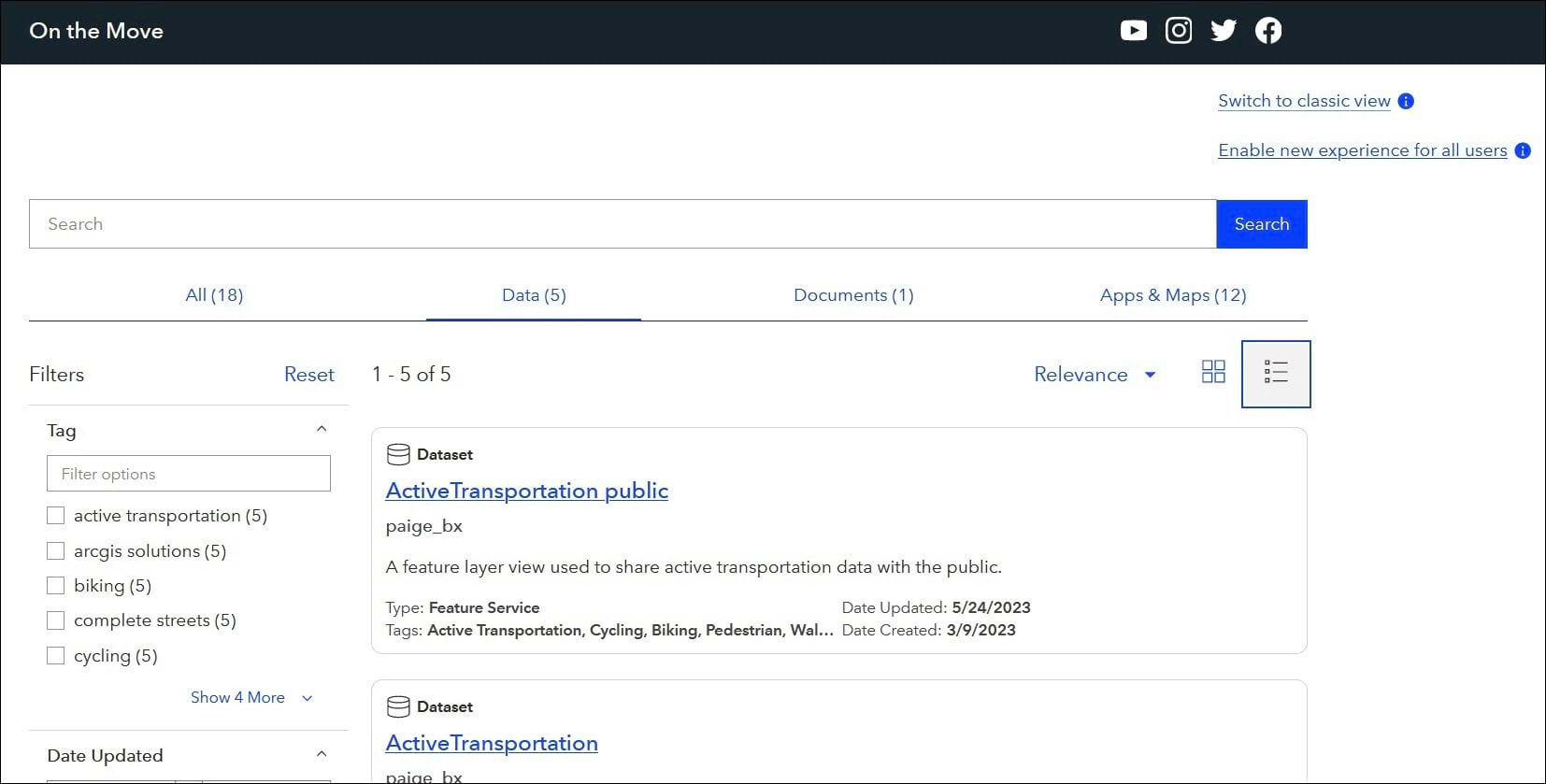 On the new search path, collection tabs such as Data, Documents, and Apps & Maps shown above have count totals next to them. You can also filter search results by source or license.
Export catalog contents to a CSV
CSVs are exciting! With the new beta search experience, you can now export the public contents of a site's catalog to a CSV file! Just look for the dot "more" menu popover at right of the sorting controls. You can do an inventory of your site catalog(s), and manipulate content items as rows and columns of data, such as sorting by tags, categories, and sources.
Show upcoming events on a map
Hub premium customers can now display upcoming events on a map. Previously shown by list or calendar, now you can show event locations on an interactive map with a list to the side. A search bar on the map allows users to find upcoming events in specific areas.
Share gallery cards
You can now share a gallery card from a site using a copied link. It's simple for site creators and users to share content from a site layout, as no custom code is needed. A site creator can quickly generate a link to a specific gallery card to direct users to relevant content.
On a live view, site visitors have the option to share the card (hover at bottom right). The share link works as long as the card exists on the site and will follow the card even if moved. The link does not work if the card is deleted. Site creators can turn off this option at the card level.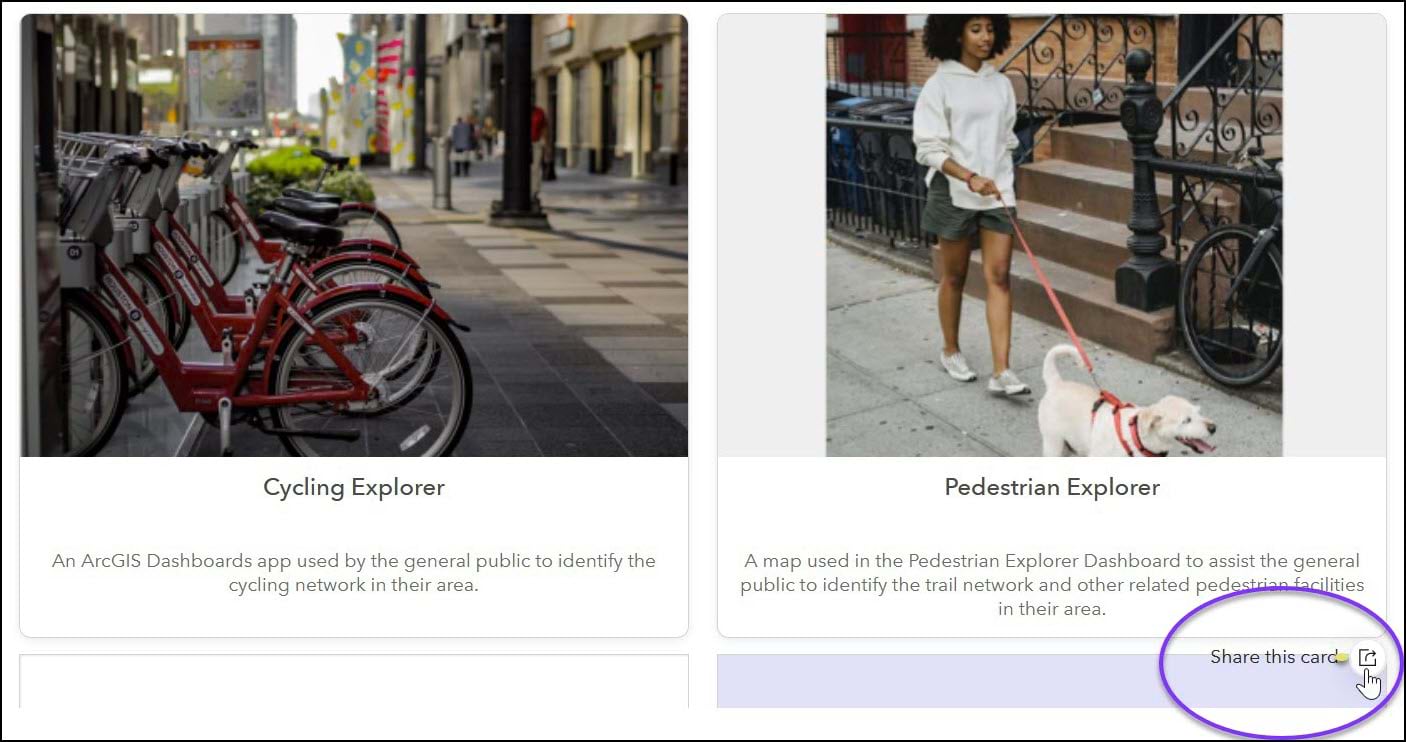 Learn about Hub projects
And now, the big news! Our team released Hub projects as a beta feature in June. This is a chance to test out one of our newest features as it continues to grow.
Most organizations balance multiple efforts that have related and clear objectives, based on resources such as materials, money, and time.
The Hub projects feature provides a built-in way for Premium customers to organize, manage, and showcase that work. You can keep your partners and constituents up to date on activities, milestones, and how to participate.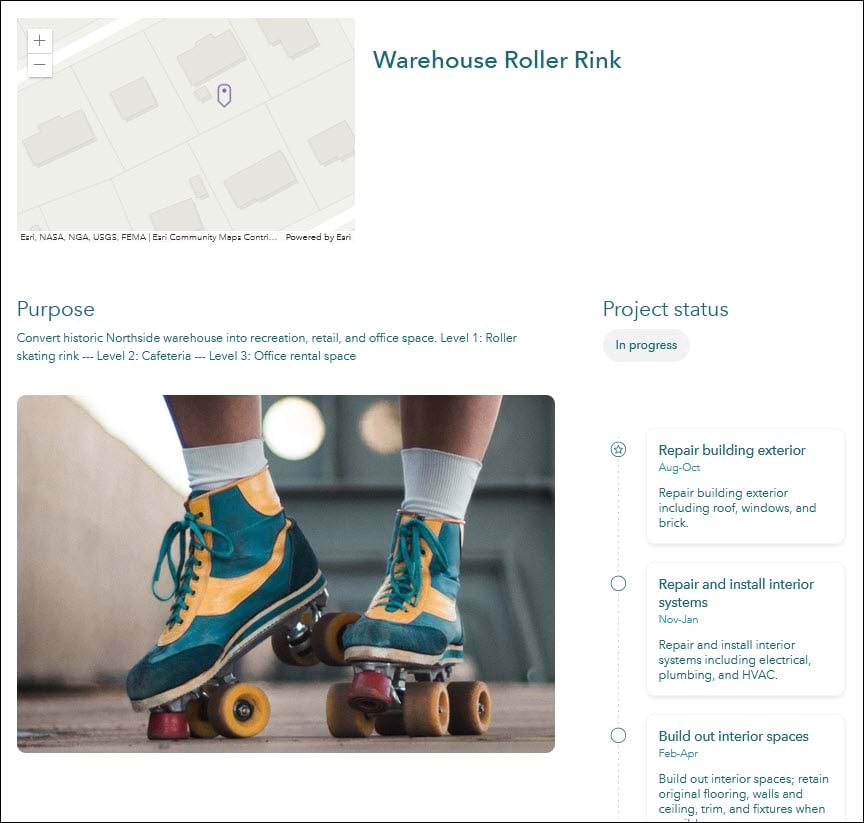 Of course you can name and describe each project. You can also set a status and use a timeline to visually indicate stages of work.
You can even show your project on a map to quickly convey an important aspect, location! Use the geographic area covered, or create one or more points, lines, or areas. Later, you can add a representative image and pull in relevant items of content to feature on the project.
Configurable options in Hub projects will continue to grow. Get ready for workspaces, a newly designed area for editing Hub projects. Manage collaborators, update details and settings, and more in the project workspace.
You can have multiple Hub projects in a site. Share them with a gallery card or add links on a site header or button that lead to all site projects. Visitors can also discover them in a new, dedicated search experience.
Dig deeper into details in the Explore Projects – A new way to collaborate in Hub! article. Learn even more in the frequently asked questions documentation for projects.
Thanks for reading! Check out the Hub web help for more information and specific workflows. You can also post questions on the ArcGIS Hub Community page.