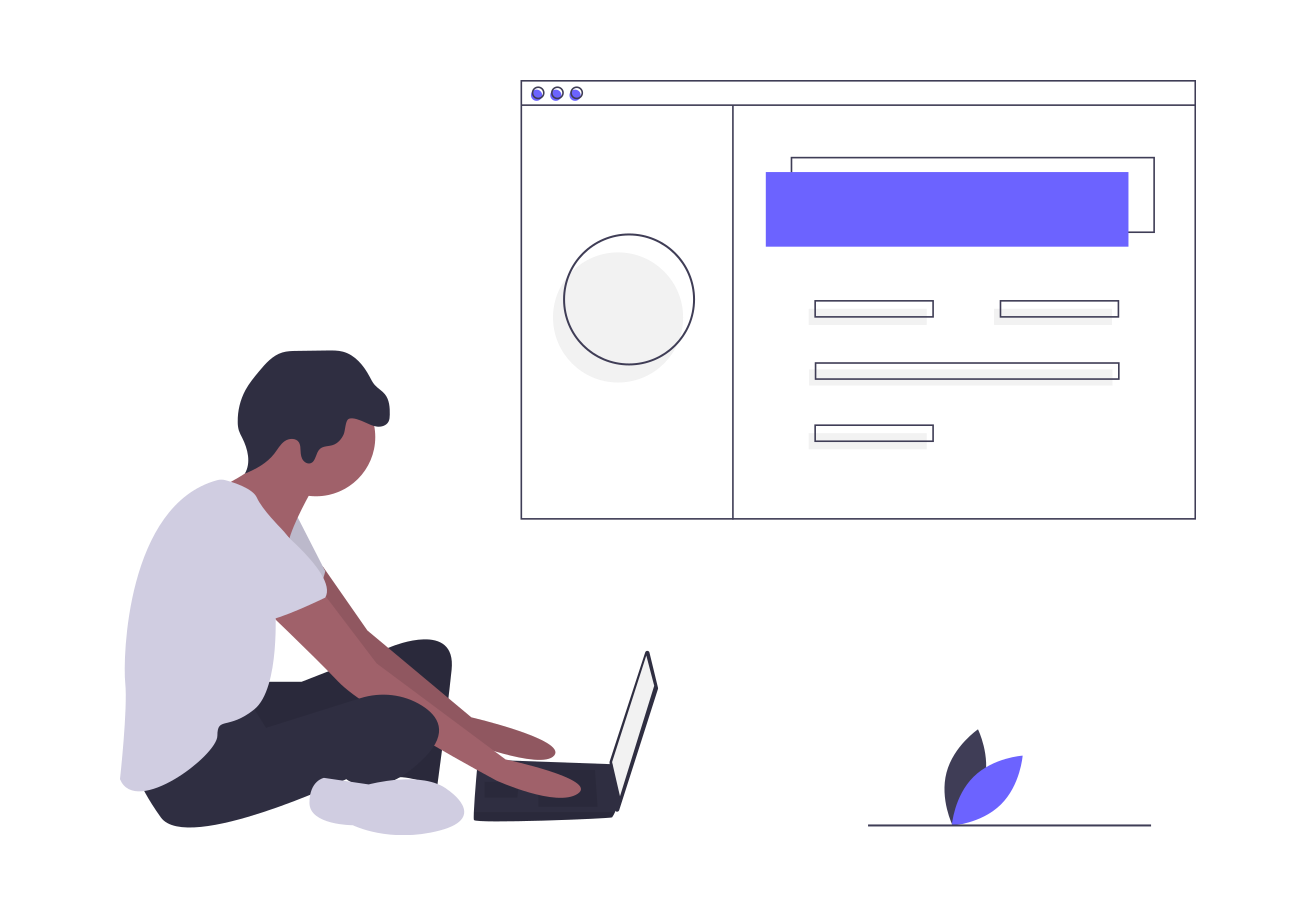 ArcGIS Hub is available with all subscriptions to ArcGIS Online and enables members who have the appropriate privileges to create unlimited sites and pages.
Since ArcGIS Hub launched in 2014 (formerly called ArcGIS Open Data), organizations around the world have used hub to create single access points for sharing GIS data across their teams and with the public. These sites and pages can also be used to share information about specific topics, projects, and plans.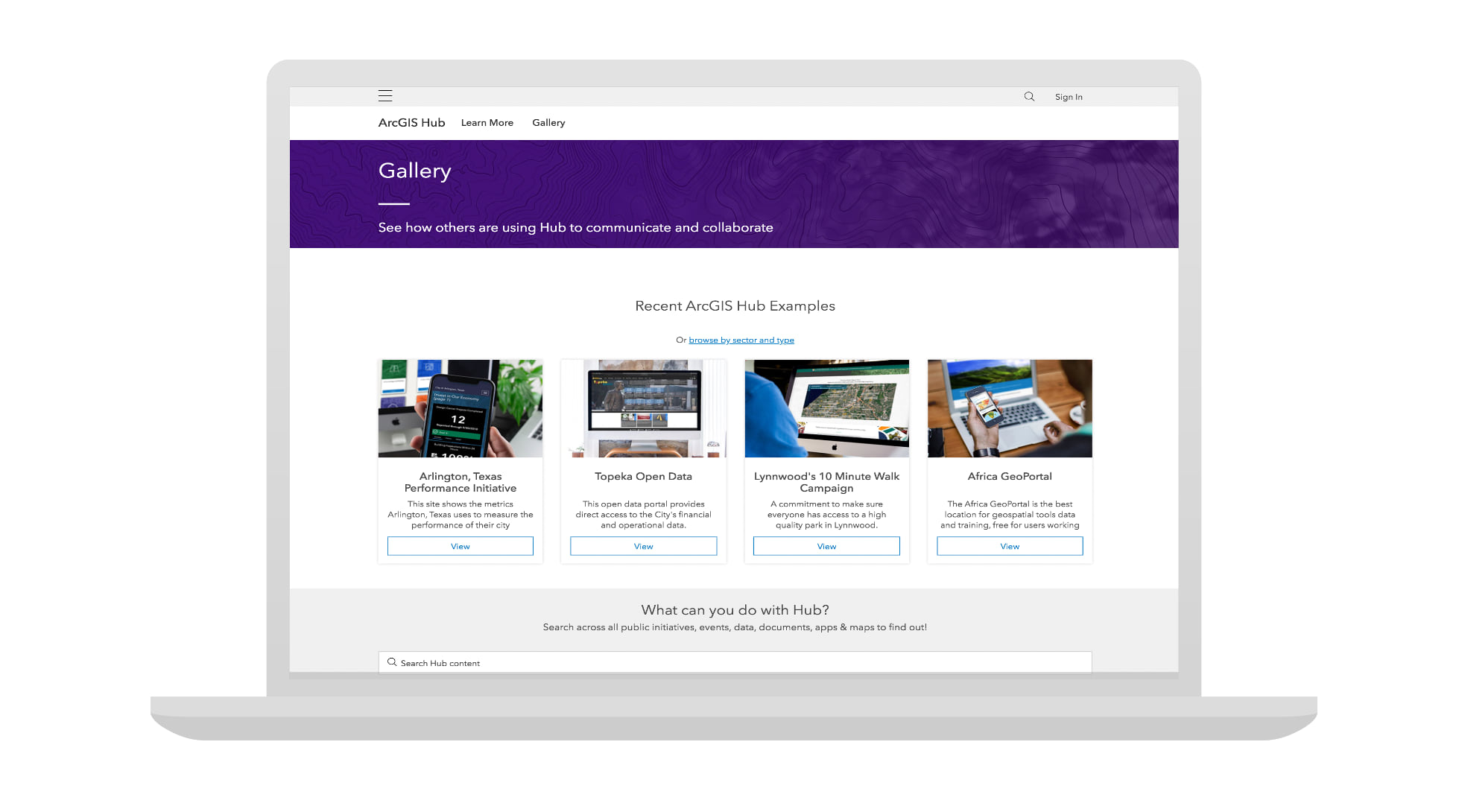 In this guide, you'll learn how to do the following:
Stand up your first site
Use groups and items to add and manage content
Use the Gallery card to display content (be sure to watch the video!)
Make content available for editing by your core team
Share your site and its content with the right audience
1. Create a new site
Ready to create your first site? All you need to get started is a name for your site and a goal for what you want to share.
Sign in to ArcGIS Hub at hub.arcgis.com 
Click Overview in your user profile dropdown menu.
Click New and choose Site. If you have ArcGIS Hub Premium, click Initiatives.
Enter a name for your site.
Click Create Site.
It takes about a minute to generate every new site. Every new site includes two groups and an item for the site which are added in ArcGIS Online.
Once your site is activated, you'll land in the site editor which is where you can use cards to design the layout of your site.
Watch this 6 minute video to see how it works.
2. Add content
In the video above, we show you how to initialize your site and add a gallery card and a search card to its layout. These cards are populated by items that have been organized into your site's two default groups: the content group and the core team group.
Items refer to individual pieces of content, such as a survey, dataset, page, and even the site itself, that are stored and managed as part of your organization's subscription to ArcGIS Online. Groups are used to organize these items by topic, purpose, or workflow.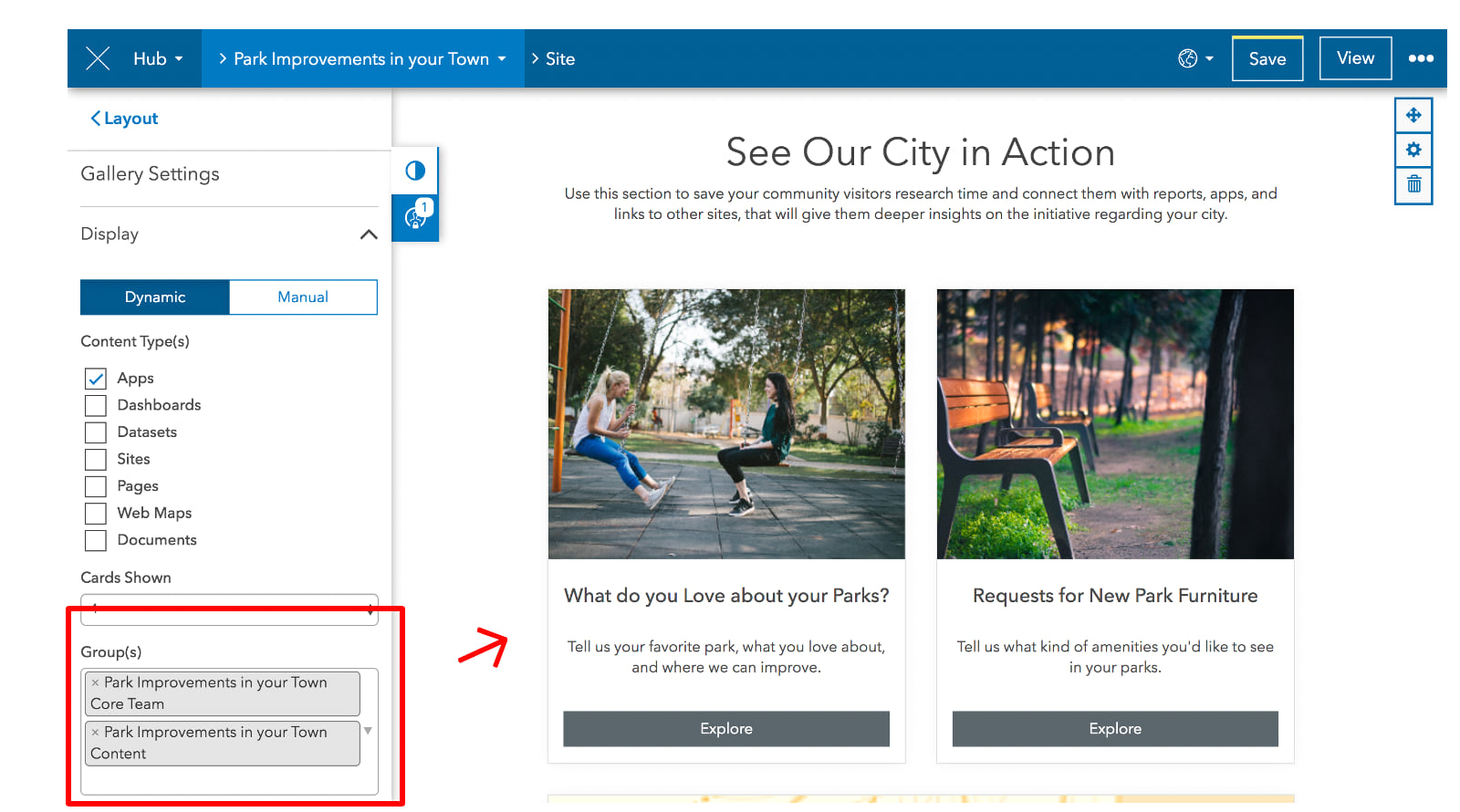 The content group is the primary group used to manage the things you want to share on your site. It's also what powers a site's search. When you use ArcGIS Hub to create a new item, add a dataset using a URL, or use an existing item that you or someone else has created, that item is automatically added to the content group.
The content group (and the core team group) also power your site's
content library
which is where you can find all the content belonging to your site and add new content.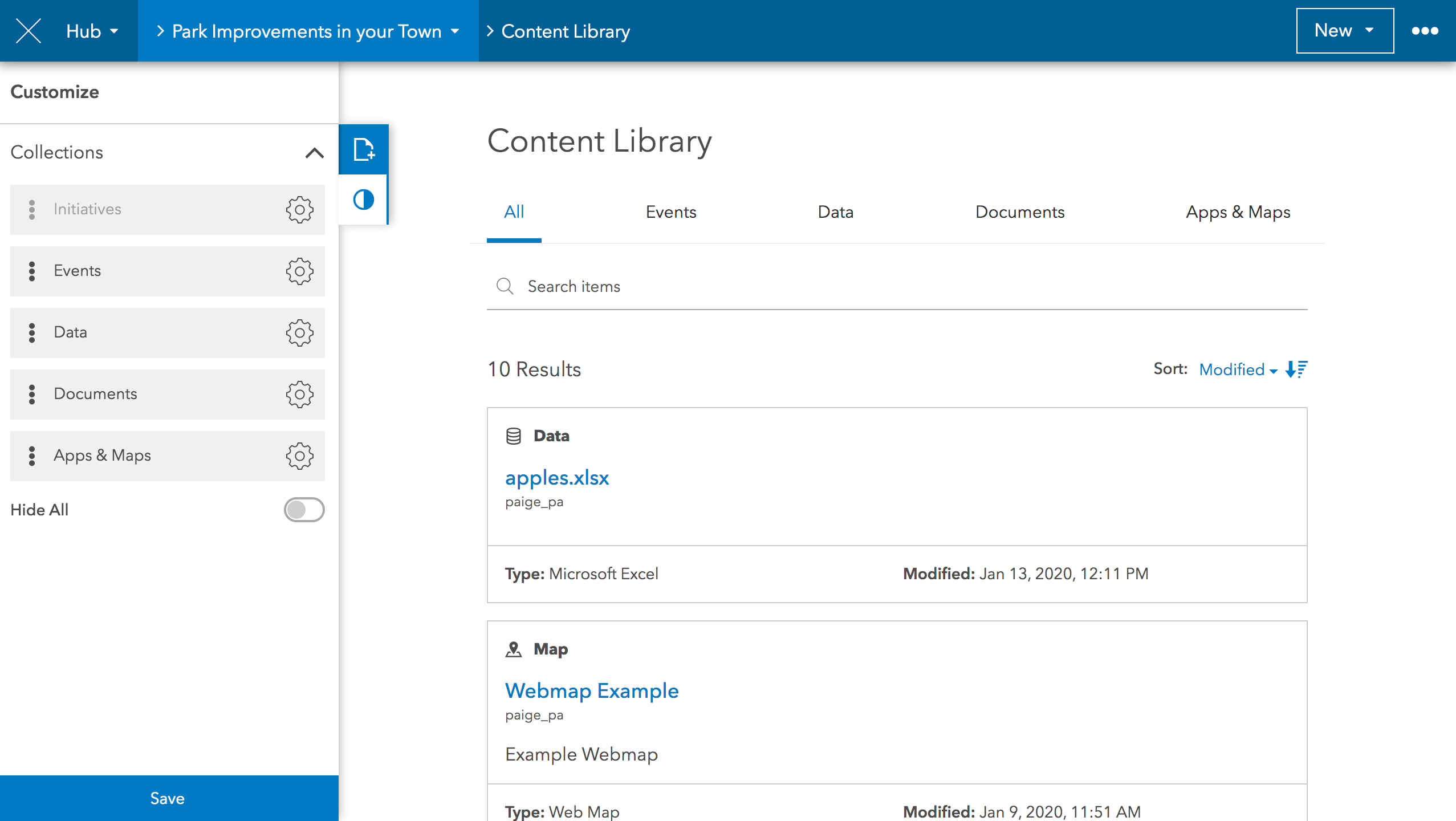 3. Collaborate with your team
Every site also has a core team. Your site's core team is the second default group that's created when you deploy a site. This group can include any member of your ArcGIS Online organization. As a core team member, a person with the correct privileges* can do the following:
Edit the site and any pages (these items are automatically shared with the core team group).
Edit items shared to the core team group.
Send messages to other group members.
View and use content belonging to the Content Library when editing a site.
To add someone to a core team, click the second dropdown menu in the edit navigation bar and click Team. Then, choose the add member button on the side panel and select which members from your organization you'd like to add.
*Core team members should have a Publisher role in order to create and edit content.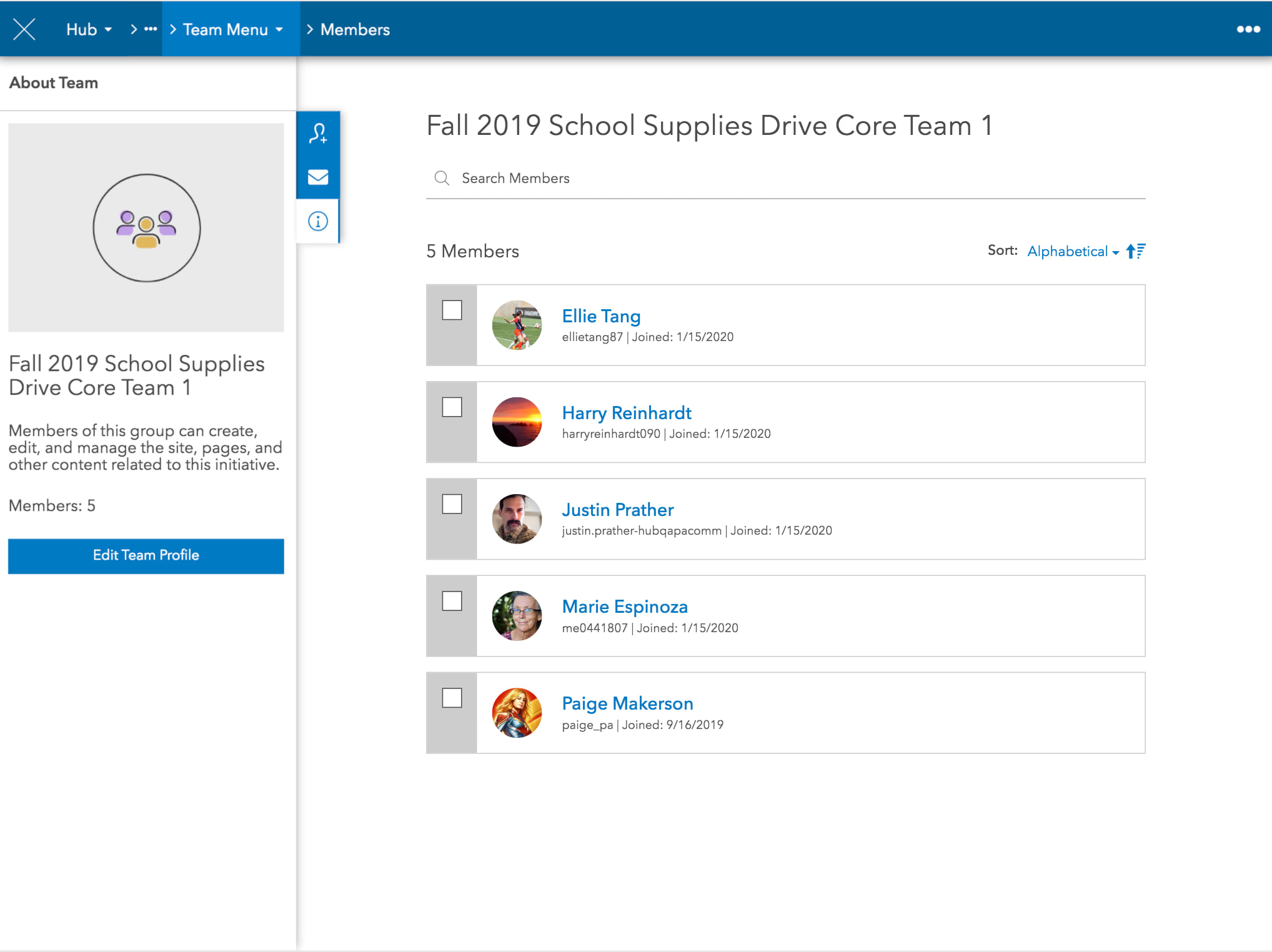 If you want members of your core team to edit content, you can share the items with the core team group in ArcGIS Online. By default, the site is shared with the core team for shared editing.
You can get to ArcGIS Online from hub by clicking the more button on your hub's Overview page.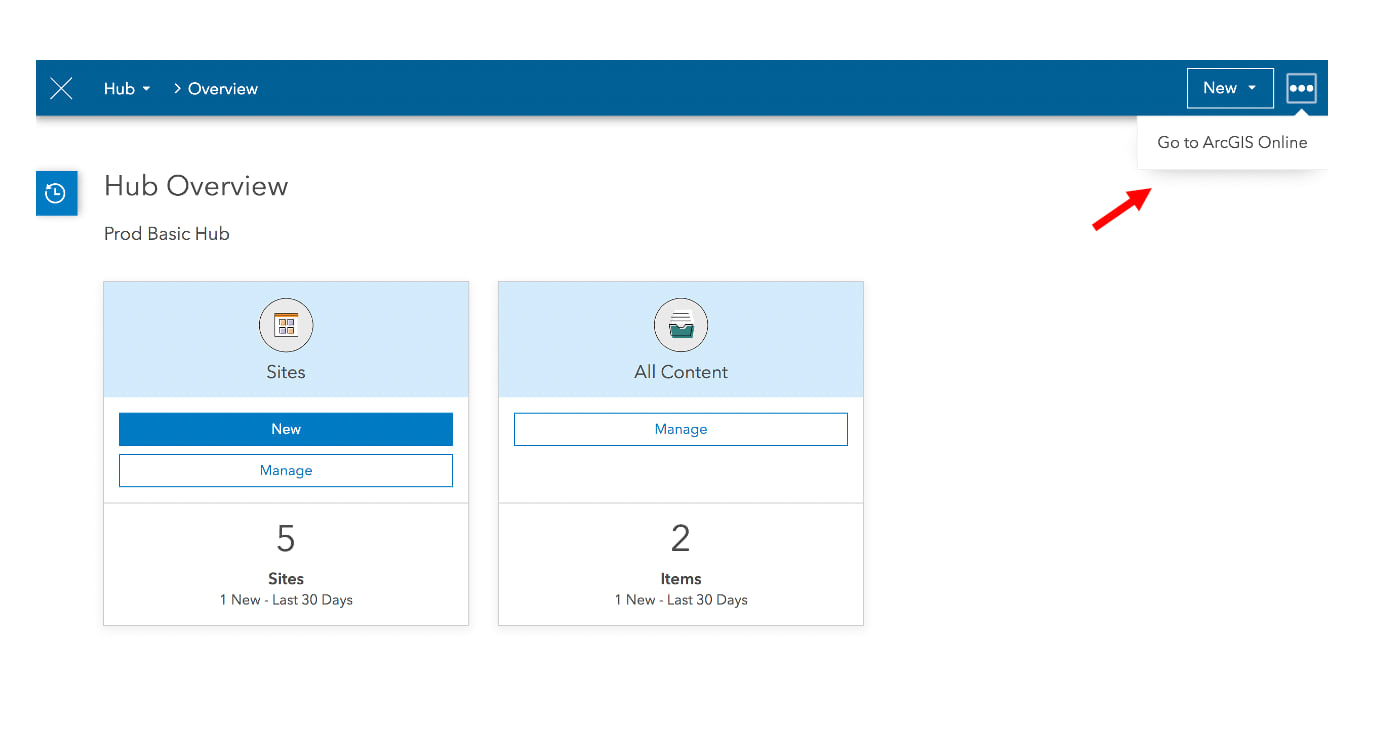 Once you're in ArcGIS Online, you can follow these steps to share an item, such as a web map or story map, with the core team group for shared editing:
Under My Content, find the item you want your core team to be able to edit.
Click its Sharing button.
Adjust the 

Set Sharing Level

 as needed and click Edit group sharing. (Remember, items can be shared differently than the site. If you want core team members to edit an item privately, you can still share the item, even if the Core Team group is shared publicly. Only core team members will be able to see the item when signed in.)
Click to select the site's core team group.
Click OK and click Save.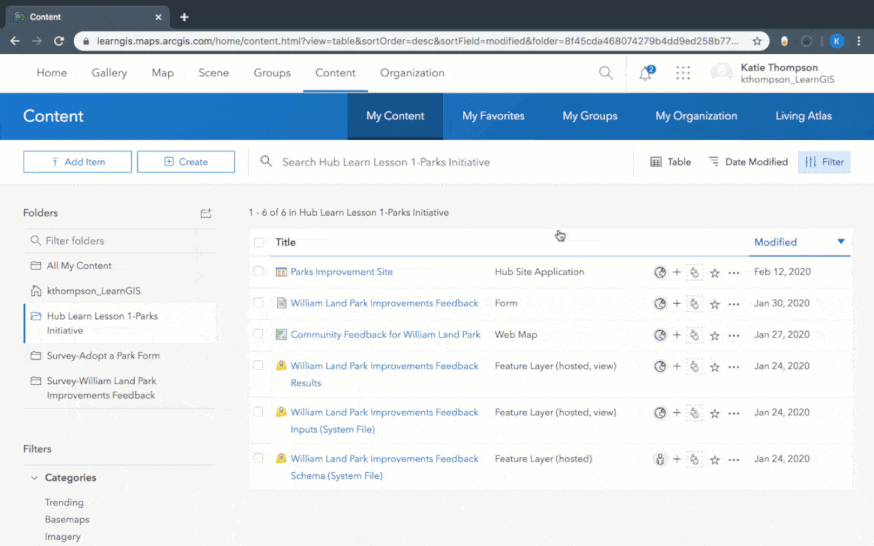 4. Choose your audience
When you're ready to share your site, you can choose from the following audiences: your site's core team, your organization, or the public.
You're the only one on the core team (if you haven't added anyone else yet), so choosing the core team is a good option to keep your site saved as a draft until you're ready to share it with a larger audience.
If you share your site with the organization, anyone who has an account to access your organization's subscription to ArcGIS Online can view your site. They won't be able to edit it unless they're added to the site's core team.
Sharing your site with the public makes your site and any dataset downloads added to your Content Library available to the public. People do not need an account to view your site.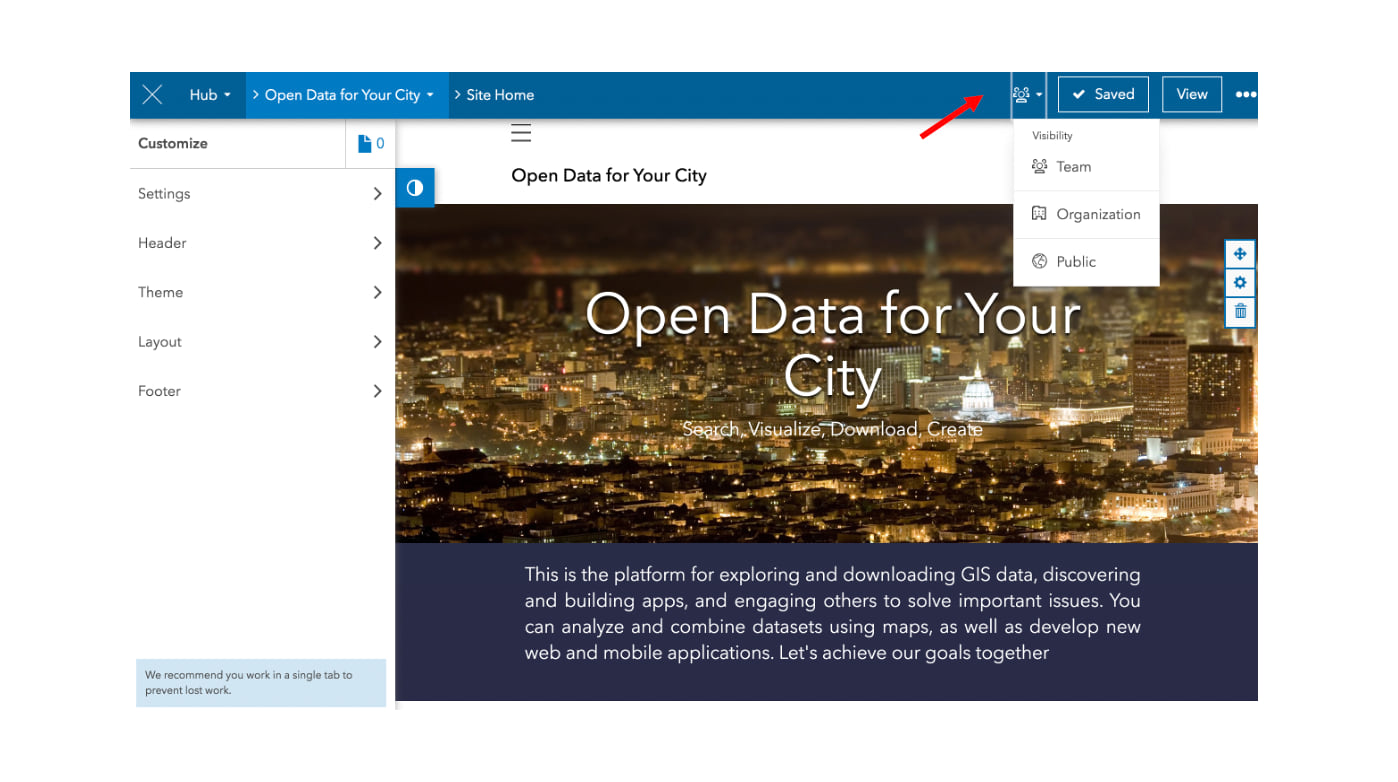 Sharing doesn't stop there, though. To officially release your site and its content to the right crowd, you'll have to ensure that your site's groups and their items are shared correctly, as well.
This is because your site and its items are shared independently of one another. The benefit of this is that private items (items shared only with the core team group or the organization) are available to their audience, even on public sites. They just need to sign in to see the content or search for it. The other benefit is that you can keep your site in a draft state (shared only with the core team), while leveraging organization-wide or public items.
When you want to adjust the visibility of your site's items, head to ArcGIS Online, find your item under My Content, and click its sharing button to change its visibility.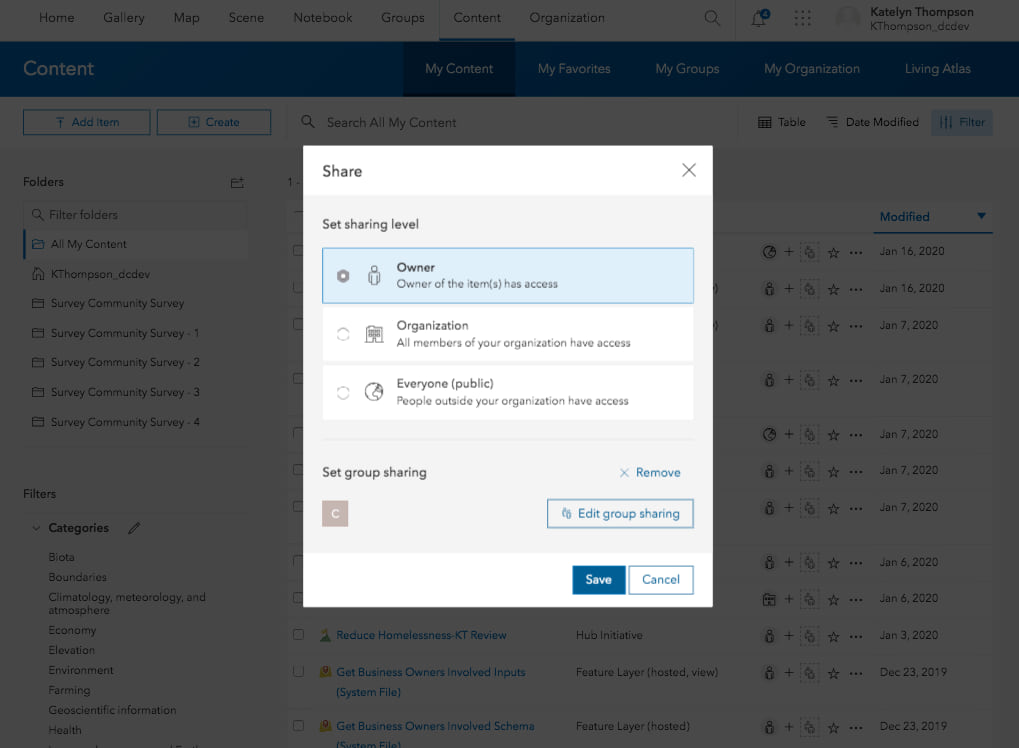 Unless you're an administrator, you can't change the visibility of items that aren't yours. You must work with the item's owner, such as a core team member or other organization member if you'd like to request that the visibility of an item be changed.
5. Edit your site
You and your team members can edit a site at any time. To make edits, follow these steps to sign in. You can also start editing a site when viewing it in a browser. Just make sure you're signed in and click the edit pencil next to the left of your screen.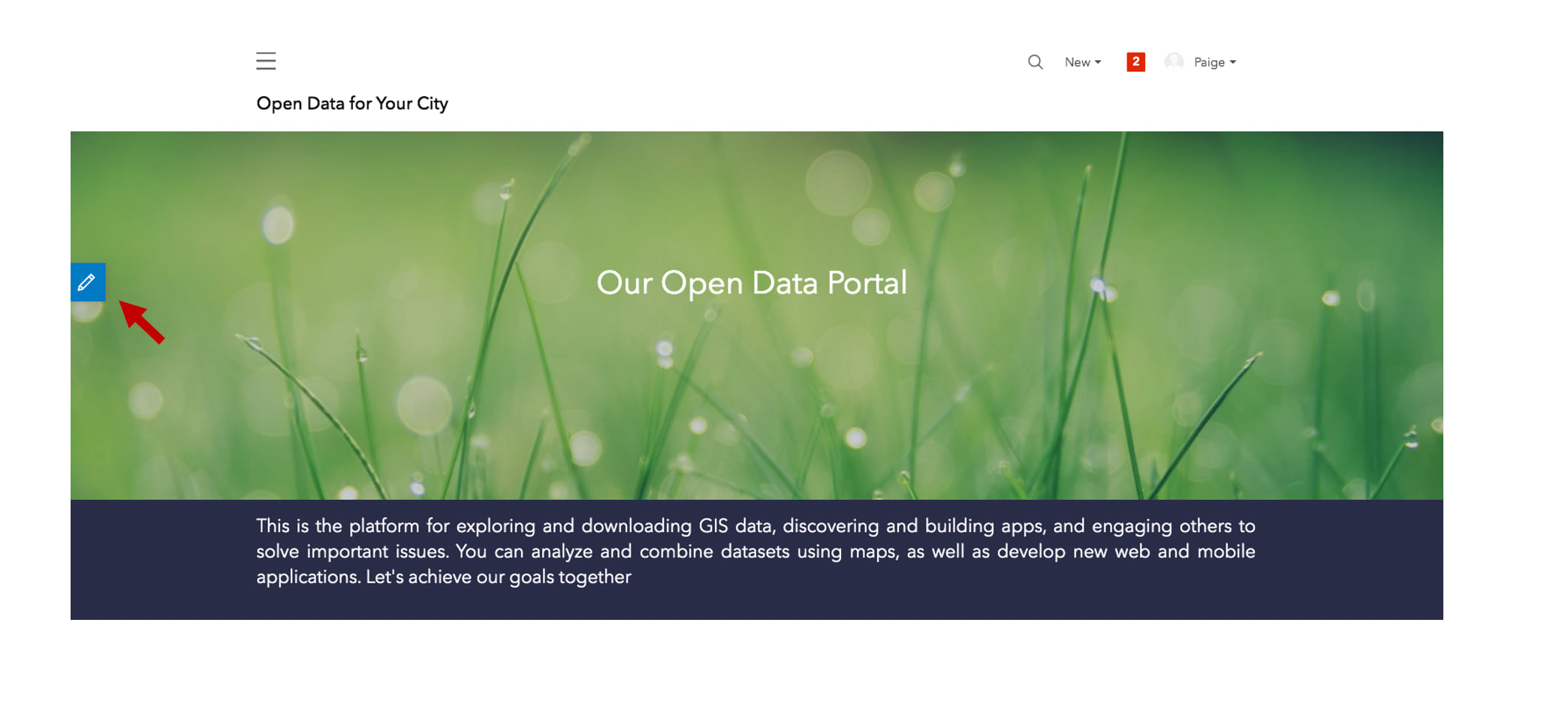 Next steps
After you've created your site, you can check out additional resources for the following workflows:
Configurable branding options enable you to add your own logo, set custom colors and font, and edit your site's URL with a custom domain name.
Choose from a variety of drag-and-drop cards, including video, social media, web maps, datasets, events, and more, to quickly design the layout of your site.
Add pages for more context and link them to your site by creating your own navigation menu.
Interested in learning how you can do more with ArcGIS Hub? Our premium features enable you to take collaboration with your team and community to the next level.
This post was originally published on July 5, 2019, and has been updated with a new title and workflows.