With ArcGIS Hub, you can create unlimited sites and pages to share content internally or with the public. For example, you can use a site to create a single access point for sharing your authoritative GIS data with your team. Or, you can create one to share public projects and updates with your community. Whatever it is you want to share, ArcGIS Hub can help you launch a custom web-experience for your team or organization.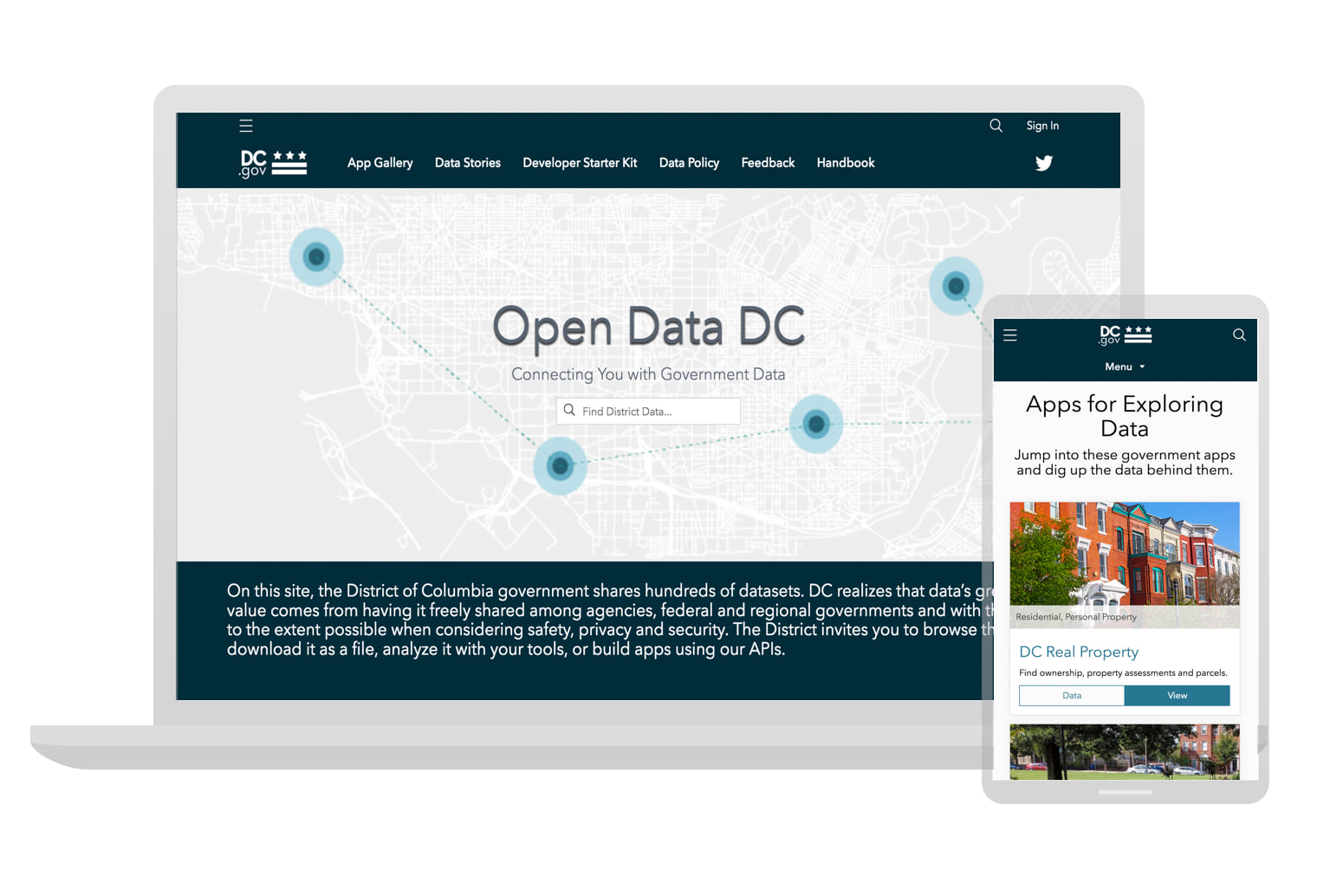 In case you're wondering how you can start a website on your own, don't worry. We give you the tools to get started, no coding required.
Configurable branding options enable you to add your own logo, set custom colors and font, and edit your site's URL with a custom domain name.
Choose from a variety of drag-and-drop cards, including video, social media, web maps, datasets, events, and more, to quickly design the layout of your site.
Add webpages for more context and link them to your site by creating your own navigation menu.
Choose your audience with options to share your site with your team, your organization, or the public.
1. Create a site
Ready to get started? Here's how you can build a modern, responsive website in minutes.
Sign in to ArcGIS Hub at hub.arcgis.com 
Click Overview in your user profile dropdown menu.
Click New and choose Site. If your organization has licensed ArcGIS Hub premium, click New and choose Initiative.
Enter a name for your site.
Click Create blank site. You will land in the Site Editor. Here, you'll have access to all the tools you'll need to configure your site.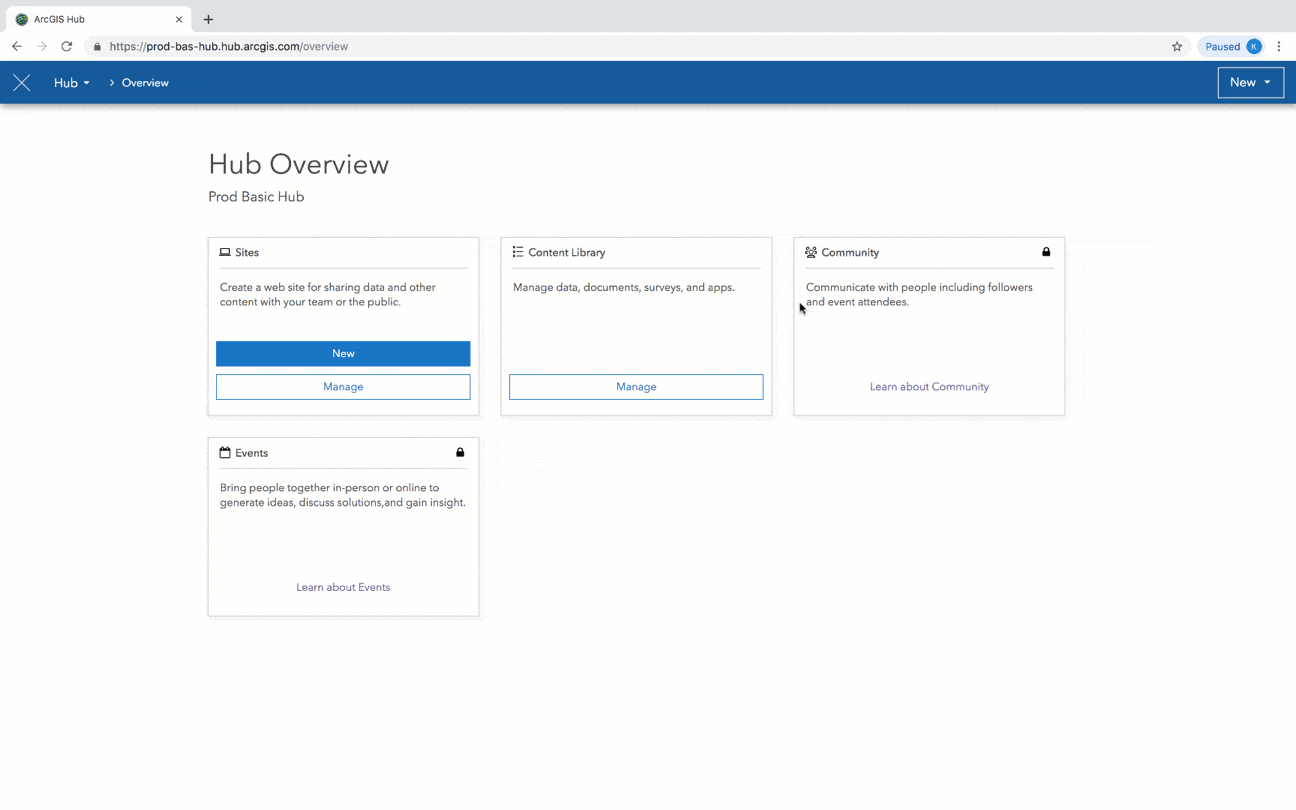 2. Add content
To add content to your site, you must have a group of items in ArcGIS Online. Groups organize content like datasets, documents, apps and web maps by topic or category. When you create a site, we automatically add a group for you with the same name as your site. Look for a group called <site name> Content. You can use this group to organize your site's content in ArcGIS Online, or you can choose from existing groups.
If you'd like to use an existing group
Within edit mode, click the second dropdown menu in the edit nav bar and choose Groups Manager

.

Choose from existing groups available to you and click Add.
Once you've added the groups you want to use, click the Site Editor tab to return to edit mode.
If you don't have a group yet
Within edit mode, click the second dropdown menu in the edit nav bar and choose Groups Manager
In the Selected Groups menu, find the group named after your site and choose View Group Details to view the group in ArcGIS Online. ArcGIS Online will open in a new tab.
To add items (documents, apps, web maps, etc.) to the group, click Add Item to my Group and choose which items you want to add by clicking Add Item. Don't see the item you want? Add it to your ArcGIS Online organization by following these steps.
When you're ready, return to ArcGIS Hub in the other tab, and click Site Editor to get back to editing.
If you'd like to create additional groups, follow instructions provided in the ArcGIS Online documentation.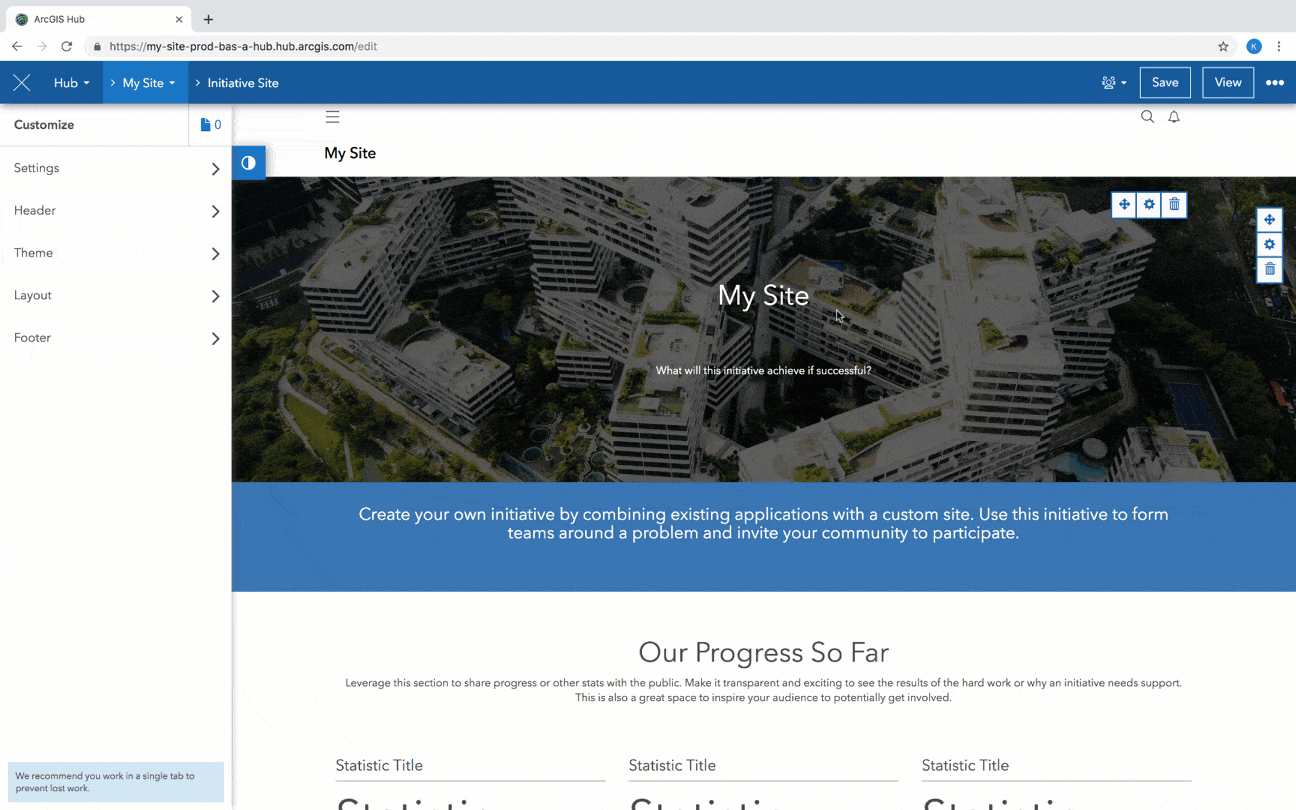 Once you've linked a group to your site, you'll be able to use the following cards to display content. Click Layout in the Customize side panel to check out all your options.
Gallery– Display a mix of content types, including additional sites and webpages. Each item in a gallery includes a description and thumbnail that you can edit in ArcGIS Online. For thumbnail tips and tricks, check out this blog post.
Chart– Quickly configure a bar or pie chart, line graph, or scatter plot. If you know JSON, you can also add and edit code while also editing your site.
Summary Statistic– Similar to the chart card, the summary statistic can give you calculations on the fly. Use this card to highlight key metrics like the progress of a project, projected population size, or funding allocations.
Category– Make it easy for others to access all content related to a specific topic or theme. We provide you with a library of icons to choose from or you can link to your own hosted image. Populate categories by group or tags. For example, you can create categories to represent groups of content from teams or departments across your organization. Or, you can populate a category using tags. Each ArcGIS Online item can be tagged with any keyword of your choosing. Use your favorite tags, such as hydrology, roads, or forestry to link related items by category.
Web Map– Add a web map anywhere on your site.
Application– ArcGIS Hub supports a variety of ArcGIS web-based applications. Show off your team's, your organization's, or a publicly shared app.
3. Choose your audience
Sites can be shared with your team, your organization, or the public. By default, your site is shared with your team until you choose another audience. To share your site, choose an option from the Sharing Menu. Remember, only people who belong to your site's team will be able to edit a site, even if it's shared with your organization or the public.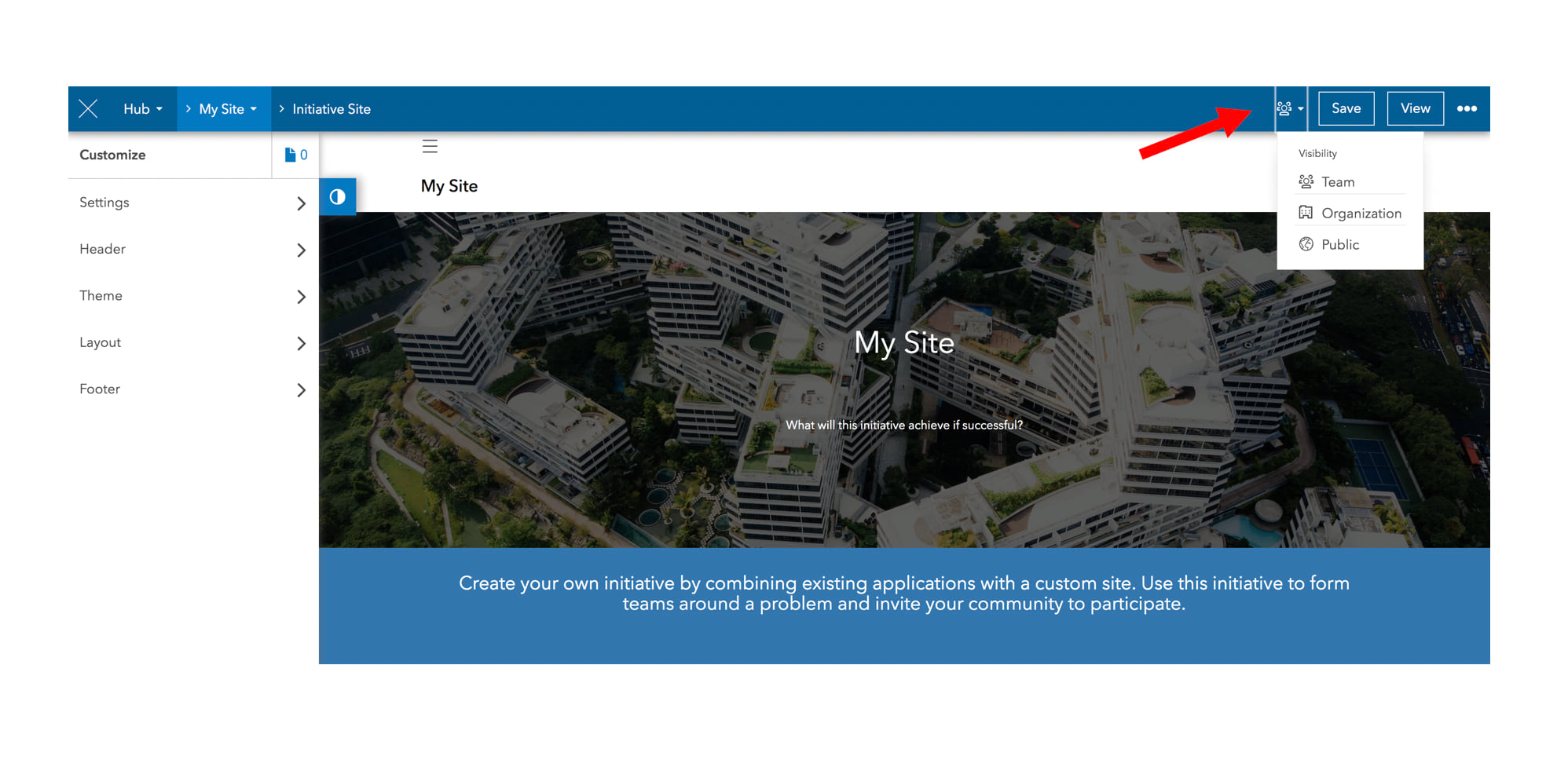 4. Collaborate with your team
Every site has its own team. Your site's team can include any member of your ArcGIS Online organization. If you have licensed ArcGIS premium, you can also add you don't belong to your organization, like volunteers, business partners, or students. Learn more about adding people to the team.
5. Edit your site
You and your team members can edit a site at any time. To make edits, follow these sign in steps.You can also start editing a site when viewing it in a browser. Just make sure you're signed in and click the edit pencil next to the left of your screen.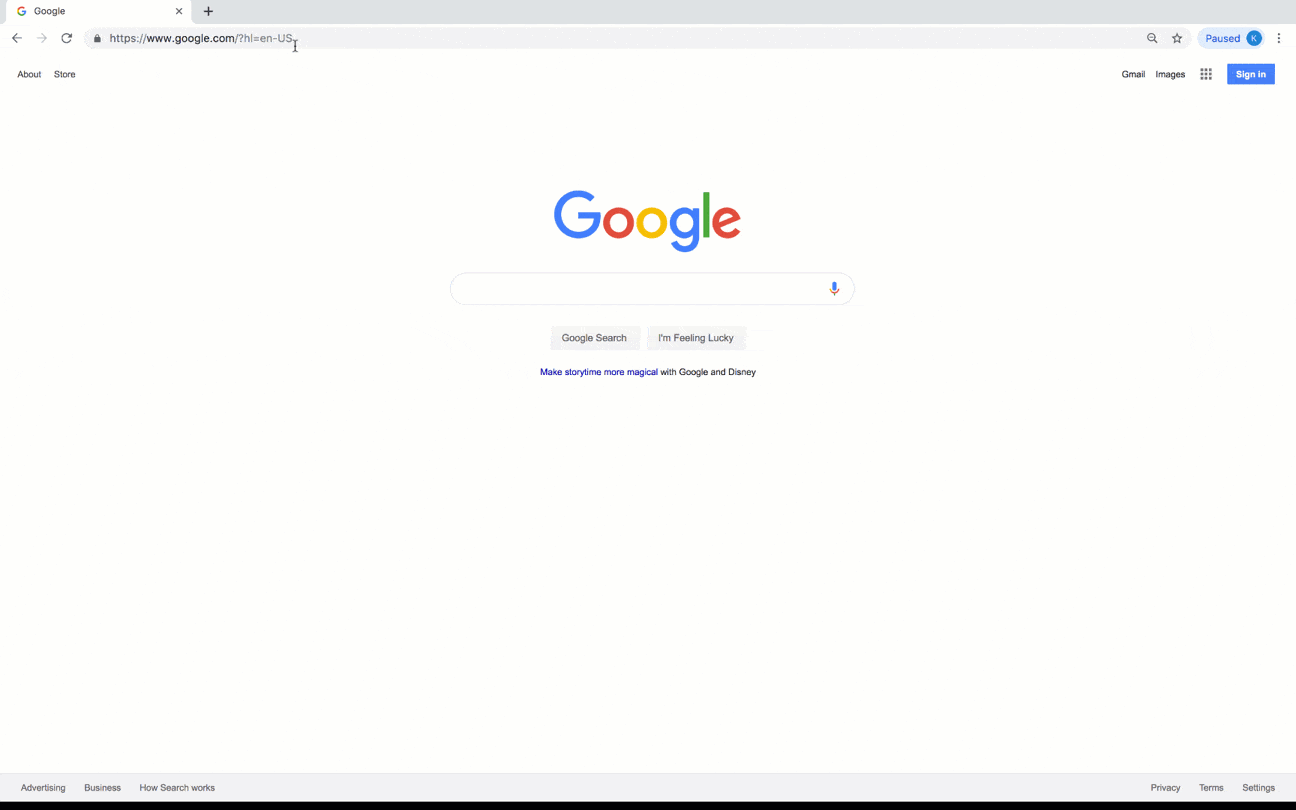 Learn more
For more information on how to create your own site, view our documentation and sign up for our e-newsletter to get the latest tips and tricks from our team. We also provide opportunities to take a sneak peek at what were developing. Learn more by checking out the new ArcGIS Hub User Lab.
Interested in learning how you can do more with ArcGIS Hub? Our premium features enable you to take collaboration with your team and community to the next level. To learn more, take the Hub Readiness Assessment to find out how.