We are excited to share ArcGIS Knowledge, a new product with the broader GIS community this year at the Esri User Conference! We are even more excited to hear from you about how this optional ArcGIS Enterprise capability can help your organization connect, analyze and visualize large amounts of diverse data together within knowledge graphs.
We believe that organizations work better when they have immediate and intuitive access to their data in full context. That means bringing information about the people, places, sensors and concepts that matter together within their spatial context and logical contexts. By leveraging the combined power of spatial and graph analytics, you can find hidden and important patterns in your data quickly and can return data that fits those patterns in context to stakeholders using ArcGIS Pro and the Knowledge APIs for REST, Python and JavaScript.
Come experience Knowledge in action at the following times and places, and come talk with us!
Plenary Session Monday, July 11
Be sure to start your UC week with the plenary session where you'll hear from Jack Dangermond, see presentations from our user community and experience the latest technology demonstrations from Esri staff. ArcGIS Knowledge is one of the many products and capabilities expected to be shown in the plenary.
Knowledge demo presented by Amy Clarke
Monday, Jul 11 | 08:30 AM – 10:30 AM PDT | Convention Center Exhibit Halls FGH
[Update 7/12/2022] The plenary demonstration is now publicly available online without registration.
Technical Sessions
The following sessions feature ArcGIS Knowledge. Or click this link to the UC Schedule.
ArcGIS Knowledge: An Introduction
Learn about ArcGIS Knowledge, a new capability in ArcGIS Enterprise and ArcGIS Pro, where you can extend your workflows to explore, edit, and visualize knowledge graphs. You can also perform graph and spatial analysis to discover new patterns in your data.
Presented by Ty Fitzpatrick, Megan Banaski, and Yundi Yang
These sessions will also be recorded for future access to registrants on August 11.
ArcGIS Knowledge: Feeding the Graph with the ArcGIS Data Interoperability Extension
Come to the Expo floor for a 20-min Spotlight Demo showing how you can integrate your enterprise data into an ArcGIS Knowledge graph using the powerful ArcGIS Data Interoperability extension.
Presented by Bruce Harold and Adam Martin
Enhancing Qualitative Social Science Research with GIS
While ArcGIS helps with an array of quantitative approaches, it also brings many capabilities to enhance qualitative methodologies. This session will showcase the collaborative power and utility of ArcGIS for qualitative social science research, including new analysis workflows leveraging ArcGIS Knowledge to conduct social network analysis.  ArcGIS has much to offer to social scientists employing qualitative, and mixed-method perspectives in their work.
Presented by Lakeisha Coleman and Lain Graham
Come talk to us at the Expo!
Several product team members will be there during the Expo hours, which are:
Tue, July 12   | 09:00 a.m. – 06:00 p.m. PDT
Wed, July 13 | 09:00 a.m. – 06:00 p.m. PDT
Thu, July 14   | 09:00 a.m. – 04:00 p.m. PDT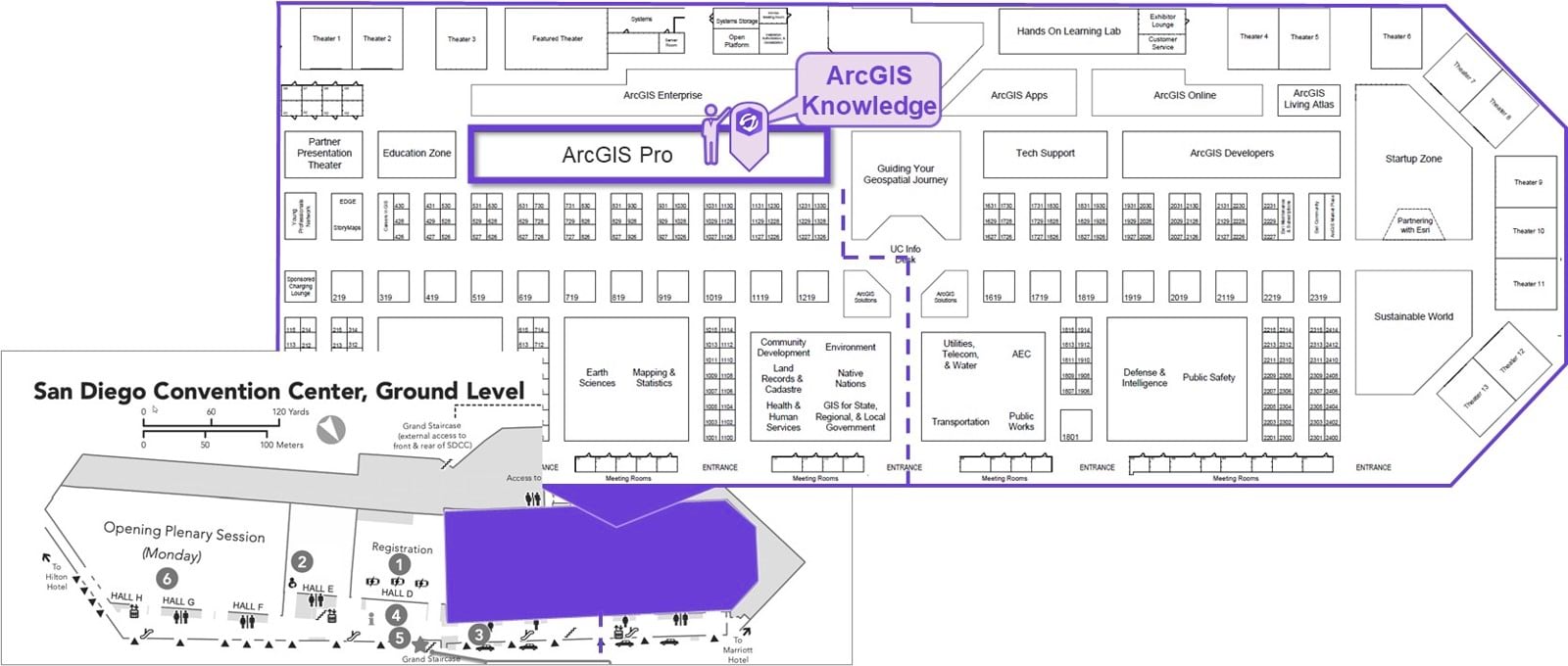 Meet with Us
To schedule a meeting time with us while @ UC, just email us at KnowledgeAtUC@esri.com and one of us will find a time that works to sit down with you or your team.
Resources
Want to familiarize yourself with ArcGIS Knowledge before the UC? Check out the following resources:
Videos
Other Web Resources
See you in San Diego!