Need some land cover data or maps in your project? Simply connect to the 2014 revision of the National Land Cover Database (NLCD) through the Living Atlas of the World.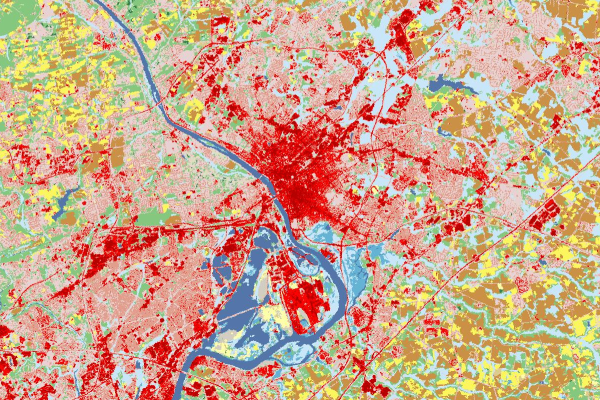 Using the most recent NLCD datasets, Esri has built six new thematic image layers for you to discover and use:
USA NLCD Tree Canopy
USA NLCD Impervious Change
USA NLCD Impervious Surface
USA NLCD Land Cover 2006
USA NLCD Land Cover 2011
USA NLCD Land Cover Change
Standardized land cover is mapped in 20 classes for both 2006 and 2011. The USA NLCD Land Cover Change layer shows only the land cover that changed type between 2006 and 2011, displaying areas of no change with a transparent symbol.
Also included in this release are thematic image layers of the percentage of tree cover within each 30 meter pixel, and the percentage of each pixel that is impervious surface. Both layers are supplementary products of the NLCD.
To view or quantify the change in imperviousness due to land cover change, use the special USA NLCD Impervious Change layer.
These new layers are available for the 48 coterminous US states. Some of these layers also cover parts of Alaska, Hawaii, Puerto Rico, or the US Virgin Islands.
We created some simple analyses to introduce these layers. You can view them in our story map called What Covers America.
The National Land Cover Database has been helping America manage its resources since its first edition in 1992.