Adapted from an article published in ArcNews Summer 2023
ArcGIS Online and ArcGIS Enterprise are both foundational to the ArcGIS system, acting as a backbone to all web-based GIS workflows. Both products allow users to create, share, and use maps, apps, scenes, layers, analytics, and data. They also power Esri's suite of applications, built for collecting data in the field, sharing your GIS work with stakeholders or the public, and more. These apps enable a variety of geospatial workflows including mobile workers using ArcGIS Field Maps to data analysts using ArcGIS Insights to developers using ArcGIS Maps SDK for JavaScript.
With all these shared values between ArcGIS Online and ArcGIS Enterprise, it can sometimes be hard to articulate the distinctions between the two Esri products, know when to use one over the other, and understand how to get the most out of using them together. In this article, we will dive into both the similarities and differences between ArcGIS Enterprise and ArcGIS Online, potential patterns of use, and recommendations for choosing the product that best meets your needs. Plus, since ArcGIS Online and ArcGIS Enterprise are designed to work together, in many cases you won't have to choose – we will show you how to use them together to get the best of both worlds. 
The ArcGIS system offers a comprehensive set of tools and capabilities to do work from desktop GIS, to web GIS, to web and mobile apps, and developer tools that span across ArcGIS. ArcGIS is a modular, comprehensive system that you can use as a single GIS analyst, or with a large department across your entire organization, in almost any industry. Many ArcGIS customers use a combination of products across the ArcGIS system to meet their business needs.
Starting your ArcGIS Journey
A very common workflow within the ArcGIS system is to start in ArcGIS Pro on your desktop. Here you might be editing your data, using geoprocessing tools to analyze your data, visualizing your data, and creating maps, all stored within the ArcGIS system. From there, you can share your data as web layers to ArcGIS Enterprise or ArcGIS Online so others at your organization can also work on the same datasets, analyses, and maps concurrently. ArcGIS Enterprise and ArcGIS Online also power Esri's full suite of applications and extend to your own custom applications to share out your data, layers, and maps in different ways, tailored to your specific audiences and projects. When you're ready, the ArcGIS sharing model allows you to share your work with a wider audience, including others in your organization and even the public.  
You may find that ArcGIS Enterprise and ArcGIS Online organizations look very similar. And that's intentional! ArcGIS Online and ArcGIS Enterprise share many of their underpinnings, meaning the user experience between the two products is very similar.  Whether creating new data, new web maps, or new apps, your individual users may not know if they're using ArcGIS Online or ArcGIS Enterprise. If you're not sure which product you're using, there is one easy way to tell: if the address shown in your browser includes arcgis.com then it's ArcGIS Online. Otherwise, you're probably using ArcGIS Enterprise.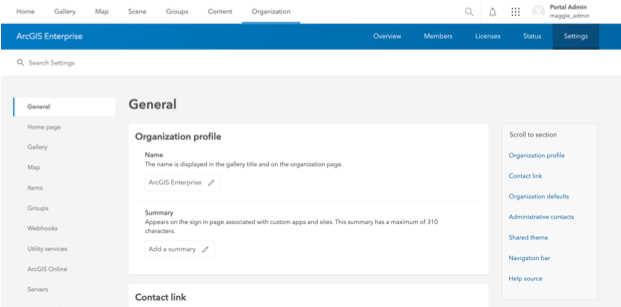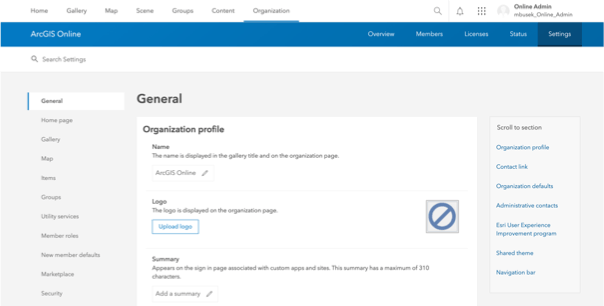 As we start to go beyond the user interfaces and look at how these products are built, the distinctions between the two products become more obvious. A central difference between ArcGIS Enterprise and ArcGIS Online is that ArcGIS Enterprise is software and ArcGIS Online is Software-as-a-Service (SaaS). Both software and SaaS have different advantages. 
How Are They Different?
Deploying software (ArcGIS Enterprise) vs a SaaS (ArcGIS Online)
Since ArcGIS Enterprise is software, it is installed on infrastructure your organization controls. You can deploy this software in a public cloud environment, private cloud environments, on-premises, on virtual machines, and so on. Essentially ArcGIS Enterprise can be deployed in any type of environment that meets the basic system requirements. You can choose whether to deploy on Windows, Linux, or Kubernetes depending on what makes sense for your organization. Additionally, you have the ability to scale your deployment in a very fine-grained manner according to your specific needs. You may want a single machine for a small GIS organization of five members or you might require many machines for a large GIS organization of 100,000 members. If your organization requires high availability, you can architect your Enterprise deployment to support stringent uptime requirements. Some organizations may need to have Enterprise installed behind their firewall or work in environments disconnected from the open Internet. To enable this, you can choose to have your ArcGIS Enterprise deployment fully connected, partially connected to the Internet, or fully disconnected. ArcGIS Enterprise gives you full control over your system administration, security, customization, and integration. 
Meanwhile, ArcGIS Online is a SaaS. This means Esri takes a lot of work off your plate by hosting and managing the infrastructure for your Online organization. When you purchase ArcGIS Online, you don't need to architect and install the system; you simply choose whether you want a standard data store or a premium data store (for higher storage limits and more processing power) and determine how many users you need. It is up and running right away, accessible through your web browser. Maps and apps can be authored to take advantage of the global caching of our content delivery system, meaning they will perform quickly and reliably under heavy load and the system will automatically scale for changes in usage and traffic. ArcGIS Online will also update automatically throughout the year, meaning you don't have to plan for downtime in order to upgrade your organization. ArcGIS Online has significant advantages in terms of the ease of getting started and not needing to do work to maintain and patch your system. ArcGIS Online is also available to any location with an internet connection. ArcGIS Online is easier to use, set up, and do business with overall but lacks the customization and control over your system that is available in ArcGIS Enterprise. 
Maintenance
With ArcGIS Enterprise, you can choose when it makes most sense for your organization to upgrade to a new version. Maybe you want to schedule specific downtime, or maybe you want to wait to upgrade to a new version while you prepare for significant changes or train internal staff on what is coming with the new version. Architecting, deploying, managing, and maintaining ArcGIS Enterprise gives you this level of control over your system, but this takes careful planning and time. You will need IT administrators within your organization to help architect, deploy, and maintain the system. You will need the physical or virtual infrastructure to host Enterprise. And you will need the time and expertise to tune and scale your deployment over time. 
Conversely, ArcGIS Online is updated by Esri several times per year and requires no intervention or planning to get the latest updates. For those who wish to preview the changes before the updates go live, there is the ArcGIS Online Early Adopter Community program which allows users to see and test interface updates and new features several weeks prior to them going live. Once released, all changes are immediately available to all users of ArcGIS Online. 
Data Storage
You can also choose how the data you are using in ArcGIS Enterprise will be stored. With Enterprise, you can use data that is both hosted by the system itself, within ArcGIS-managed data stores, or referencing registered data stores of your own, whether it is a folder, enterprise geodatabase, cloud data warehouse, or more.  The ability to reference registered data is very powerful because it allows you and everyone in your organization to edit or make changes to the data that will be reflected everywhere. This means you won't have to spend time syncing your data or wondering which data source has the latest updates.
When using ArcGIS Online you can store and use data directly in Online, or you can use externally hosted services and layers from ArcGIS Enterprise, KML layers, OGC web services, and other compatible web services. ArcGIS Online has regional data hosting centers that allow you to store your Online-hosted data closer to your location wherever you are around the globe (you choose your hosting region when initially setting up your organization). 
Security & FedRAMP considerations
ArcGIS Online is in the process of becoming an authorized FedRAMP Moderate Cloud Service Provider by the US federal government. With this news, you might be wondering if this changes the consideration between using ArcGIS Online and ArcGIS Enterprise. The pending FedRAMP Moderate authorization for ArcGIS Online indicates that it meets particular standards and requirements for security as a Cloud Service Provider for U.S. Federal Government agencies. Because ArcGIS Enterprise is not a Cloud Service Provider, but is software, it inherently is not eligible for any level of FedRAMP authorization. It is as secure as you enable it to be with the deployment and infrastructure it is installed on.  
If you have a requirement for a FedRAMP Moderate compliant environment or meet certain other similar security requirements, the power is in your hands to determine what criteria you need to meet with your deployment and architect your ArcGIS Enterprise to meet those standards. With that said, the fundamental values of the two products remain the same, with ArcGIS Enterprise is software that you install and manage on your infrastructure, and ArcGIS Online is SaaS managed by Esri.  
Licensing 
ArcGIS Enterprise is licensed based on the number of cores in your servers (when deployed on Windows and Linux). Enterprise can also be deployed on Kubernetes, but it is licensed via a subscription model (since it's cloud-native, not server-based, cores do not apply here). You will also need to purchase licenses for users who wish to create, edit, or share content within the system. Because you are using your own system and hardware, there are no consumption-based storage or compute costs in Enterprise. 
In ArcGIS Online, you license the number (and type) of users you need in your organization. Aside from user licenses, there are no additional up-front costs to start an ArcGIS Online organization. Because Esri hosts your data and the analysis services your organization uses, there are ongoing consumption-based costs (we call them credits) that are charged based on how much data you store and how much analysis you perform.    
Each user in ArcGIS Online and ArcGIS Enterprise requires their own license. You can't use the same member login for Online and Enterprise and expect see the same content. That said, both products support organization-specific logins via SAML and OpenID Connect so you can streamline authentication between systems. This means you can use the same username and password for both organizations – making it easier for your users to only remember one username and password – but, once again, they are different, separate organizations, each with their own identity stores and set of associated content.
Why and How Do They Work Together?
Patterns of Use

The diagram above shows a spectrum of the patterns of use for ArcGIS Enterprise and ArcGIS Online. At the far-left end of the spectrum, a user's needs can be met by simply using ArcGIS Online. On the far right, you'll see all the additional pieces involved with ArcGIS Enterprise and how configurable it is based on your needs. 
If you don't need to run the software behind your firewall or in disconnected environments, you don't need to store data in your enterprise geodatabases or other data stores, and you don't want to worry about installing, upgrading, scaling, and managing the platform yourself then using ArcGIS Online, hosted and maintained by Esri, is a simple and straightforward solution. 
At some point, you might want to disseminate internally managed data to people outside of your organization using ArcGIS Online. One option is to add ArcGIS Server web services to your ArcGIS Online organization. ArcGIS Server is a component of ArcGIS Enterprise, which powers the web services used in ArcGIS Enterprise. However, ArcGIS Server can also be used as a standalone component to power web services without ArcGIS Enterprise, such as in your own applications or in ArcGIS Online. To do this, you can publish web services to ArcGIS Server that reference your data in place and then add those services as items to ArcGIS Online. In this scenario, you are referencing your internally managed data in place, so people outside of your organization accessing the web service are seeing a live view of the source data instead of a copy. 
If you want to have an internal system behind your firewall and then share data with the public, setting up Online and Enterprise through distributed collaboration with one another is a great solution. For example, you may need to expose ArcGIS Enterprise content to the public through ArcGIS Online, make data visible across different departments in an organization, or manage field data collections. Distributed collaboration allows you to use the two products together and extend the reach of your GIS content by seamlessly sharing maps, apps, layers, and more with other organizations via groups. With this hybrid setup, you can start to take advantage of some of the features of Enterprise alongside your Online organization. As we continue to move to the right side of the above diagram, distributed collaboration may be more than your organization needs. If Enterprise is your only system of engagement for your organization, you can still let your internal organizational users leverage ArcGIS Online utility services by connecting to Online and taking advantage of basemaps, Living Atlas, and more.  
Finally, moving completely to the right side of the above diagram, your organization may have tight restrictions on network access and stringent operational requirements. As a result, you need to be fully behind your firewall and maybe even in a disconnected environment without internet access. In this scenario, you would choose to exclusively use Enterprise without a connection to Online. Here you would be reliant on your own basemaps and utility services. 
With any of these collaboration options, you'll want to consider the values and challenges of each pattern. Think about the manageability of each of these options and if they will deliver what you need for your workflows. There is no single pattern for integrating the two products, so you can implement them in the way that best suits your needs. 
Here are some scenarios that might feel familiar to you: 
At your organization, security is extremely important, and you need to be working in a disconnected environment. In this situation, ArcGIS Enterprise would be the right choice for you because you are not able to have ArcGIS Online in disconnected environments.  

 

You want to stay at the forefront of new features and technology, automatically receiving the latest updates as soon as they are available. You may also have a fairly limited staff and don't have the capacity to manually upgrade for every release on your own. ArcGIS Online might be the right solution for you because it will upgrade automatically multiple times each year, ensuring you are always on the most up-to-date version without having to upgrade it yourself.

 

Advanced enterprise editing workflows are critical to your work. You need to be able to continuously make edits to data that is staying in place within your enterprise geodatabase. To support these enterprise editing workflows that require referencing registered data, ArcGIS Enterprise would be the right fit for this situation.

 

The traffic on your content varies considerably and you don't have someone at your organization to tune and scale for these changes. In this situation, ArcGIS Online could work well because it is automatically scaling to your needs without requiring you to do any work behind the scenes. 

 

You have some workflows that need to be behind your firewall, but then you want to share some of this work out with the public. You could use ArcGIS Enterprise and ArcGIS Online together, with ArcGIS Enterprise as your internal system and ArcGIS Online as your public-facing system.

 
Feature 
ArcGIS Enterprise 
ArcGIS Online 

 

Ability to share content within your organization 

 

x

 

x

 

Ability to share content with the public

 

x

x

Ability to share content with another authorized organization

 

x

 

x

User and group management

 

x

 

x

 

Integrates with ArcGIS Pro and Esri's suite of applications

 

x

 

x

 

Ability to visualize and analyze data

 

x

 

x

 

Create custom web apps (low and no code options available)

 

x

 

x

 

Software

 

x

 

 

Software as a Service

 

 

x

 

Installed on infrastructure of your choosing

 

x

 

 

Updated automatically

 

 

x

 

Can be behind your firewall

 

x

 

 

Consumption based pricing model

 

 

x

 

Core based pricing model

 

x

 

 

Advanced server roles with specialized capabilities for imagery, data science, real-time data, and more

 

x

 

 

ArcGIS-managed, hosted services

 

x

 

x

 

Services referencing registered user-managed data

x

 

 
Collaboration and Sharing
You can also extend the reach of your GIS content by seamlessly sharing maps, apps, layers, and more with other organizations by using ArcGIS Online and ArcGIS Enterprise together. This process, called "distributed collaboration," can be useful for many workflows, including exposing ArcGIS Enterprise content to the public through ArcGIS Online, making data visible across different departments in an organization, or managing field data collections.  
Common Real-World Examples
Now let's explore some real-life examples of how distributed collaboration between Online and Enterprise work: 
Your organization uses ArcGIS Enterprise to manage authoritative data for site-suitability projects. The company has mobile workers using the ArcGIS Field Maps mobile application in ArcGIS Online to identify suitable site locations. You're interested in sharing the latest authoritative site suitability data with the mobile workers in ArcGIS Online and sharing the data collected in the field back to ArcGIS Enterprise.  Distributed collaboration can be set up between ArcGIS Online and ArcGIS Enterprise using two-way editing, with the data being copied between the organizations.

 

You work for your city's Public Works Department, where you are using ArcGIS Enterprise. You are collaborating with your colleagues in the Department of Public Safety, who are using ArcGIS Online. You rely on residents to report and monitor graffiti, crimes, and utility concerns, such as water leaks. In this situation, each group is working with the public to identify and report incidents as they occur to determine if there are detectable patterns. Distributed collaboration is set up where the Department of Public Safety (using Online) sends their data as references to then be used by the Public Works Department (using Enterprise) for further analysis.

 

You work for a county that curates the authoritative content for your region.  You are collaborating with multiple cities throughout the region, who want to be able to use your county's data to display within their own web applications.  Some cities are using ArcGIS Enterprise, and some are using ArcGIS Online.  You set up distributed collaboration with each Enterprise organization and an Online organization so that all data is sent as copies; the Online organization then connects to the other cities' organizations via partnered collaboration.  Updates from your county will periodically be synced to the regional cities and then updated in all of their web applications.

 
ArcGIS Online and ArcGIS Enterprise are both foundational GIS platforms that enable you to do mapping, visualization, analytics, and data management — and they both power Esri's suite of applications. Each product offers unique value for different situations, and they are even more powerful when used together.  
Commenting is not enabled for this article.