As of our November 2022 update, the Minimalist template has been deprecated. Please use Sidebar as the recommended Instant Apps solution moving forward. Refer to this blog for more details: Minimalist Deprecation in the ArcGIS Online November 2022 Update
Instant apps offer a swift and effective way to share web map content with the right audience.  Each Instant app is built to provide a focused experience for users while answering common spatial questions like what hospitals are nearby?  How complete is my field inspection data?  How are trail conditions based on public reporting?  But often the primary goal of a configurable app is to show off a map with data for users to view and explore.  The existing Minimalist configurable app has been a popular choice for showcasing a web map with just the right amount of tools and options.  This app puts emphasis on the map with a clean and updated user interface.  With the March 2020 update of ArcGIS Online, we are excited to release a beta version of the next generation Minimalist, our first Instant App.
Introducing: Minimalist (beta)
Minimalist (beta) uses the ArcGIS API for JavaScript 4x which includes support for newer functionality such as docked pop-ups, label classes, dot density rendering, and multi-element pop-ups.  Web maps authored from the new Map Viewer Beta that include any 4x specific functionalities will work great in Minimalist (beta).
Multi-element pop-ups are a useful way to incorporate various types of information into a single popup to best describe data to your audience.  There are four types of popup elements than can be used including attribute field data, media such as charts and images, descriptive text, and attachments.  This example shows Minimalist (beta) supporting multi-element pop-ups in the side panel with a dark mode app theme: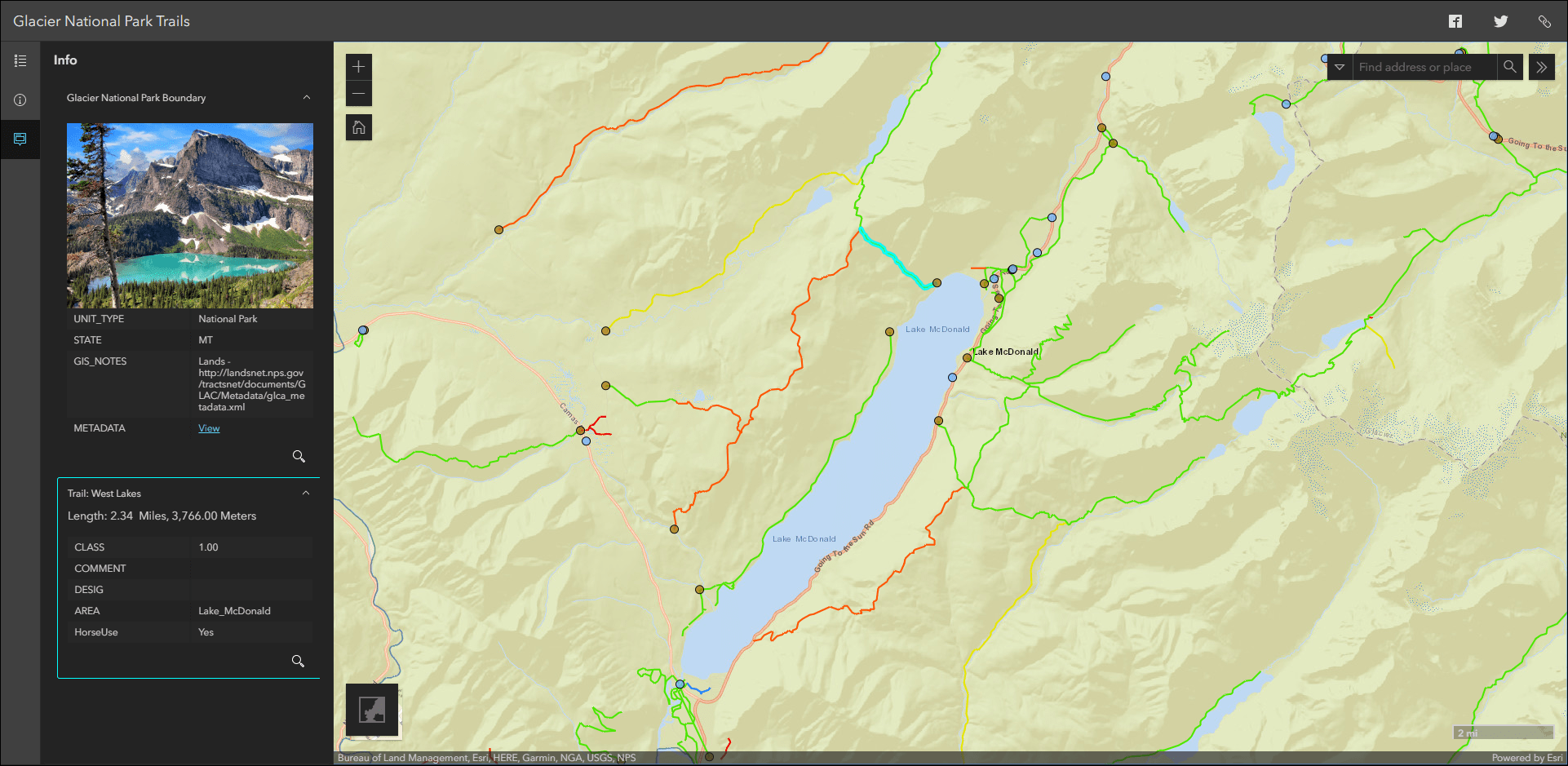 Dot density rendering showcased in Minimalist (beta) with a simplistic layout: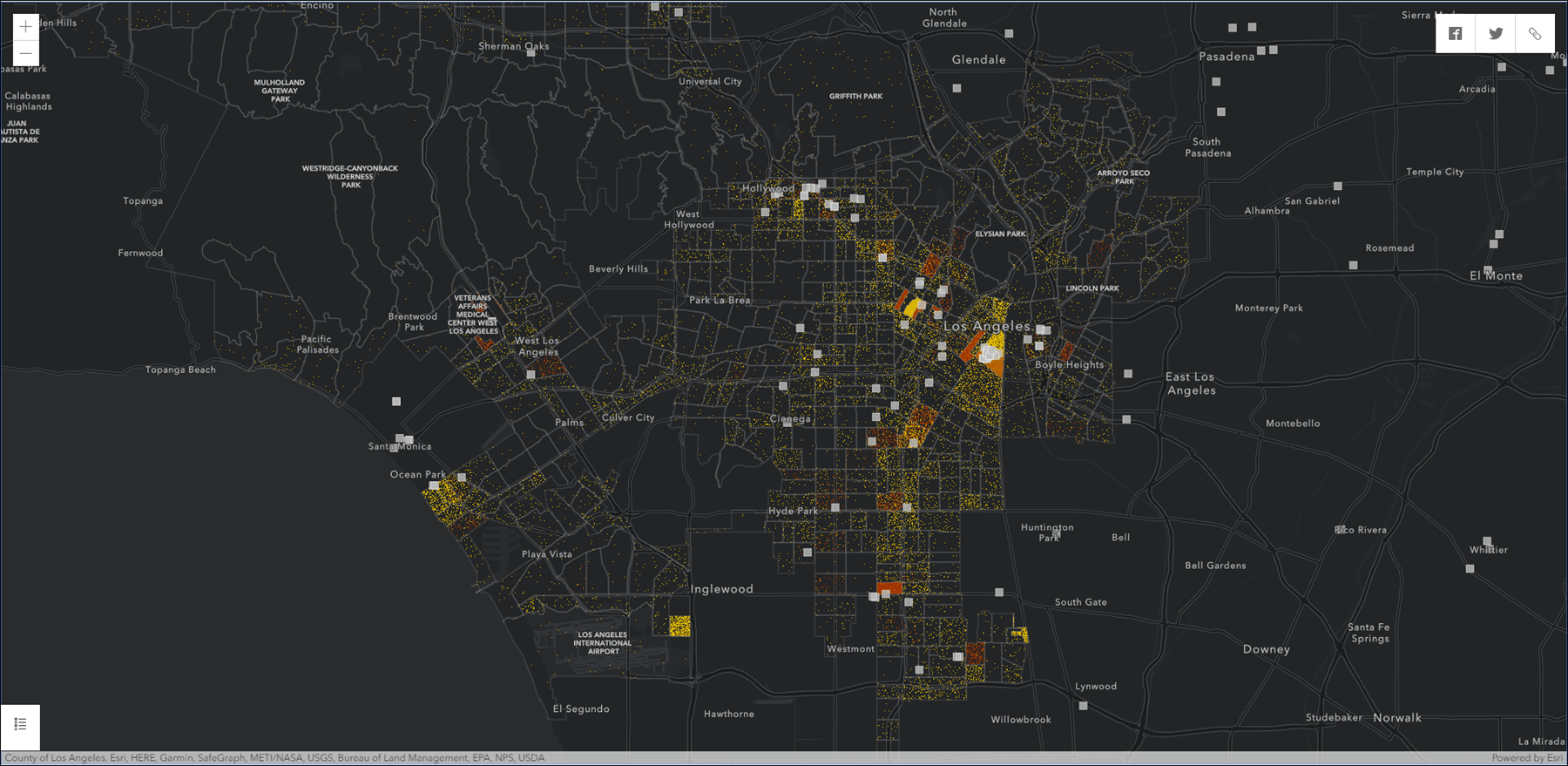 New App Configuration
If you are familiar with using configurable apps, you know how simple it is to get an app up and running quickly by choosing from a set of options within the app's configuration panel.  With this release, we are introducing an upgrade to the configuration panel that is used with Minimalist (beta) that offers new features like Express Setup, mobile device preview, and updates on the fly.  This update makes configuring your app more efficient and streamlined while offering a newer, cleaner look and feel.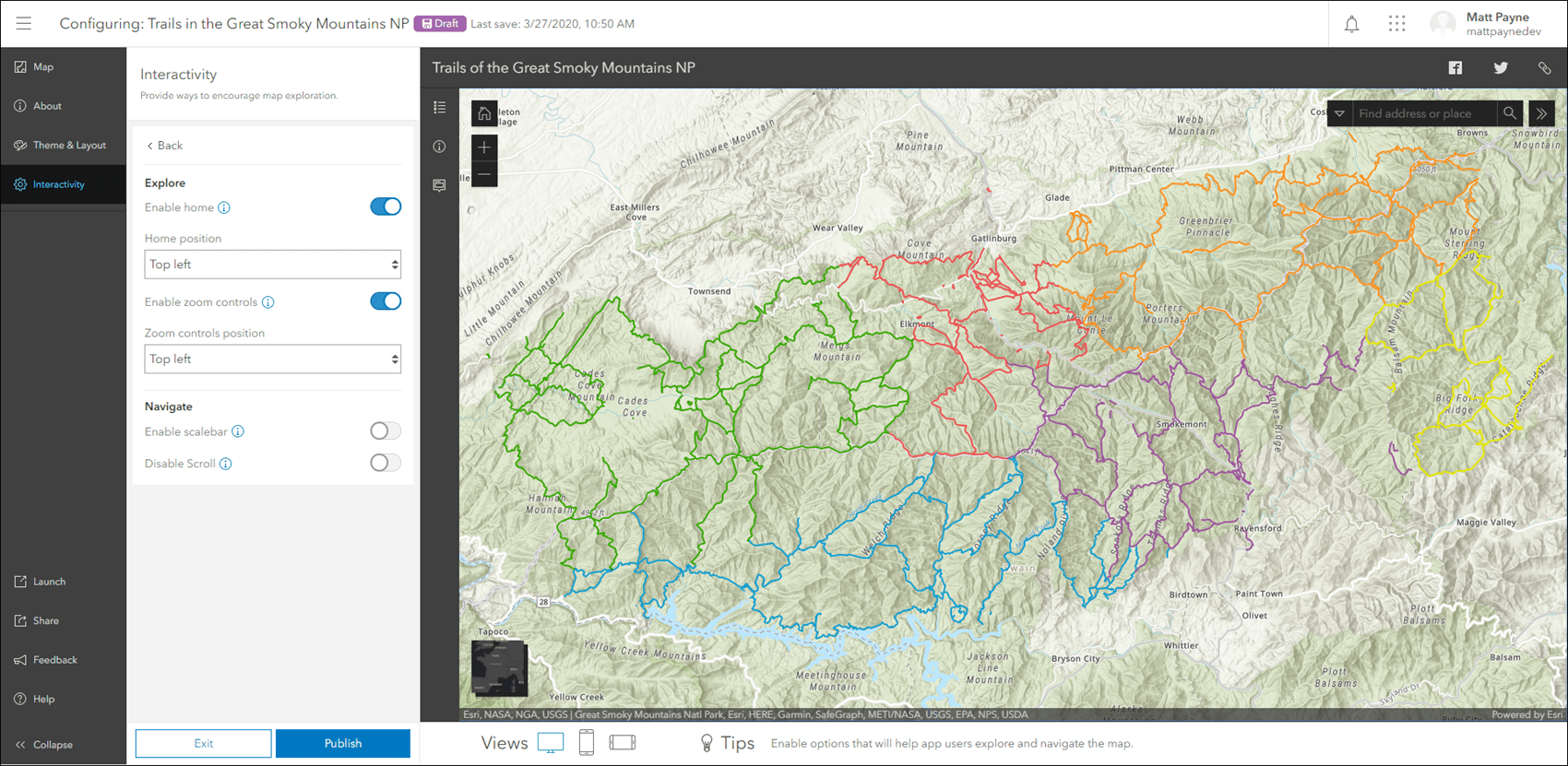 Express Setup
When a new Minimalist (beta) app is created, the app configuration initially launches into Express Setup.  This is a simplified step-through of the most essential settings to consider.  Express Setup is intended to get you from map to a published interactive app as quickly and efficiently as possible.  Think of it as the minimum set of decisions needed to produce a well-functioning app.  For Minimalist (beta) this includes choosing a web map, providing basic details about the map, deciding on the popup style, choosing a color theme, and offering the ability to search the map.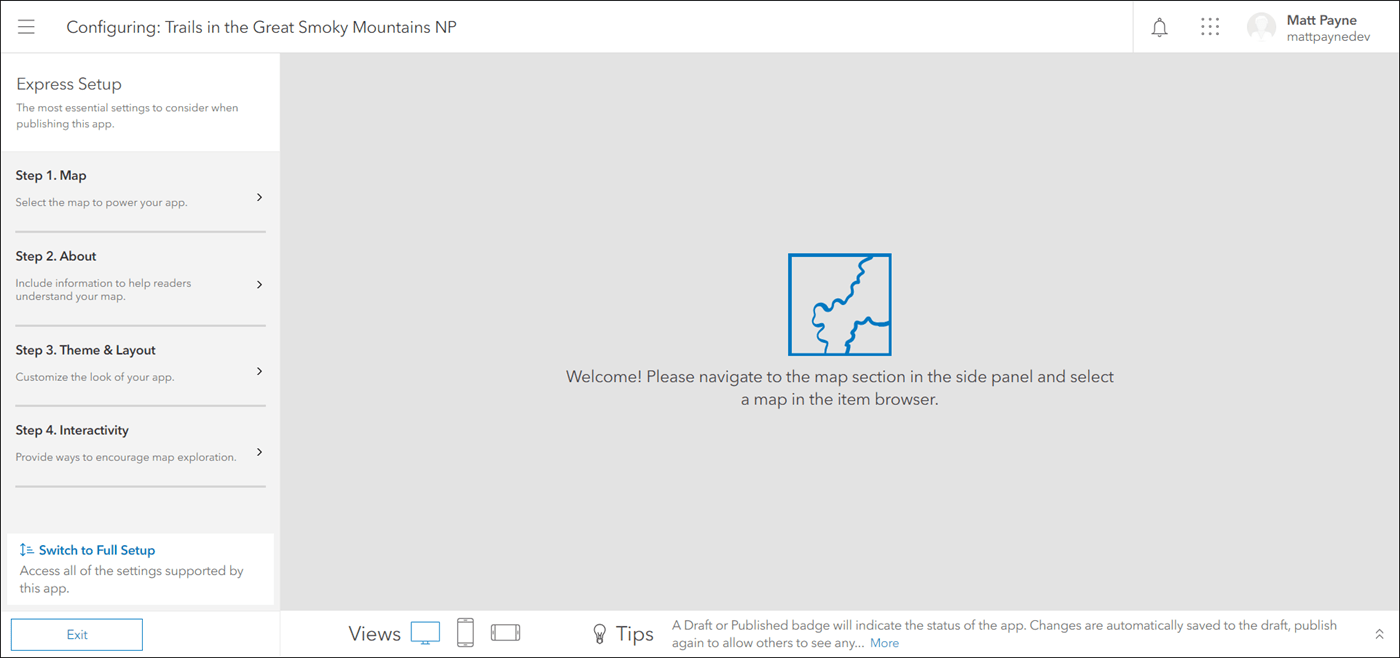 If you want to configure the app beyond these essential settings, you can access all of the settings supported in the app by clicking "Switch to Full Setup" at the bottom of the settings panel.  Full Setup contains advanced options such as adding a basemap toggle, deciding on a layout type, disabling mouse scroll from zooming the map, and including social website sharing options.

Try out Express Setup and if you feel there are any essential settings we should add please let us know!  Feedback options are included in the last section of the blog below.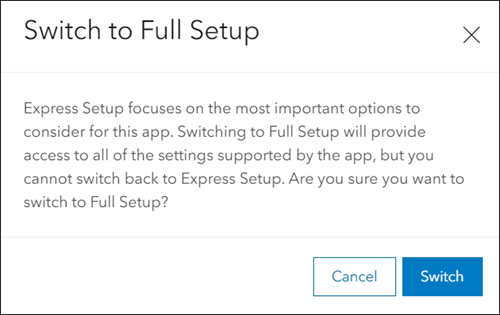 Mobile Device Preview
Instant apps are built mobile first and have an optimized layout for mobile devices.  The new app configuration provides the ability to preview your app in a mobile layout and familiarize yourself with the mobile experience without having to navigate to the app on a device.  The Views option in the configuration panel allows you to preview your app in mobile view, offering both portrait and landscape orientations.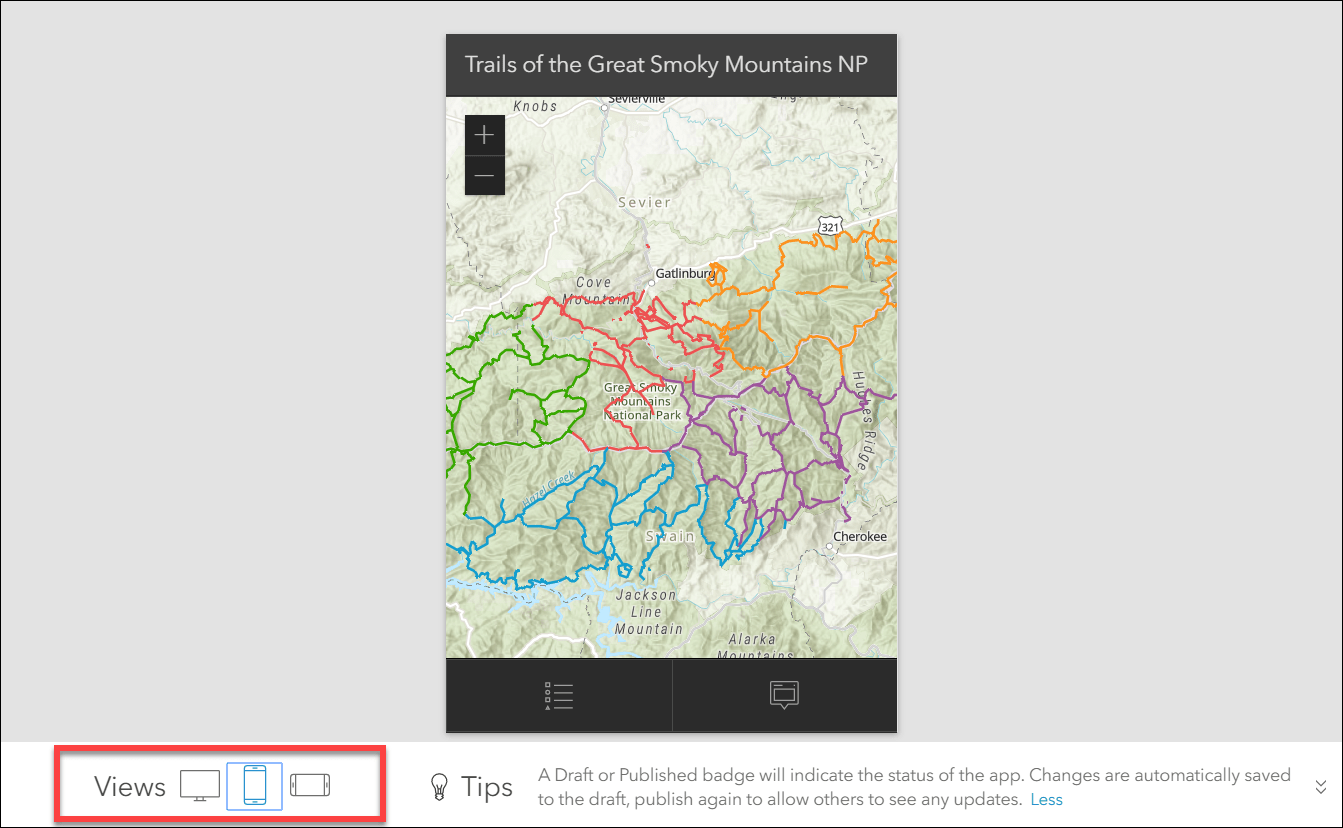 Immediate Updates, Auto-Save, Draft and Publish
We've addressed a common request of seeing configuration changes happen on the fly.  In the new configuration, changes that are made in the panel will immediately show in the app preview window; there is no need to hit save to see your changes reflected.  This is also utilizing the new auto-save feature.  As changes are made in the panel they are auto-saved in the app's draft.  A purple badge shows at the header of the configuration along with the date and time of the last auto-save to provide assurance that your work is accounted for.

Changes to the app configuration will continue to auto-save in the draft until you choose to publish the app.  Publishing the app synchronizes the changes between the draft and published versions.  Once the app is published the badge will update to green and provide the published date and time.  Note that any changes you make that are auto-saved into the draft will not reflect in the published app until you click the Publish button again.

Tips
The updated layout of the configuration includes new tooltips tied directly into specific settings.  A blue "i" icon will appear next to any setting that has a focused tooltip.  Hover the mouse cursor over this icon to access the tooltip.
We've also added a new space below the map preview window where we've included broader tips to help guide an app creator along with some of our best practice suggestions.  This tip will change depending on which category is active in the settings panel.

More Information and Feedback
Minimalist (beta) can be created from the same place as other configurable apps within an ArcGIS Online organization, including the Map Viewer, Content page, and the item page of a web map.  The 3x version Minimalist will also be available in these locations during the beta.  Once Minimalist (beta) is ready for general availability, the existing Minimalist will move to mature support (later in 2020).
Note that this app is in beta and is only available in English.  This means it will not show in the gallery of configurable app options when creating a new app if your org is not in English.  In the near future when we move it out of beta and into general availability, it will be translated and available in all of the usual languages that Esri supports.  This is the common process for all of our apps that enter a beta phase.
The new app configuration with Minimalist (beta) is supported in Chrome, Firefox, Safari, and Microsoft Chromium Edge.  It is not supported in Microsoft Legacy Edge or Internet Explorer.
This app is currently in beta and we would love to hear your feedback.  Please visit our feedback page on GeoNet or click the Feedback button at the bottom of the settings panel in the Minimalist (beta) app configuration.  On the GeoNet page, submit a question or start a discussion and we will take a look.