Over the past several years, ArcGIS Online has become a very rich collection of geospatial content, with millions of items published by thousands of different organizations around the world. Many of these organizations, such as national mapping agencies and local governments, provide access to the most authoritative content for their communities, and are making their content publicly available through ArcGIS Online for everyone to use.
As users of ArcGIS Online creating content, most of us are looking for the most reliable and authoritative content to use in our maps and apps. This might include basemaps, imagery, boundaries, demographics, weather, traffic, parcels, buildings, or many other types of content. So, how can you find the most reliable and authoritative content in ArcGIS Online?
ArcGIS Online Content
One source that many of us turn to first is the ArcGIS Living Atlas of the World, which is built-in to ArcGIS Online and now accessible to all users creating content through the Living Atlas tab on the Content page. The Living Atlas includes content that is curated by Esri, which may be published by Esri, our business partners, or ArcGIS users. The Living Atlas now includes about seven thousand items of various types that have been contributed.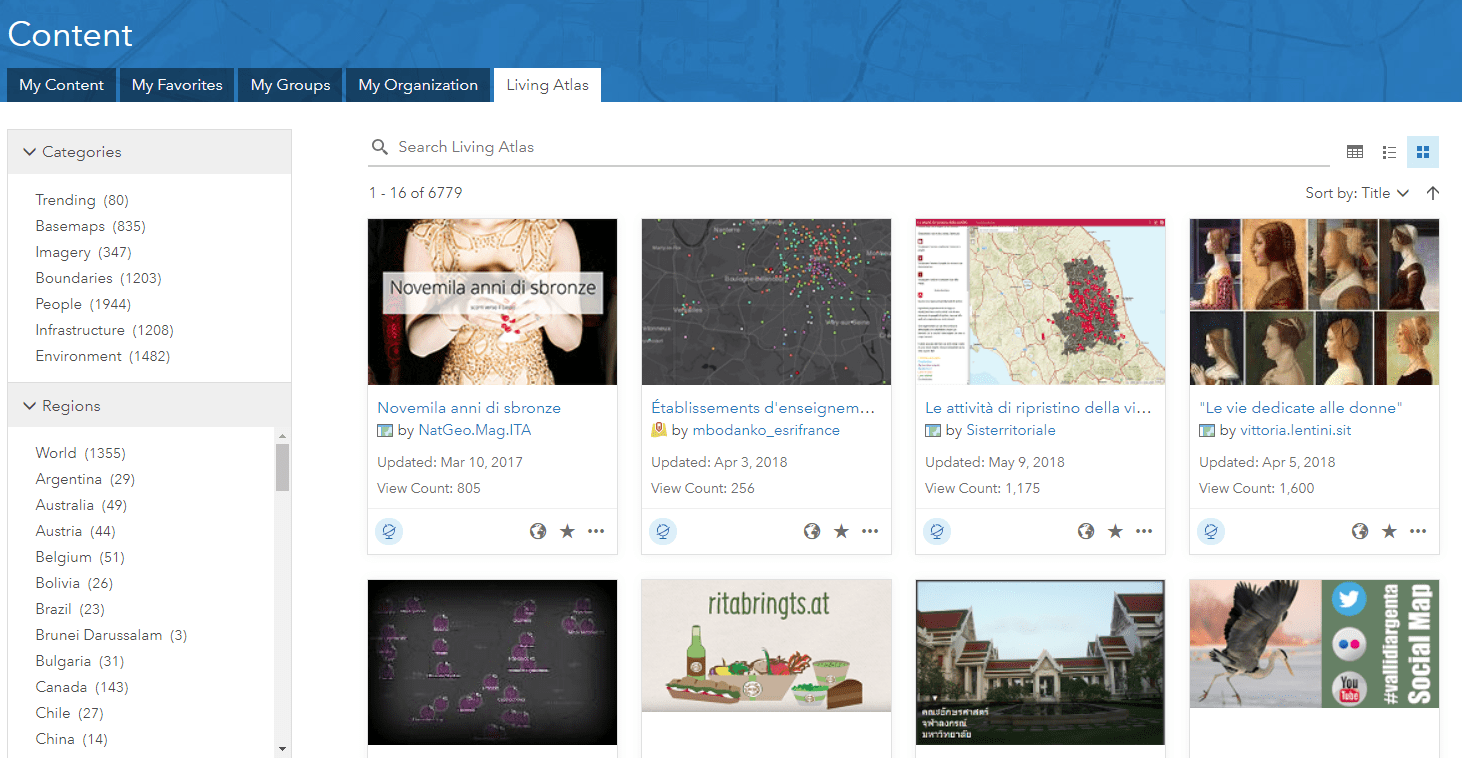 This is a great place to start but it only scratches the surface of all the content (several million items and growing!) that have been publicly shared in ArcGIS Online. If you don't find what you need in the Living Atlas, you may next search all of ArcGIS Online. This often uncovers lots of relevant content that is available to you, but it may be challenging to determine which is the best one to use. Who is the owner of the content, is it well maintained, is it the correct version to use in my map or app?
What most of us are hoping to find is the best available content from the organization responsible for publishing that content, which you can trust to be well maintained over time. This might be a custom vector basemap from Esri, the latest imagery from a national mapping agency, the legal parcel boundaries from a local government, or the most current statistical data from an NGO. While this content might be available in ArcGIS Online, it can often be difficult to distinguish in the search results.
Public Authoritative Content
With the June release of ArcGIS Online, we have begun to make this type of 'authoritative' content easier to identify and find. Organizations publishing this type of content, such as Esri (including our international distributors) and government agencies, are now able to mark the best available content that they are sharing with everyone as 'Authoritative' and it will appear as authoritative from that organization. Users that are looking for this type of content can now filter their search results to just show content that is authoritative.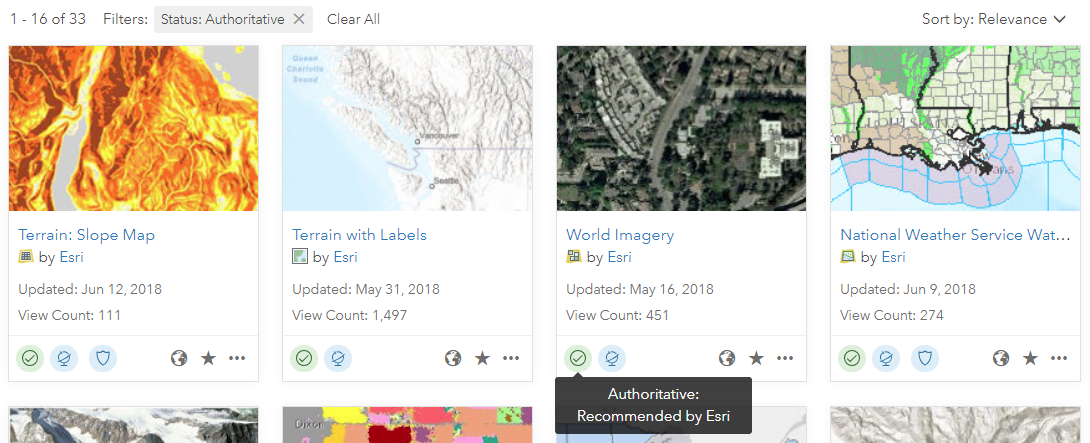 Sharing Public Authoritative Content
If you are part of an organization sharing public content that you would like to mark as authoritative from your organization, it is simple to get started but there are a few things you need to do. Below are the steps:
Publish your content in ArcGIS Online, follow our best practices for sharing, and share the item with everyone.
If you are the administrator for your organization (or have privileges to update all content in your org), mark the appropriate items as "Authoritative" in the item settings. Or ask your admin to do that for you! (Check out this article on Improving Content Quality for some suggestions on authoritative content workflows.)
Once you have some authoritative content ready to share, ask your admin to ensure that (a) the organization allows anonymous access and (b) the organization has a great home page for anonymous visitors and (c) the organization name configured in the settings is correct.
Once that is confirmed, the admin can then request that the organization identity be verified by Esri.  Go to Settings > General > Organization Verification.
Once Esri has verified the organization identity, any of the content that is shared with everyone and marked as authoritative will appear as authoritative from your organization. That is, the item will have an "Authoritative" badge and it will display the organization name as the owner of the item, such as in the examples shown above. Added bonus: the item will also be boosted a little when already relevant in search results.
Finding Public Authoritative Content
If you are a user of ArcGIS Online looking to discover and use authoritative content from other organizations, there are a couple ways you can start to do that now:
Search: whenever you search for content, you will see some filter options appear next to the search results (e.g. item type, date modified, etc.). You can use the status filter "Authoritative" to see only this content. If you choose to expand the search beyond your organization (i.e. de-select 'Search only in …' your org) and set that status filter, then you will see any public authoritative content that is relevant to your search.
Browse Living Atlas: if you are browsing or searching items in the Living Atlas tab on the Content page, you will see some other filter options appear next to the search results (e.g. categories, regions, etc.). You can now use the status filter "Authoritative" to see only this type of content in the Living Atlas. This will include Living Atlas content from Esri and other organizations that have already marked their public content as authoritative and been verified.
We're Just Getting Started
The ability to mark content as authoritative was added in the December 2017 release, and the ability to mark public content as authoritative is new with the June 2018 release. It will take some time for large numbers of public authoritative content to appear in ArcGIS Online. That said, there are already several dozen organizations enabled to share authoritative content with everyone and over 6,500 public authoritative items!
Our hope and expectation is that we will see a significant increase in the quantity of high-quality, authoritative content that is being shared and distinguished in ArcGIS Online over the next several months. This will be good for everyone, helping data publishers by raising awareness and usage of their most useful and authoritative content and helping users by making it easier to confidently find the best available content to use.  We look forward to seeing your authoritative content shared publicly in ArcGIS Online soon!
Commenting is not enabled for this article.