In this blog article you will learn about updates from the May 2020 Map Viewer release and will also gain an understanding of the difference between the Classic Map Viewer and the new Map Viewer. These differences include enhanced labeling, new and organized color ramps, dot density, scale-driven styling, and faster map feedback – even more reason to use the new beta! 
What's new?
Two major updates were added in the May 2020 release of Map Viewer: heat maps and clustering Arcade expression-driven styles and attributes.  All Smart Mapping drawing styles are now available for you to symbolize your data using intelligent defaults. 
Heat maps
Use heat maps when you would like to show density, or when you have lots of overlapping points. Highlight areas with high activity with stronger colors that appear to glow hotter. You can visualize where there are lots of points or even locations of high and low values based on an attribute.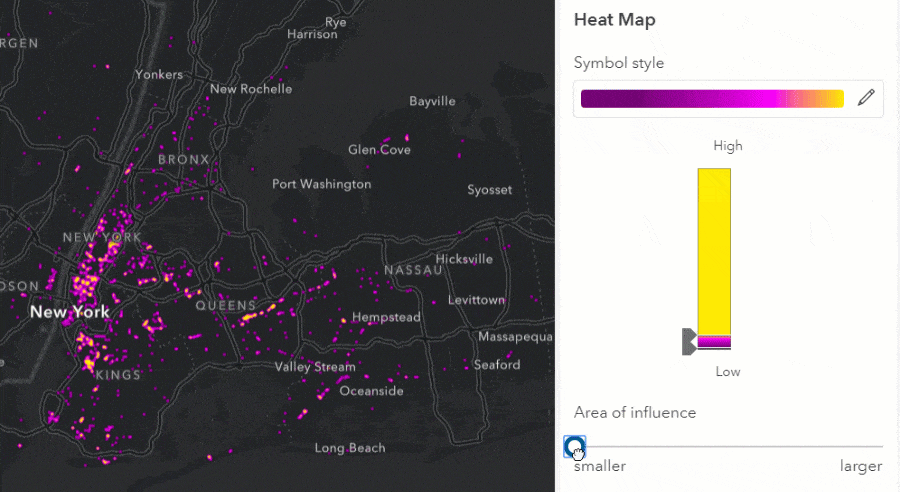 Clustering Arcade expression-driven styles or attributes
Another way to address overlapping points and large datasets is clustering. You can now cluster Arcade-driven styles such as predominance and relationship. You can also cluster layers with Arcade-driven attributes. Clustering in Map Viewer is a lot faster and can handle significantly more points compared to the 50,000-point limit in the Classic Map Viewer. Plus, you get a nice, customizable pop-up whenever you turn on clustering.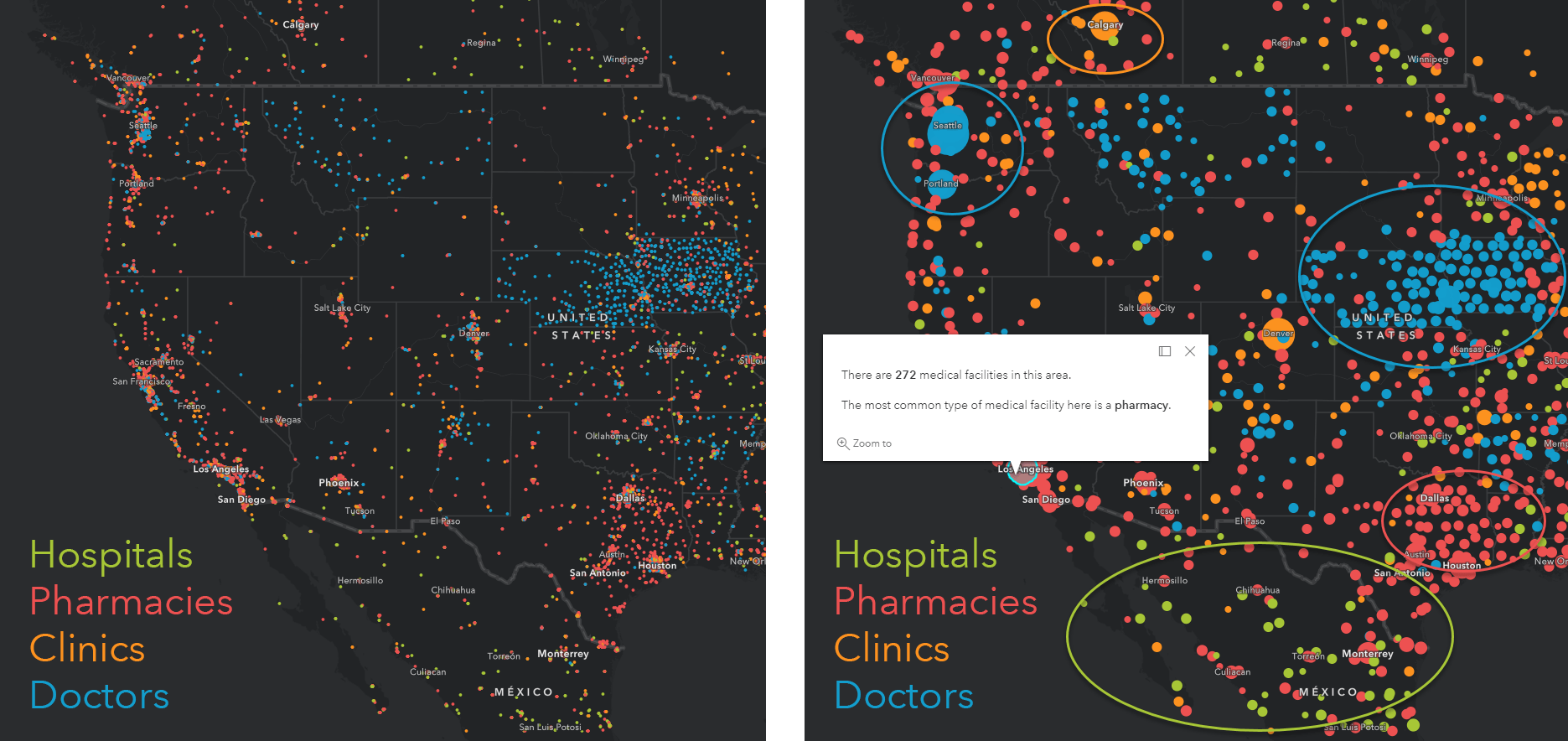 Why should I use 
Map Viewer Beta
?
There are many reasons to use the new beta. Some of those include enhanced labeling, new and organized color ramps, dot density, scale-driven styling, and instant map feedback.  
Enhanced labeling
Map Viewer includes numerous enhancements that will make your labels nicer than ever. Choose from over thirty new, decorative fonts and visualize your labels on multiple lines. You can even specify when each label class appears and disappears depending on your current zoom level. Rotate the map and your labels will nicely rotate with it. To get the label placement just right, use the horizontal and vertical offsets to nudge the labels in any direction you want.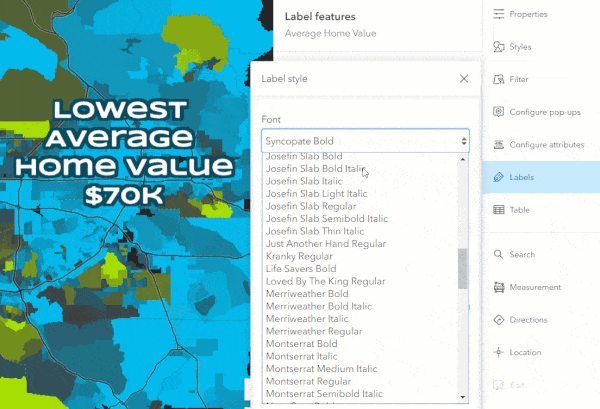 New and organized color ramps
Easily explore the hundreds of new color ramps with categories such as colorblind-friendly, bright, blues, greens, purples, and best for dark backgrounds. Map Viewer detects what color basemap you are using and suggests an optimal default ramp that goes well with whatever basemap you select. Tip: Check out the Above and Below theme for additional ramp options…and a more meaningful map!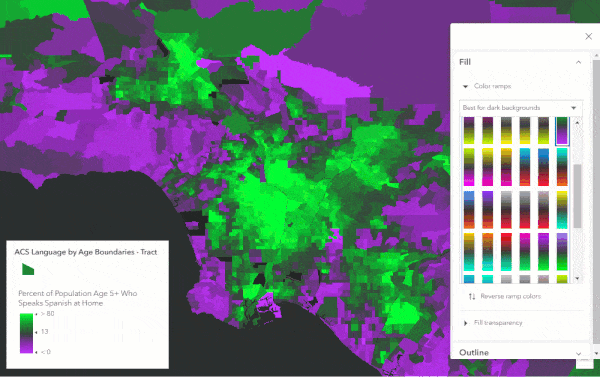 Dot density
The dot density style is only available in Map Viewer. This mapping style makes your data and story more personal by representing a count of something or someone with an individual dot. Common topics that work well with dot density include Census data, vital statistics, incidents and accidents, crime, and product sales. Edit the dot value, legend, and colors. The new blend overlapping colors option reveals where more than one category is present in an area.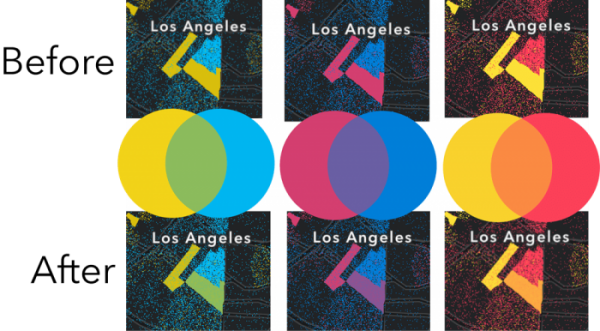 Scale-driven styling
The Classic Map Viewer only supports automatically adjusting polygon outline widths and graduated symbols by scale. Map Viewer now provides the option to adjust point and line widths by scale. Scale-driven styling ensures your layers look great at any zoom level.  

Instant map feedback
Experience fast visual updates with every click whether you are changing colors, modifying labels, editing pop-ups, or filtering. These quick updates help you explore and symbolize your data with greater ease and freedom to try new things.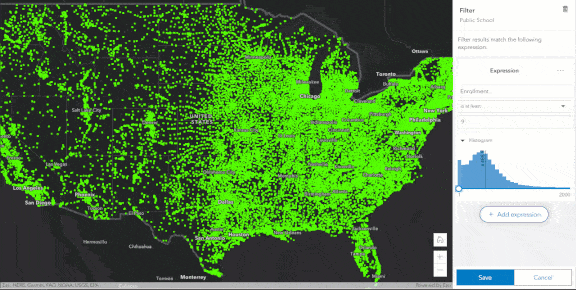 Give Map Viewer a spin
!
Join the Map Viewer GeoNet community for discussions, updates, and blogs.