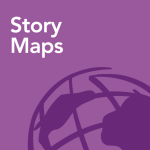 Esri's Story Maps Team has a new resource for developers. It's published on the blogging site Medium, and we call it the Story Maps Developers' Corner.
Whether you can write JavaScript classes in your sleep or are only comfortable editing simple CSS and HTML, the Developers' Corner will have posts for all skill levels. If you're not into code at all, don't worry — we'll still post plenty of Story Maps news and tips here on the ArcGIS blog, but if you want to learn more about customizing Story Maps be sure to also follow us on Medium.
Here are the articles we've posted to the Devs' Corner so far:
If you need help using or customizing a Story Map app you can visit the Story Maps place on GeoNet to post questions and browse posts from your fellow storytellers and developers. Members of Esri's Story Maps Team also review and respond to issues you raise on GeoNet.
Commenting is not enabled for this article.