We're excited to inform you that ArcGIS 3D Analyst has been updated with the latest version of ArcGIS Pro 3.2.  We've added new tools, workflow guides and feature enhancements to improve the ArcGIS 3D Analyst product.  Here's a rundown of what's new in 3D Analyst.
New Detect Objects from Point Clouds Geoprocessing Tools
This release offers new tools to help you detect objects in your point clouds. Identifying features of interest from the 3-dimensional context offered by point clouds presents unique opportunities for extracting value.  Point clouds have the potential to capture objects that would either be too occluded, too small, or too thin to be represented in imagery.  Using point clouds as the basis for object extraction allows for the possibility of developing a more precise accounting of objects of interest. Objects can be extracted through a deterministic process which does not require deep learning or through tools which leverage deep learning. The new tools for object detection are: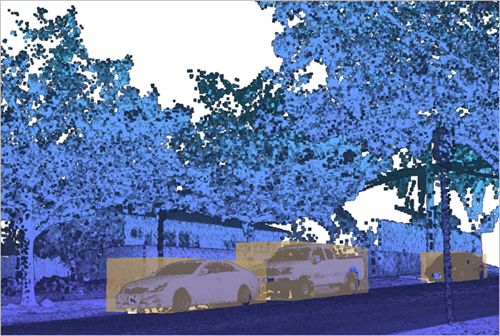 Extract Objects From Point Cloud—Generate 2D and 3D geometry that represents objects identified from a classified point cloud. This tool uses a clustering distance to establish which points belong to the same object. Data that is well classified, ensures good extraction results.  Use either the interactive tools or rule-based classification tools to improve point cloud classification. Click the link above to learn more about how to extract objects from a point cloud.
Deep Learning Based Object Detection Tools:  
Deep learning based object detection does not require the data to be classified.  It also offers a way to create your own object detection solution and use deep learning models created by other people. Esri's deep learning tools require the installation of Deep Learning Essentials, which provide a wide assortment of machine learning solutions.
Prepare Point Cloud Object Detection Training Data— Create training data from point cloud data, like lidar, for use in object detection models using deep learning.  Click the link above to learn more.
Train Point Cloud Object Detection Model— Train an object detection model for point clouds using deep learning. A series of metrics will be reported during the training process, which allows you to assess how well the pre-trained model is detecting objects from the point cloud.  Click the link above to learn more.
Detect Objects From Point Cloud Using Trained Model— Use deep learning models to support the detection of objects captured in a point cloud. The output features will be bounding multipatch boxes surrounding the objects detected from the input point cloud and trained models. Click the link above to learn more.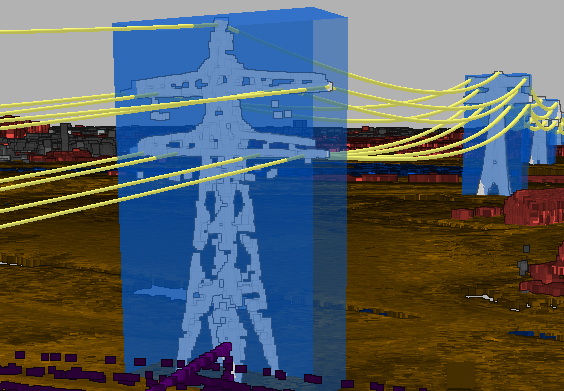 Geoprocessing Tool Enhancements  
Not only have we been working hard to provide you with new tools and workflows, we've also fixed bugs and focused on improving existing tools.
LAS Processing Enhancements:
Classify LAS Ground— Adds the ability to classify high and low noise points through new, optional parameters.
Classify LAS By Height— Adds the ability to use a raster surface as a height source which can help in the processing of non-conventional data like point clouds capturing interior spaces where ground classification is not present.
LAS To Multipoint— Supports LAS datasets as input and adds the capability to browse to and select folders.
I3S Point Cloud Support:
3D Modeling Enhancements:
Point Cloud Visualization
Files in Optimized .ZLAS format and LAS datasets that reference .ZLAS files are now editable. Any of the LAS interactive tools or rule-based classification tools now can classify or reclassify points in .ZLAS files.
Point clouds can now be visualized as squares instead of circles in a scene.  The ability to render points as squares improves overall performance in a scene for point clouds. This parameter is accessible in the application level and found in the Display section of the Options dialog. Point clouds can either be a LAS dataset, LAS file(s), ZLAS file(s) or a point cloud scene layer.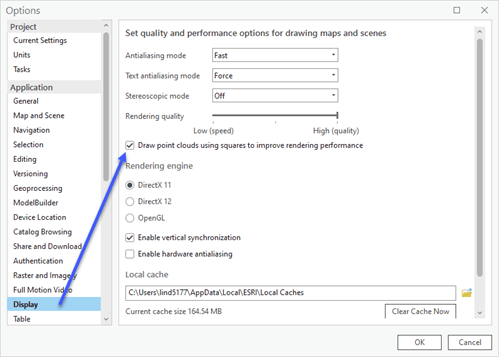 LAS Data Workflows
Two new guide topics have been added to the help to promote workflows for processing LAS data:

Understand Ground— Provides an overview of the processes involved with DEM production from aerial lidar data.
Understand Overlap Classification— Examines what overlap represents, how it can be classified, and how this classification can help downstream workflows.
Share Your Feedback
We value your feedback and would love to hear from you. If you encounter any issues, have suggestions, or just want to share your thoughts on the new update, please don't hesitate to reach out to use Esri's Community forum here.
Thank you for choosing ArcGIS Pro.  We hope you enjoy the latest version, and as always, we're committed to providing you with the best software experience possible. Stay tuned for more exciting updates in the future!