Need options for running ArcGIS Pro from the cloud?
Microsoft, Azure, and AMD have presented additional configurations to support ArcGIS Pro users.
Cloud-hosted options continue to evolve and offer compelling ways to connect to a VDI infrastructure, while not tying you to a specific piece of hardware.  This is particularly appealing for ArcGIS Pro users who work on-the-go but still demand a feature–rich user experience.  Users can access resources from a lightweight tablet or laptop computer while performing complex analysis, editing tasks, or in-field queries.  In short, you get the convenience of a light, portable solution with robust compute on the server-side to support your most challenging GIS tasks.
What is the Microsoft Azure NVv4, and how does this help ArcGIS Pro users?
The NVv4 is a cloud-hosted instance type that is powered by AMD Radeon Instinct MI25 GPU and AMD EPYC CPUs.  These offerings provide flexible options capable of running ArcGIS Pro from cloud-hosted systems.
https://azure.microsoft.com/en-us/updates/nvv4series-vms-are-now-generally-available/

How did we test the NVv4-series?
Testing for the NVv4-series began in January and ran for several weeks.  During the testing, we ran scripted tests designed to extract metrics, while conducting additional hands-on testing.  Hands on testing is designed to get a "feeling" from the system, adding more value to the scripted results that report % CPU and GPU utilization, available memory, and display frame rate.
Here are some examples of the kind of information we capture and learn from: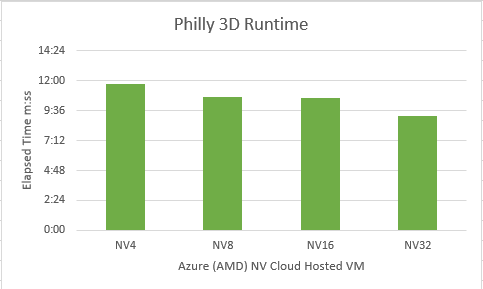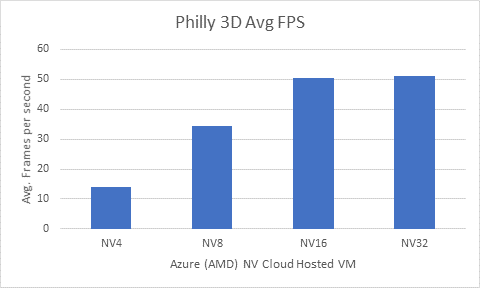 The two charts shown above provide a comparison of performance related to the use of a GPU running a scripted 3D test.  The four VM instances all ran the same tests and ran in a predictable manner.  The NV4 with a less vCPU and GPU memory took a little longer to complete the testing, and the NV32 with more resources ran faster and had a higher display rate (frames per second).
Testing 2D data, we saw similar performance.  2D that was CPU-intensive testing yielded similar results, with the NV32 having greater resources completing the test faster than the others.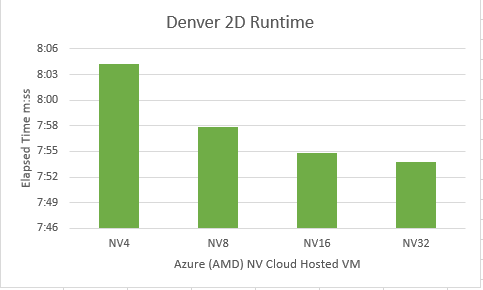 Before we look at the results and recommendations, let's understand that these charts are not the only means of looking at performance.  Like buying a new car, we must test drive it to feel comfortable about its performance.  During testing we "roll up our sleeves", using different projects to interact with 3D cityscapes, detailed parcel maps, and terrains.  We perform analytical tasks using GP tools, or maybe plot a hike or a drive.  Specifically, as we run a GP task such as Viewshed/Line-of-sight analysis, we assess the system's usability.   If the VDI session is fully pegged on its resources, can we perform other tasks at the same time?  Can I move around or navigate the map?  This is the test drive, and we want to treat it the way we would treat a laptop or desktop machine and determine its breaking point.
What do we recommend?
NV4:
Good for 2D use.  Capable to deliver a solid 2D experience with ArcGIS Pro.  It can do 3D, but the user experience is not ideal.
NV8:
Good for 2D use as well as light 3D use.  Same as the NV4 but able to render and move 3D rendering a bit more smoothly.   This may end up being a good option for our users who do mostly 2D work but dabble in 3D and need that capacity.
NV16:
Solid platform for Medium to Heavy 3D use.  This is a system that many of our power users could benefit from who do 3D, as well has have large datasets and analysis needs
NV32:
This is a good platform for heavy 3D and larger datasets with heavy analysis needs.  Performance in some areas was like the NV16 but it did not seem to make the system sweat.  Both the GPU and CPU had excess capacity that could handle more work.
Summary:
ArcGIS users have more options in Azure in 2020.  The NVv4 series gives flexibility to determine the workload, datasets, and user needs with the convenience of being able to GIS tasks and analysis from the cloud.  Whether using 2D data or heavy 3D data, the NVv4 is another way to deliver an excellent ArcGIS Pro VDI experience.