One of the tricky aspects of DEM production from lidar is related to the representation of water. It's desirable for lakes and reservoirs to be flat, and for larger rivers to be level from bank to bank while also only flowing downward, never up. The enforcement of this behavior is commonly referred to as 'hydro-flattening'. It's done for cartographic, or aesthetic, purposes. Hillshades and contours, for example, will look and behave as expected when made from DEMs that have been properly hydro-flattened. Lakes and reservoirs are relatively easy to handle because they just get completely flattened. Rivers are where the greater challenge lies because they need to flow downslope, naturally following the surrounding terrain.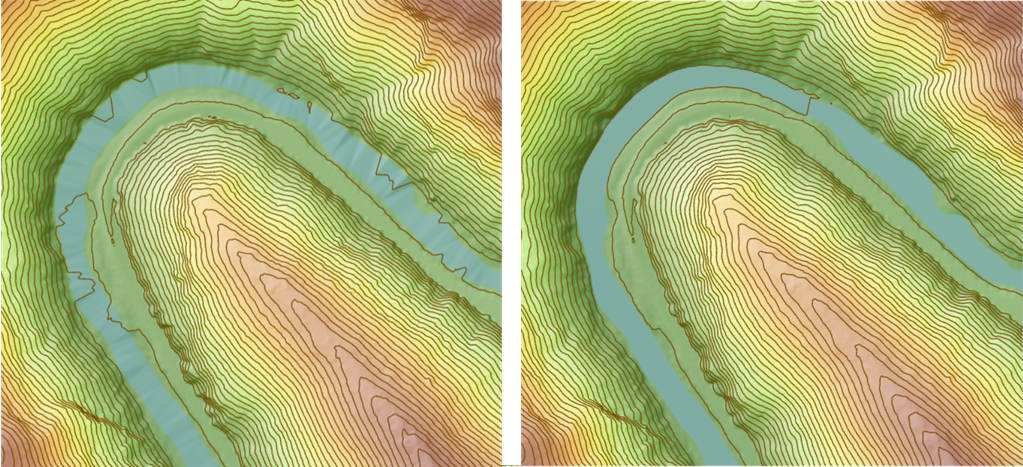 Color hillshade and contours made from untreated DEM on left, results from hydro-flattened DEM on right.
In ArcGIS Pro 3.0, the 3D Analyst extension introduces a new geoprocessing tool that facilitates hydro-flattening of river shorelines. It's called Enforce River Monotonicity. It ensures river heights, usually obtained from lidar, always go in one direction (i.e., down) which is why the word 'monotonicity' is used; it's uni-directional in Z. It also ensures the bank-to-bank height is consistent. The tool is a key piece of a larger workflow to make high quality DEMs.
General workflow for creating hydro-flattened DEMs from aerial lidar data using a LAS dataset:
Additional resources:
USGS Lidar Base Specification (pg., 15-22)
Digital Elevation Models, Hydro-Flattening, and Hydro-Enforcement
Commenting is not enabled for this article.