As an active ArcGIS Pro user, you may already be familiar with our approaches to working with CityGML in ArcGIS. CityGML is an open data model for storing city-related 3D geospatial data in an XML-based format. Many cities manage their 3D city models in the CityGML data structure, which serves numerous purposes from land use planning to solar cadastre. For ArcGIS users who want to publish, use, and analyze data from CityGML in the ArcGIS platform, Esri has collaborated with con terra to extend the toolset to provide a more convenient workflow.
Esri's latest tool has been converting CityGML-based 3D buildings to I3S (Indexed 3D Scene Layer), itself an OGC community standard. The I3S format, also called Scene Layer, allows users to publish and use 3D content on the web, mobile devices, and desktop. Scene Layer Packages (SLPK) are a scene layer file format that can be used to store, publish, and even directly read large 3D datasets. You can convert CityGML files to SLPK files by following the steps in the CityGML to I3S blog, which also is a resource for CityGML specifications and sample data.
Part 1: The news
In this blog, I would like to highlight the updates we added to the CityGML to I3S workflows. The following updates have been included:
Updated Python Compatibility to reflect Python 3.x
Added File Geodatabase as an additional destination format
Updated Scene Layer Package Writer (SLPK) to version 1.6
edited destination schema for SLPK to better reflect data types
Added texture + appearance support (GDB and SLPK)
designed to work with the default schema for CityGML 1.0 and 2.0
The slpk writer version has been updated and the Python version has been adapted to Python 3.x.
In the list, we have added the geodatabase file option as a new target format to the import dialog. This allows our users to import CityGML data and then edit, analyze, and publish it using the internal scene layer creation tools, to support LOD cache generation for 3D buildings, which the CityGML to I3S workflow is not capable of today.
Texture and appearance support has been added for both import options.
Now I want to briefly show how to use this tool and where to get it:
Part 2: Getting set up
The toolset contains tools for use in ArcGIS Pro as a geoprocessing tool and FME Desktop 2021.1.2 or newer. This way a more customized CityGML implementation where own attributes might need to be integrated.
In ArcGIS Pro, we have packaged the Workbench into a geoprocessing tool. Before using the tool, please ensure that you have installed and licensed the required Data Interoperability Extension for ArcGIS Pro. It provides the ability to import and edit workbenches.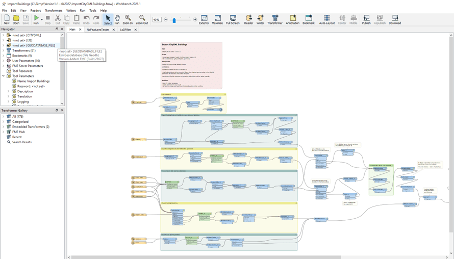 In the downloaded folder, you will find the FME Workbench file that contains the detailed processes for importing 3D CityGML models.
Part 3: How do use
Open ArcGIS Pro and navigate to the catalog window. Then right-click on the "Toolboxes" catalog and select "Add Toolbox". A new file selection window will appear where you can select your previously downloaded "CityGML tools.tbx" file from your local file store. Once the file has been added to your toolboxes, you can double-click on the file to view its contents. Currently, there is only one geoprocessing tool. It allows importing to the geodatabase and converting CityGML to Scene Layer Packages for buildings only. Double-click on the tool to open it.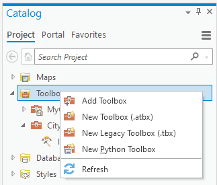 You can select one or more CityGML input files you want to convert. Note that all CityGML files must have the same coordinate reference system, which you must specify as a parameter of the tool. You must select the output folder and a name for the generated slpk/geodatabase file for both conversion and import.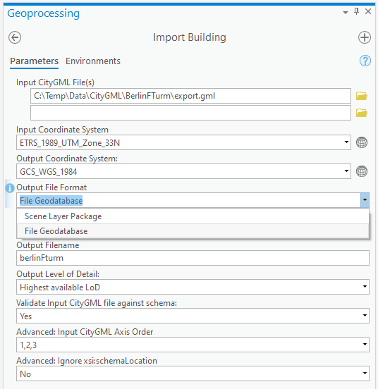 Some advanced options for the tool were described in the CityGML to I3s blog, which I refer to here as they have not changed.
After you have made your settings, click "Run", and ArcGIS will create the desired file. After the process is finished, you will find the created file in the output folder that you can add during the project setup.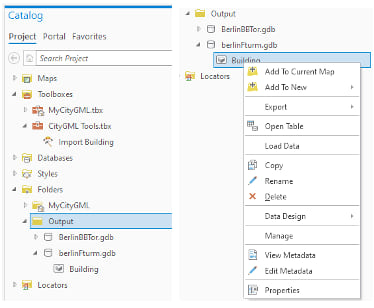 When you create a gdb file, the buildings can be added to the current map via the context menu. You can also select the slpk in the output folder and drag and drop it into your scene.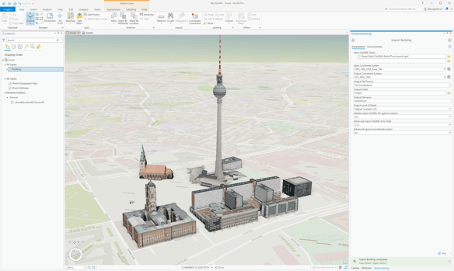 Part 4: What's next.
Esri plans to provide more CityGML tools to enable ArcGIS users to access as much available 3D content as possible. The tool will be expanded to include other CityGML modules such as vegetation, street furniture, land use and terrain. Try the tool and let us know what you think. Stay tuned!
Update 1 from August 2022: https://www.esri.com/arcgis-blog/products/arcgis-pro/3d-gis/update-citygml-to-arcgis-toolset/
Update 2 from October 2022: https://www.esri.com/arcgis-blog/products/arcgis-pro/data-management/update-ii-citygml-to-arcgis-toolset/
Final Toolbox: https://www.arcgis.com/home/item.html?id=7f765465648049d5a93ef2dc05b1f52b