ArcGIS Pro is Esri's state of the art desktop GIS application. It supports some of the most powerful GIS computations in the industry, such as supporting powerful deep learning and machine learning models as well as high quality visualization of 3D, raster, and LIDAR data.
How amazing would it be for your users to access this powerful application from the cloud on any internet-connected computer's integrated HTML5-capable browser? Want to run ArcGIS Pro from a MacBook or a Linux machine? Amazon AppStream 2.0 makes it possible.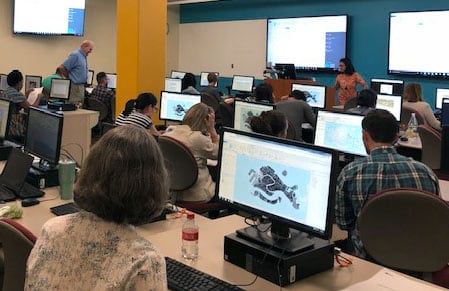 What is Amazon AppStream 2.0?
Amazon AppStream 2.0 is an application streaming service that allows instant access to desktop applications from any internet-connected device.  AppStream 2.0 manages the resources needed to host and run applications such as ArcGIS Pro on a GPU-backed system and provides a seamless user experience all from the convenience of an HTML5 browser.
Hosting ArcGIS Pro from the cloud is simple and convenient with the ability to scale up or down based on need.  The AppStream 2.0 administrative interface presents deployment options in an intuitive design, making application delivery a simple process.
Differing from other on-premises or cloud-hosted VDI solutions, AppStream 2.0 is a non-persistent solution that is pay-as-you-go.  This model offers lower costs to users versus a full cloud-hosted virtual machine.  Being non-persistent means that this solution is ideal for short-term projects and training classes. Users wishing to maintain the same data with a single desktop experience would benefit from a more long-term persistent cloud solution.
Amazon and Esri Bring AppStream 2.0 and ArcGIS Pro to UCR
Esri partnered with Amazon Web Services (AWS) to conduct a 4-hour training seminar at the University of California, Riverside (UCR) with more than 30 participants, working with AppStream 2.0 and ArcGIS Pro.  The session included instructor-led lectures and hands-on activities covering basic workflows and 3D rendering. Attendees were able to use ArcGIS Pro directly from their browsers regardless of their operating system. They were not able to tell the difference between using ArcGIS Pro natively installed on the desktop and using ArcGIS Pro streamed from AppStream 2.0.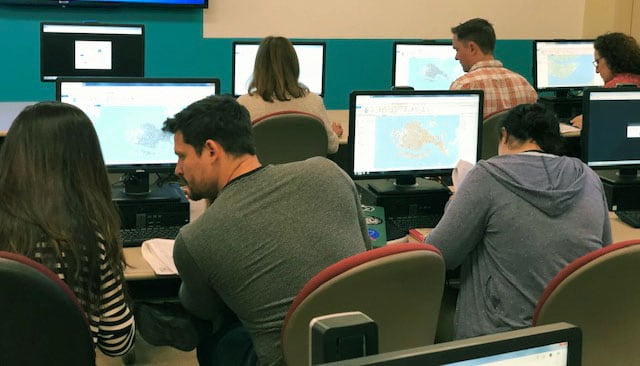 UCR had previously conducted an ArcGIS Pro class using the Amazon Workspaces for student machines and had a successful course that delivered ArcGIS Pro on a GPU-backed workspace.  This seminar using AppStream 2.0 offered a similar user experience at a significant cost savings.
Getting Started with ArcGIS Pro and AppStream 2.0
To get started using ArcGIS Pro with Amazon AppStream 2.0, please review the Amazon AppStream 2.0: Esri ArcGIS Pro Deployment Guide.
Commenting is not enabled for this article.