Achieving high coronavirus disease 2019 (COVID-19) vaccination rates requires a robust and transparent public education campaign that provides accurate vaccine information, progress on the distribution plan, and guidance needed to access a vaccination.
Today, a series of new ArcGIS Solutions designed to help communities communicate vaccine distribution plans and monitor the effectiveness of those plans are available for ArcGIS users.  The new solutions align with recommendations provided by the Centers for Disease Control (CDC), support plans developed by communities to execute the CDC recommendations, and leverage your location-based data to increase public confidence and monitor key vaccine distribution metrics.
Communicate vaccine distribution plans
A safe and effective vaccine is one of the most important tools in our fight against the COVID-19 pandemic.  Yet, public opinion is mixed on the safety and efficacy of any vaccine, and misinformation has a direct impact on vaccine coverage.   To combat misinformation, robust and nimble communication campaigns are being developed to ensure successful COVID-19 vaccination administration and uptake.
A key aspect of any campaign is a web destination that helps the public access this important information, ask questions, and request assistance.  The Coronavirus Vaccine Outreach solution can be used to launch a vaccine distribution web destination, provide the public critical information that helps them understand when, and where, they can be vaccinated, and enlist medical volunteers that may be needed to support widespread administration of the vaccine.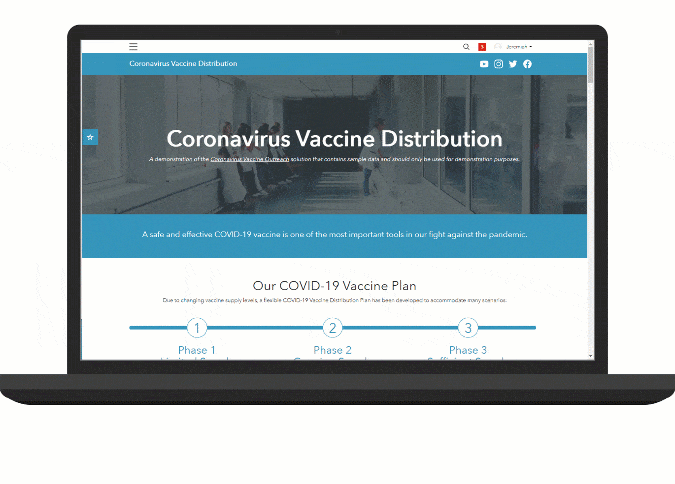 The Coronavirus Vaccine Outreach solution leverages an ArcGIS Hub site to promote vaccine distribution plans and build public confidence. The site includes a responsive, and accessible, website that serves as a destination for a vaccine distribution campaign.  From this destination, community members can review key vaccine distribution metrics, see stories from families and friends that have been vaccinated, determine if they are eligible for the vaccine, locate vaccine providers nearby, share their vaccination experience, and volunteer medical expertise to assist with widespread vaccine distribution.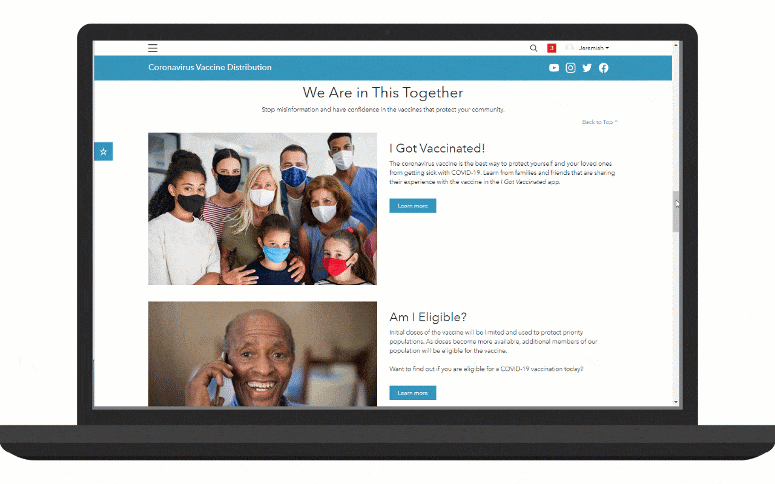 When you add an ArcGIS Hub Premium subscription, community members can follow your vaccination plan and get updates about new events scheduled to help the community achieve their vaccination goals.
Monitor vaccine distribution
As communities begin to distribute vaccines, maintaining situational awareness is essential. Understanding how vaccine distribution and coverage metrics vary among target populations, and from one geography to another, helps decision makers execute their vaccine distribution plans.
The Coronavirus Vaccine Distribution Dashboard solution can be used to tabulate vaccine distribution metrics, see how many people are being vaccinated, monitor key trends and performance targets for defined geographies and communicate progress to interested stakeholders.
The dashboard includes a series of key vaccine distribution indicators defined by the Centers for Disease Control (CDC) and supports vaccine administration plans developed by communities to execute the CDC recommendations.
Indicators and metrics are tabulated for specific reporting areas (for example, country, state or province, region, county, zip code, municipality, or other geographic area) so you can see how your state, region, or county might be progressing.  Furthermore, the Coronavirus Vaccine Distribution Dashboard solution can be configured at any time to monitor other metrics established for your organization.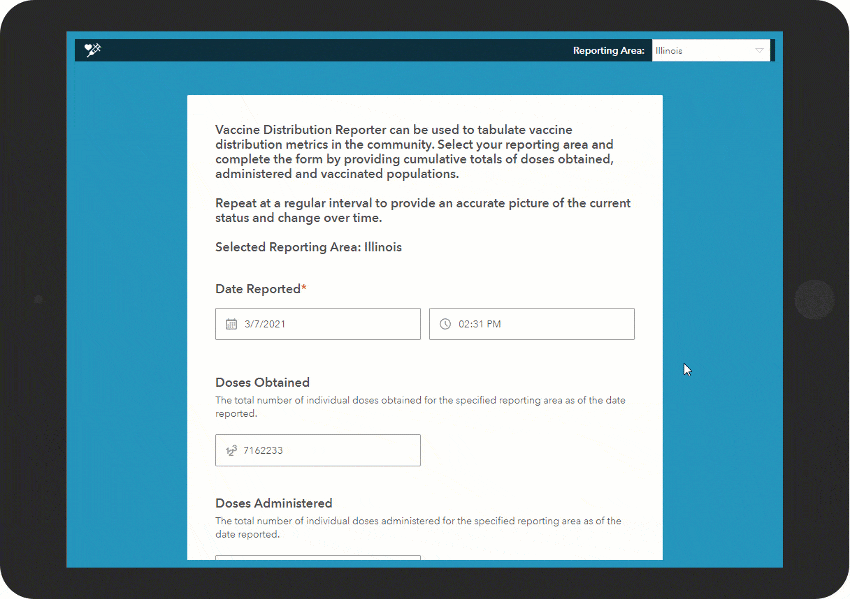 Coronavirus vaccine distribution metrics can be quickly tabulated with the Vaccine Distribution Reporter app. Metrics can be entered at a regular interval for one, or more, reporting areas.  If necessary, information can also be loaded from a spreadsheet or other data source as you receive new information.
Additional Resources
Learn more about the coronavirus vaccine distribution solutions and how you can quickly deploy these solutions on the ArcGIS Solution site.  For questions and feedback, chat with us on GeoNet or contact Esri Support Services.
Finally, Esri is providing several resources to help organizations combat the coronavirus.  The COVID-19 GIS Hub is the place to access additional resources and to request GIS assistance from Esri.