With the June 2020 release of ArcGIS Online, we are excited to announce the ArcGIS Solutions App, a new way to quickly deploy ArcGIS Solutions to your organization. ArcGIS Solutions are a collection of focused maps and apps that help address challenges in your organization. Part of the Esri Geospatial Cloud, ArcGIS Solutions leverage your authoritative data and are designed to help you improve operations, gain new insight, and enhance services.
When you log in to your ArcGIS Online organization, you'll find the ArcGIS Solutions app is now available in the app launcher. This application helps you quickly discover and deploy ArcGIS Solutions in your organization. Designed to make deploying ArcGIS Solutions easier you can browse the collection of solutions, search for a specific solution, or filter the gallery to quickly find a solution.
Once you discover the solution you are interested in, the information panel will provide an overview of the solution and an option to deploy it. A link to additional documentation is also available if you would like to learn more about the value the solution provides, workflow(s) it supports, and software required.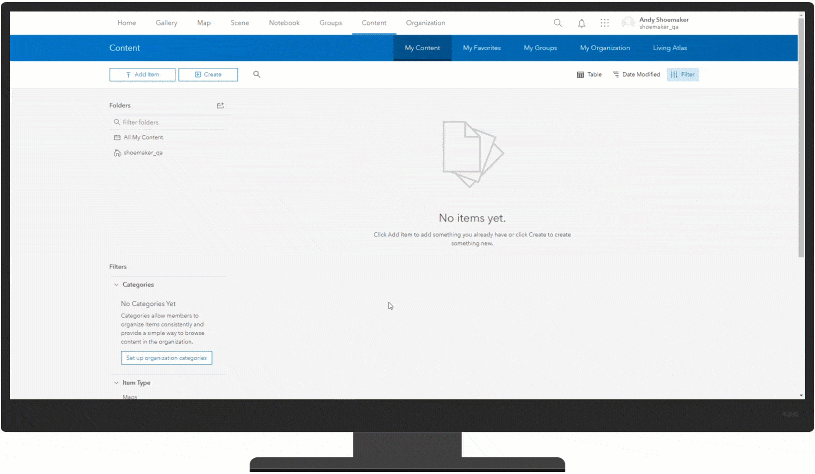 When you click "Get Now", all of ArcGIS items included in the solution are created in your content. The content is Summarized in a new Solution item that helps you visualize related ArcGIS items (for example, hosted feature layers, hosted feature layer views, maps, apps, surveys, groups, etc.) and understand where each map, layer, and view is used.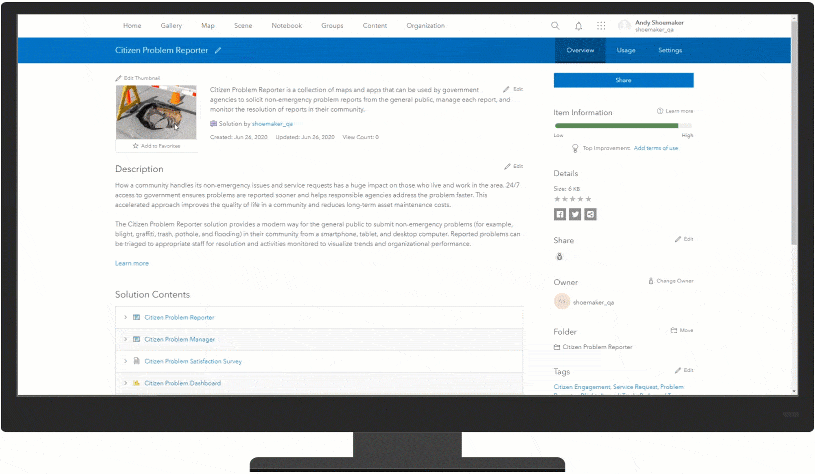 This will help you quickly configure the solution to fit your organization's needs – and then share the application, map, and layers with end users.
Included in the first release of the ArcGIS Solutions app are a collection of the most popular solutions and several new solutions we released in June 2020. If you don't see the solution you are looking for in the list below, the full catalog of  ArcGIS Solutions is available at solutions.arcgis.com.
Coronavirus Business Continuity
Coronavirus Force Readiness
Coronavirus Recovery Dashboard
Coronavirus Response
Coronavirus Small Business Recovery
Coronavirus Testing Sites
Coronavirus Wellness Checks
Hospitalization and PPE Inventory
3D Basemaps
Address Data Management
Address Field Operations
Citizen Problem Reporter
Conservation Easement Monitoring
Dam Safety Inspections
Election Management
Election Outreach
Election Results
Transit Outreach
Transit Safety
Crime Analysis
Sewer Data Management
Readiness Management
Coronavirus Business Reopening
Conservation and Protected Area Management:
Conservation Outreach
Protection Operations
Wildlife Management
Solutions will be added to the ArcGIS Solutions app in the summer and fall of 2020, and we plan on adding the ArcGIS Solutions app to a future release of ArcGIS Enterprise.
So, if you are looking to reduce the time it takes to deploy geo-enabled solutions in your organization, increase the business impact they make, and leverage fully supported ArcGIS configurations, head over the ArcGIS Solutions app and deploy one of the many ArcGIS Solutions awaiting you.
Commenting is not enabled for this article.