Whether it is a weekly market night or a new construction project, road closures happen in every community. These closures can be a hassle for residents when they are unexpected. As a government agency, you want to get information out to the public quickly and effectively. The Road Closures solution was recently updated to make it easier to maintain an inventory of closures, share your closures with consumer navigation applications like Waze, and keep a history of past closures for use in repeated events. 
The Road Closures solution can be used by engineers and operations staff to maintain an inventory of closures, blocks and detours. Your agency can embed a road closure map on your website to share information with the general public, as well as proactively share road closures with consumer navigation and traffic applications.
In the following sections, we will highlight some of the new features of the Road Closures solution .  
Shorten your workload with preset values
When creating a new closure, you can take advantage of preset values for common fields, such as Contact Name, Contact Email, Contact Phone and ID.  
Connect blocks and detours to a road closure
You can now maintain relationships between your closures, blocks and detours. Once you create a closure, the information input on the details tab is transferred to the connecting blocks and detours.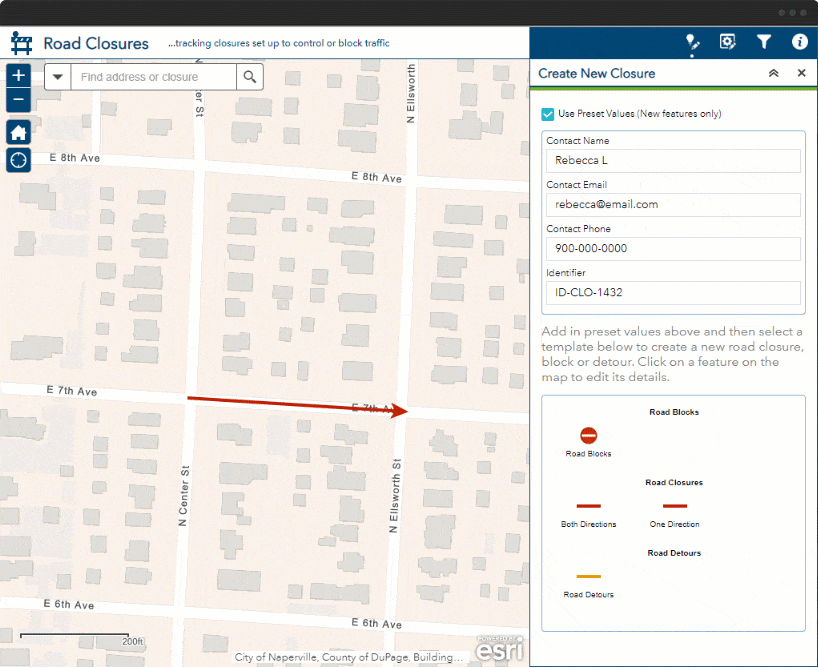 Update recurring road closures
Recurring closures can be a pain to re-enter into a management system. The new Road Closures solution stores all past closures. These closures are visible as partially transparent in the editing application. Using the bulk updater, you can highlight a group of closures, blocks and detours and update the dates to reflect a future closure. You can also change other relevant information such as the Street Name, Description, Start Time, End Time, URL and Identifier.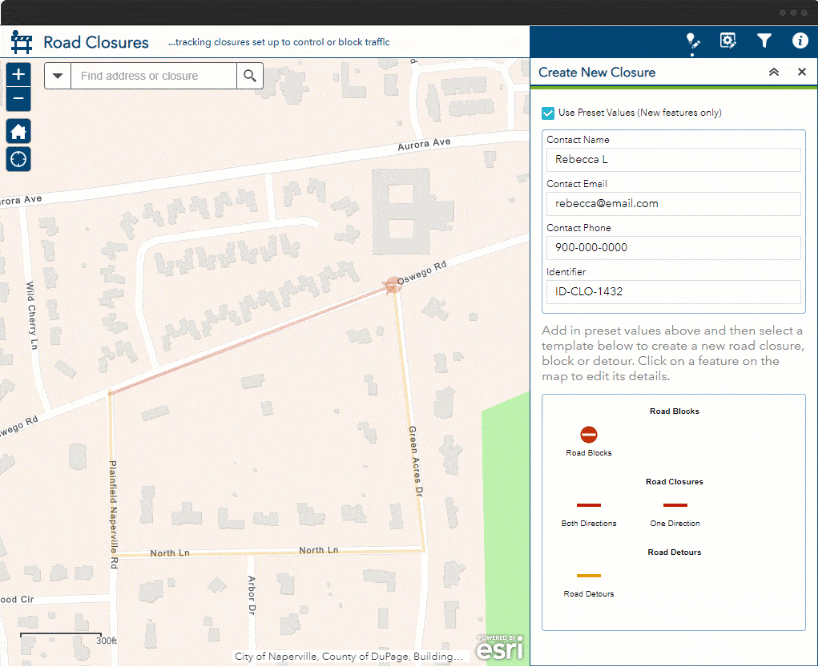 Share closures with Waze
It's important to proactively share closures with travelers. One way to do this is to connect your agency's closures with 3rd party applications such as Waze. The road closures layer complies with the Closure and Incidents Feed Specifications (CIFS) for road closures. This means you can share your closures with Waze for Cities easily. The information can then be used in routing suggestions to travelers. To get started with sharing your closures with consumer applications, follow the steps here. 
When you are ready to use the Road Closures solution visit the solutions site for step by step instructions on how to deploy the solution in your ArcGIS Organization.