Are you using GIS to answer qualitative social science questions? If so, we'd love to hear about your work!
GIS is powerful for understanding our changing world as it is represented by coordinate reference systems. We can map geographically referenced data to explore important questions, often using quantitative methods to identify spatial patterns of "when something occurs," "how many exist," and "what is related." Yet, GIS is also powerful for exploring qualitative social science questions that do not always map cleanly to a latitude/longitude or UTM grid.
We can use GIS to integrate the collection and analysis of geographic data with that of rich contextual, descriptive, interpretive qualitative data to investigate spatial patterns of "why" and "how" something occurs, exists, or relates. GIS can help situate social science research in the lived experiences of people whose perspectives inform us of why and how something is the way it is.
Lived experiences do not always fit exactly on a map grid. Whether you are working with youth to map and describe areas where they experience nature (see image below), or asking citizens to contribute their local knowledge about areas of community changes and perceptions, there is value in using GIS to capture these perspectives that ground our understanding of the world. While great potential exists, GIS is still relatively untapped in qualitative social science research.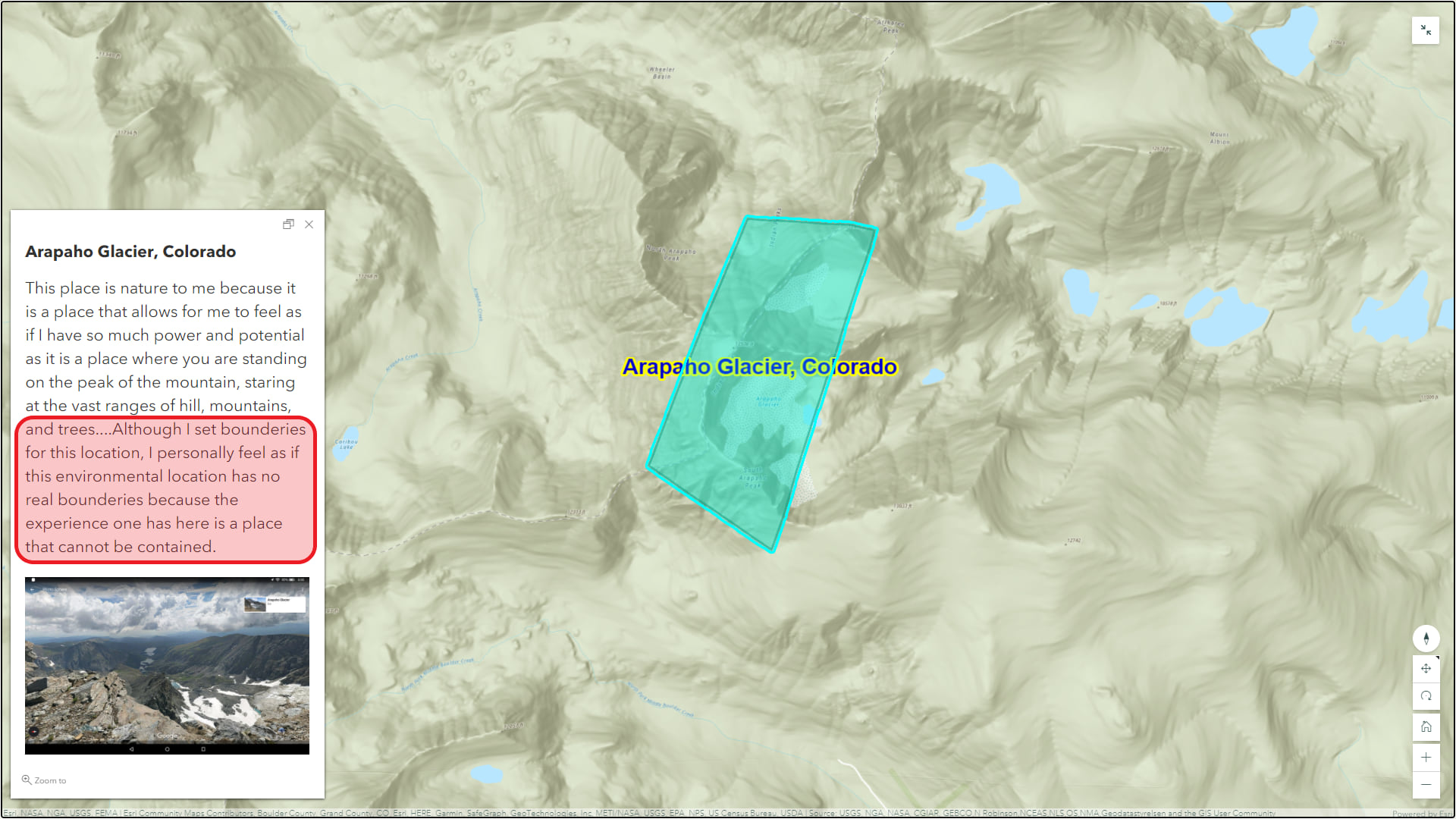 Share your story
By promoting new case examples of GIS in qualitative social science research, we hope to inspire new ways of understanding and to build on existing resources that support this work. We want to know how GIS approaches—using Esri and non-Esri products, current and discontinued—are already being used to explore wide-ranging social science questions, especially those that ask "why" and "how."
We know some of you are already using GIS for qualitative social science research, or you have in the past. No matter when it happened, we'd love to hear your story! Are you…
Doing a participatory mapping or community mapping project?
Using GIS to analyze or visualize data collected in focus groups, in-depth interviews, or ethnography?
Connecting photographs, videos, texts, or other media to GIS in order to study how a place has changed over time?
Studying peoples' connections and perceptions of place?
Applying GIS and text analytics to locate insights from unstructured text or to map sentiment?
Are you doing something else entirely with mapping qualitative data that is not mentioned above?
Please share your work with us! Submit to our Social Science Success Story Submission Portal. Doing so presents the opportunity to promote your work among the GIS community, disseminate your work to non-academic audiences, and inspire others to adopt GIS approaches in their own social science work. Depending on the volume of submissions, we will request some submissions to be expanded in a blog post and featured in our social science resources and Esri Blog.
Questions / need help? Email us at socialscience@esri.com