Starting the second week of August 2021, the 2021 U.S. data for ArcGIS Business Analyst Pro (extension to ArcGIS Pro), ArcGIS Business Analyst Desktop (extension to ArcMap), and ArcGIS Business Analyst Enterprise will be available for download from MyEsri.
This release allows on-premises use of the Esri U.S. 2021/2026 data.  (For additional details on methodology, variables, and sample reports, visit the data updates page or this report.)
Highlights
Key highlights of the 2021 U.S. data include:
Esri's 2021/2026 U.S. Updated Demographics including Historical Time Series and new Economic Dependency Ratios
Esri's 2021 updates for Esri Tapestry Segmentation, Consumer Spending, and Market Potential data
For ArcMap users, you must select Custom installation to install classic locators (Geocoding Data). This will be the last year that the classic locator will be included in the annual release for our ArcMap users. Click here to learn more about the deprecation of the classic locator starting 2022.
Business locations and summary data that provide information on approximately 13 million active businesses in the U.S.

Instructions for Installing Data
As an eligible customer on maintenance, you can download your Esri Demographics data through MyEsri. Please refer to the following installation guides: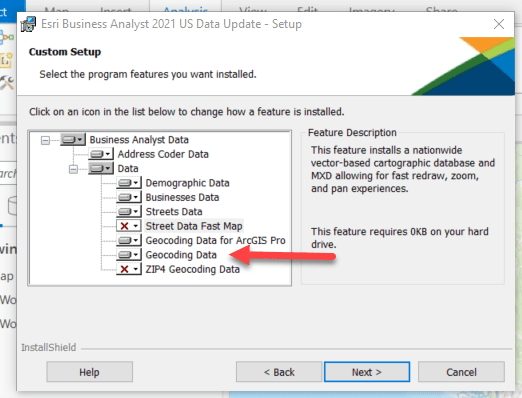 Learn to Use Data
To learn how to interpret and use Updated Demographics variables and databases such as dependency ratios, income, and more, please visit this Learn Path.
We hope you enjoy the newly available 2021 U.S. data update for on-premises use. If you need additional assistance, please contact Esri Support Services:
Toll-free: 888-377-4575, option 2
Phone: 909-793-3774
Email: support@esri.com
Website: http://support.esri.com/
Hours: 5:00 a.m.–5:00 p.m. (Pacific time), Monday through Friday
Commenting is not enabled for this article.