This article includes schedule information such as dates, release numbers, or scope that could change without notice. Customers and partners are advised not to make business or purchasing decisions based on such forward-looking statements.
ArcGIS Business Analyst Web App is a location intelligence product that bundles ready-to-use geospatial data, maps, and workflows to help you make data-driven decisions. It allows you to create visually compelling pre-made content such as infographics you can create within minutes of signing up for a purchase or a trial.
The upcoming June 2021 release of the ArcGIS Business Analyst Web App, Mobile App, and Community Analyst via Online subscription includes:
Esri U.S. 2021/2026 demographic data updates
Simplified Workflows
Advanced Bundle
Ability to create ArcGIS Dashboards using multiple infographics
ArcGIS Business Analyst Mobile App Enhancements
Other data updates
Continue reading for key highlights for the upcoming June 2021 release.
Esri U.S. Demographics Data Update
The June 2021 release will include the new 2021/2026 Esri U.S. demographic data updates. This dataset includes updated demographic data, consumer spending, Tapestry segmentation (with updated names), market potential, business locations and summary data, and updated Esri basemaps.
With the data, we will also include a new capability to update data for custom infographics.
 
Simplified Workflows
Another key update will include simplified workflows for Color-Coded Maps, Smart Map Search, and Suitability Analysis, so you can get to your insights faster. Each workflow will include a default variables list that an ArcGIS Administrator can pre-define for your entire organization to use.
If your organization has a common list of variables, this can be accessed as soon as an individual user logs in and can be updated by the ArcGIS Administrator as data needs change. For individual users, this enhancement will make workflows much faster and with fewer clicks.
 
Advanced Bundle Product Release
A new product bundle is also planned for the June 2021 release. Going forward, new users will have the option to purchase the Advanced bundle. The new Advanced bundle will provide access to ArcGIS Business Analyst Web App Advanced, ArcGIS Business Analyst Pro (extension to ArcGIS Pro), and ArcGIS Pro Basic via subscription to Online data.
 
Improved ArcGIS Dashboards Workflow
The past March 2021 release included a new workflow to integrate infographics to ArcGIS Dashboards. Per numerous requests, this June release will include an enhancement to allow multiple infographics to show up in ArcGIS Dashboards. We hope this makes sharing your insights even easier.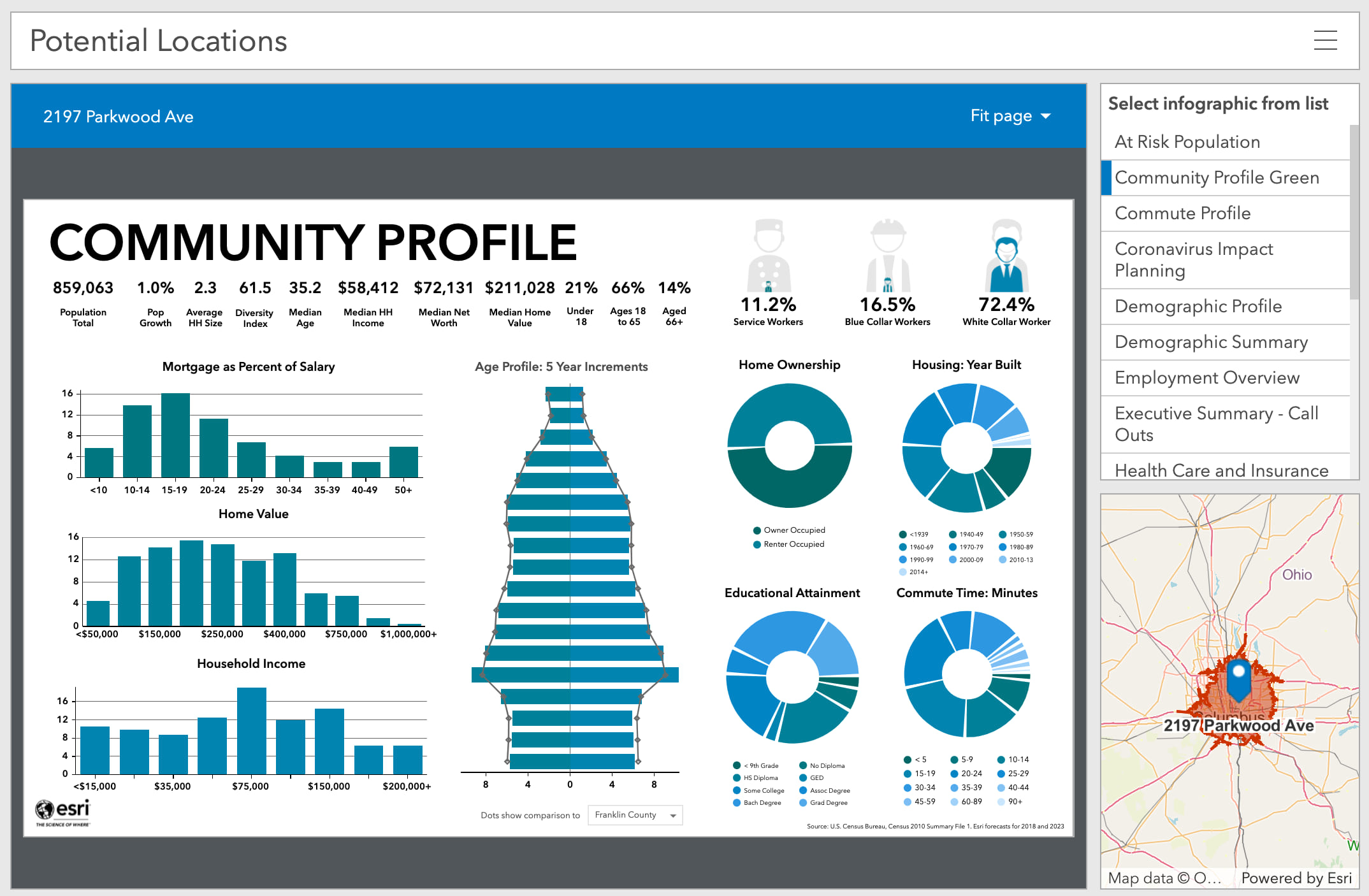 ArcGIS Business Analyst Mobile App Enhancements
ArcGIS Business Analyst Mobile App provides instant access to key data, reports, and infographics while you are out on the field. For sales or district representatives who need to access data while hosting site meetings with stakeholders, the mobile app comes in handy to help answer location-specific questions.
The upcoming June release will include the following key improvements:
Ability to quickly add multiple variables while you create your own list of key metrics in My Facts page.
If you are in France or Australia, you will see Standard Facts have been updated to the latest data.
You will soon be able to remove attachments from site attributes or rename them directly from your mobile app.
Other Data Updates
Other key data updates will include the Michael Bauer Research data for eight new countries and regions and a new geography scale in Mexico, and updates to Esri France, Esri Australia, and U.S. traffic points and business locations data.
We hope you look forward to the new and updated data and workflow enhancements in ArcGIS Business Analyst Web App's upcoming June 2021 release.
 
Additional Resources
Please visit the following sites for other information on ArcGIS Business Analyst: