ArcGIS Business Analyst Pro helps you build location-intelligent strategies across public, private, and government sectors. Maybe you're searching for new markets to expand your footprint as a retailer, employer, or community organization. Or you're seeking better connections with your customers, community, or constituents through demographic analysis. Business Analyst empowers your teams to understand the people and places important to your organization.
ArcGIS Business Analyst provides a suite of tools that empower you to import, analyze, and enrich your organization's data with spatial intelligence, and then generate and share powerful insights for informed decision-making. Not sure what data to start with? Business Analyst comes with hundreds of variables to begin understanding, analyzing, and reporting on the people and places you serve.
December 2020 release
As you may have seen, ArcGIS Pro 2.7 went live two weeks ago, just in time for us to turn the page on this year. With it, our Business Analyst team is excited to introduce some of the work we've tackled in this release to improve utility, efficiency, and flexibility to meet the changing needs of your organization.
Our team will be publishing feature-specific blogs that dive deep into each of the new upgrades to your ArcGIS Business Analyst Pro. For now, we'll give you a quick introduction in case you find yourself with some extra time kicking off the new year. We look forward to a big year with you in 2021.
Blog series: Updates in Business Analyst Pro 2.7
Stay tuned in the new year for our video blog series coming soon. Happy New Year!
Arcade expressions – Create trade areas with flexibility and efficiency
We've upgraded a few of your favorite trade area tools to help you customize trade area creation and save time using Esri's Arcade expressions. Historically, you were limited to setting a standard set of values for all locations within a feature layer. Now, you have the flexibility to generate trade areas specific to each feature using attributes and Arcade expressions.
Arcade Expressions are available in each of these tools:

Generate Drive Time Trade Areas using a simple Arcade expression based on a site attribute, time2, and a constant multiplier: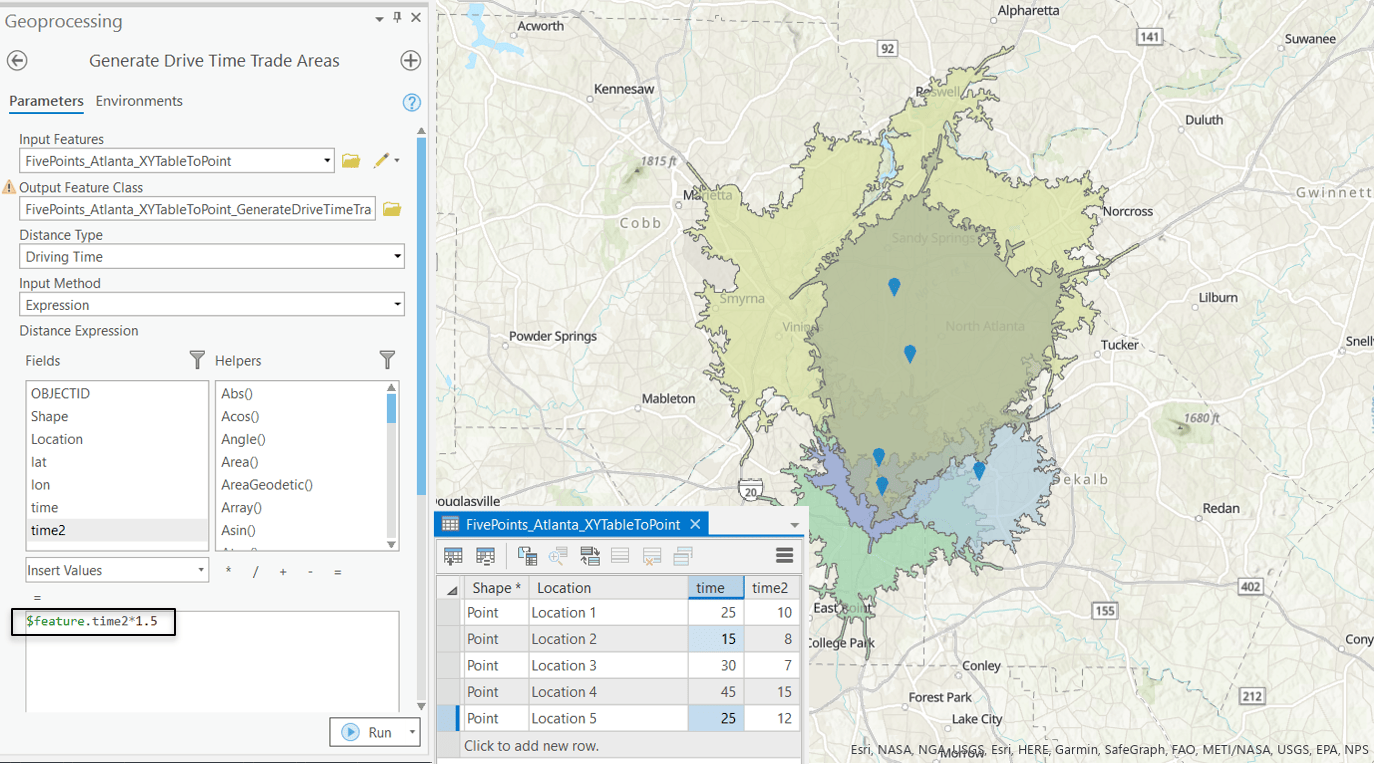 For example, a small business owner is defining trade areas around five regional locations. Among them, three are located in the suburbs and two in the central business district (CBD). They know their customers in the CBD tend to walk in off the street, while those in the suburbs drive.
Using Arcade expressions, they can now create a single layer based on this knowledge by applying a drive distance parameter to suburban locations and a walk distance parameter to CBD locations. Ultimately, Arcade expressions save time by eliminating redundant processes and increasing the quality of their location analysis.
Remove Overlap – New method and Multiple Layer support
In August 2020, we added a next-generation Remove Overlap tool to ArcGIS Pro, back by popular demand from ArcMap. The Remove Overlap tool now offers three methods of removing overlap between trade areas or polygons. Remove Overlap helps eliminate redundancy or cannibalization of polygons such as target markets, customer trade areas, or labor pools.
The newly added Center Line method, which equally splits the overlap between the input polygons, joins Theissen and Grid methods in the tool. These methods helps create clean boundaries between locations, eliminating guesswork and potential conflict. In addition, we've added a Remove Overlap tool that creates boundaries for multiple layers at once!

Reminder: Remove Overlap and Remove Overlap (multiple) are available for all ArcGIS Pro users.
Generate Approximate Drive Times – Friction of distance comparison and benchmarking
The Generate Approximate Drive Times tool produces a drive time area polygon based on the average drive time from the centroid or store location to the boundaries of an input polygon feature class. Administrative boundary definitions often ignore physical constraints, like mountains, or network constraints, like roads, in order to eliminate "gaps" between boundaries to make comprehension easier for map viewers.
This tool allows us to take those defined boundaries and create an estimated trade area that accounts for network constraints, using travel distance or time, which are core to how humans move around a place.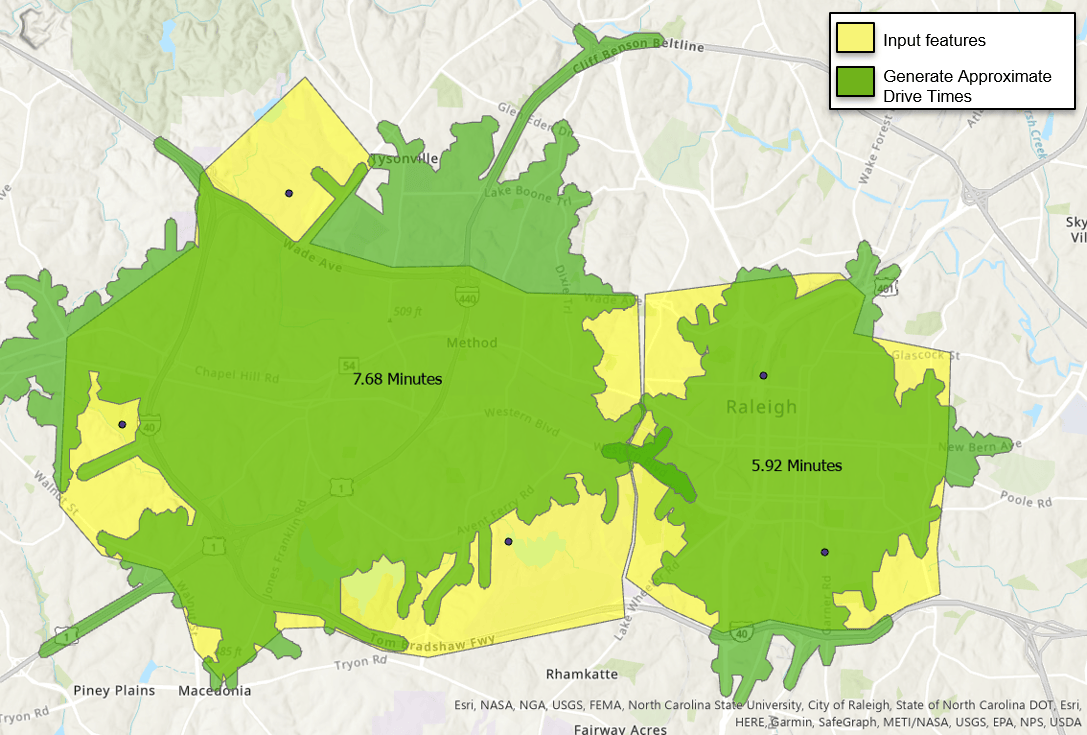 As an example, let's imagine you have created and validated market definitions to support your organization's goals. Now, you're looking to expand by opening a new location in a new city you're not as familiar with.
Using Generate Approximate Drive Times, you'll be able to establish a benchmark for comparison by calculating the average drive time in your current, successful market definition. You can then use this average to create drive-time areas around potential sites in the new market as you assess viable locations.
Territory Design – Improved spatial indexing for performance gains
Territory Design is commonly used for efficient allocation of sales, services, or resources over geographic areas they serve. With the increasing flow and volume of data, data processing efficiency is essential for effective territory management in our dynamic world.
The Business Analyst team has released major performance improvements to Territory Design in this release to answer the call. Creating a Territory Solution based on block groups in the continental US is 85% faster in the ArcGIS Business Analyst Pro 2.7 release than the prior 2.6 release. Additional improvements to the point-based territory solutions using Theissen polygons will be shared in the upcoming blog.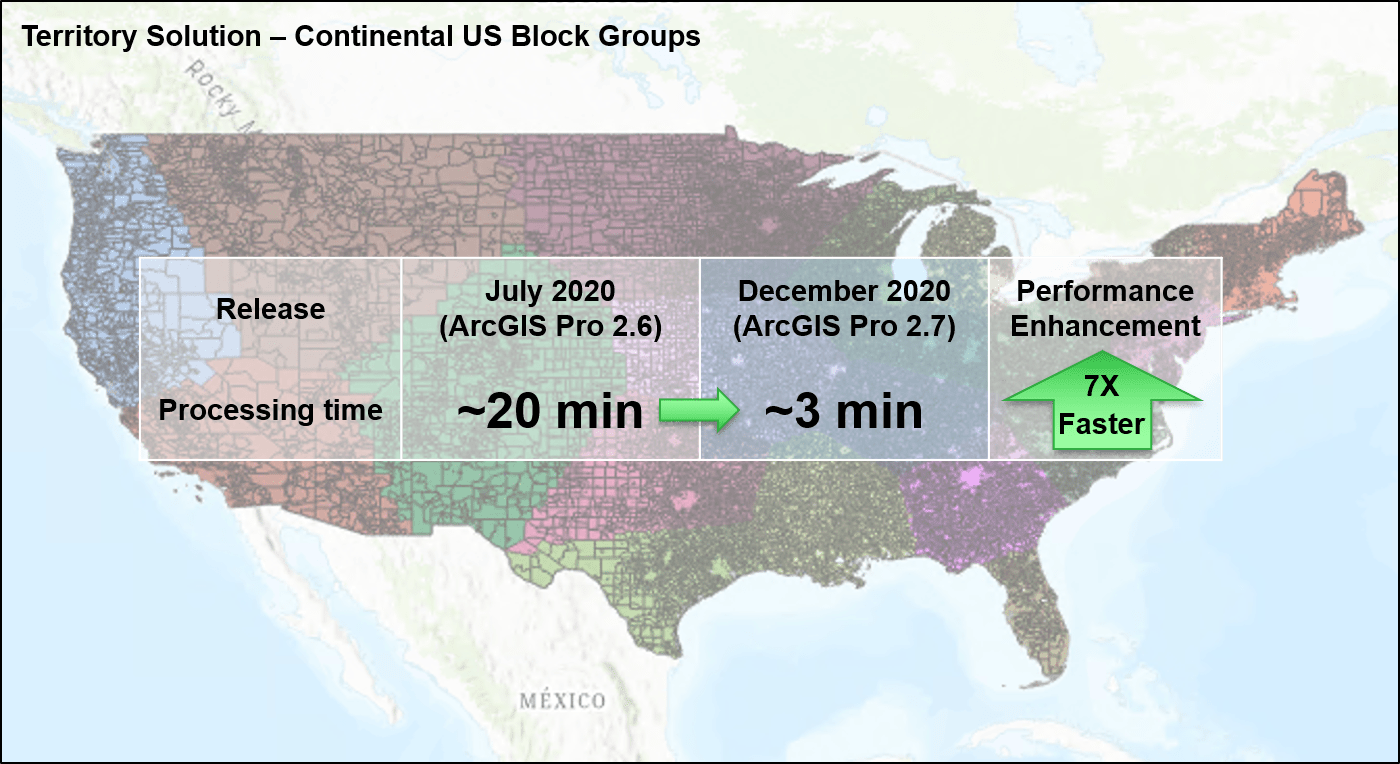 Network Source – Custom network data powering Business Analyst
ArcGIS Pro users have spoken, and we have listened. With the 2.7 release, you are now able to use your organization's custom Network Source data to power Business Analyst tools. All the powerful features you're used to are now functional on custom Network data sources that might be unique to your business or geography.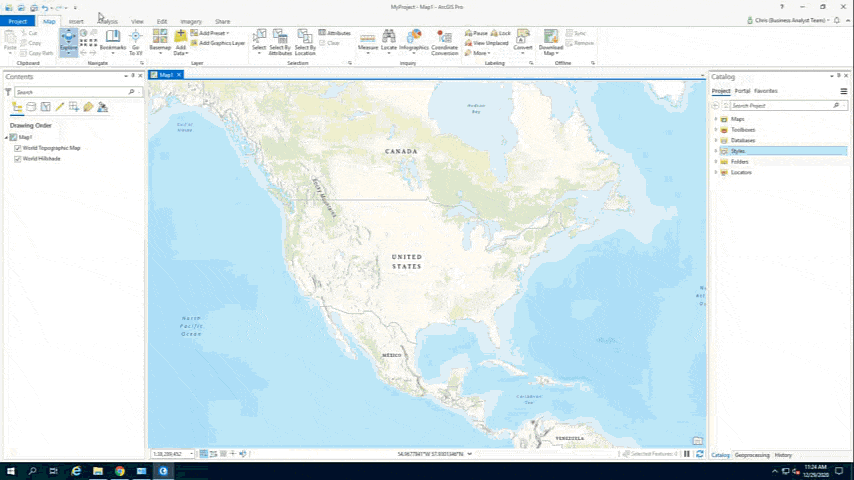 For example, you might want to generate distance trade areas based on airport routes or subway lines that don't follow the traditional street network included with Business Analyst. This flexibility, along with the ability to use your own demographic or market data sources, means you can fully customize your experience to the needs of your business and continue to enrich your data with Esri's Business Analyst data online.
Stay tuned for each of these updates to be featured in their own blogs by our team in the coming weeks as we all ramp up for 2021!
Additional Resources
Other exciting features in this release:
Target Marketing Report wizard helps you easily create reports to better understand your constituents, customers, employees, or community. Critical to building your strategy to better connect with them.
Generate a Comparison Infographic on the fly. Once you've created an infographic, toggle the Compare button and click a location on the map for a side-by-side view of the locations
We've added another powerful POI data set provided by SafeGraph, complete with additional attributes such as full business addresses and phone numbers for use in reports, infographics, and attribute tables.
Trade area tools with Arcade Expressions: