As the close of 2020 is around the corner, the team behind ArcGIS Pro has been hard at work to incorporate all-new tools and capabilities within your core product. In this ArcGIS Pro 2.7 release, you can discover rich new content and tools such as GNSS device location support, blending modes, 3D object feature classes, as well as PANTONE® colors.  These colors are part of a proprietary, standardized color reproduction system developed by Pantone that is used to ensure the consistency of colors, regardless of the medium used for display or output, commonly used in design and printing industries.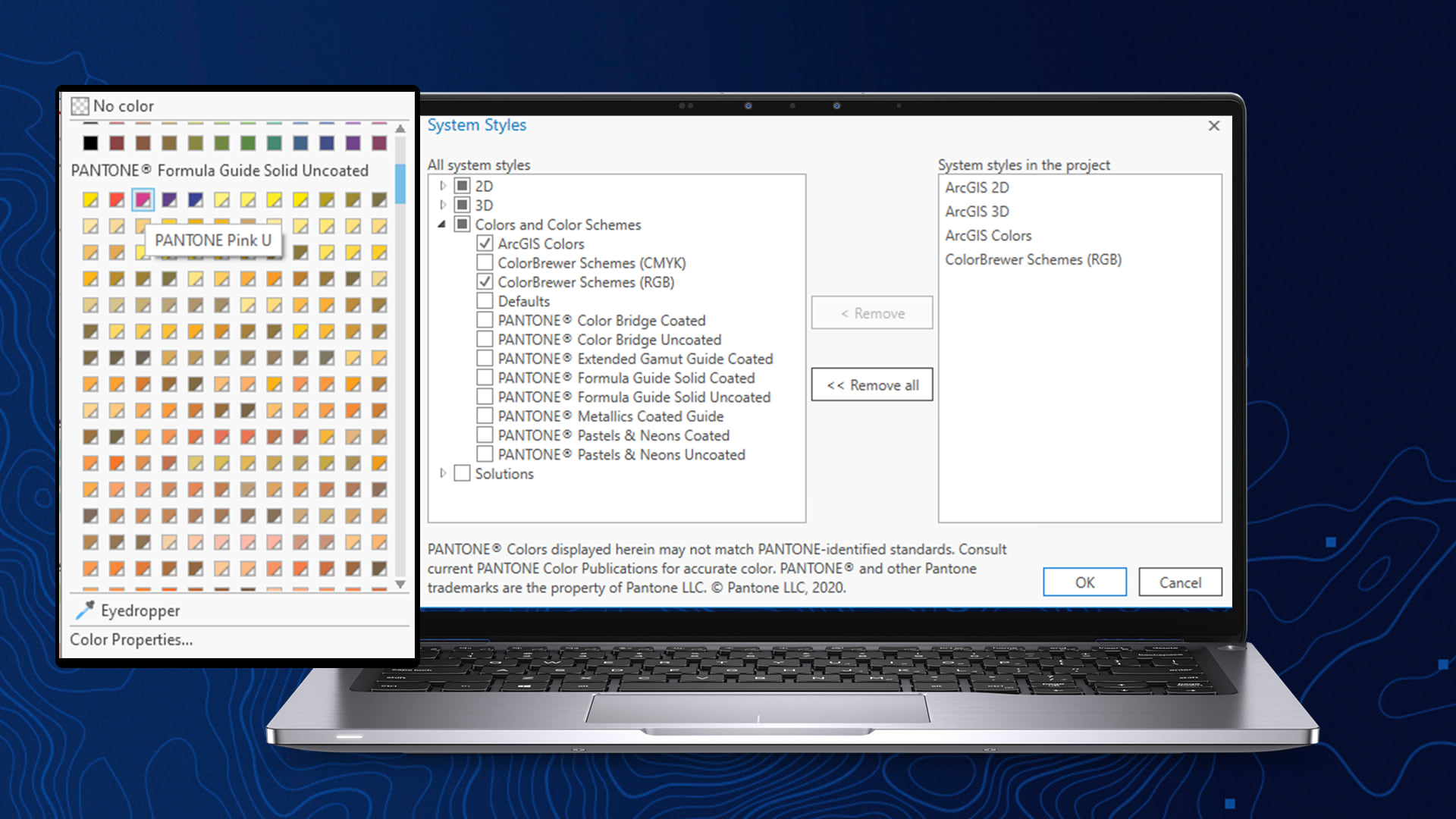 ArcGIS Pro, along with its extensions, are set with new advancements and technologies to take your projects to the next level. Discover what's new within ArcGIS Pro through our recent release video, and start mapping like a Pro today.
ArcGIS Drone2Map
The latest release of ArcGIS Drone2Map has some new features and several improvements. New features include the ability to synchronize the views of 2D and 3D maps, export topographic contours as shapefiles, and other enhancements, read the what's new documentation for more details. Improvements were implemented for 34 bugs, read the release notes for the details.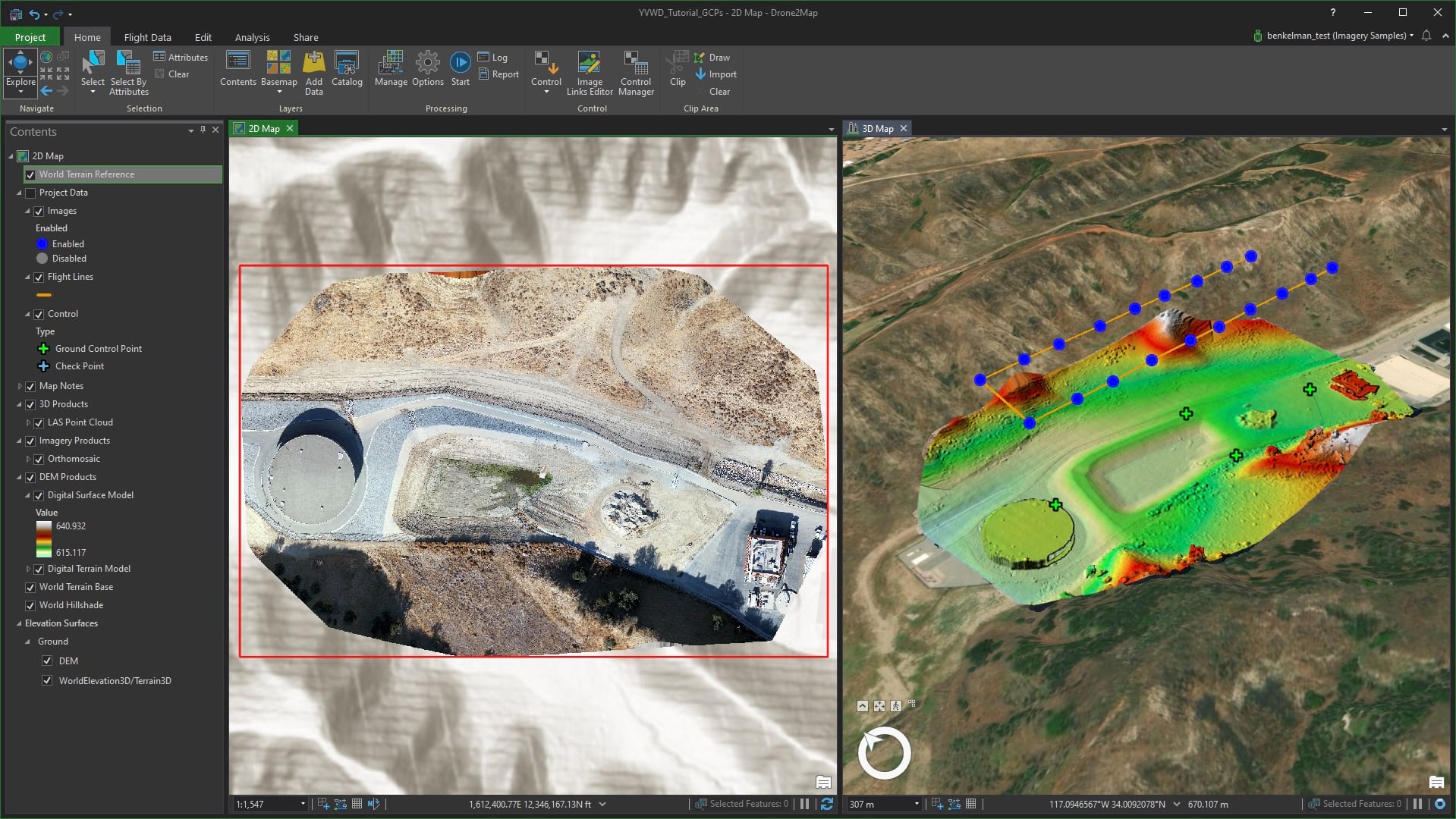 ArcGIS Workflow Manager
ArcGIS Pro 2.7 is the first release of ArcGIS Workflow Manager's new service-driven architecture in Pro. This release is primarily for improving the productivity of organizations and industries that perform mapping functions using the Utility Network in Roads and Highways, Parcel Mapping, and Utilities use cases. ArcGIS Pro 2.7 will be able to connect to the new service-driven architecture to run steps. Also with this release, the traditional geodatabase-driven architecture deployment has achieved feature parity in Pro.
ArcGIS Data Reviewer
The Pro 2.7 release includes new methods for automated validation and enhancements to error management tools.
Automated validation methods: Automated validation evaluates a feature's quality without human intervention, thereby saving time and resources spent to ensure data can be trusted.
| | |
| --- | --- |
| Domain | Finds attribute values that do not comply with coded value or range domains that are associated with an attribute field. |
| Duplicate Feature | Finds features of the same geometry type that are collocated and share attributes. |
| Subtype | Finds features or rows that contain improper or null subtype values. |
| Table to Table Attribute | Finds features or rows that contain attribute values that meet a relationship you define to values in another feature class or stand-alone table. |
| Unnecessary Nodes | Finds polyline features that share a node and contain identical attribute values. |
| Unnecessary Polygon Boundaries | Finds polygon features that share a common boundary and contain identical attribute values. |
Note: The automated checks poster has been updated and is now available in multiple languages to facilitate planning and implementation of quality control workflows using automated checks in Data Reviewer.
Error Management: The Error Inspector pane is enhanced to enable filtering based on one or more selected filter types, such as life cycle phase, status, or severity.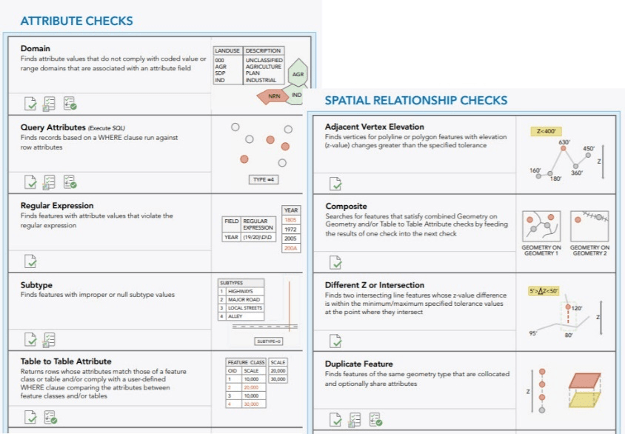 Topographic Mapping
At Pro 2.7, new tools and enhancements were added to ArcGIS Production Mapping and ArcGIS Defense Mapping.
Calculate Magnetic Components, with which you can compute the magnetic field at point locations for given date and altitude, has been added to the cartography toolset.
Several enhancements were made to the MGCP Topographic Map (MTM) and Topographic Map (TM) PAGX layout files. The Defense Mapping Product Files have the following new features:
Automated workflows for:

Generalization that runs models to generalize data to a specified scale
Replace existing data and edgematch the replaced data to the existing data in your authoritative data store

The extended properties in geodatabase-driven deployment of ArcGIS Workflow Manager now have better organization, sorting, and consistent behavior.
Validation rules have been added to the generalization rule file that enable drop-down options and validation for specific fields.
Geoprocessing tools that validate the rule file and report errors and inconsistencies that require attention have been added.
Performance enhancements have been made to the generalization models to eliminate specific bottlenecks noted in previous releases with certain datasets.
Added new tools to models to support the generalization workflows

Update Generalized Data – replaces existing data in a target database with the generalization results.
Dissolve Generalized Data – dissolves a partition of generalized data with surrounding features.

Enhancements have been made to Generalization Models

Transportation theme for rural and urban densities
Structure theme to improve the generation of built-up area polygons
Skin of the Earth theme to improve the performance and flexibility of the Fill Gaps logic
ArcGIS Pipeline Referencing/ArcGIS Roads and Highways
The following enhancements have been added to both products:
Additional support has been added for 3D in LRS calculations for LRS data in geographic coordinate systems, and when the x,y spatial reference units are different from the z-units of measure. These calculations include the following:
Support for complex route shapes has been added:

Routes that form complex shapes, such as self-closing and self-intersecting geometries, are supported throughout Pipeline Referencing.
Supported complex geometries include the following:

Loops
Lollipops
Alpha
Branch
Support for splitting multipart centerlines into singlepart features has been added:

The Split Centerlines into Singlepart Features tool allows you to break multipart centerlines into singlepart features so that routes with complex shapes can more easily be edited and calibrated.
Learn more about splitting multipart centerlines into singlepart in Pipeline Referencing
Learn more about splitting multipart centerlines into singlepart in Roads and Highways
Additionally, support for vertical route geometries has been added. The use cases for this tool is primarily the pipeline industry.

Centerlines, routes, and events with vertical segments can be visualized and edited in 3D using local scenes in ArcGIS Pro.
Centerlines with vertical segments can be used to create and edit existing routes in your LRS Network. Events can also be located on these vertical route segments for use in analysis and reporting on LRS data.
Vertical routes or routes with vertical segments can be loaded into the LRS using the Append Routes tool.
Aviation Airports
With the latest release of Pro, the Airports toolset will have several enhancements for the Obstruction Identification Surfaces (OIS) tools. New parameters have been added for setting the generated surface on lateral sides of a runway based on the position of PAPI lights. The addition of a new Heliport OIS toolset allows the generation of an obstruction identification surface (OIS) for helipads based on specifications from FAA Advisory Circular 150/5390-2C.
Aviation Charting
Aviation Charting now includes the following enhancements:
Unused features from AIXM 4.5 have been removed from the AIS geodatabase schema. Download the updated Charting Product data files from My Esri.
The Aviation Preferences tool allows you to set preferences, which dictate how Aviation Charting geoprocessing tools create airspace lines, process routes, and perform change detection in ArcGIS Pro.
The Chart Changes tool allows you to identify, verify, group, and filter feature classes and tables that differ between two enterprise geodatabase versions. You can use the Chart Changes tool to view reports generated by the Report Aviation Chart Changes geoprocessing tool.
New tools have been added to the Charting geoprocessing toolset that:
ArcGIS Maritime
The latest release of ArcGIS Maritime focuses on S-57 Electronic Navigational Chart standards.
When S-57 data is detected in the contents pane, the Maritime tab on the ArcGIS Pro ribbon will display new S-57 editing and feature management groups.
With the addition of these new S-57 maritime editing capabilities, ArcGIS Maritime in ArcGIS Pro 2.7 supports the ingestion, management, and creation of S-57 Electronic Navigational Chart products.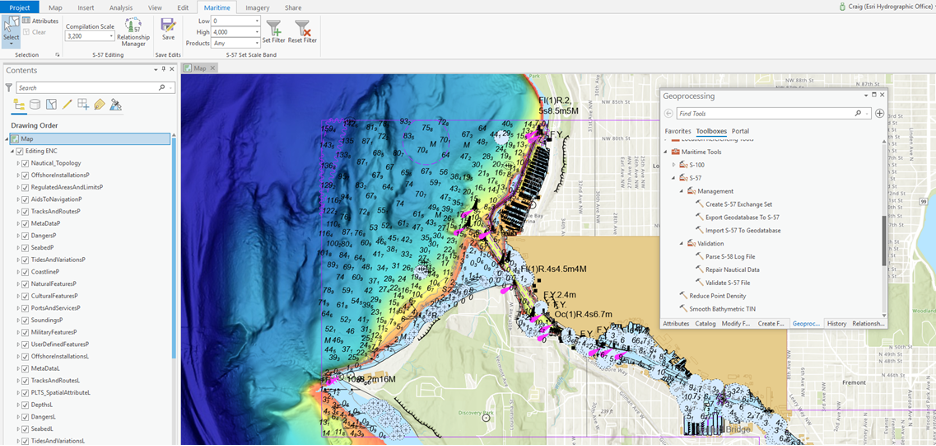 ACS Census layers in ArcGIS Living Atlas of the World updated
Updated and new 2015-2019 layers:
On December 10th, the U.S. Census Bureau released its newest American Community Survey (ACS) 2015-2019 5-year estimates. Within days of the data release, 104 layers within Living Atlas were updated with this new data and the new associated TIGER boundaries. With these layers, users are able to map the newest U.S. Census Bureau data in ArcGIS software without needing to go download the newest data themselves. There are also a new set of layers that have been released containing information about housing units by year built, housing units by vacancy type, household size, internet usage by income, disability by type, and health insurance by race.
CLICK HERE FOR THE 2015-2019 LAYERS