This is the 2nd article in a 6-part series highlighting new capabilities in the ArcGIS Business Analyst extension for ArcGIS Pro 2.6 release from July 2020.
The latest release of the Business Analyst extension for ArcGIS Pro contains the Remove Overlap tool used to divide trade area boundaries – or any overlapping polygon layer.
If "Remove Overlap" sounds familiar, it was a popular tool in Business Analyst extension for ArcMap. This next-generation version contains new functionality and powerful new algorithms to separate areas, such as the Theissen and Grid methods. This brief video explains those methods and provides a nice overview of the tool:
There are several use cases for using Remove Overlap, including:
Refine marketing campaigns
Define delivery zones
Remove operational inefficiencies
Avoid double-counting customers or constituents
Understand demographics of areas closest to your stores
Here is an example of store locations with several threshold rings overlapping. After running Remove Overlap, the trade areas are resolved so that each store location is assigned its own area closest to it, while considering its adjacent neighbors.  Now I can compare or benchmark the areas in the market.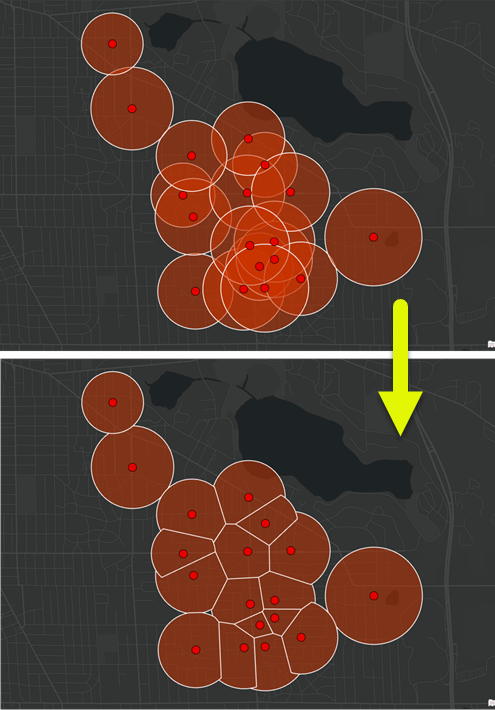 Here is an example of several threshold drive times overlapping.  These are highly complex boundaries and are resolved in the same way as the ring example above.  Each store location now has an assigned area.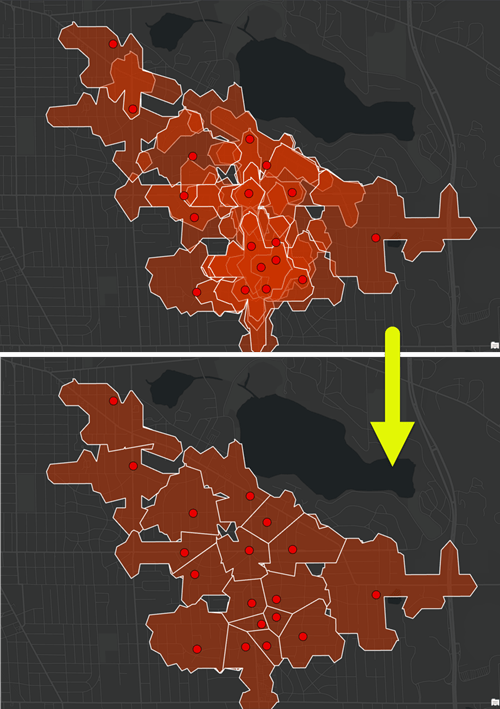 Additional information about these new features can be found in the ArcGIS Pro documentation for Remove Overlap.  We're very excited to share these new capabilities with you and are already working on expanding them in upcoming versions.  Please reach out and let us know if you have any questions about these two new tools or any other capabilities in ArcGIS Business Analyst.
Email the team: businessanalyst@esri.com
Below you can find some links for Business Analyst that you may find useful.