You spoke and we listened! New in the March release, Business Analyst and Community Analyst users can create custom reports. Tailor reports to your organization and audience. Condense pages of reports into a single report with only the data that you want. Save it, share it, and use it over and over again.
See custom reports in action in this collection of quick videos.
Acme Wholesale Automotive Parts needs a demographic report branded with their look and feel to include in their site portfolios. Watch how to quickly transform a standard report into a customized Acme report by changing the logo and title.
Customize an Existing Report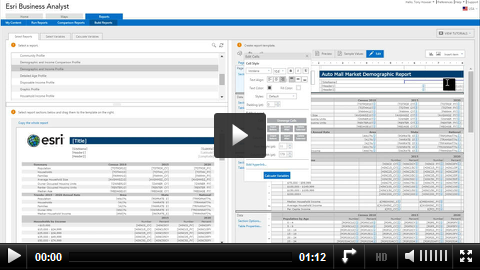 Executives at Acme are streamlining their site portfolios so that site information is easy to find and not buried deeply in pages of reports. They've asked for a custom report that includes automotive expenditures and demographics. Watch how to combine sections from different reports to create a customized Acme report.

Add Sections from Existing Reports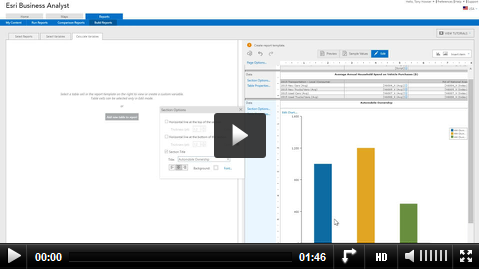 The custom Acme report was so well received by the executives and their customers that they've inquired about some specific statistics on vehicle servicing and new and used car purchases. Watch how to search and add specific variables and format into percentages and charts.

Add Analysis Variables and Configure Data-Driven Charts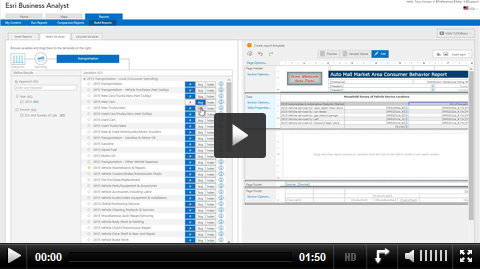 Executives at Acme are pleased with their custom reports and want analysts in all regions to use these valuable reports in their site portfolios. Watch how to share report templates with others in your organization.

Enable Others to Run Your Custom Report with Sharing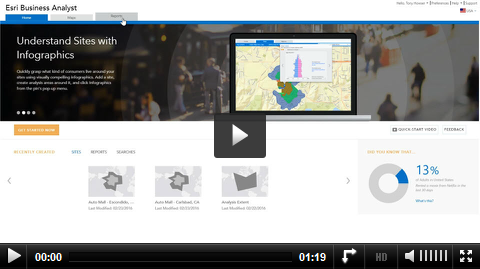 Read more about creating custom reports in the help documentation.