Governments and organizations have been hard at work creating Open Data sites to make their authoritative data accessible, discoverable, explorable, and collaborative. There are over 100 sites in the ArcGIS Open Data site gallery for you to explore!  The Site of the Week is a series that profiles one ArcGIS Open Data site each week. 
—
January 5, 2014: City of Raleigh, North Carolina
Happy New Year! We're kicking off 2015 with a simple site that does a great job at integrating other data resources and applications on the main page. The City of Raleigh has created their Open Data site as a component in the Open Raleigh Initiative. The city went for the hybrid design approach with some simple CSS in their header and a few widgets in the body to create an informative site with many resources.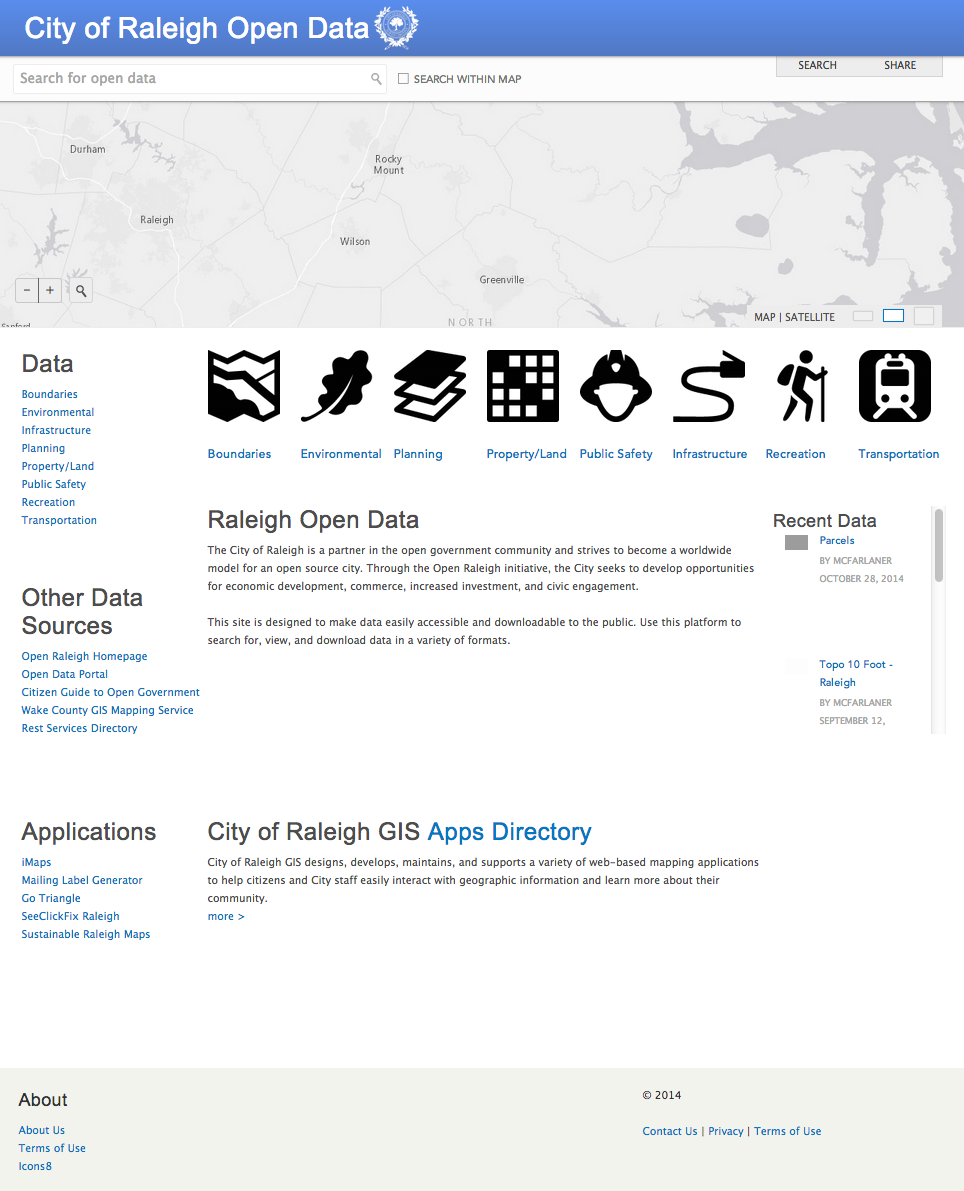 Initially, users are drawn to the eight data categories with icons used from the open-source icon package Icons8. Beyond the 100+ authoritative datasets available for access and download, Raleigh offers a lot of information for users to explore. The City of Raleigh is an active partner in the open government community and gives their users more information on how they can be involved, like the Citizen Guide to Open Government. Raleigh also points to their Rest services directory, from where all the data on their site is pulled.
Users can access several applications built by the City of Raleigh to help citizens learn more about their community and aid interaction with geographic data. City of Raleigh and Wake County iMaps provides users an interface where they can display and configure data found on the site. Additionally, the GIS Apps Directory has a bunch of apps available for use to help citizens access information and make decisions. We're excited to see how the list of apps grows as the community continues to use and build with Raleigh's open data.
Showing what's available in the world of open government and open data is a great way to illustrate what's possible when data is released to the public, and hopefully will inspire citizens and civic hackers to continue to build great things.
—
Stay tuned for next week's Site of the Week. In the meantime, check out the interactive Explore Open Data map to view more awesome sites, and get started with making your own Open Data site here.