ArcGIS Open Data was renamed to ArcGIS Hub on June 28, 2017.
Hot off the heels of launching the new ArcGIS Open Data community site, the Open Data team is thrilled to highlight the features of the March 2015 release.
Smart Mapping
ArcGIS Open Data leverages the new smart mapping functionality in ArcGIS Online. Users now have the ability to make simple choropleth or graduated symbol maps right within Open Data, which garners greater insights and understanding of the data. Smart mapping is currently available on the ArcGIS Open Data community site and will be released to individual customer sites in a few weeks. Explore the smart mapping capability with census data in the Baltimore region here.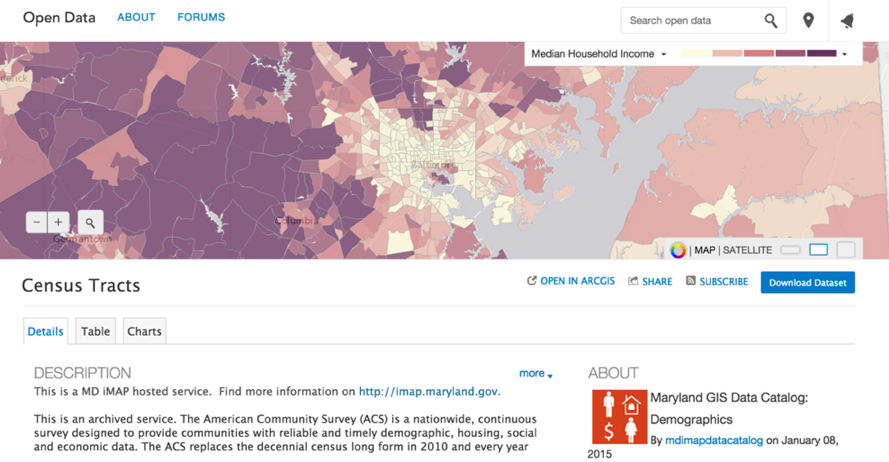 DCAT Update
ArcGIS Open Data's output format has been updated to respect the latest parameters of DCAT 1.1. Governments can use ArcGIS Open Data to fulfill mandates requiring integration with CKAN powered portals, including data.gov. To access this format, append '/data.json' to the end of your site URL and follow our CKAN integration instructions here.
Manual Resyncing of Datasets
Site owners will notice an addition to their administrative application. Admins now have greater control over their individual datasets, and can trigger a resync of their dataset which will ensure users are accessing and downloading the most up to date, authoritative data available. We look forward to adding more granular control in the admin app in the near future.

Image Service Support
With the support of raster data through Image Services, Open Data continues to uniquely provide access to high-quality geospatial data. Users can now access and explore raster data and aerial imagery, and then download as a TIFF, PNG, JPG, or access as a GeoService.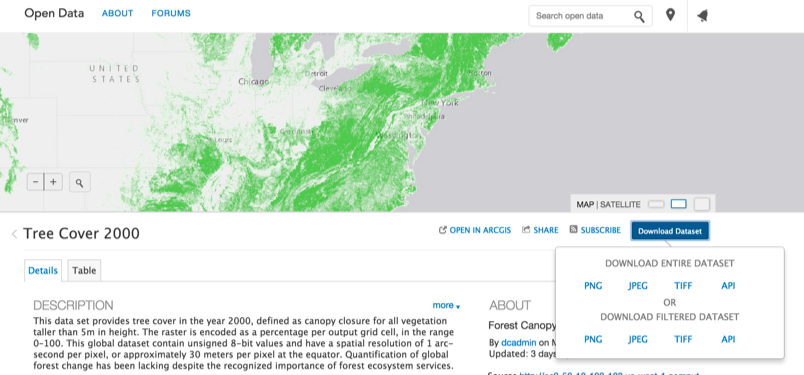 Document, URL, and Web Map Support
Administrators can now include links to external URLs, ArcGIS Online web maps, and other documents including Word docs and PDFs. Users can find and access these items directly from the search results and explore them outside of ArcGIS Open Data.
Bug Fixes and Improvements
As always, this release of Open Data includes a multitude of back-end improvements to increase stability and quality of the product.
Are there other things you would like to see added to ArcGIS Open Data? Let us know on Geonet.