ArcGIS Open Data was renamed to ArcGIS Hub on June 28, 2017.
Early September brings back to school and a new update to ArcGIS Open Data. We've added some new features that gives administrators greater control over their dataset downloads and more information on download errors, made the dataset update date more accurate, and continued fixing bugs for performance and stability.
New administrative controls
To understand this new feature, let's back up a bit and go over how ArcGIS Open Data handles downloads. When a dataset has been published and a user requests a download for the first time, we make a call to the server and generate a cache of the data. This cache serves the subsequent downloads, which provides a quick experience for the user and alleviates strain on your server. We want to ensure that your users are always downloading the most up-to-date data, so we clear this cache every 24 hours and generate a new one upon the next download request. Good for datasets that update frequently, but not so good for datasets that are large and static. Now, administrators can decide to disable automatic cache clearing. There is a new column called Download Cache in the Data Manager tab. Here, data is set to "Automatic" by default, and admins can choose which datasets they want to set to "Manual". To clear the cache for these datasets, administrators must click the reset button in the Actions column.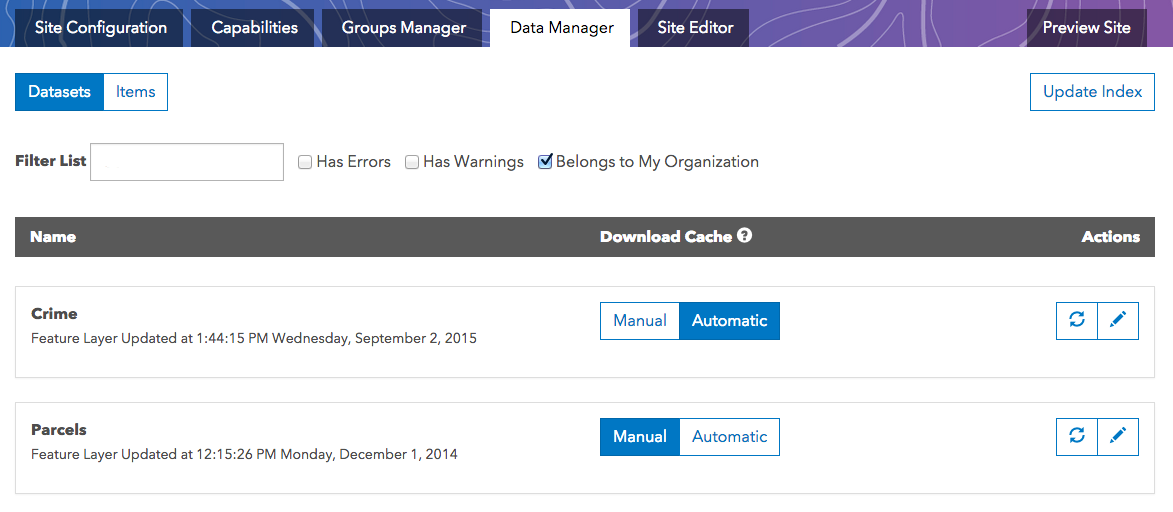 New administrative information
We now notify administrators when there are download failures on any of their items. Download failures can occur due to a server error or a glitch during our automatic export process. When this occurs, administrators will receive a warning on the respective dataset in the Data Manager tab. This error will include a step to fix the error and the failed download request, which the administrator can include in any communications with Esri's Support Center.
Improved dataset update date
Until now, the updated date has come from whenever the ArcGIS Online item has been modified. We've changed how we are getting the updated date depending on how the service is configured. At this time, there are three places the date could come from for different kinds of services:
A non-hosted service that has enabled editor tracking: Open Data detects that the service has enabled editor tracking, and the date displayed will be the latest edited date on that service. We encourage administrators to enable editor tracking on their services that they update frequently to ensure the most authoritative date is shown in ArcGIS Open Data.
A hosted feature service: Open Data detects when the features have been edited and displays that date.
A non-hosted service without editor tracking: There is no functionality change for this type of service.
Bug improvements
We're continuing to knock out bugs to keep your open data experience running smoothly!
Our next update will be in a few weeks. Check back to the blogs to keep up to date with the new features, and let us know what you'd like to see on GeoNet.