We continue to improve the World Imagery basemap with updates from DigitalGlobe and our GIS user community. This update features new and improved high-resolution imagery for areas covering most of Brazil, Saudi Arabia, and Denmark, parts of New Zealand and the city of Corona, CA as shown below.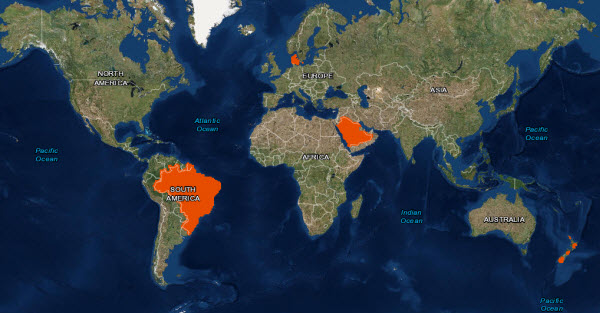 As announced in late June at the Esri International User Conference, Esri has partnered with DigitalGlobe to update our World Imagery basemap with the latest available DigitalGlobe basemap imagery content.  This includes imagery from DigitalGlobe's Basemap +Vivid and Basemap +Metro products. This week we published our second release of DigitalGlobe updates with Basemap +Vivid imagery, which is now available at 0.3 to 1.0m resolution (down to Level 17) for Brazil and Saudi Arabia. The Basemap +Vivid imagery significantly improves upon the image currency and quality in these countries, as you can see for a few sample areas in the story map below.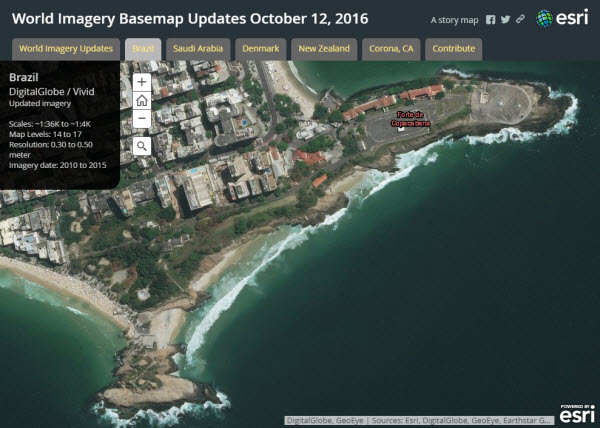 Over the next few months, Esri will continue to release regular updates to the World Imagery basemap with latest available imagery from both Basemap +Vivid and Basemap +Metro products.  The next +Vivid updates will include sub-meter resolution imagery for large parts of Western Europe.  In addition, we will soon release the first set of +Metro updates with sub-meter resolution imagery for hundreds of large metro areas around the world.
Contributions from our GIS user community updated areas in New Zealand (Levels 14 to 21), Denmark (expanded to Level 20), and the city of Corona, CA (Levels 14 to 21), all seen in the story map for this release.
Top is our previous imagery (older, seam mixing color with black & white).
Bottom is new imagery (newer, constant color image).  This is near Kaikoura, NZ.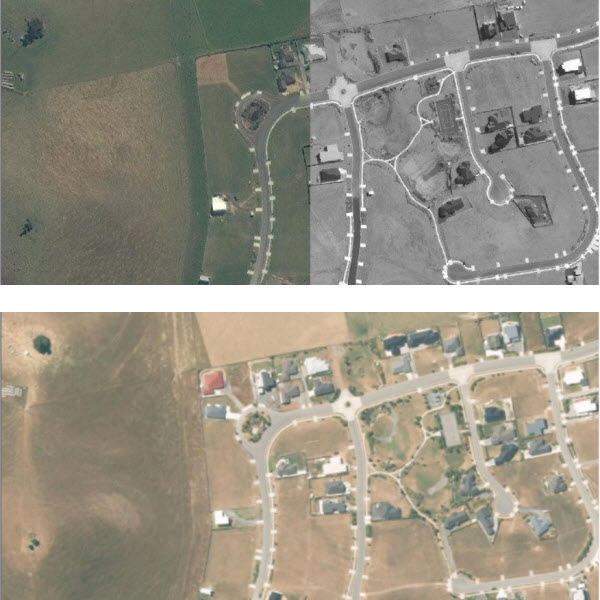 The World Imagery basemap, and the Living Atlas of the World as a whole, continues to get better as we release more recent and detailed imagery from DigitalGlobe and others in the GIS user community!
Living Atlas Community
How do I Use? Combine content from the Living Atlas with your own data. Create powerful new maps and applications!
How do I contribute? Join the growing community of Living Atlas of the World contributors. There are two ways to contribute!
Living Atlas Newsletter: This newsletter will keep you and other members of the Living Atlas user community informed through success stories, examples of applied use, visibility of new content, announcements about events, and other useful resources and information. Subscribe to the Esri News for the Living Atlas Community. You can have the newsletter sent right to your inbox by subscribing here.
Follow us on Twitter: @LivingAtlas Share your story: How has contributing to the Living Atlas Community benefited your organization and community? Has your participation helped meet a particular challenge? Has your applied use of Living Atlas content solved a problem or help meet a goal? Email Shane Matthews (smatthews@esri.com) so we can promote your success. If you have previously used these maps, you may need to clear your cache in order to see the updates.
Feedback If you have feedback  on content, try our Imagery Map Feedback web map. If you have other feedback or comments, please post them to the ArcGIS Online Discussion Group and the Living Atlas Discussion Group on GeoNet.