Several weeks ago, we added the World Land Cover 2010 ESA layer to the Living Atlas. This layer's data is from the 2010 epoch of the European Space Agency (ESA) Climate Change Initiative (CCI) Land Cover Project. These data are raster format at 300-meter resolution and represent 36 land cover classes based on the United Nations Land Cover Classification System (LCCS).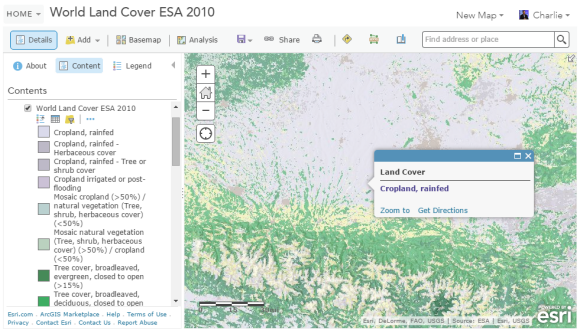 Unlike many classified land cover datasets that use dominant condition classifications, this classification contains some mixed or mosaic classes. For example:
"Mosaic herbaceous cover (>50%) / Trees and shrub (<50%)"
"Mosaic cropland (>50%) / natural vegetation (Tree, shrub, herbaceous cover) (<50%)"
These classes show the most common and the second most common type of land cover within the cell. This makes it possible to extract specific land cover classes with geoprocessing tools that include a much better estimate of where that land cover occurs.
This layer represents a considerable upgrade to the World Land Cover ESA 2009 layer. In particular, the compilation work for the ESA CCI Land Cover Project included working with regional and country-level experts from every continent to ensure classification accuracy was as high as possible.
We also published a companion World Land Cover ESA 2010 Quality layer containing information about preprocessing, image count, and a confidence level for the corresponding land cover cell.
The European Space Agency's Climate Change Initiative Land Cover Project team published the data for this layer in late 2014. You can learn more about these data from the ESA CCI Land Cover Project's product guide.