SharePoint Online brings the power of SharePoint to organizations who don't want the overhead of managing SharePoint infrastructure. Now with the availability of Esri Maps for SharePoint Online, you can view your SharePoint list data and ArcGIS Online layers on maps within your SharePoint Online site.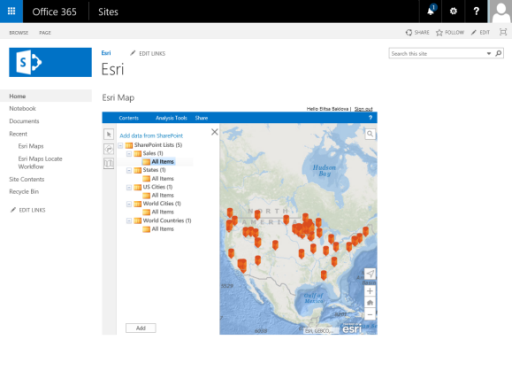 To get started, there are two apps you will want to add to your SharePoint Online site:
Esri Maps for SharePoint will allow you to add maps to your SharePoint Online site. Adding maps to your site will allow you to gain a geospatial view of your organization's data. Add dynamic maps to your SharePoint site to help you monitor asset locations or analyze your business data visually and gain new insights that aren't visible in charts or graphs. You can then publish your maps to ArcGIS Online to share with others.
Esri Locate Workflow for SharePoint will convert addresses in your lists to points on a map. If you want your lists to show up on the map web parts you create using the Esri Maps for SharePoint app, you will need to geoenable them using this app.
For more information, including installation instructions and full documentation, head over to our doc site.
As with all apps that are a part of ArcGIS, you will need an ArcGIS account to use them. For a free trial account we can take care of you right here.
Commenting is not enabled for this article.