The number of global landscape layers in the Living Atlas of the World has grown significantly in the past year. This summer we added and updated several layers, including new World Local Relief and World Landforms.
These layers provide globally comparable information useful for characterizing ecology, terrain, habitats, and more. Esri staff used models to derive these layers from the World Elevation GMTED layer.
Local relief is the amount of elevation change (in meters) within a local area. Esri modeled the World Local Relief layer using the Focal Statistics tool to find the difference between the minimum and maximum elevation within a 6-km radius circular neighborhood. By default, the World Local Relief layer represents relief with six colors representing these value ranges:
0-30m (plains)
31-90m (low hills)
91-150m (hills)
151-300m (high hills)
301-900m (low mountains)
Over 900m (high mountains)
The story behind the new landforms layer is a little more complicated. In late 2014, we released a layer called World Landforms. We have renamed that layer to World Landforms – MORAP Method 2014. We produced a new landforms layer called World Landforms – Improved Hammond Method. We produced this new layer based on the steps for the Hammond model shared on the GIS 4 Geomorphology website. However, we found and addressed several issues. We found these issues because our work was global rather than focused on relatively small areas.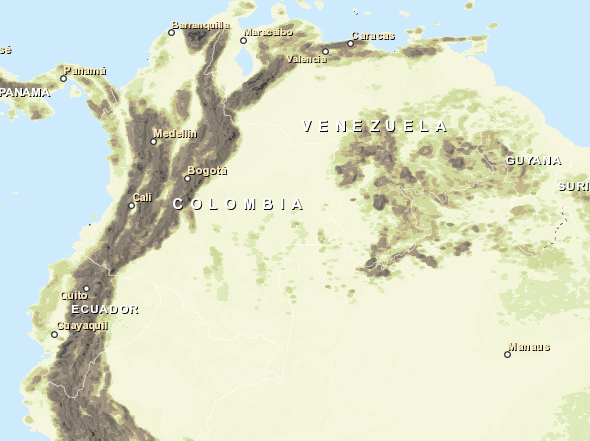 Additionally, we added a final step to override and classify flat areas as plains. We did this because the output produced regions called, for instance, "plains with low mountains", which confused reviewers who felt plains and mountains should be in separate classes. We saw it was possible to isolate plains given their slope. Using raster masks, we isolated the confusing landform classes with plains, fixed them, and reincorporated the result.
The main difference between the two layers is the newest incorporates the full Hammond method, which includes a parameter for profile. The earlier work did not incorporate the profile parameter. The Hammond model uses three parameters to identify landform regions:
Slope – using a 3-km radius circular neighborhood.
Relief – described above
Profile – identifies tablelands (mesas plateaus, etc.) using a 6-km radius circular neighborhood.
The improved model produced these classes of landforms:
Nearly flat plains
Smooth plains with some local relief
Irregular plains with moderate relief
Irregular plains with low hills
Scattered moderate hills
Scattered high hills
Scattered low mountains
Scattered high mountains
Moderate hills
High hills
Tablelands with moderate relief
Tablelands with considerable relief
Tablelands with high relief
Tablelands with very high relief
Low mountains
High mountains