Have you ever had trouble finding a document in a SharePoint site? ArcGIS Maps for SharePoint 5.0 can help solve that problem. Instead of having to remember folder structures and arbitrary hierarchies where files might be hidden, you can now tag documents to real-world locations on a map so they are easily find-able at that location in the future. Imagine clicking on a well or a parcel boundary to find all the legal, safety, compliance, or ownership documents related to that location. That sounds pretty easy, right? It is!
Once the new ArcGIS Map Search app has been added to your site and configured, it's as easy as selecting the documents you want to tag and dragging them onto the location you want them tagged to.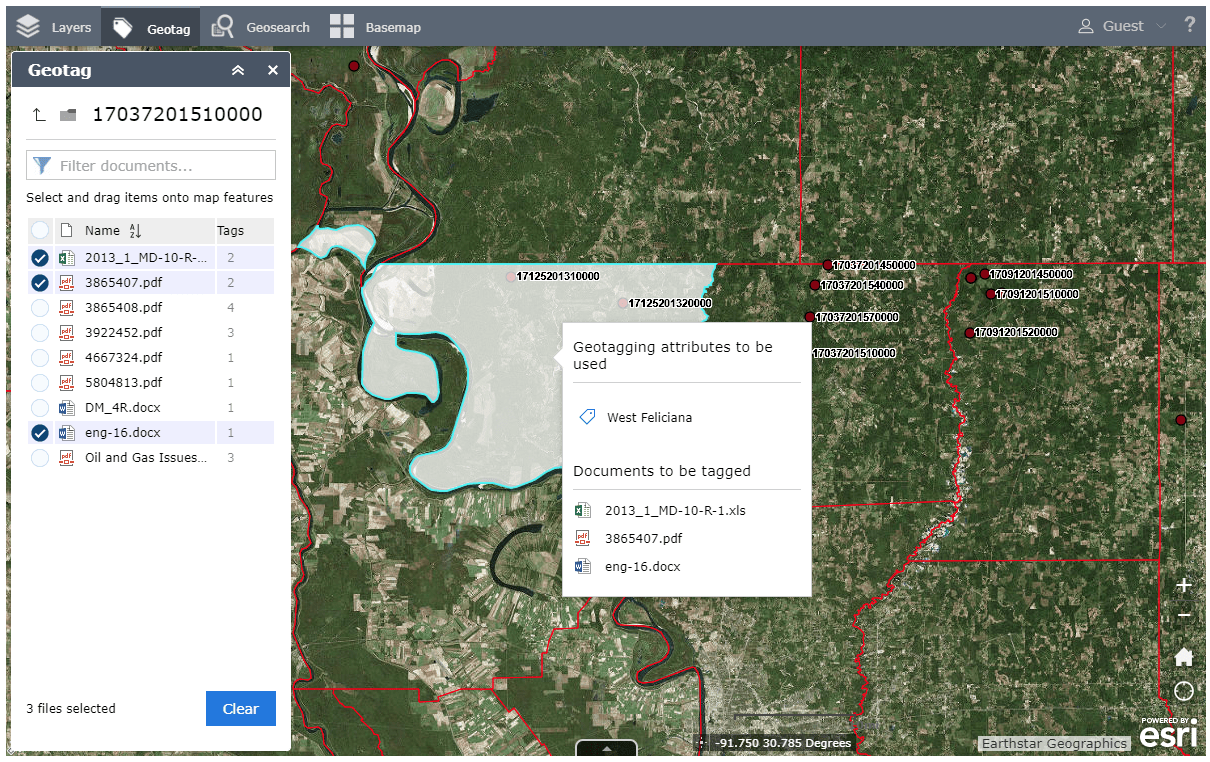 In this case, I tagged 3 documents to the county boundary for West Feliciana. Now, any time I want to find those documents again I can come back to the map and click on West Feliciana to see my documents.
When I come back to the map to find my documents, it starts in Geosearch mode. Geosearch mode allows me to click on locations on the map to immediately see which documents have been tagged to that feature. Let me go back to West Feliciana and see what documents have been tagged to that county polygon.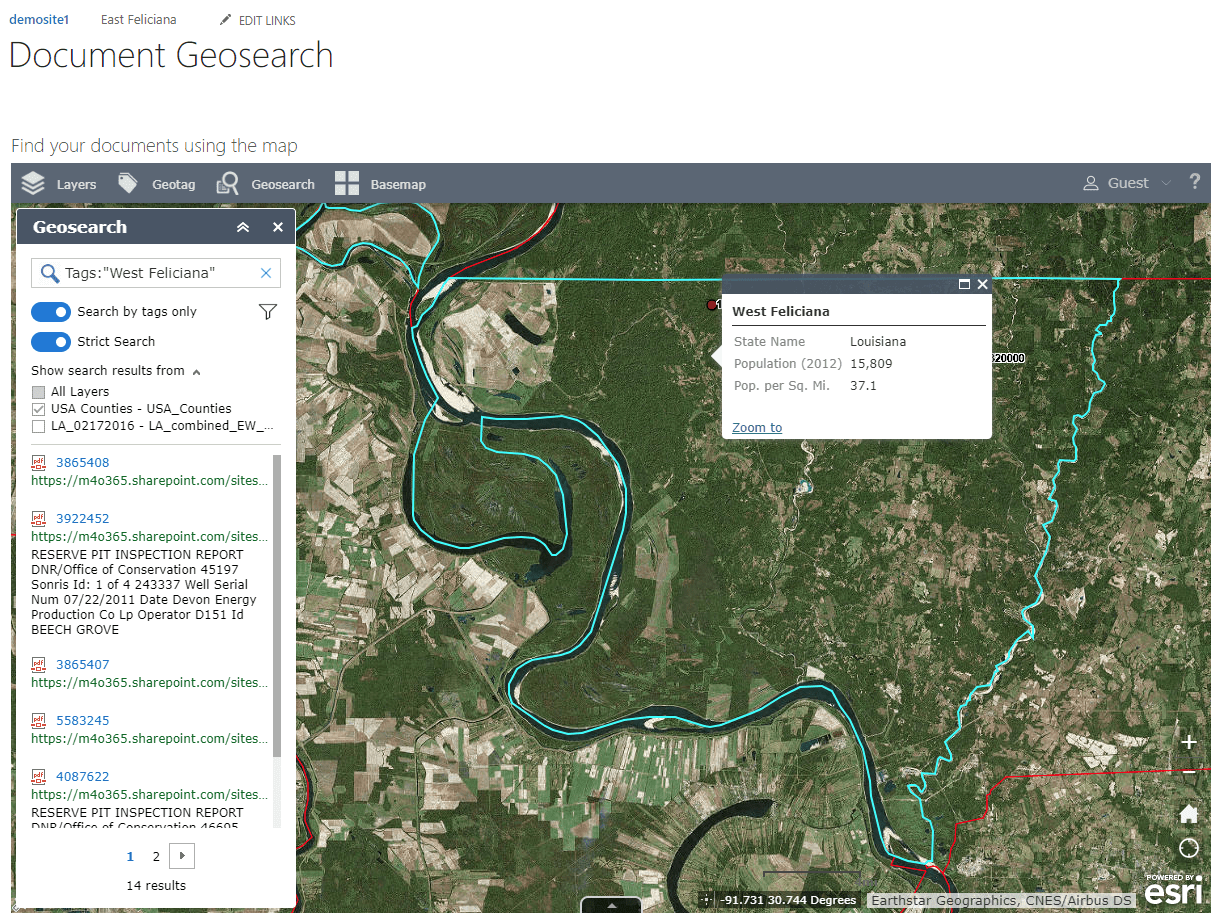 In the pane on the left I can see that 14 documents have been returned. If I want to reduce the number of matches, I can use the filter tool to filter the result set by document type, modified date, or author – just like you would for any other set of SharePoint search results. I can also hover over the results to get a preview of the document, just like I would expect.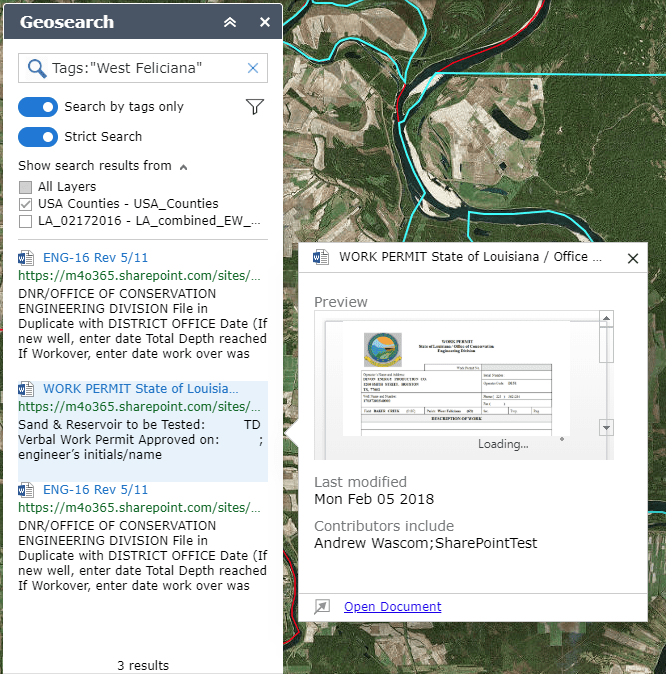 Other improvements
In addition to tagging and searching, ArcGIS Maps for SharePoint 5.0 includes the following updates and enhancements:
Enhanced installation wizard with multiple system checks
Enhanced user experience for configuring the add-in
ArcGIS Maps users now have access to private geocoders
Enhanced user experience for exporting data to a file
Improved geocoding capabilities
Multiple bug fixes and improvements
Sounds great! How do I get it?
ArcGIS Maps for SharePoint is a great way to share your location information with SharePoint users throughout your organization. To start using all these great new features in your on-premises SharePoint site , head over to our Maps for SharePoint product page and download the installer.
If you use SharePoint Online, you can find us in Microsoft AppSource.
To learn more about the product – such as system requirements, full descriptions of capabilities, and more – head over to our documentation site.
Commenting is not enabled for this article.