New updates are released for Esri Redistricting. The update includes increased alignment with ArcGIS Online and ArcGIS Enterprise platforms, supporting user collaboration across ArcGIS Online organizations, functionality to help manage the redistricting process using regions, and improvements to application configurations.
Improved Platform Integration with ArcGIS Online and ArcGIS Enterprise
Esri Redistricting is now fully integrated with ArcGIS Online and ArcGIS Enterprise. Cross platform compatibility enables:
Administrators can take advantage of the respective platforms to leverage security for application authentication, manage members and licenses, and assign roles and privileges.
Users have a seamless experience between Esri Redistricting and their ArcGIS Online or ArcGIS Enterprise accounts. In Esri Redistricting, users can conveniently access ArcGIS Online or ArcGIS Enterprise groups, publish directly to ArcGIS Online or ArcGIS Enterprise, and search and add content for use in the application to assist in the redistricting process.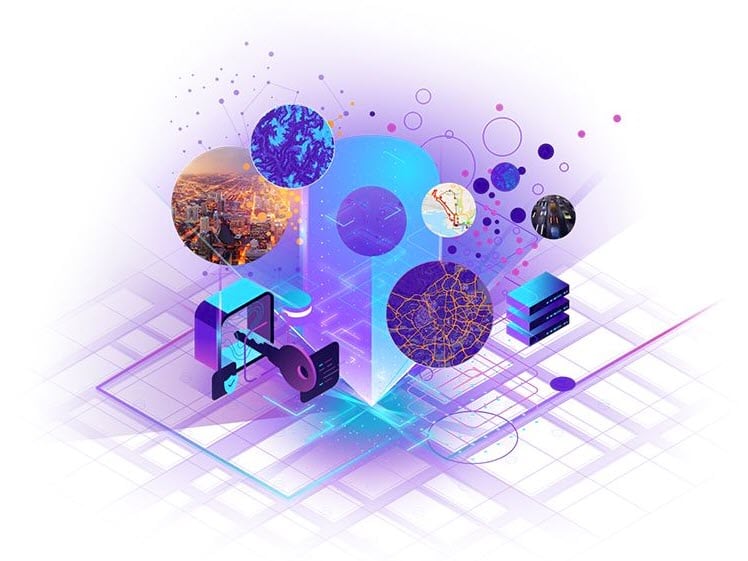 Supporting User Collaboration Across Organizations
Esri Redistricting uses the new ArcGIS Online Facilitator/Collaborator role. Using this new role allows:
Users to create groups within an organization.
Sending group invitations to users that belong to other ArcGIS Online organizations.
Working with users across two ArcGIS Online organizations the ability to access and update a single redistricting plan.

Redistricting in Manageable Regions
Regional plans allow you to work within a subset of Census geographies for an existing plan. Creating regional plans and assigning redistricting at the granular level allows for experts within a given region to make informed decisions and redistrict over an area in which they have expertise. Regional plans are good for breaking large plans into smaller pieces so that multiple people can redistrict in their assigned regions. Statistics and other values are automatically calculated based on the values of the regional plan. Once redistricting at the regional level is complete, you can merge multiple regions and join districts into a statewide plan.
Facilitator Role
The newly created facilitator role is similar to the Publisher role , with the key difference being that the facilitator role allows for users to create groups in ArcGIS Online and the redistricting application with Shared Update capabilities. This grants users permission to create groups in ArcGIS Online and in the redistricting application that allow for users to make changes to any content shared to the group.
Administrators should note that the facilitator role cannot be assigned when adding a new member, so the user role must be updated after an invite has been sent and the user has been added to the organization.
Upgrade Process
When you log into the redistricting application for the first time after the upgrade has been pushed out, you will see a message like this.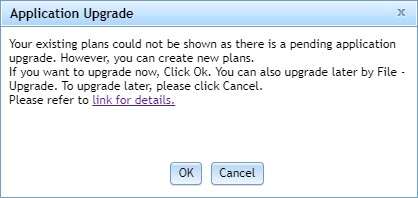 If you have been assigned the facilitator role (or a role with more permissions), clicking Ok will upgrade all of your plans. If you click cancel, you will not be able to open any previously made plans, but will be able to create new plans. If you do not have a role of a facilitator role or higher, a window will appear informing you that you must contact an administrator and have them assign you the facilitator role.
You can upgrade at any time by clicking the upgrade button under the File Tab, shown below.

Depending on the amount of plans you have, the upgrade may take several minutes.
Once the upgrade has been completed, you will get a note that your plans have been successfully upgraded. A text file will also appear in your downloads folder with a more descriptive log of the upgrade.
You may need to refresh the application for the upgraded plans to appear in your plan window.
It is also important to note that the Upgrade Button will remain on the file tab, even if you have upgraded the application. You do not need to go through the process a second time.
Folder Storage
When you now log into the ArcGIS organization associated with your redistricting instance (after successfully upgrading your redistricting instance), you will see two additional folders titled redistrictingMetadata and redistrictingPlans. As the names suggest, this is where the plans and their corresponding metadata are stored. It is important that you do not delete these folders, unless you want to delete all of your plans and their associated metadata.
While the plans are now stored in ArcGIS Online, they should only be accessed and updated in the redistricting application.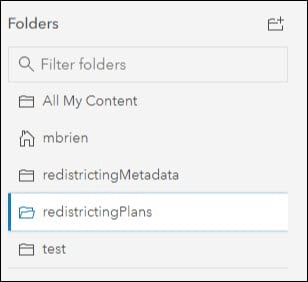 Easier ways to administer Esri Redistricting – ArcGIS Enterprise Version only
Application configurations can now be managed through the Administration Console. Benefits include:
Streamlined user experience—Customize the homepage to create a cohesive experience that reflects your organization, colors and branding.
Customized communications—Administrators will be able to update the email sender and email subject for system generated notifications, such as password resets and submitting plans.
Default reference layers—Make organization-specific reference data layers and basemaps available to all application users so that users can make informed decisions throughout the redistricting process.