We first released ArcGIS Experience Builder in beta in July, and we've already seen over 4,000 apps built with the product. The initial beta release was focused on the developer experience, providing a user interface for full control over the design and workflow of apps. We are happy to announce that the second beta of Experience Builder is now available. We have focused this release on an improved end user experience, allowing you to build great-looking apps quickly. Read on to learn more about what you can do with this beta.
Quickly Build Apps Using Templates
This beta includes a number of templates for getting started, allowing you to add maps and widgets right away. The first four templates as shown below are designed for standard full screen apps, and the other three are optimized for building web page experiences.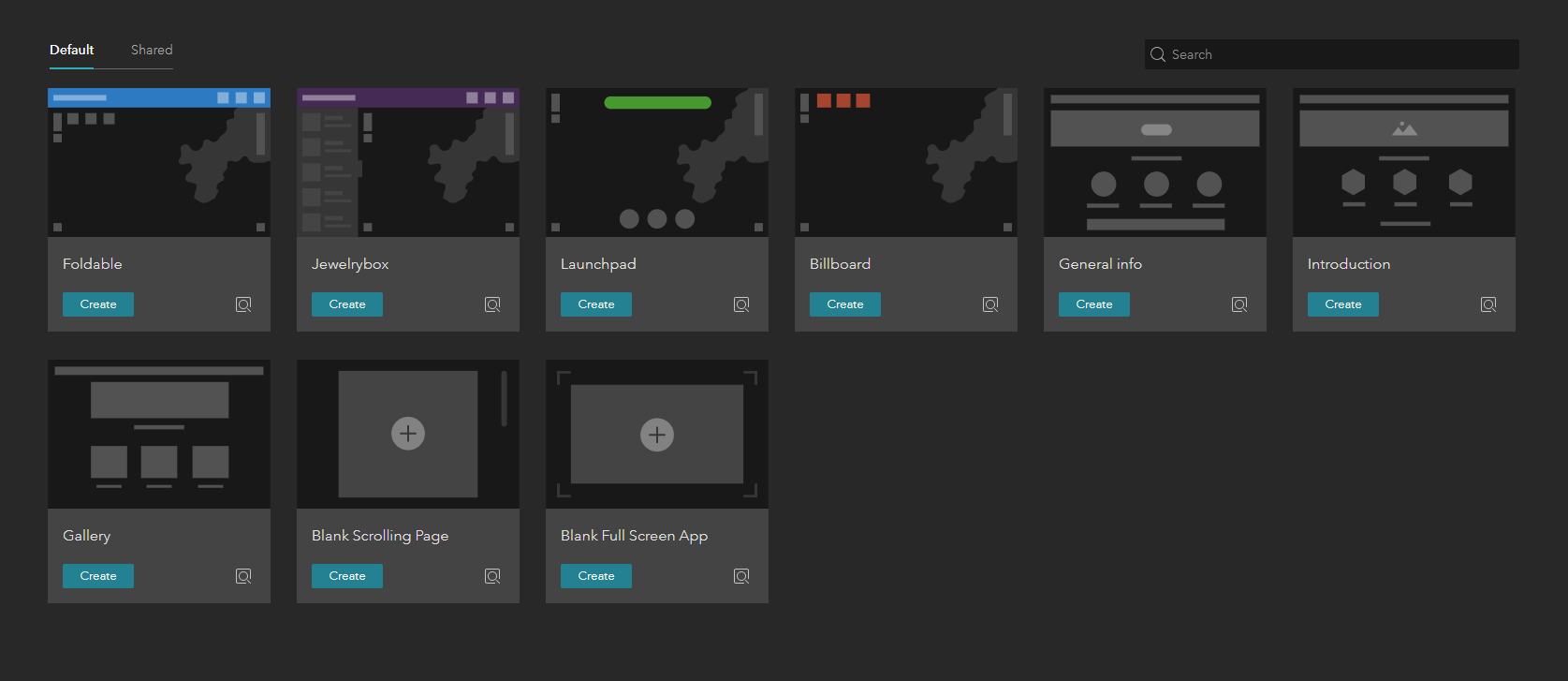 Here is an example using the Foldable template: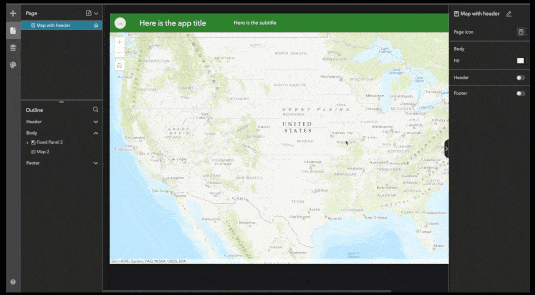 And an example using the Gallery template: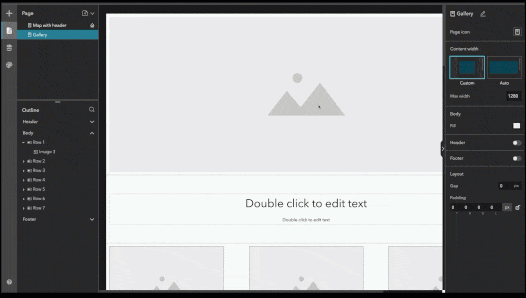 Easily Adjust the Layout
One of the nice things about Experience Builder is that you can adjust the layout of any template to add your own touch. For instance, you can move widgets to any area of the map as shown in the following Foldable example: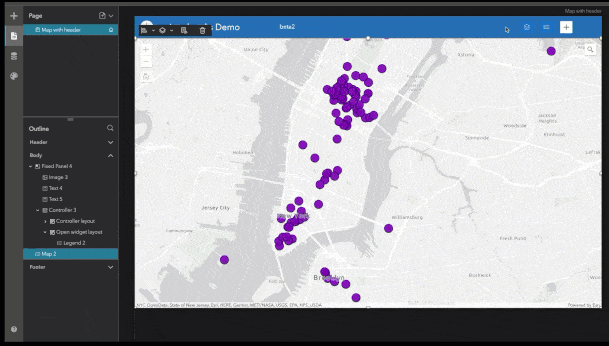 You can also resize images, swap template widgets with other widgets, and insert a page block, as shown in this Gallery example: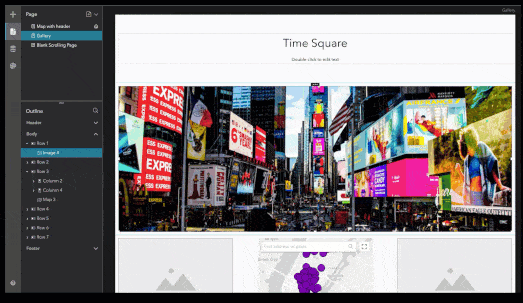 The tool with the wrench icon comes in handy as it helps you quickly organize widgets inside a row by highlighting that row in your app outline on the left panel.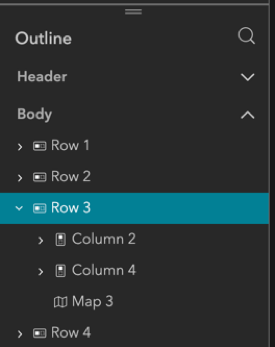 Once you are satisfied with your layout, click the Lock Layout button next to Live View to avoid any accidental changes. Meanwhile, at any point in the process, you can preview your live app by clicking the Live View button.
These templates are also available when you add a new page.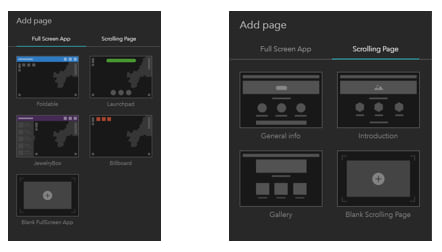 Brand Your Apps Using Themes
For further customization, you can brand your app by choosing a different theme, color palette, or font.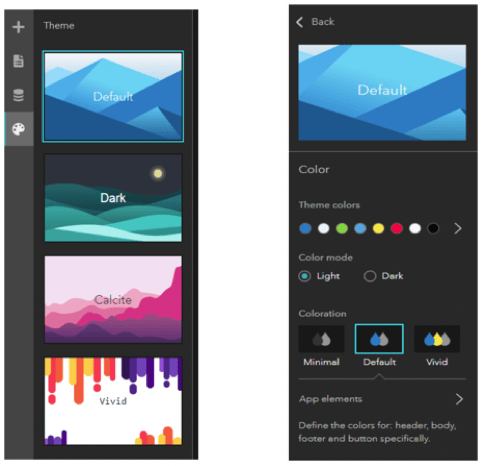 New and Enhanced Widgets
More widgets have been added to this beta, including Map Layers, Legend, Filter, Share, Feature Info, Widget Controller, and Fly Controller (specific to a 3D map).
Existing widgets have been improved as well. Taking the Survey widget as an example, you can now send data from the map to the survey by connecting the attributes or geometry of a feature in the feature layer to the questions in the survey.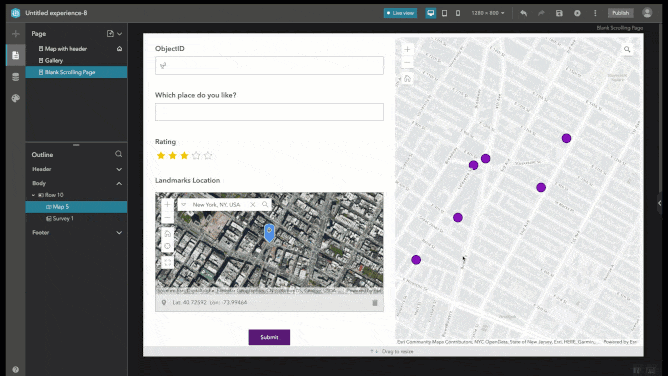 With the List widget, a number of options have been added. To page the list, choose the multiple-pages style for a desktop browser or scroll-style for a mobile browser. You can also search, filter, and sort cards when the app is launched. During data preparation, you can now decide what to show and in what order on the list by filtering and sorting data. For example, if you have a feature layer for landmarks in New York and you only want to list the interior type of landmarks in the order of their construction date.
Action Triggers
Oftentimes, we'd like our widgets to talk to each other. For example, if you zoom on one map, you want to zoom to the same area on another map. This can be done using action triggers, an important mechanism of widget communication, through the Action tab in the widget settings.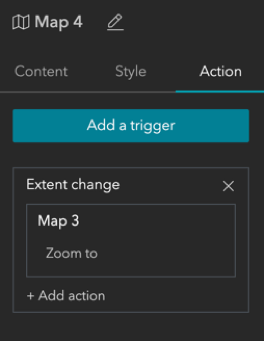 Get Started
This was a summary of just some of the highlighted features introduced in the second beta. Try it out today to see what else we've improved. If you have apps built using the first beta, we recommend that you reconfigure them with the second beta, as it is likely that this release will introduce a few breaking changes.
Built with flexibility and performance in mind, ArcGIS Experience Builder enables you to do better and do more. Go to https://experience.arcgis.com to get your hands on the beta today! For developers, the Developer Edition Beta 2 can be downloaded here. To get started and learn how to use Experience Builder, visit our community on GeoNet. If you try out the beta, you can help shape the final version of the product by providing your feedback via the Esri Early Adopter Community.
Thank you!
The ArcGIS Experience Builder Team
Commenting is not enabled for this article.