With ArcGIS Experience Builder, you have the tools to create a web experience exactly how you want. It can be as simple as a map with a legend or a more immersive experience with multiple pages, scrolling screens, 2D and 3D data, imagery, surveys and dashboards.  
This past year our users created web apps for all types of unique and important workflows— from engaging the public with education and virtual events—to helping protect the planet with wildfire activity maps and biodiversity dashboards. In this blog, you'll learn about highlighted ArcGIS Experience Builder user stories and apps created in 2022 and see features and designs you might want to add to your own web apps. 
2022 User Stories
Protecting the environment through an immersive educational experience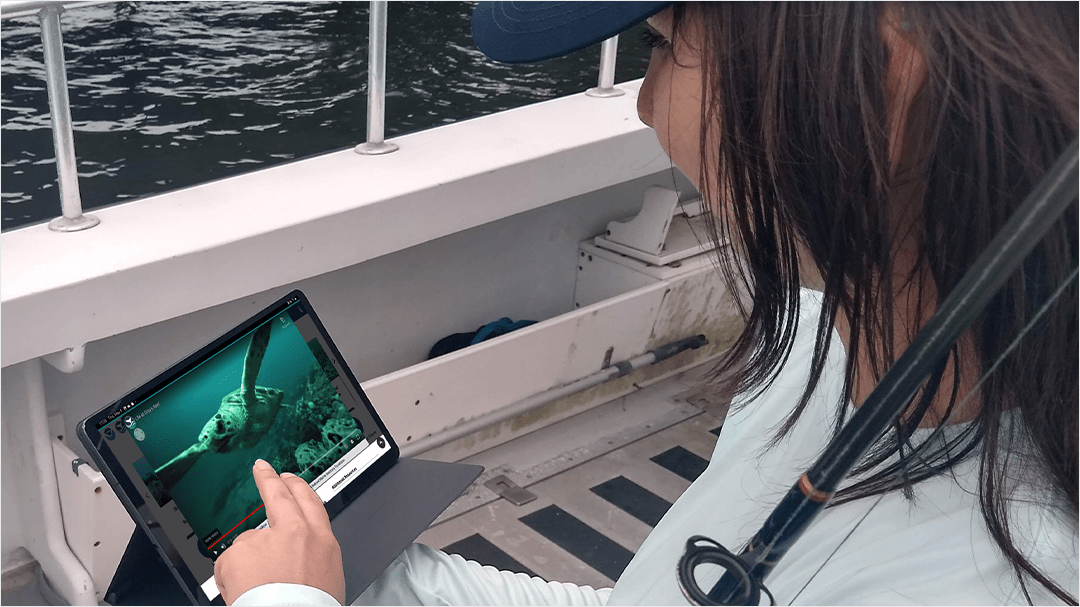 Gray's Reef National Marine Sanctuary, managed by the National Oceanic and Atmospheric Administration's (NOAA) collaborated with Dewberry to develop a web app to improve communication efforts with the fishing community. When learning exchanges to help conserve the vast resources of Gray's Reef had to shift from in-person to virtual, Experience Builder provided a great alternative to enhancing engagement with the public.  
Key Features: 
Includes multimedia aspects such as 360-degree videos of the reef, slideshows, and maps.

 

Optimized for mobile devices

 

ArcGIS StoryMaps integration

 

Visual indicator showing how far users have gone in reading each section (Section and Views Navigation widgets)

 
Managing an inventory of real estate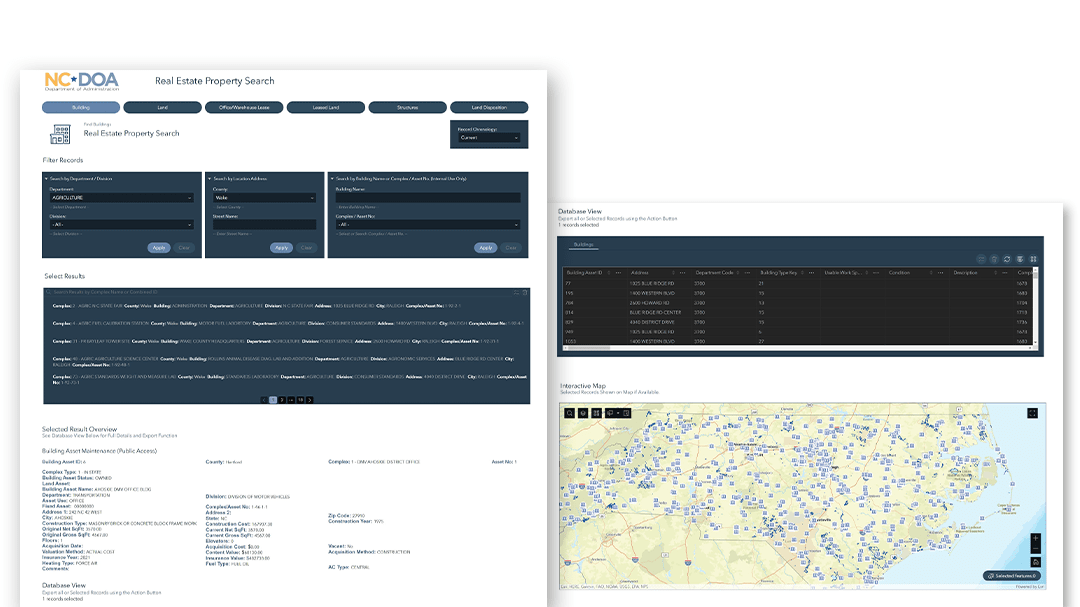 The State Property Office, under the North Carolina Department of Administration (DOA), and Patrick Co Engineering, built the North Carolina Property Office Public Search Site to manage the state's inventory of real estate. The web app showcases an inventory of state-owned leased lands, buildings, and space in buildings.  
Key Features: 
Optimized for mobile devices

 

Incorporates maps to give geographic context to data

 

Enables search functionality for users

 

Search for properties by attribute such as complex name, and then filter your search results by another attribute, or vis versa (Search and Filter widgets)

 

Export a table of filtered records to JSON, CSV, or GeoJSON (Table widgets)

 
Creating an integrated virtual event platform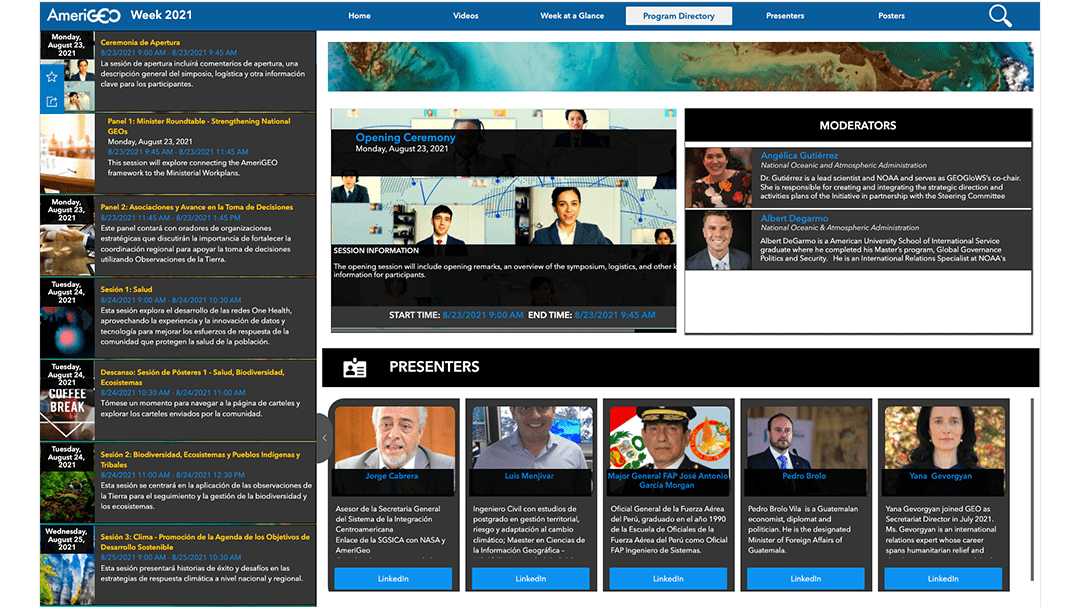 In 2020, a group of twenty-five GeoPathways interns worked on an inaugural virtual event, the 2020 Americas Symposium. As a spinoff of the committee's annual AmeriGEO Week, the event was created to call attention to the need for geospatial data integration and establish a commitment among regional organizations to address the issue. Experience Builder enabled the GeoPathways team to include dynamic content and data coming from various sources throughout the event.  
Key Features: 
Integrated ArcGIS Survey123

 

Ability to quickly browse the agenda with multilingual translations enabled by the hover feature

 

Presenter console to make it easier for moderators to facilitate their session with details on each presenter

 

Audience console to engage in each Q&A session

 

Online archive of sessions, presenters, and recordings.

 
Engaging students through the intersection of art and GIS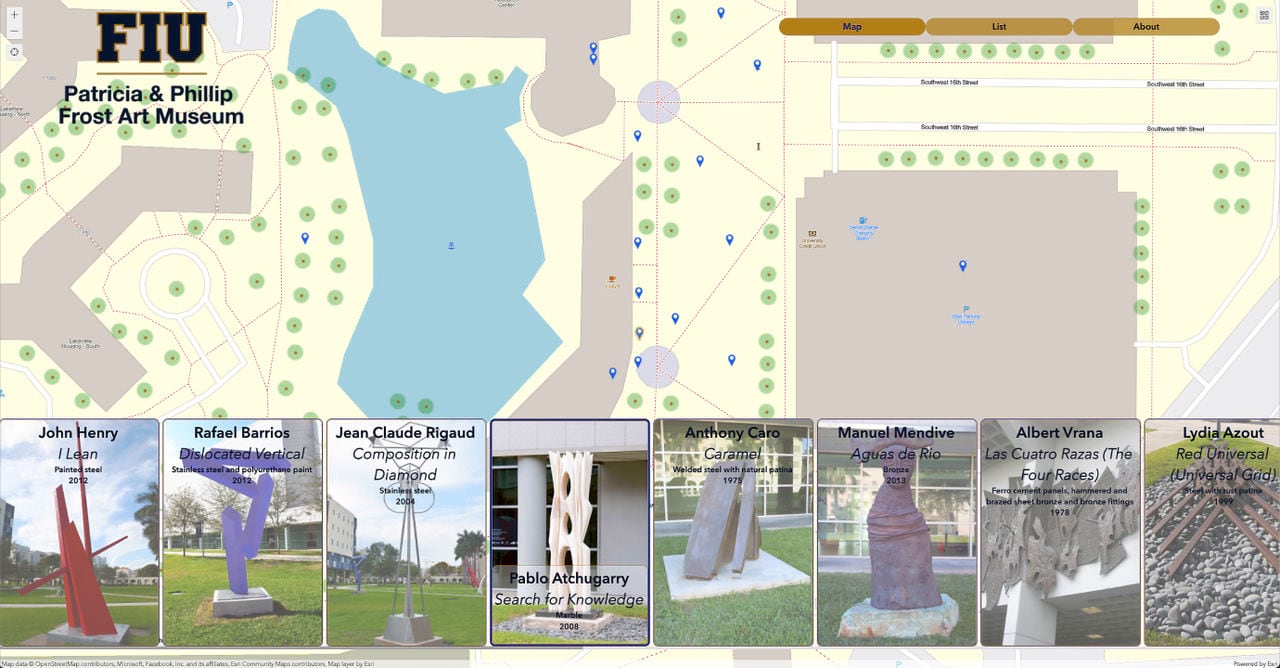 With the goal of engaging the student community and the general public, The Patricia and Phillip Frost Art Museum at Florida International University created a virtual sculpture park site using ArcGIS Experience Builder. Diana Ter-Ghazaryan, previously a GIS research associate at the GIS Center at the FIU Libraries, said museums often have video tours or 360° videos of their collections, but they don't typically use a map or locations as a basis for exploring the art. She said the virtual sculpture park was a great way to highlight the collection and show how Experience Builder and the site map can help connect the virtual and physical realms. 
Key features: 
Window 

 

Full screen app 

 

Option to read descriptive text about the work and view large images of the sculptures

 

The sculpture bookmarks and map are connected with a message action that zooms to the sculpture's location when you click its bookmark.

 
Apps

added

to

the

gallery

in 2022

:

 
Classic Web AppBuilder style apps: 
ARES Southeastern US

Situational Awareness Map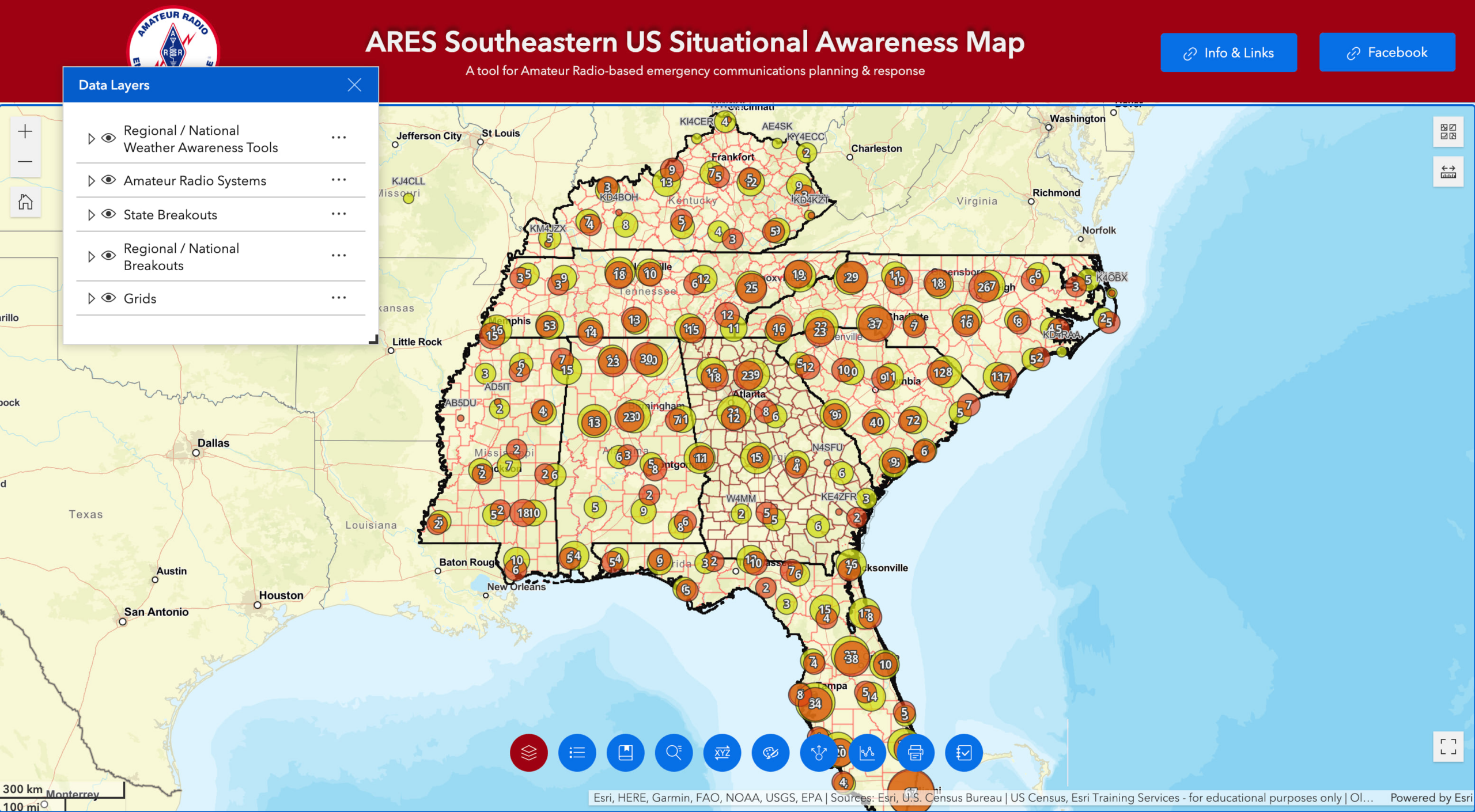 The ARES Southeastern US Situational Awareness Map is designed to give Amateur Radio operators serving as emergency communicators under the ARRL Amateur Radio Emergency Services (ARES) program a situational awareness tool that focuses on their unique requirements. 
Key features: 
Full screen app

 

Industry: public safety

 

New print widget

 

Elevation profile tool

 

Coordinate conversion

 

Widget controller widget (contains the Elevation Profile and Print widgets and others) with custom names/hover text for each widget

 
Prince George

's

County

Bicycle

Level of Traffic Stress Viewer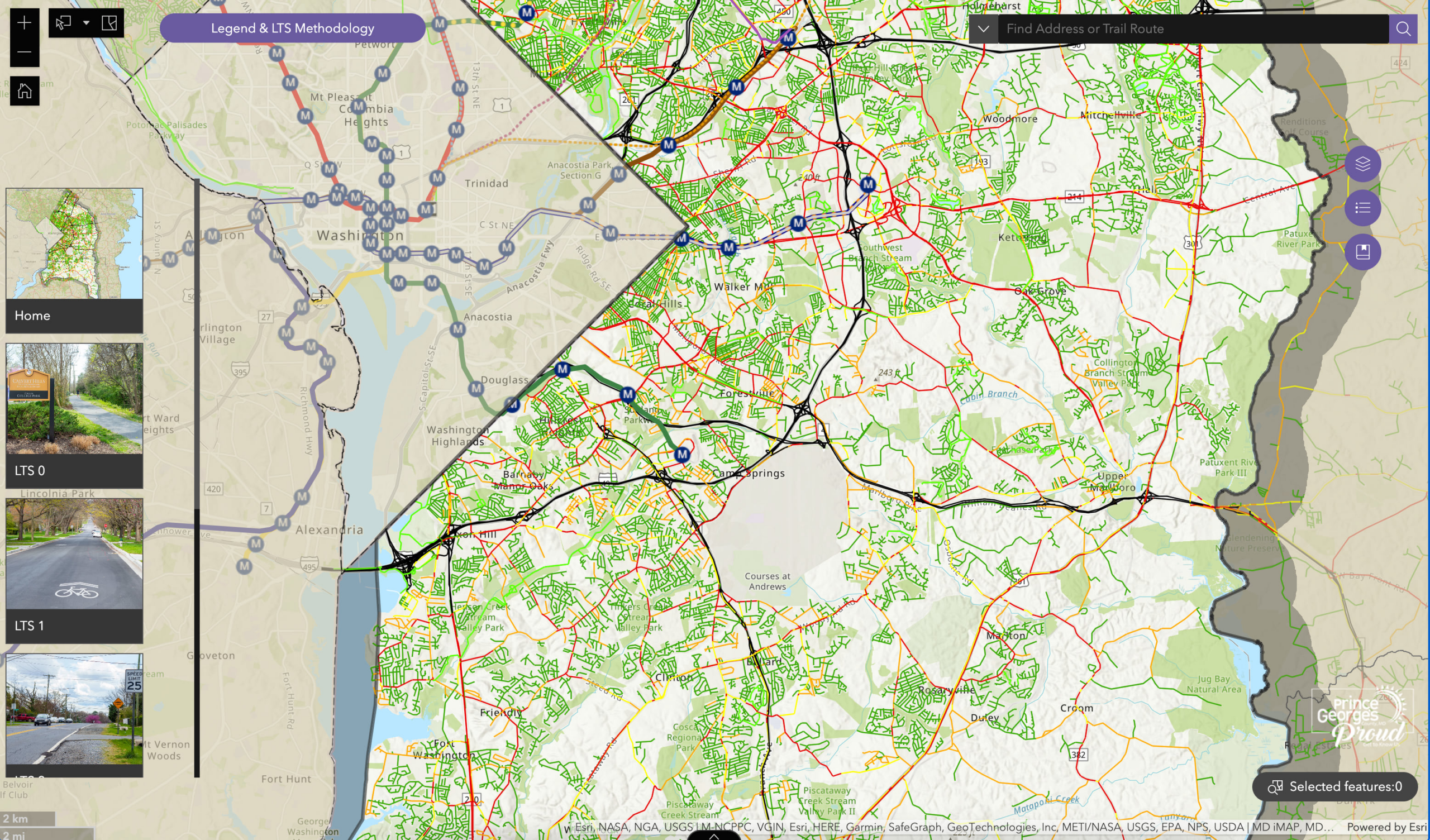 This application was created by the University of Maryland's Intermediate/Advanced GIS course to display the bicycle level of traffic stress (LTS) for Prince George's County's road network. Bicycle LTS takes a variety of factors into account such as traffic speeds, traffic volumes, and bicycle facilities to create a score for each road in Prince George's County. 
Key features: 
Full screen app

 

Industry: education

 

Button to download data

 

Splash window

 

Search widget that uses a layer source, meaning you can search by trail route

 
City of Redding's Wildfire Information Map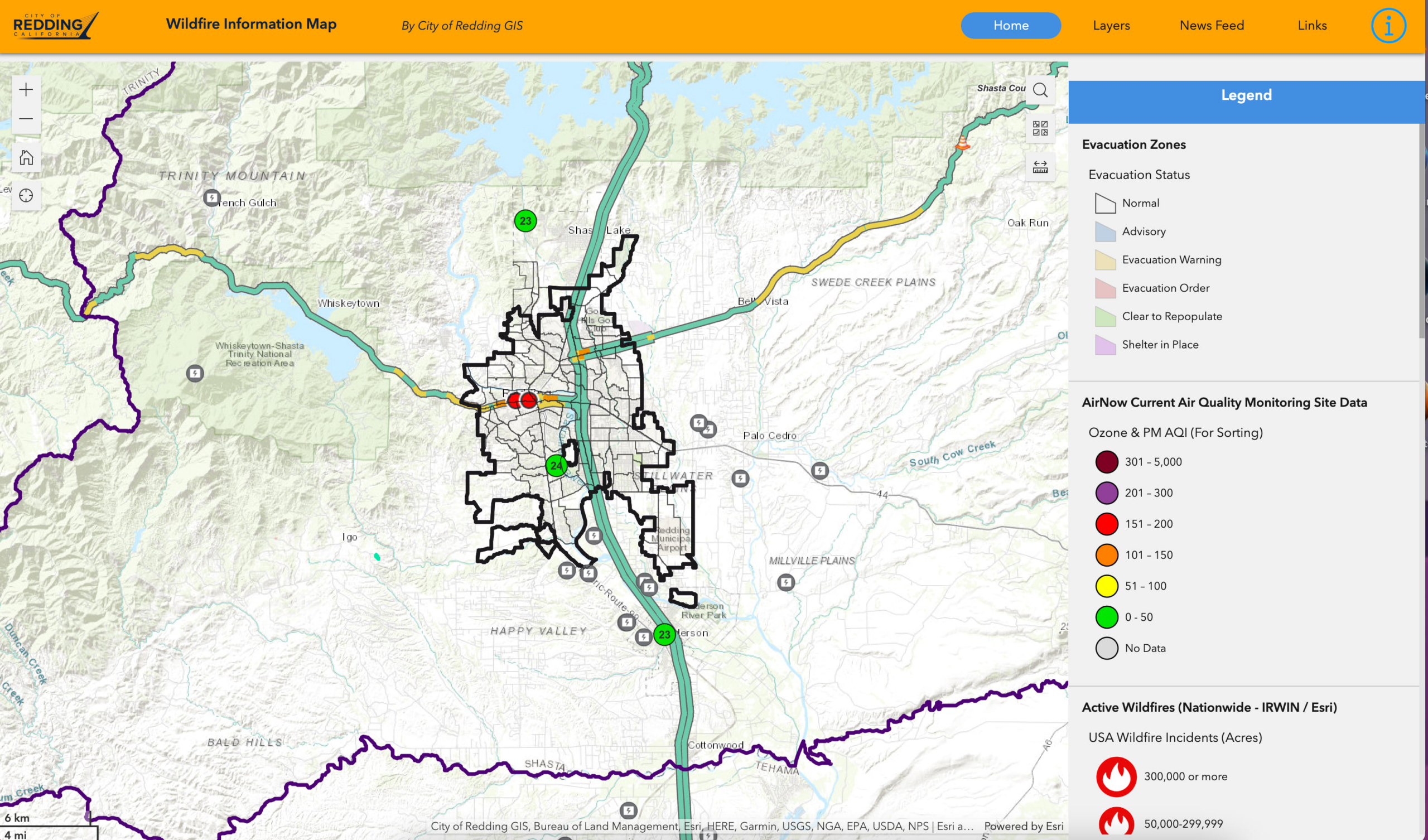 The City of Redding used the Public Information Template to create a full-screen interactive web app. Users can view wildfire activity, traffic information, and other wildfire-associated information in the greater Redding area.  
Key features: 
Full screen app

 

Industry: local government and public safety

 

Window

 

Embed widget with a Twitter feed embedded by HTML

 
Scrolling page apps:
US Army Corps of Engineers Spatial Data Branch Projects
This is an Experience Builder application designed to show an inventory of multiple GIS-related ArcGIS Online applications, maps, and web services created and maintained by the Spatial Data Branch. 
Key features: 
Scrolling page app

 

Industry: national government

 

Embedded ArcGIS Online organization website on one of the tabs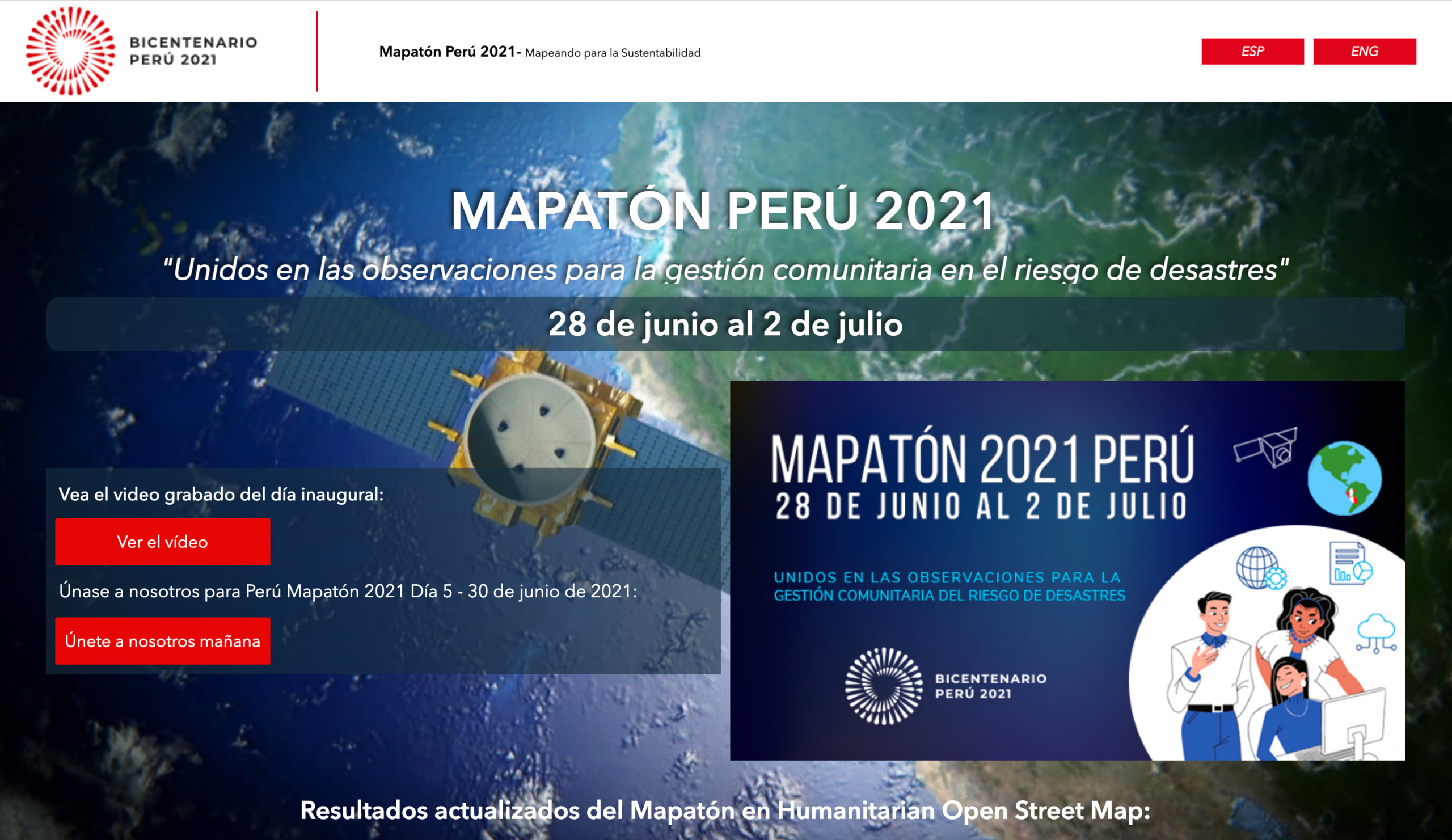 Peru Mapathon 2021 was a virtual mapping event to celebrate the Bicentennial of Peru's Independence that used the virtual event platform template developed by AmeriGEO. 
Key features: 
Scrolling page app

 

Industry: education

 

Embedded dashboard from ArcGIS Dashboard

 

Experience displays in Spanish and English. The page was copied and translated, and you use the button at the top right to switch pages
ASEAN Biodiversity Dashboard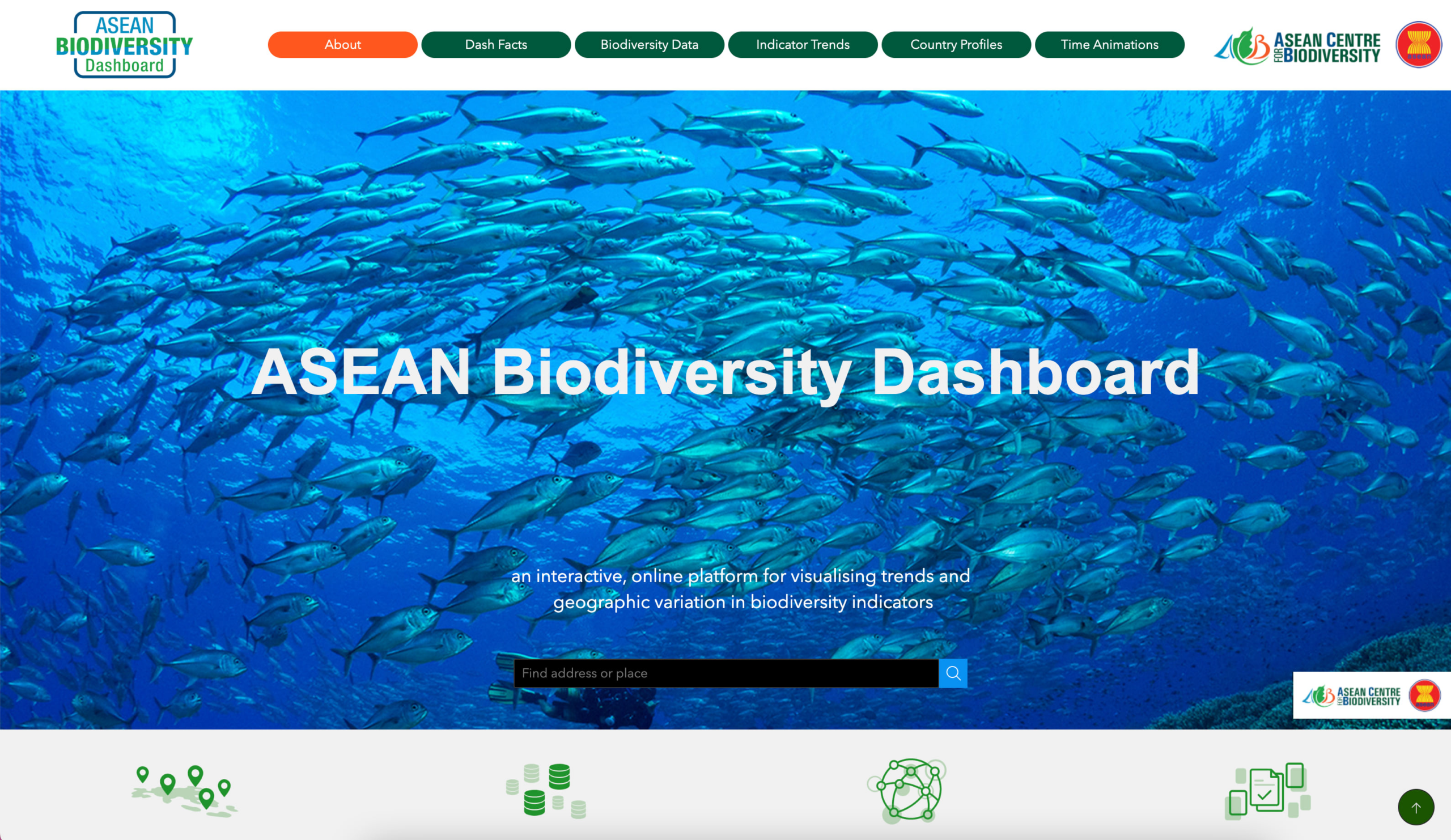 The ASEAN Centre for Biodiversity and NatureServe created the ASEAN Biodiversity Dashboard to provide access to an interactive, online platform for visualizing trends and geographic variation in biodiversity indicators. 
Key features: 
Scrolling page app

 

Industry: national government, natural resources

 

Integrated YouTube video

 

Multi-page app

 

Menu widget for switching pages

 
3D Scenes: 
Cergy-Pontoise

Maquette 3D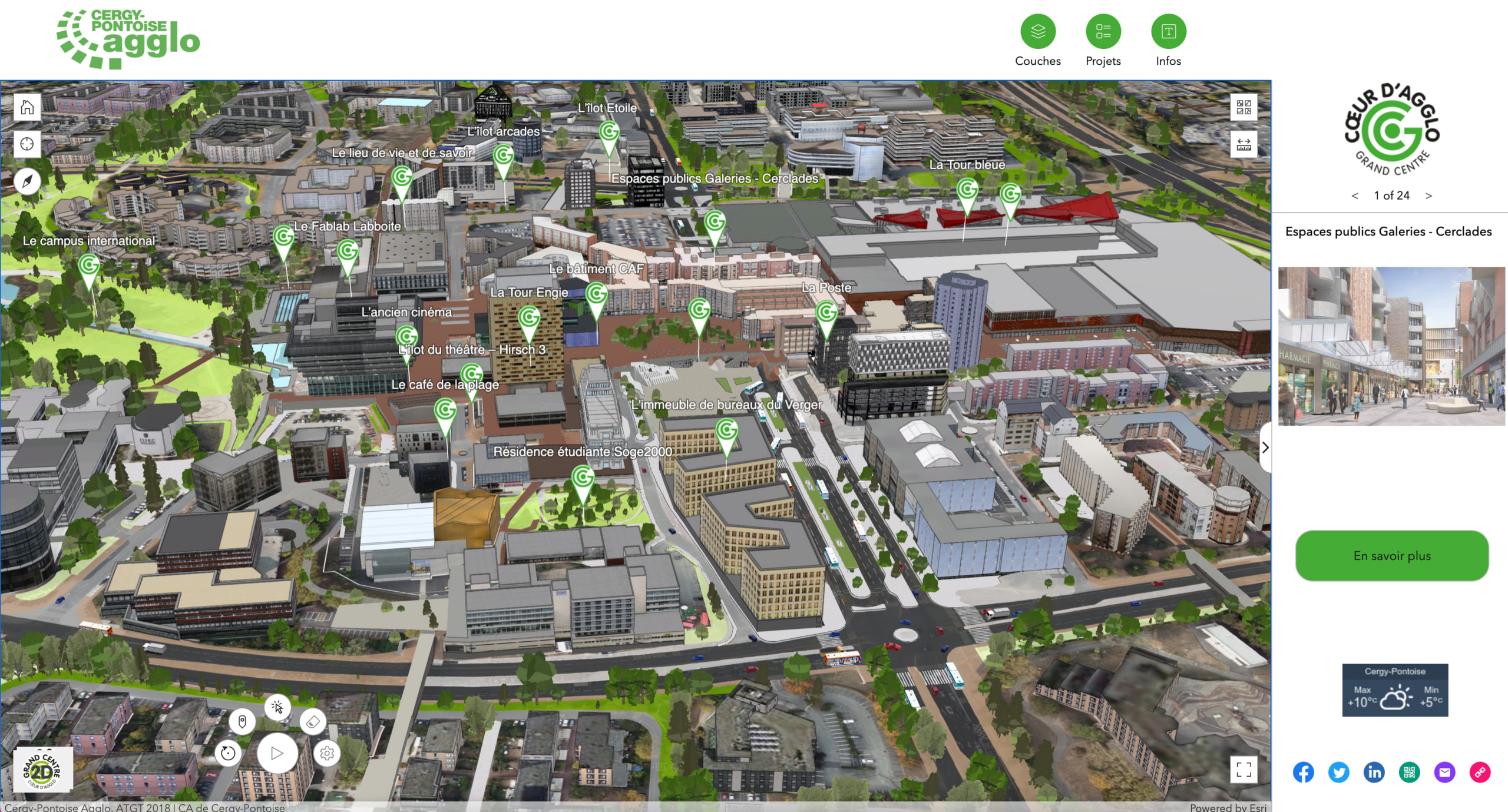 Toggle 2D and 3D maps and use the Fly Controller widget to see the surroundings around popular attractions in Grand Centre. This 3D web map experience was created by Cergy-Pontoise I'agglomération with ArcGIS Experience Builder developer edition. 
Key features: 
Both 2D and 3D maps. Switch between 2D and 3D in the lower right

 

Fly controller widget

 

Industry: Business

 

Custom developer edition app

 

Fullscreen

app
Integration with other apps: 
ADF&G

Southeast A

laska

Herring Surveys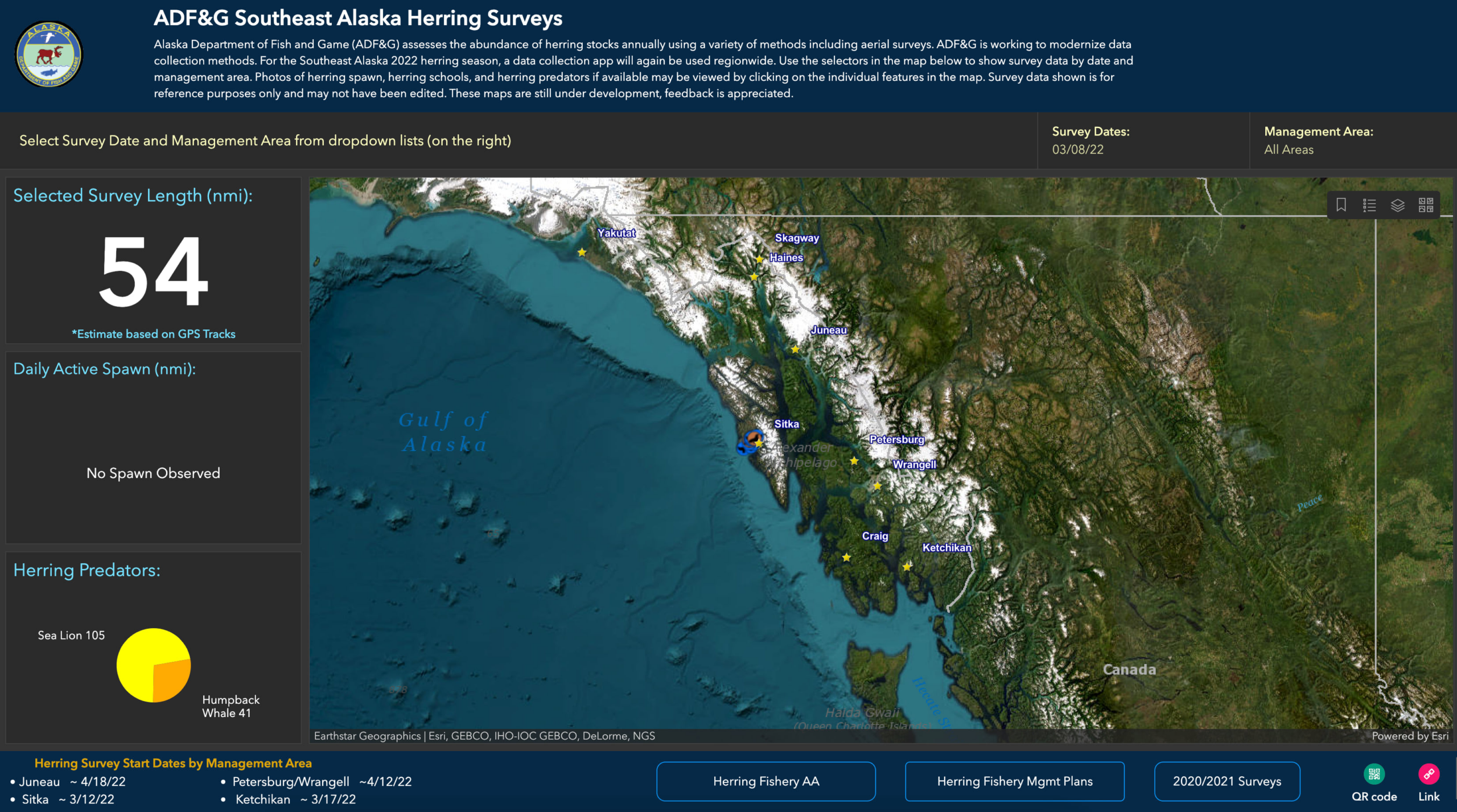 Alaska Department of Fish and Game (ADF&G) assesses the abundance of herring stocks annually using a variety of methods including aerial surveys. The app includes an embedded dashboard created using ArcGIS Dashboards and an app built using ArcGIS Instant Apps, making for a complete experience. 
Key features: 
ArcGIS Dashboard integration

 

ArcGIS Instant App integration

 

Multiple views in the Section widget

 

Full Screen app

 

Industry: state and regional government

 

Buttons that link to external resources including other ArcGIS Online products and organization websites

 
Custom Developer Edition

apps

: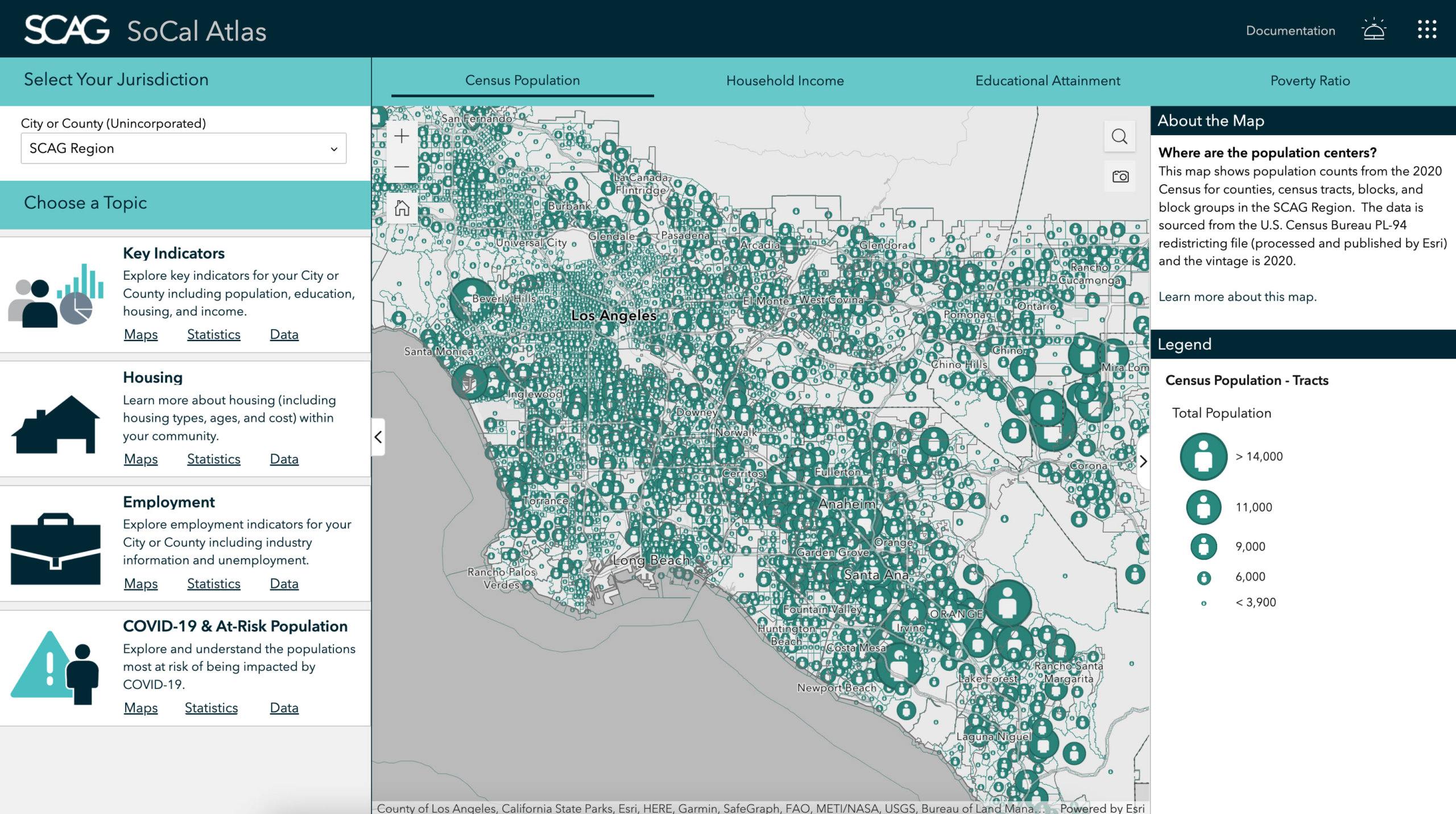 SoCal Atlas is an interactive web-mapping tool developed by the Southern California Association of Governments (SCAG) that allows planners, residents, and other users to explore data across geographies and topics through a collection of web maps and statistics. The tool leverages data primarily from the American Community Survey (ACS), U.S. Census Bureau Decennial Census, and Esri. Related data is made available through the Regional Hub and additional information regarding the platform can be found on the SCAG website. 
Key features: 
Custom developer edition

 

Industry: State and regional government

 

Full Screen

app

Multiple views in the Section widget

 

ArcGIS Business Analyst integration

 

Window

 
MarinePlan

Spatial Planning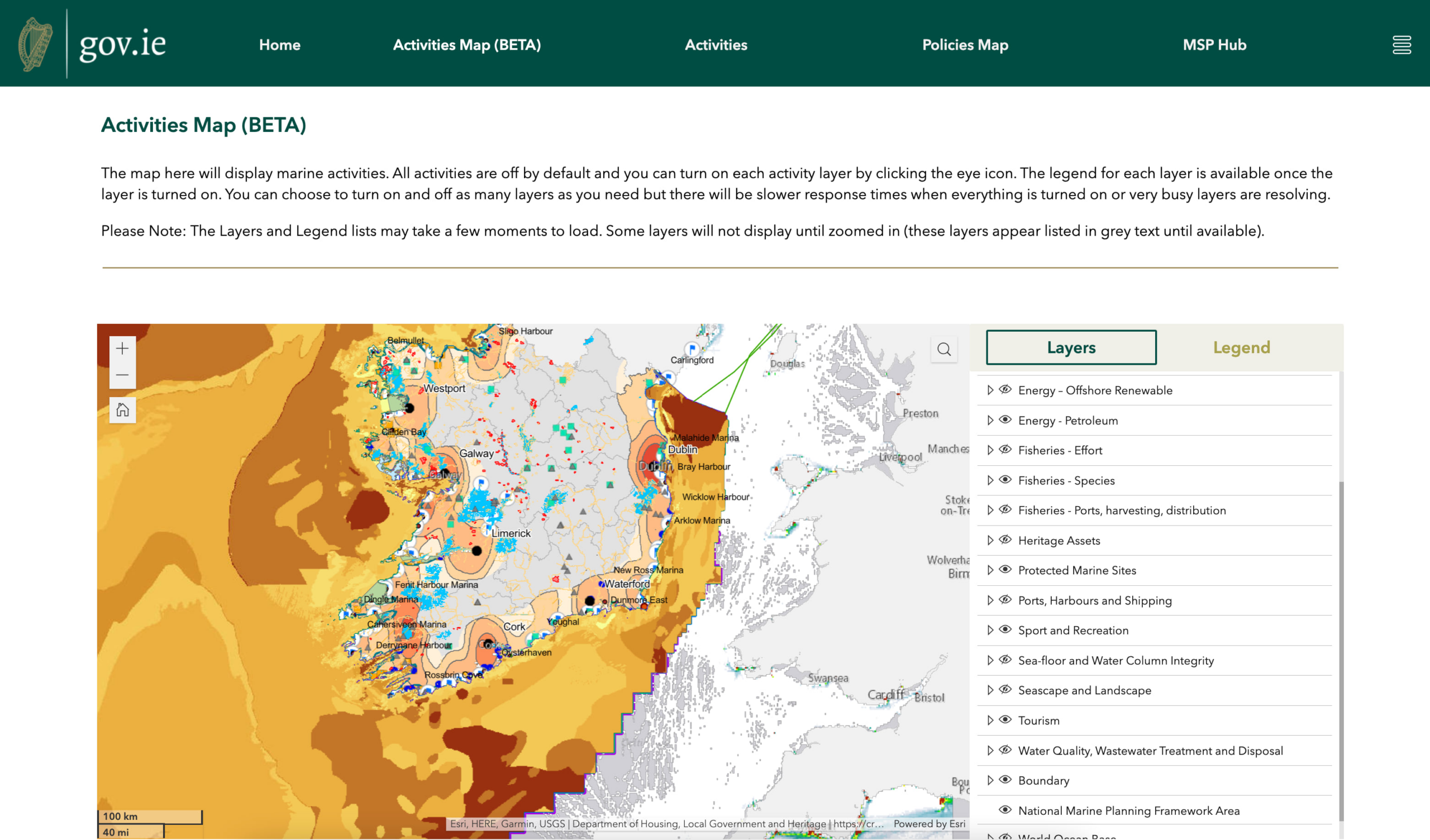 This web map portal is Ireland's first marine spatial planning portal that links planning within the Maritime area and the relevant policies for each marine sector or activity listed in the National Marine Planning Framework (NMPF). 
Key features 
Custom developer edition

 

Cards, Menu for page navigation, and List widgets

 

Industry: national government 

 

Scrolling

page app
You don't need to start from scratch when building an ArcGIS Experience Builder web app. Click "create new" and then "ArcGIS Online" to find tons of already configured templates to start with. Get started with templates.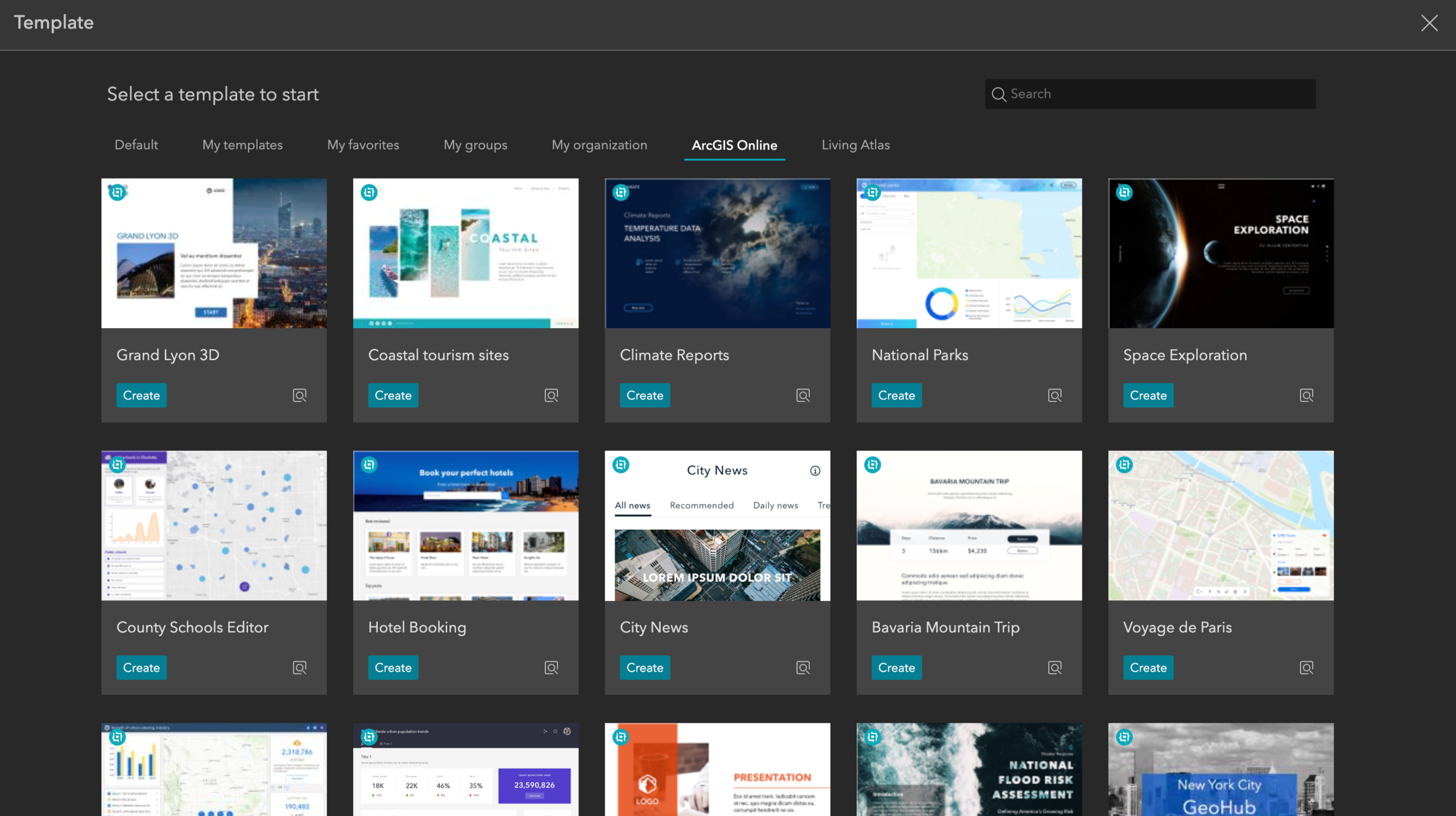 Add your app to our gallery in 2023! Complete the form found on the gallery page.