ArcGIS Field Maps allows mobile workers to collect data, mark up maps, and track their location—all from one app. Field Maps is available on Android and iOS, and it currently incorporates the capabilities of three mobile apps—ArcGIS Collector, ArcGIS Explorer, and ArcGIS Tracker. In future releases, it will also bring in functionality from ArcGIS Workforce and ArcGIS Navigator. As mentioned in Introducing ArcGIS Field Maps, Collector, Explorer, and Tracker will be moving toward retirement. There are no new capabilities planned for these apps—all future updates will be focused on Field Maps. With that in mind, it's a great time to start thinking about how you and your organization can migrate your existing Collector, Explorer, and Tracker workflows over to Field Maps.
Field Maps was built with migration from Collector, Explorer, and Tracker in mind. Migrating to Field Maps is a straightforward process, and we've created a Migration Guide to assist you along the way.
Some things to consider when you're creating your migration plan include:
Mobile Workers—The user interface (UI) in Field Maps is nearly identical to the UI in Collector and Explorer. This makes it easier for workers to migrate to the new app, and the tools they use are available and where they expect them to be. For workers that are used to working with Tracker, the location tracking toggle and map are readily available in the Maps list, and they can also turn tracking on and off from the GPS banner in any map.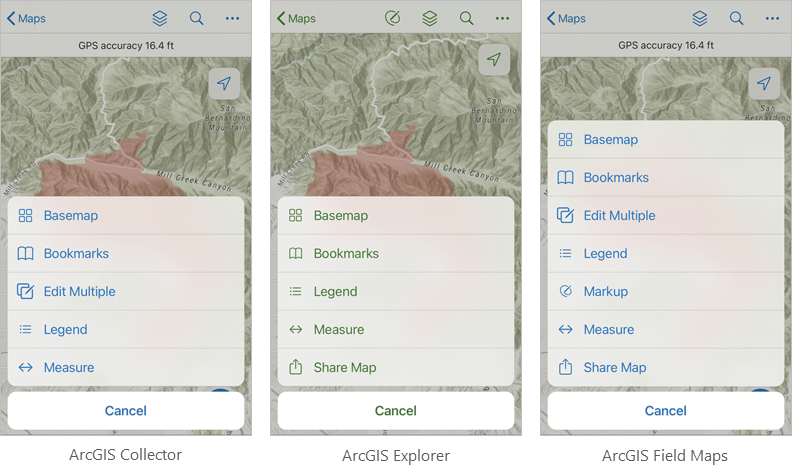 Maps—Maps that are accessible from Collector and Explorer are also accessible in Field Maps. If workers have maps downloaded onto their devices, they need to be copied into the Field Maps Map Packages folder on the device. Instructions are provided in the ArcGIS Field Maps Migration Guide.
App Linking—App links are constructed and work in similar ways to the links you created for use with Collector, Explorer, and Tracker, but the base URL and some parameters have changed for Field Maps. See Open your map from a link to learn more about constructing app links.
Resources
There are a variety of resources available that will be updated as the app is updated, including the following:
Later this year, a companion web app will be released for Field Maps. You can learn more about it and try it out by signing up to join the ArcGIS Field Maps Early Adopter Program.
If you have questions or comments about migrating to ArcGIS Field Maps, we'd like to hear from you—continue the conversation over on the Field Maps GeoNet Community page, and share your ideas for future development on ArcGIS Ideas.
Commenting is not enabled for this article.