Esri recently attended TechCrunch Disrupt in San Francisco, September 16-17th, 2017. The conference brings together entrepreneurs and next-generation products from across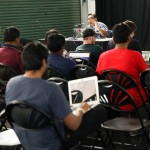 industries and the globe. Before the Disrupt conference started Esri, 750+ developers and a variety of other sponsors gathered for a weekend hackathon.
The goal was to spark innovation via teamwork and competition. Esri provided over 100 hacking teams with our free ArcGIS Developer Subscriptions and credits to catalyze ideas involving maps, authoritative data, imagery, visualization and analysis tools, and more. Developers could use our APIs and SDKs across mobile, web, and desktop to turn these ideas into apps (or at least prototypes, time was tight). In addition, we offered a $5,000 valued prize of cash and software for the best use of Esri technology.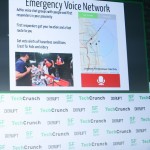 There were many exciting results and, in response to recent natural disasters, many ideas focused on aiding disaster relief efforts. This lead to inventive apps with core location components, from drone imagery feature detection to SMS help-request services. That said, our winner "took a different route" and focused on immersive visualizations of driving routes for new drivers. Congratulations to our winner RouteBud! Find out more about them and other prize winners that used Esri below.
RouteBud – Esri Prize Winner
RouteBud is an Android and Unity app built by two high school women, one a senior the other a junior. As new drivers, these women wanted to better understand how to get from point A to B and the safety implications of their route. Using Esri's routing API and Arity's collision data API, they were able to generate a route and assess the risk of that route. They then displayed this information in both an Android app using Esri's ArcGIS Runtime SDK and in a Unity 3d scene with graphics exported from Esri City Engine. With the important contextual information and immersive visualizations, app users can choose the route that, "is best for them based on their personal preferences."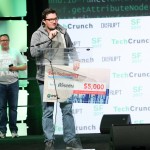 Again, congratulations to Route Bud for the win! We'd also like to give a shout out to Ground Zero.
Ground Zero – Accenture Prize Winner
Ground Zero is a "full-fledged platform" for disaster relief. The team built a series of innovative, interconnected tools to help streamline and improve relief efforts. They created machine vision algorithms for drones to detect people and an SMS chat bot for victims then combined the outputs of these services onto an Esri map-based dashboard for first responders. And, this was all built on a decentralized block-chain-like ledger to reduce bottleneck request failures on a server. With all these modern (and complex) technologies, the team explains "First responders will always have the information they need in times of disaster."
To find out more on the hackathon apps view DevPost or check out this TechCrunch article on disaster relief apps from the hackathon. We'll be joining developers and tech innovators at the upcoming TechCrunch Disrupt Berlin in December, we hope to see you there too!
You can also join Esri for our Esri Developer Summit Europe, October 24-26th in Berlin, Germany where we'll show you how to build cutting-edge apps using advanced mapping technology from Esri. At DevSummit you will be the first to see new tools for geo-enabling your apps to get pro tips from the developers who made them.
Happy Developing!